Pershore AGS Show, 2005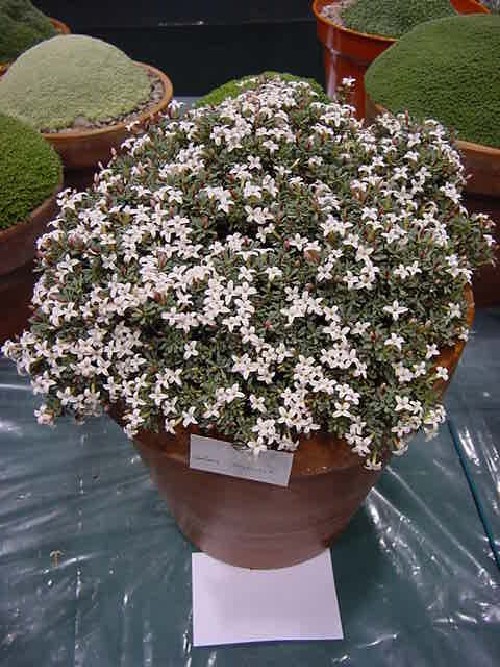 This mid-summer show has come to be associated with the unusual and unexpected exhibits and this show was no exception with exhibitors seeking out plants that require long days and high light levels to flower well.
Who has heard of Hypseocharis pimpinellifolia? It is in our 'Encyclopaedia of Alpines' where it is correctly said to be 'largely untried in cultivation'. This Andean plant has evolved to mimic Oxalis and Geranium with botanists sitting on the fence as to where it really fits. It has orangey-red leaf stems to 15cm that arch upwards with tufts of crenate leaves scattered along its length. The flowers held in clusters were saucer shaped orange-red with a cream centre and quite Oxalis like in form. Each lasts just one day. Grown by Alan Keay in a cold alpine house in a standard well drained neutral compost. The plant is herbaceous and grows from a reddish carrot like tuber.
The campanulas were of course there in profusion.  However, this year, the Farrer medal went to a fine pan of Daphne jasminea grown by Graham Nicholls.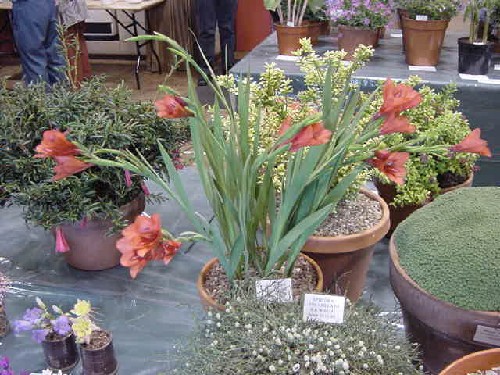 In the bulbous classes Gladiolus flanaganii has bulked up to be presented by a number of growers. These fine pans showed the typical sword shaped leaves and the rich red trumpet shaped flowers to perfection. The plant is some 30cm tall with the flowers tending to the horizontal as they would in nature. It is proving to be easily cultivated and quite hardy under cold glass.