Northumberland (Hexam) AGS/SRGC Show, 2011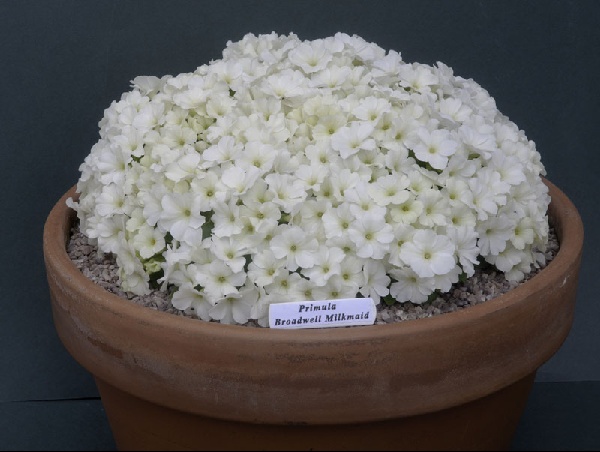 A fortnight earlier, at the previous joint AGS/SRGC show held at Blackpool, the Forrest Medal had been spirited away to southern England: at Hexham the score was evened up with the Farrer Medal going north of the border to Cyril Lafong in Glenrothes. His Primula 'Broadwell Milkmaid' was immaculate and of a size that takes a decade or more to achieve. It really is far and away the most useful of the P. allionii hybrids for exhibition purposes, and easy to propagate: shoots simply broken off at the base and dibbed in the greenhouse sand plunge soon root. Back-crossed to P. allionii it is an excellent seed parent too, as exhibits by Brian Burrow at the March shows have demonstrated. Cyril was lecturing in Denmark on the day of the show, so Ian Christie took the plant along and accepted the award on his behalf.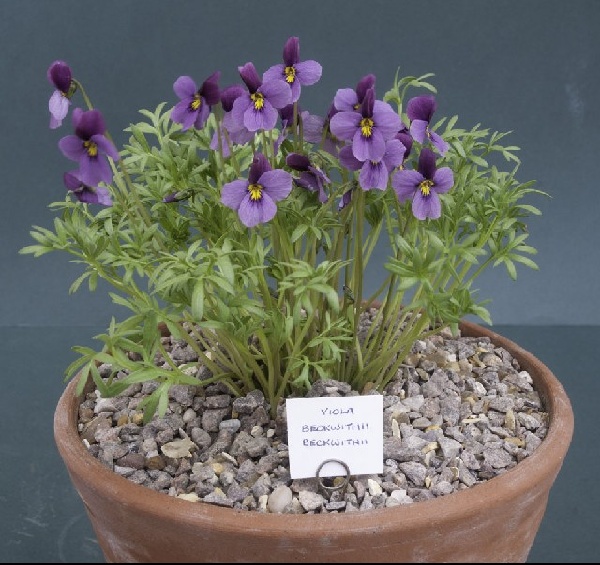 Stiff competition didn't stop local (Ebchester) exhibitor Ian Kidman from winning the large six-pan AGS Medal, as well as the E.B. Anderson prize for his small six-pan entry, within which a Certificate of Merit was given to Viola beckwithii. Various colour combinations of this summer-dormant NW American are known, some with much paler through to white lower petals. This was a much darker purple and deep mauve form than the bicoloured ones usually seen, and had been raised from seed sourced in the Sierra Nevada. It also occurs further north in Oregon, and as far east as Utah, often in sagebrush scrubland or light pine woods on higher slopes, invariably in rocky clay or silty soils. Seed is sometimes set in cultivation, though like the similarly cut-leaved (but yellow) V. douglasii, shown by the same exhibitor a few weeks later, coaxing the seedlings through their first year's dormancy is a chancy business.
Ian's overall success earned him the R.B. Cooke Plate for most first prize points in the Open Section, echoed in the Intermediate Section by Jim Watson (Stocksfield) acquiring the Gordon Harrison Cup, and another semi-local exhibitor, Tony Stanley (Darlington), taking home the Cyril Barnes Trophy for the aggregate prize in the Novice Section.
Local input continued with an enthralling exhibits of maps and photographs highlighting the diverse local flora, entitled 'A walk on the wild side'. In acknowledgment of its exceptional educational content, this received a Large Gold Special Award.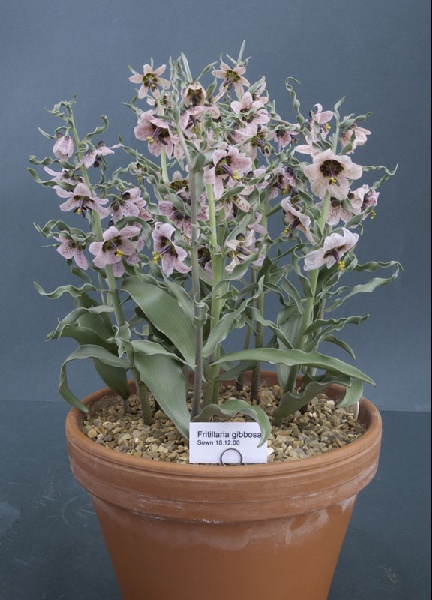 Once again Alan Furness (Hexham) received the Sandhoe Trophy for the best plant in a 19cm pot, this time for his well-established group of Fritillaria gibbosa. Even 10 years ago this was rarely seen in cultivation, most of the stocks built up from introductions in the 1960s having died out, but in recent years western plant-hunters have flocked to Iran especially, and breeding populations have been established in specialist collections. (The full range of the species stretches from Armenia, throughout much of Iran, on into Turkmenistan and Afghanistan, terminating in Pakistan (Beluchistan), though with old records from Uzbekistan that may well represent another Rhinopetalum species, F. stenanthera.) The flowers of the latter are much more narrowly conical and lack the intricate speckling and spotting typical of F. gibbosa, beautifully displayed in the plants exhibited. Well-grown spikes can comprise as many as a dozen flowers (15 appears to be the record number), subtended by spiralled grey bracts that lend an exotic touch.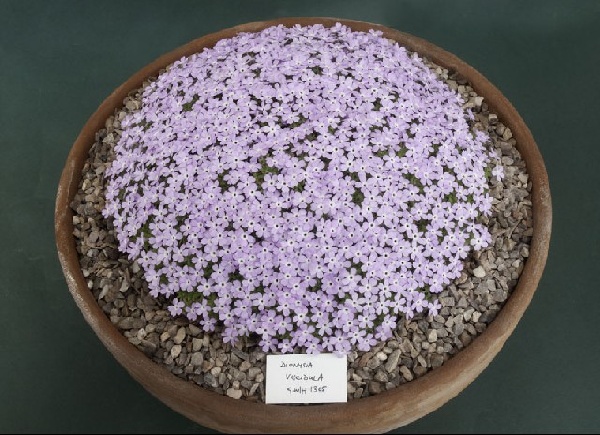 Whereas the fritillaria is now well-represented in gardens from various collections, another plant from this part of the world, Dionysia viscidula, survives precariously in the form of just one clone dating back to the 1971 Grey-Wilson & Hewer collection from the Darrah Zang gorge in northern Afghanistan. While man-made hybrids with D. freitagii have proliferated over the past 20 years, maintaining the species has proved much more challenging. The specimen shown at Hexham is one of the largest in cultivation – there are perhaps just two others of comparable size in the United Kingdom. John Dixon (East Leake) received his first small plant from the late Eric Watson (one of the show's key figures from the past) and has sustained success in rooting and growing on cuttings of this easy to affront species, so the Certificate of Merit that he collected was hard-earned indeed.
John Mitchell and his staff at Edinburgh RBG received a Gold Medal for a varied display of alpines and bulbs in pots. These meticulously labelled exhibitions are a long-standing feature of this show and the hard work involved in mounting them year after year is much appreciated.
In total 643 plants were entered in the competitive classes, and it is clearly impossible to discuss more than a few, though mention should be made of two that I haven't seen here before. The narrowly endemic, north Italian Primula albenensis has taken well to cultivation since its discovery on Mt Alben in 1993. In addition to the usual bluish-violet forms, Henry & Margaret Taylor (who travelled to see it 'at home' in 2001) reported a deep purple plant, and, in the nearby Val Noseda, a couple of white forms. Alan Newton's exhibit of a similarly albino version caused much interest, as did Don Peace's three pan Fritillaria entry, which included a rare natural hybrid, F. aurea x pinardii, which few had heard of until a photograph appeared in Bulbs (1981), a Pan Garden Plants Series book co-authored by Martyn Rix, who reported that he had chanced upon a couple of examples in central Turkey (Rix 1601, 1602) and that these were increasing well by bulbils in cultivation, much in the way of their parents. The flowers are smaller and the tepals more clearly margined with brown than most examples of F. aurea, which the same exhibitor showed well in the large pan class for a plant native to Turkey.
Dave Riley/ Robert Rolfe