Northumberland (Hexam) AGS/SRGC Show, 2010
The Northumberland show is one of our joint shows (AGS & SRGC) and the two societies alternately determine the 'rules' for judging. This year the show was 'under Scottish rules' and so for instance the best plant in the show was awarded a Forrest Medal (more later). Another difference from AGS procedures is that judging is directed by the show secretary. It must be an arduous task running any AGS show but to have the added responsibility of keeping a bunch of AGS/SRGC judges in line must add significantly to the work load. Peter Maguire coped admirably – thanks Peter.
It was nice to see the presidents of both societies (in spite of the long travelling distances required) chatting together. I asked them for the correct collective term for two (lady) presidents suggesting 'a brace of presidents' – they thought that perhaps 'a bevy of presidents' was more appropriate!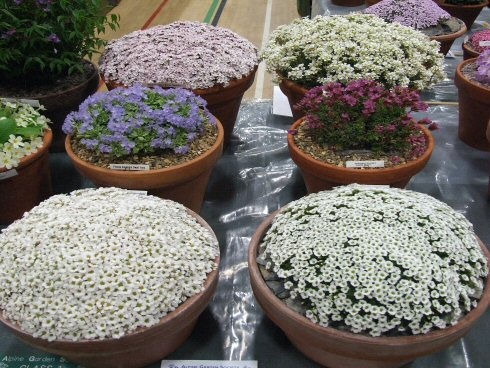 Following the cold winter and relatively slow start to the season, many plants seem intent on making up for lost time. Saxifrages, in particular, have provided a very strong presence on the show benches this year and at Hexham this trend continued.
Mark Childerhouse used his Farrer winning 'Mary Golds' from last week, with three more saxifrages alongside Androsace laevigata and Primula marginata to win the large 6 pan class. There were three entries in this class – a very good indication of the strength of the show.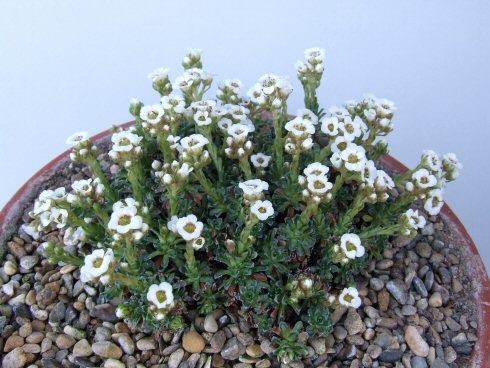 Saxifraga clivorum is a species with a somewhat controversial history. The plant exhibited was from material collected in Nepal by Ron McBeath (McB1476). It had been identified as this species when it gained a PC in 1996 but others believe it is more likely to represent a natural hybrid with S. andersonii or possibly with S. poluniniana. Regardless of its true identity, it has a quiet and understated charm – a nice counterbalance to the more usual 'big and blousy' saxifrage hybrids.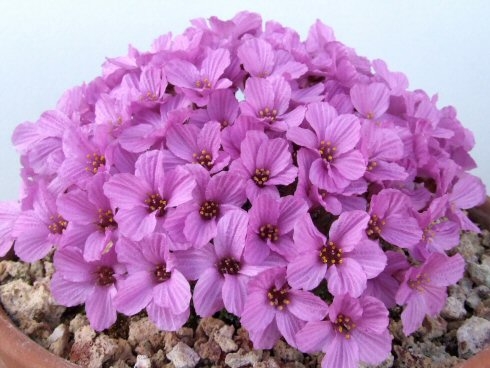 The relatively recent introductions of Saxifraga columnaris and Saxifraga dinnikii have become very popular, although somewhat challenging to cultivate, and have spawned a number of hybrids. A cross between the two (sometimes labelled S. x dinninaris) was judged to be the best plant in a 19cm pot and was also given an Award of Merit by the 'Joint Rock' committee (which also met on the day). This particular plant originated from Gerd Stopp in Germany and is currently growing in a lump of tufa set into the compost mix within its pot.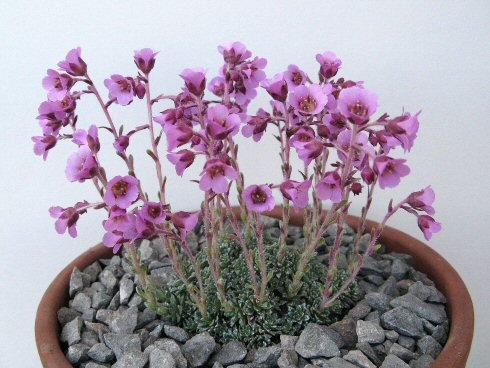 Saxifraga 'John Byam-Grounds' is an unusual S. dinnikii hybrid, this time coupled with S. stribrnyi. Produced in the Czech Republic by Karel Lang, this has produced an interesting and pleasing cross exhibiting a true mixture of the two very different characters of its parents.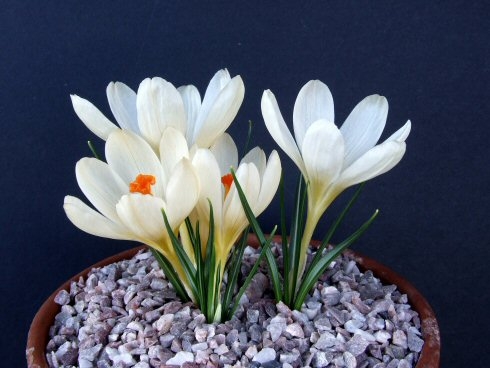 Tommy Anderson is one of our prolific saxifrage exhibitors but not exclusively so. For 'something completely different', he showed us a very nice (and sweetly scented) Crocus cvijicii with nice cream coloured flowers. Not the usual clear yellow or yellow orange colour. It was originally collected by Henrik Zetterlund (HZ8557) in Southern Yugoslavia.
Brian Mathew's book confirms that "creamy forms occur in the wild" so the colour provides us with no difficulty however the stigma was not three lobed, as expected for this species, leading expert onlookers to suggest that it might be a hybrid. Apparently Janis Ruksans' book (Buried Treasures) has a picture of a possible candidate [I don't have the book so leave it to those readers who do to check it out!]. As a snowmelt plant, this species is not an ideal candidate for the usual 'bulb regime' and Tommy suggests it is probably better grown without annual lifting and never depriving of a degree of moisture.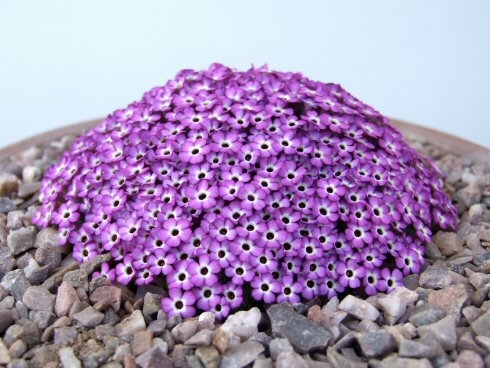 Derek Pickard is well known for his expertise in growing Dionysias and his plants of Dionysia bryoides are instantly recognisable on the showbench in their long tom pots. One of these, in the familiar sugary pink colouration, was awarded a Certificate of Merit by the judges but I was drawn to a more richly coloured seedling. Sown in November 2005 this had not yet reached the size of the CM plant but surely has great potential. Its rich colour drew many comments, including the perhaps inevitable questions about the possibility of hybrid interference!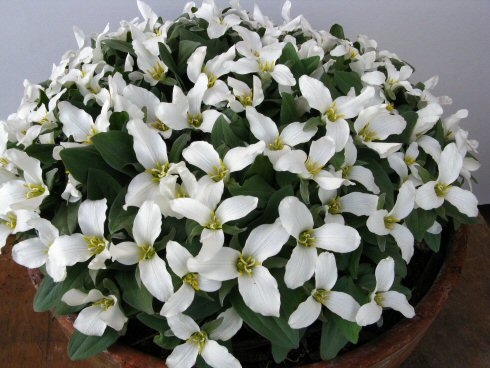 The Forrest Medal award for the best plant in the show went to Trillium nivale grown by Alan Spenceley. This plant had won a Farrer Medal for Alan at Blackpool show four years ago, having been in Alan's ownership for many years but originating way back in the late 1970s. I had assumed this would be in a 'woodsy' mix but carrying the plant to the photographers table strongly indicated otherwise – it weighed a ton! Alan confirmed that he grows it in a gritty, loamy mix with perhaps about 20% leafmould.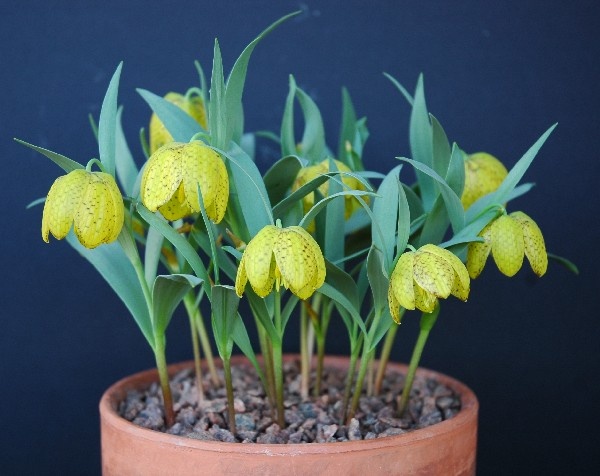 Fritillaria aurea is one of my favourite frits and it was nice to see a form that is somewhat different from the more familiar and more robust form. Dave Millward's plant had flowers that were shorter and somehow more delicately proportioned. The bells maintained their petal structure in contrast to the named form 'Golden Flag' which often flings at least one of its tepals wide and to my mind does not represent an improvement on its unnamed relatives.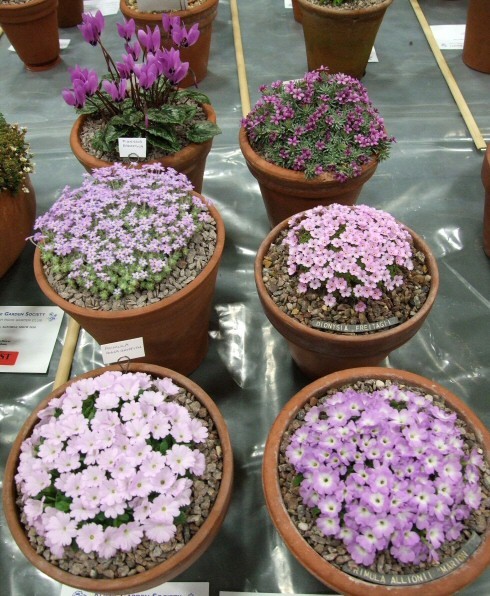 I started with the big six and so finish with the small six.
Ian Kidman took this, again well contested, class with a good mixture of primula, dionysia, androsace and cyclamen. This helped significantly towards his being awarded the R B Cooke Plate for the most first prize points in the Open Section. It is Ian's local show and this is not the first time that he's taken more than one of the major awards.
As well as the display of plants in the competitive classes of the published show schedule, there were two additional displays which together spanned the entire far wall of the hall.
A Gold Award was presented to the North East England AGS Group for a very comprehensive display of photographs, information and leaflets explaining what alpines are all about. Hopefully a good number of potential converts will have left the show with additional knowledge of how to get involved. The display clearly represented a huge amount of work and well deserved its award.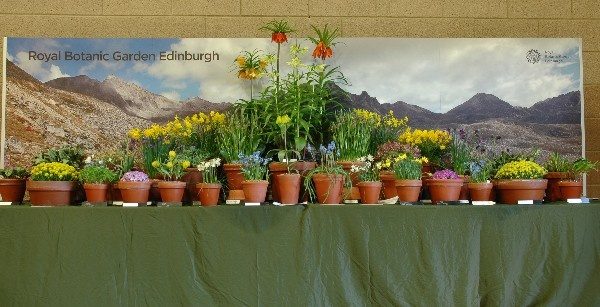 The second display was a collection of plants staged by the Royal Botanic Garden Edinburgh and was also given a Gold Award. A large number of plants (I assume only a small part of their collection!) were carefully and tastefully arranged to provide a very balanced display. The plants were all fine examples and accompanied by their often highly informative black labels familiar to those who have visited the garden.
Those involved with assembling these two displays, the 76 exhibitors and not least the organising team led by Peter Maguire deserve congratulations for another successful joint show.
Images - George Young and Don Peace
Don Peace