Northumberland AGS/SRGC Show, 2016
The weather was cool, overcast dry as staging began. After what was had been in many places hardly to no winter at all, it was difficult to predict what effect this would have on the plants, the subsequently colder conditions having delayed some, while others seemed to gallop away regardless.
It wasn't until the hall was cleared for judging that I was able to take a proper look along the benches, and witnessed a bumper display. Over the years I have seen some wonderful shows at Hexham, and on this occasion the timing was, as they say, just about perfect.
The benches were very well-filled, with numerous plants flowering their socks off, and a broad variety of genera represented. This was also reflected in the plants available from the nursery stands, where a multitude of colourful little beauties offered temptation.
At the far end of the hall, an educational montage courtesy of the Local Group offered once again excellent advice to potential new members. There was also an excellent display of bulbous plants from RBG Edinburgh, who regularly exhibit at the show, always to a very high standard. This year, especially, the plants were spot-on. Their exhibit received a Gold Award, which reflected all the hard work put in by the team to bring such a display together.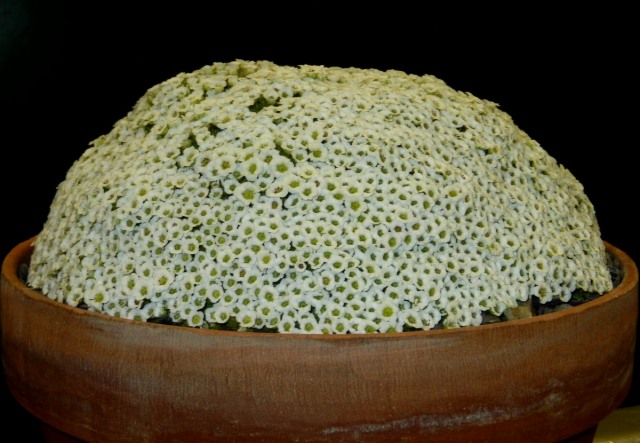 This year the show was judged under Scottish Rock Garden Club rules, a Forrest Medal awarded to Mark Childerhouse's veteran, very weighty Saxifraga 'Coolock Gem'. Just about every single flower on this phenomenal white-domed plant was at its peak – a fine example of good growing and good timing.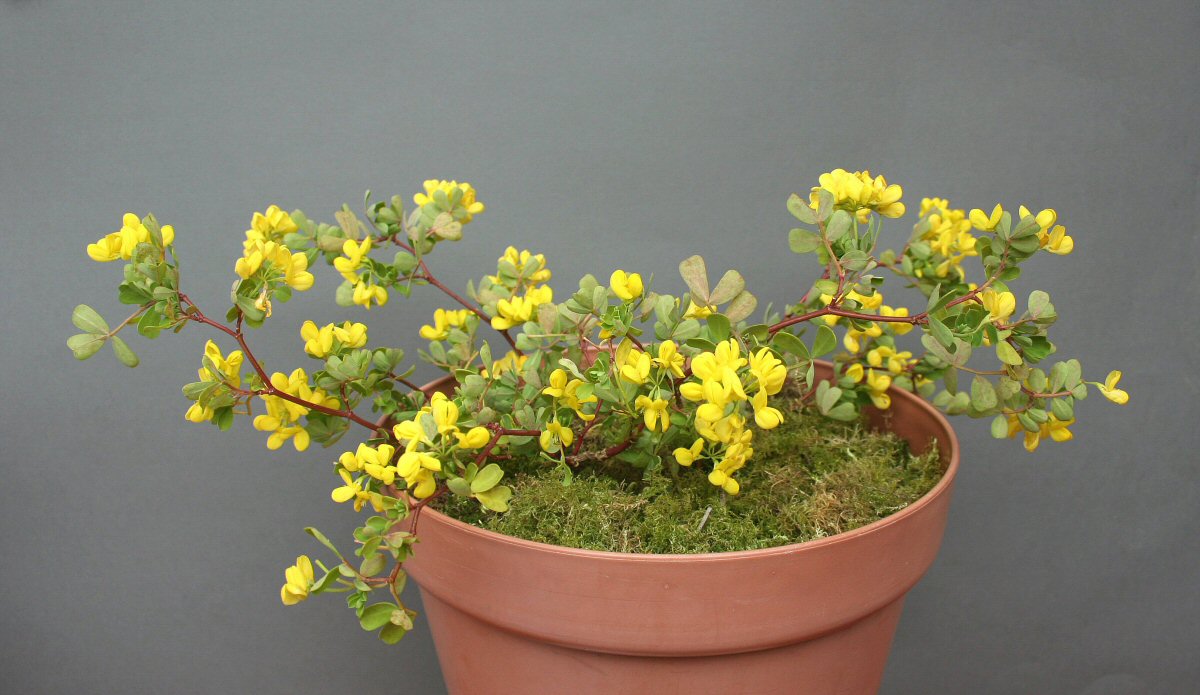 Besides being a good year for cushion and bulbous plants, shrubs and herbaceous genera were well-represented too. In the class for one pan dwarf shrub, excluding Ericaceae, was a nice Chamaecistus demissus shown by Barry Winter, who stated that other than a gritty compost and not much watering, this plant was hardy outside and thrived on neglect. Ideal for showing, evidentially!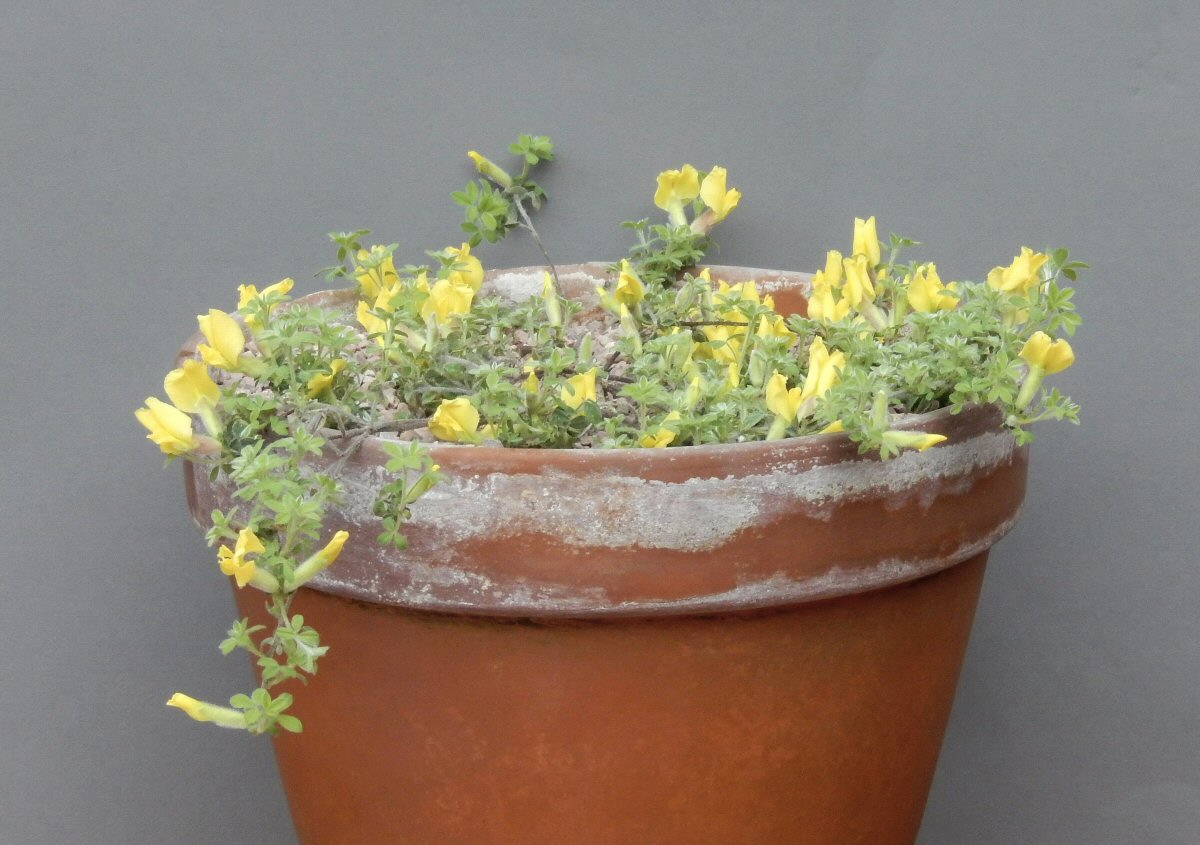 Another shrub in the same class, also decked out in spring finery, was Hippocrepis emurus, shown by Tom Green. This diminutive cousin of several larger, familiar garden plants requires shelter under glass, and was dotted with pale yellow pea-like flowers, which, like its relatives (sometimes classified under Coronilla), had a lemony scent.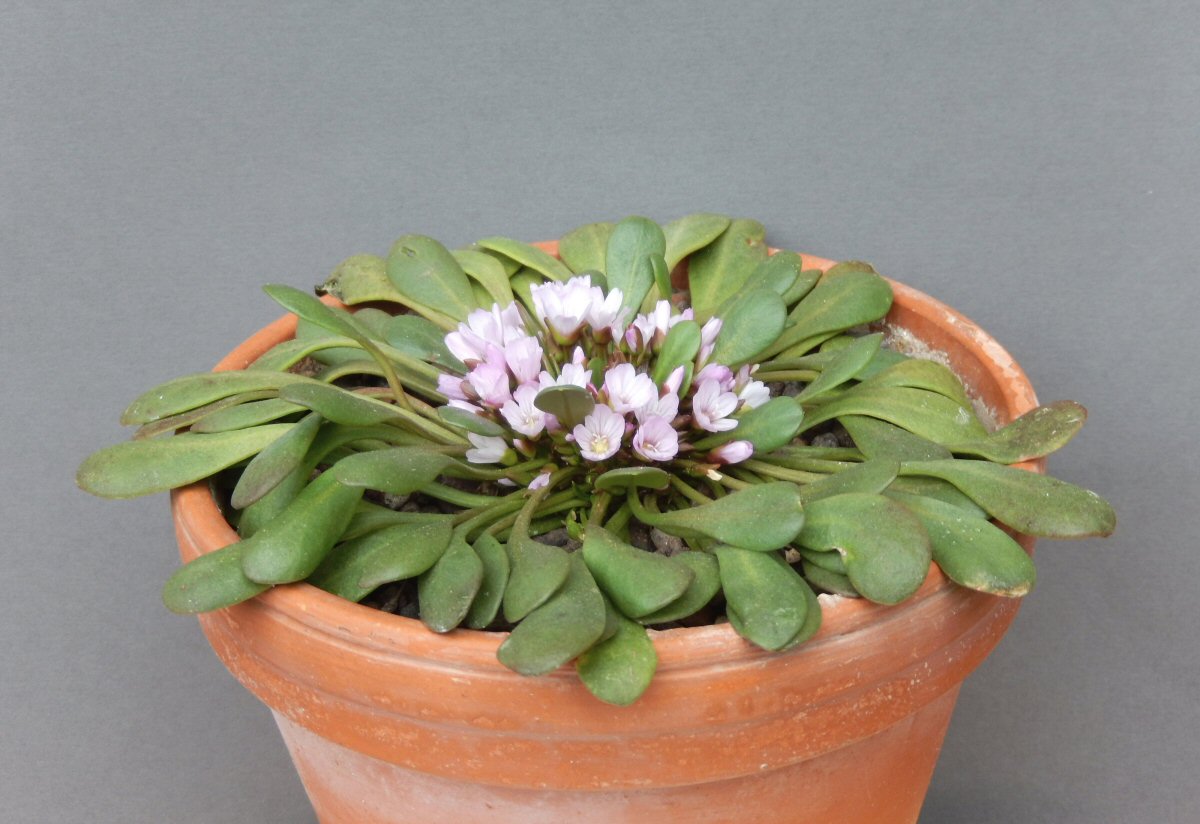 Claytonia megarrhiza var. nivalis, exhibited by John Bunn, is a North American dryland plant, grown in a very specific compost mix: one part granitic grit, one and a half parts sharp sand, one part John Innes no. 3, and half parts perlite and fine peat, with added fertiliser made up of granular Q4, bone meal and volcanic rock dust. It was top-dressed is Cornish grit (this information is passed on by Peter Farkasch, the original owner of the plant, so for anyone who would like to grow these types of plants, such detail is a gift).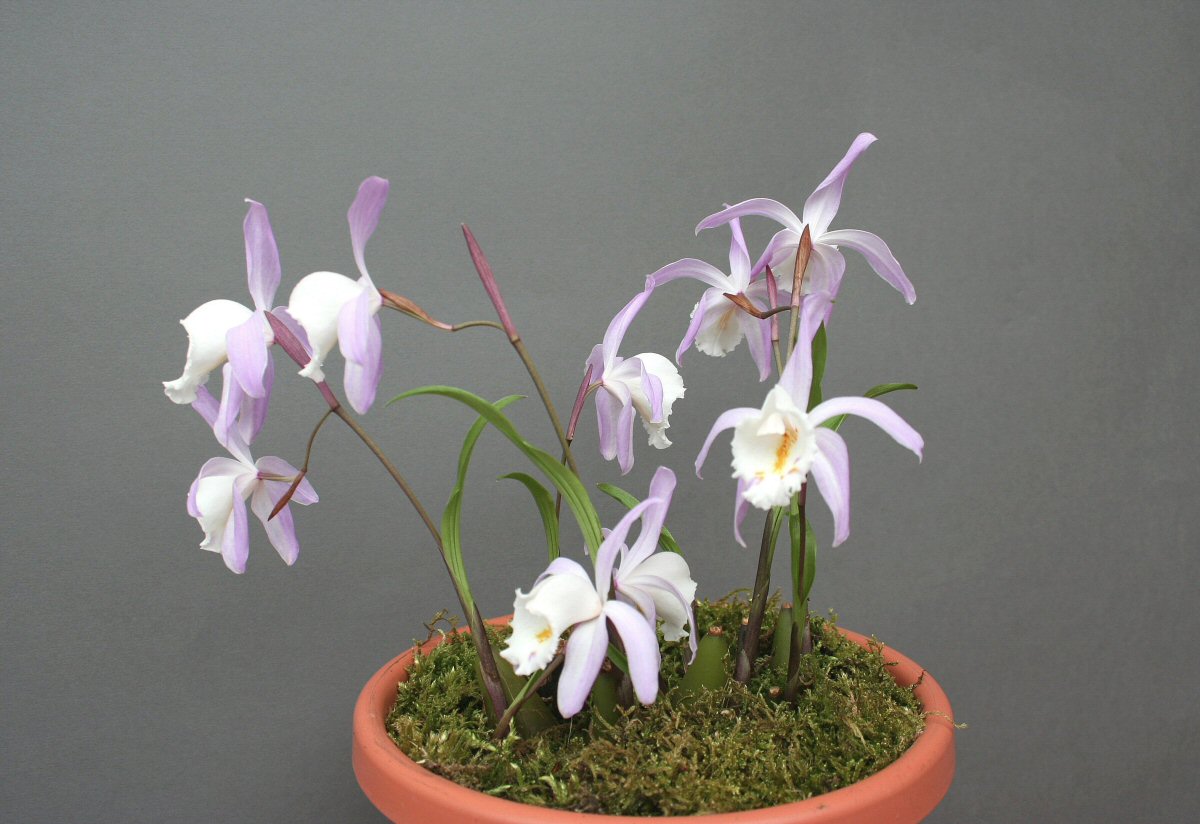 An elegant orchid, Pleione chunii (shown by Carole & Ian Bainbridge), I associate with Kath Dryden, in whose Sawbridgeworth (Hertfordshire) garden dry summer heat was always a challenge. It was lovely to see it grown in an orchid mix, top-dressed with plenty of wood moss. As Kath discovered through her pioneering efforts, a humid atmosphere when in growth is needed for it to grow well (I struggle with it in dry Norfolk).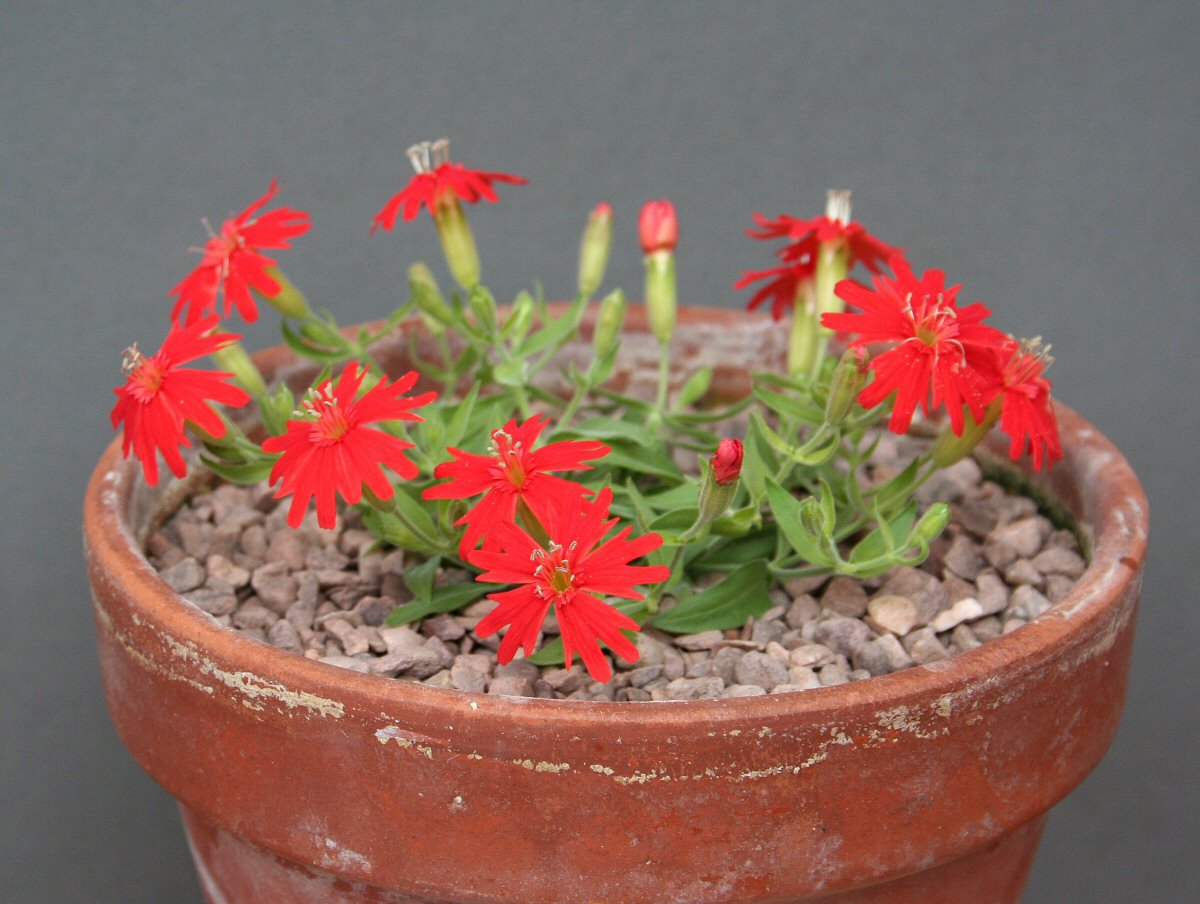 Newly-reintroduced to cultivation, Brian Burrow's most attractive Silene californica had vibrant red flowers, in sharp contrast to many other spring-flowering plants. A plant from North America, and a dryland species, it is grown in a gritty, well-drained compost, under glass, with no heat, and is dormant in winter.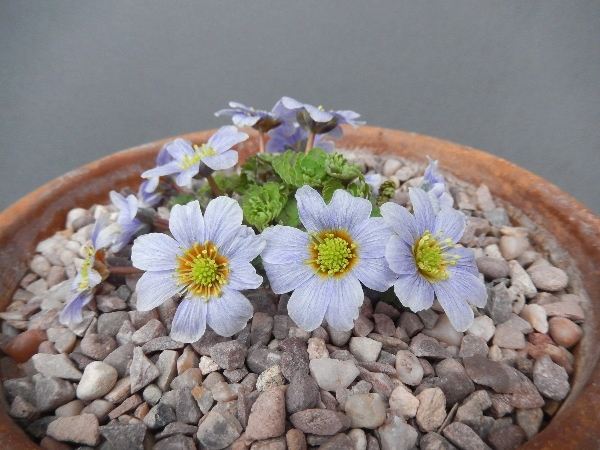 Alan Furness showed a neat Callianthemum farreri nearby, grown under glass in a 50:50 mix of grit with John Innes/multipurpose compost. The flowers had been pollinated, and seed was hoped for (alpine grower's optimism), although it can also be propagated by division.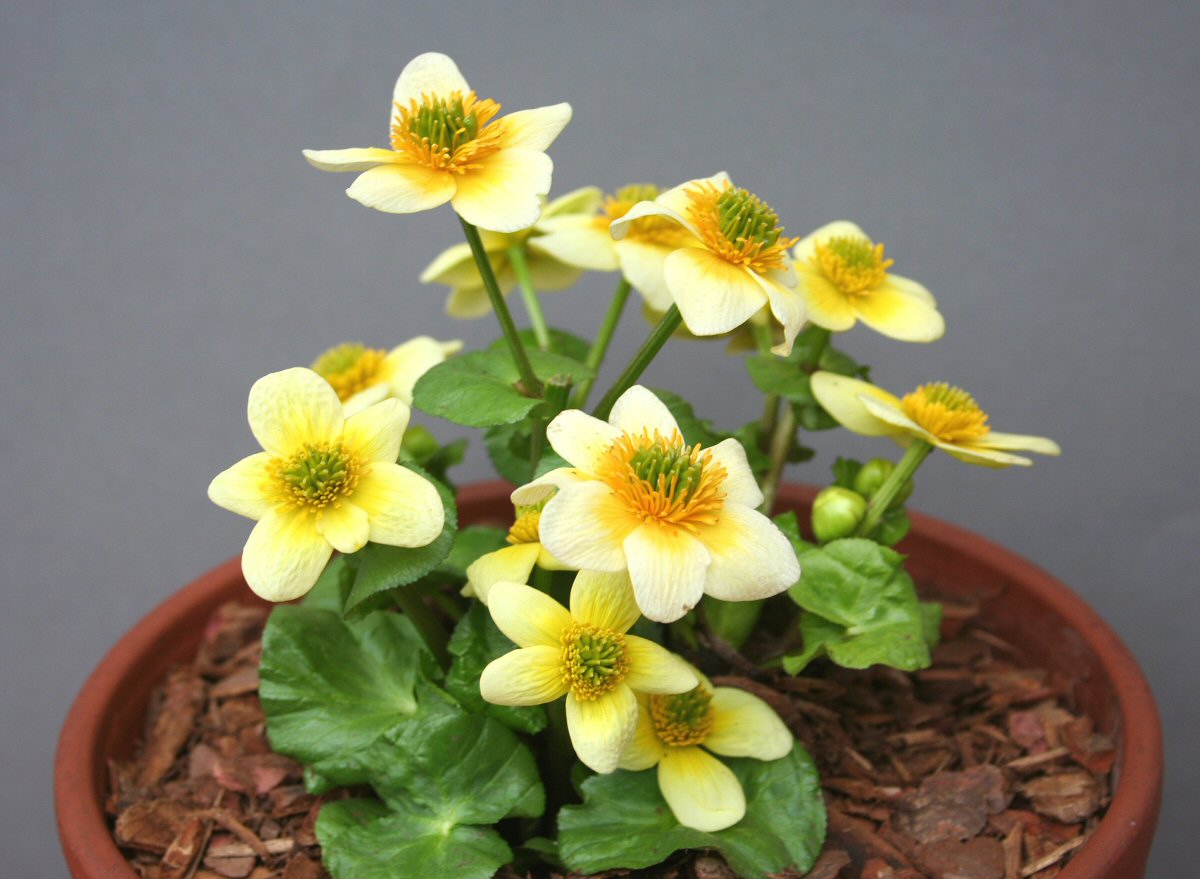 In the same class was a plant that would naturally grow in the opposite conditions to the previous exhibit. Caltha polypetala x leptosepala, shown by Graeme Butler from Rumbling Bridge Nursery, is a garden hybrid that occurred in the exhibitor's garden, and the only one of which he is aware. Unsurprisingly best treated as a marginal pond/stream plant, it produces shining, lemon-yellow flowers with paler margins, and has a long, successional flowering display, lasting for several months. One to watch!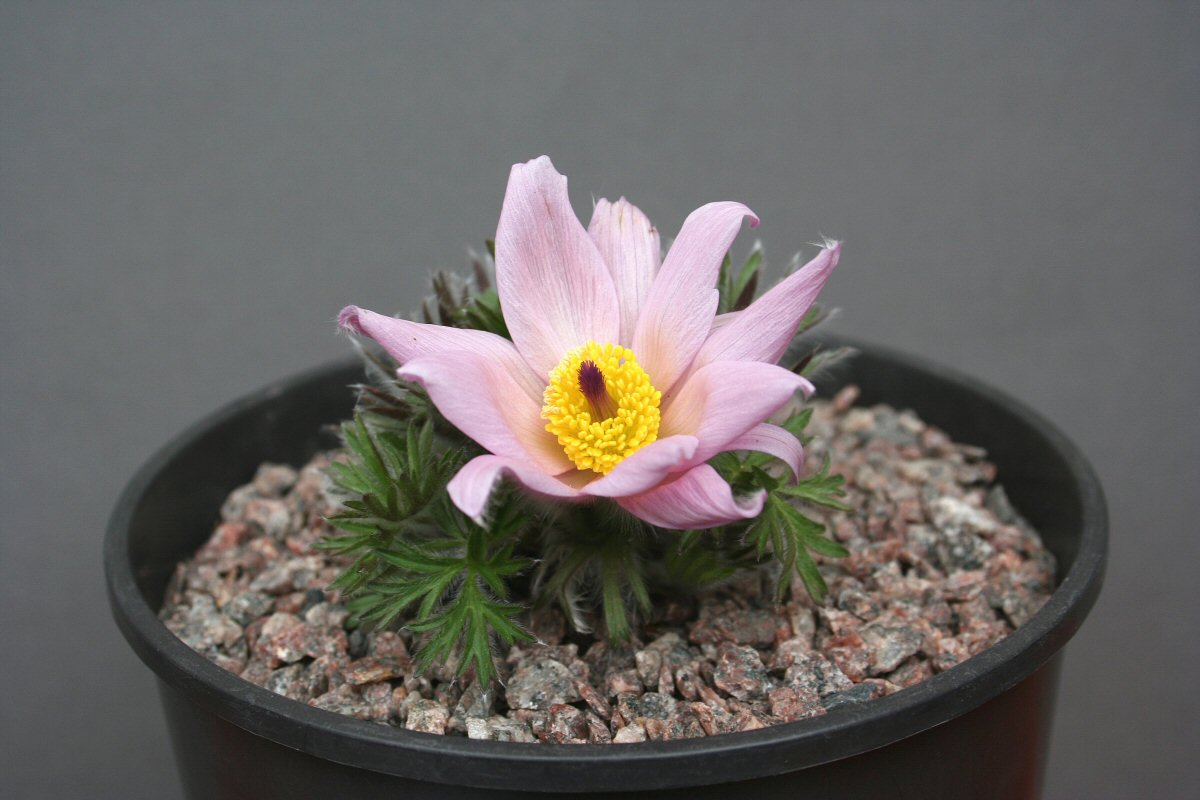 Grown by the exhibitor from seed, Lionel Clarkson's lovely pan of Pulsatilla halleri subsp. styriaca had a neat habit and a large flower in a delicate shade of pink. Grown in a long tom pot, in a gritty mix, it lives outside all year round.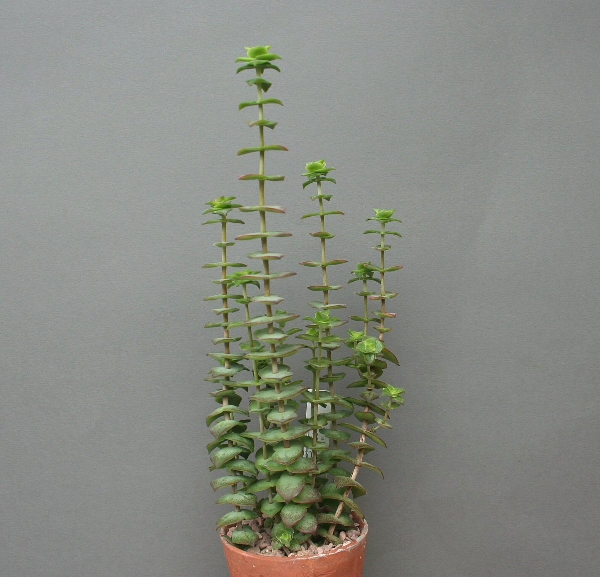 An unusual plant in the Intermediate section one pan Crassulaceae was Crassula perforata, shown by Christine Boulby. This succulent plant is native to Kwazulu-Natal, and is populaly known as a 'stacked' Crassula because of its very straight, upright stems, with the leaves apparently layered one on top of another all the way up. It grows in a long tom pot with very little water, frost-free, kept dry in cold weather. A typical reminder of just how global the plant range can be at our shows.
This was a truly excellent assembly of plants that reflected great credit on all those involved.
Reporter: Angie Jones
Photographers: Mike Dale and Don Peace