Northumberland AGS/SRGC Show, 2015
After a very up and down winter, some of the plants were performing several weeks later than usual, which was of great benefit to this show, for the benches were filled with a great variety of plants displaying diverse colours, shapes and forms: they looked wonderful! There were two exhibits at the far end of the hall, one showing a very fine collection of bulbous plants - Narcissus, Scilla, Erythronium, Rhodophiala, Leontice, Fritillaria and Tristagma, shown by RBG Edinburgh, and also a fascinating exhibit called Plants By Post, showing native and foreign plant species depicted on stamps from around the world by local group member Mike Dale. They were given Gold and Large Gold Awards respectively.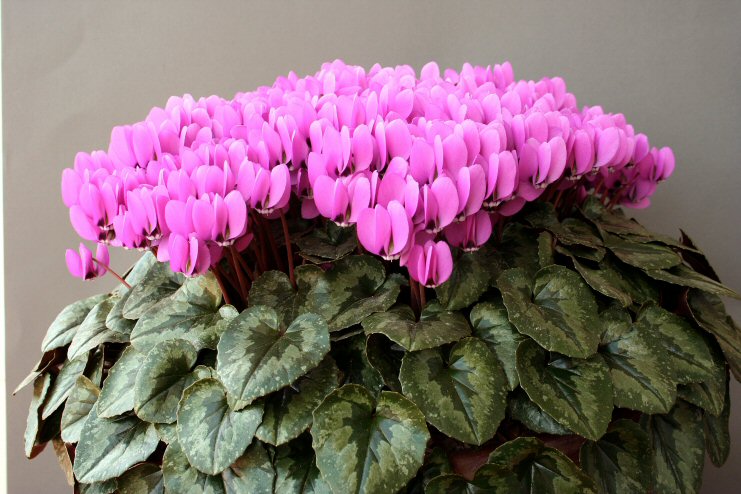 In the Large Open six-pan class was a very noteworthy, much applauded example of Cyclamen pseudibericum, shown by Frank and Barbara Hoyle. This they were given as a mature plant by Mike and Christine Brown. The flowers were a magenta pink that positively glowed, making the exhibit eye-catching from any corner of the show hall. It is grown in a mix of sterilised loam and bracken, with 50% grit, and the corm is surrounded by perlite. The exhibitors state that although it is a mature plant, it gets even better each year.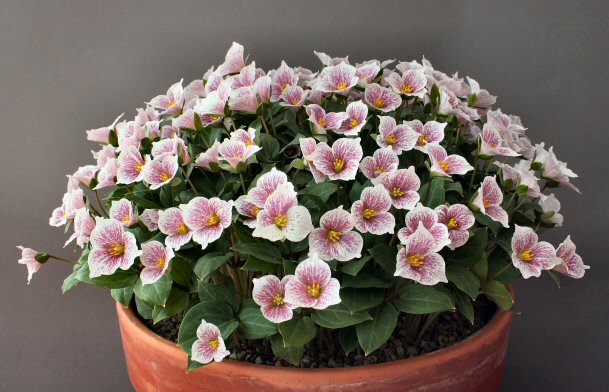 Another astonishing plant in the adjoining three-pan class was a huge pan of Trillium rivale 'Purple Heart', shown by Cyril Lafong. This woodland plant, well-known at shows on both sides of the border, originated from seed from Boyd Kline. While it has no direct watering in winter, it is never kept completely dry. Against the strongest of competition, with four other plants in contention , it received the Farrer Medal.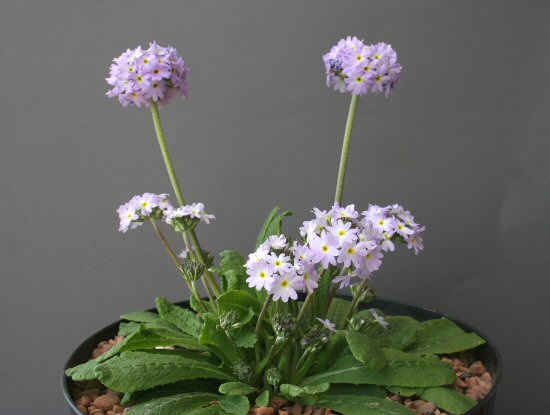 A recent re-introduction, Primula erosa, was shown by John Richards. This elegant denticulate species has not been seen since 1982. A low-altitude woodlander, flowering from November to March, it is grown in a humus-rich mix laced with perlite, kept under glass at flowering time, and shaded during the summer.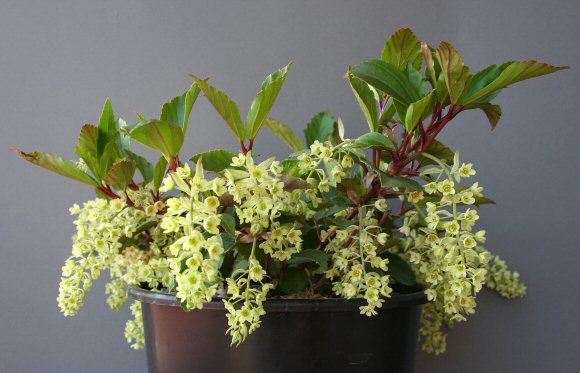 A dwarf form of an excellent shrub, Ribes laurifolium 'Mrs Amy Doncaster', was shown by John Savage. This evergreen plant is prolific in flower, with long, cream-coloured racemes over many weeks: it grows well in light shade in the garden. In a pot it requires a humus-rich but well-drained mix. There are two other dwarf forms in cultivation, and another is being developed for its later-flowering proclivity, I am told. One to watch.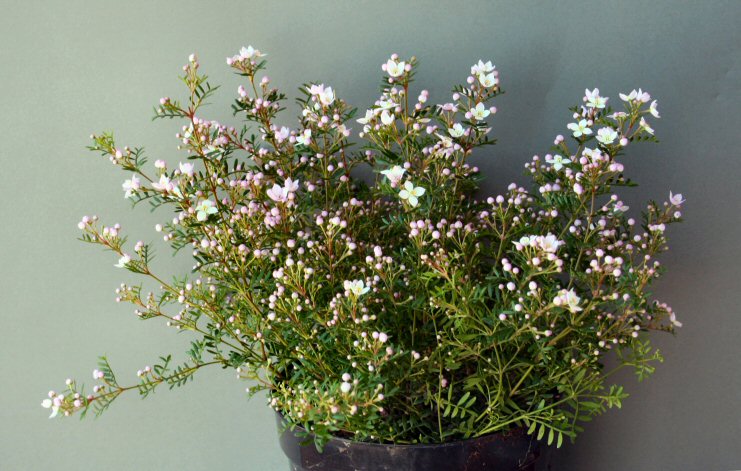 The same exhibitor also bought along Boronia anemonifolia, a little Australian woodlander, with tiny leaves and pink spherical flower buds opening white all over the plant, to charming effect. It requires cold glass and a humus-rich mix.
Among the myriad bulbous exhibits, in a three-pan class was an excellent Erythronium dens-canis with the clonal name 'Old Aberdeen' (it was not established whether this was correctly applied, notwithstanding which this was a fine example of a very good garden plant that has increased very well for its exhibitor, Diane Clement).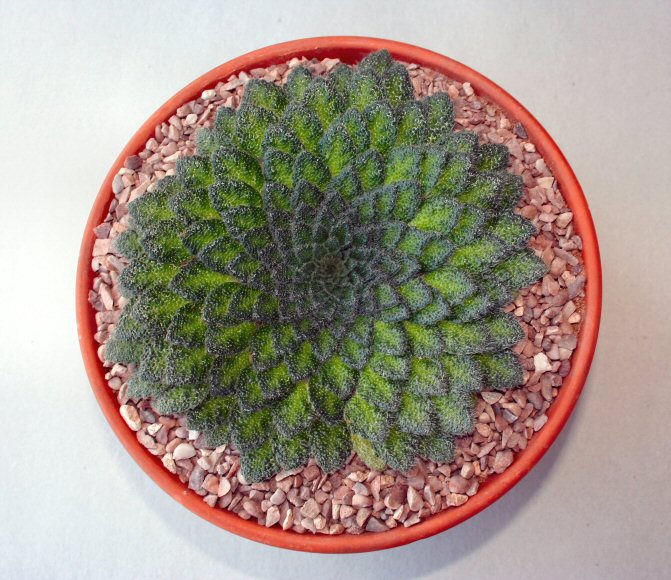 In a class for foliage effect was an exceptionally tidy example of Petrocosmea rosettifolia, shown by Christine Boulby. This plant, currently out of flower (it performs in the autumn), ably demonstrated the 'double duty' that many show plants offer - and this one showed a near-symmetrical rosette remarkable in its configuration. It is grown in a very gritty mix with no heat but minimal winter protection.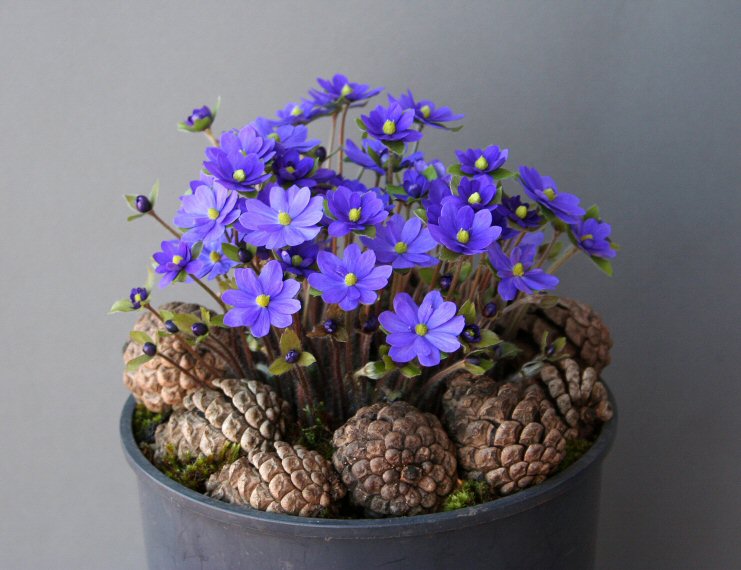 There was another striking plant by this exhibitor, a very neat example of Hepatica x media 'Millstream Merlin'. The flowers were very even, in a sumptuous shade of rich, royal blue, for which this North American selection is famous. This particular plant came originally from David Boyd, and now prospers in the care of another fine grower, where it is managed in a very gritty mix, in a long tom pot, with minimal watering during summer.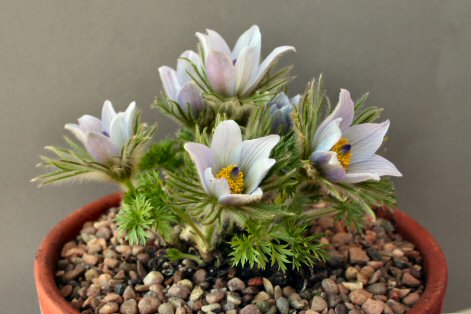 Also in the Intermediate Section was a lovely example of Pulsatilla halleri subsp. slavica from the western Carpathians, shown by George Jaworski. This plant was clearly grown in very good proportion, for it was presented in a good, 'tight' habit, with exquisite, huge, blue flowers. It thrives in a mix consisting of 50% grit, 50% John Innes no.2 and extra vermiculite, residing in a frame during the winter, but (surprisingly) left unplunged.
As is the case with such a good show, there were many other tremendous plants, but there is never space to include them all.
Author: Angie Jones
Photographer: Mike Dale