Northumberland AGS/SRGC Show, 2013
This, the twenty-first show at Hexham, was held slightly later than its usual end of March slot. In the wake of a long, hideously cold winter, this later date turned out to be extremely fortuitous. The number of entries was very substantial, and accordingly the benches were adorned with a vintage display of plants. The quality of the exhibits was excellent.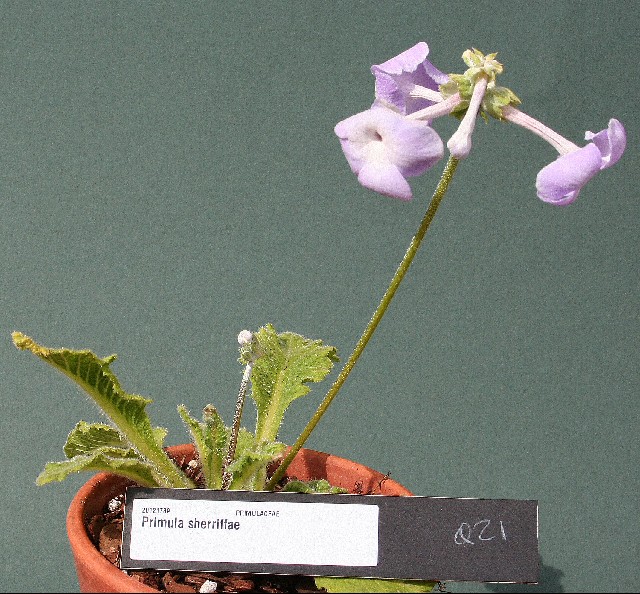 RBG Edinburgh staged a very fine array of mostly spring-flowering bulbous plants. Several of the components provided a little frisson of excitement, with a treat for Primulaholics in the form of Primula sherrifiae, a first for some of us,(and possibly a last, due to the nature of the beast.) A long-time speciality of the institution, it first flowered there in July 1935, the plant having been donated a few weeks earlier by its namesake, who had discovered it in SE Bhutan the previous year. It has come perilously close to lapsing from cultivation, on at least one occasion only hanging on courtesy of reserves in the RBG's seed bank. This received a Certificate of Merit, and the overall display was accorded a Gold Medal.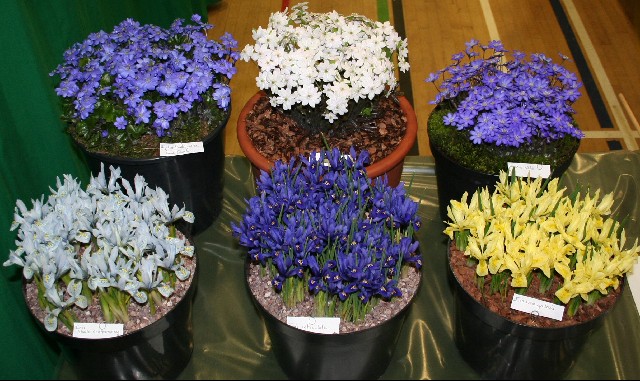 In the Open Section, a superb large six-pan entry was staged by David Boyd, with mature exhibits of Hepatica nobilis 'Blue Jewel' and Iris 'Sheila Ann Germaney' especially eye-catching. Both filled their pots, the sapphire of the hepatica contrasting well with the delicate veining of the iris. David is very adept at bulking up his plants by growing them in woodland soil with light shade, then lifting them and growing them in pots once they have found their feet. This entry was awarded an AGS Medal.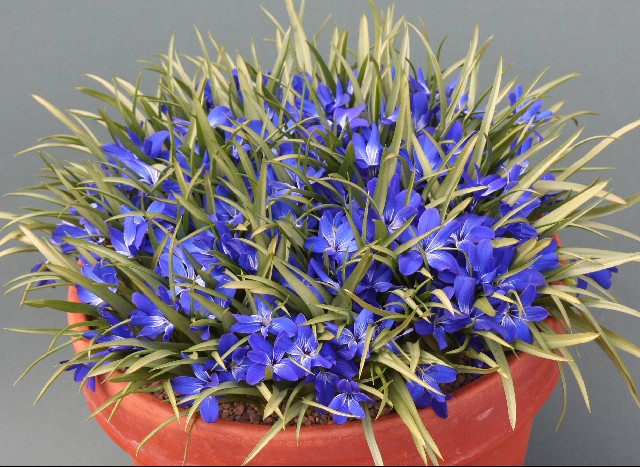 In the next class, Cyril Lafong's magnificent pan of Tecophilaea cyanocrocus formed part of a three-pan entry. This very large clump was very well ordered, with each glorious rich blue flower nestling at the same level, just below the tips of the leaves. Grown in a mix of John Innes no.3 and grit, and liquid fed after flowering, it is kept in a just moist sand plunge during its summer dormancy, then soaked in September to trigger renewed root growth. The result was a Farrer Medal, (the reward for years of patience!)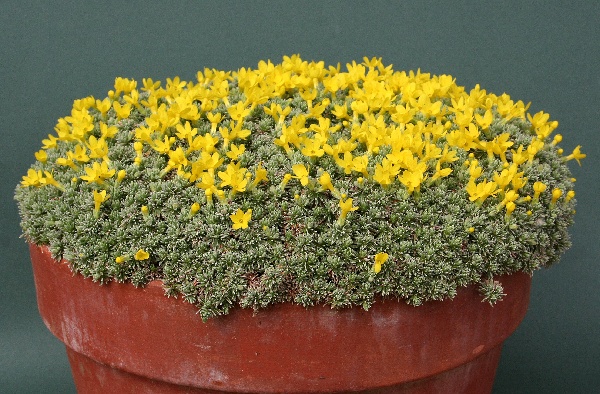 Another plant I suspected cannot be rushed is Brian Burrow's Androsace vitaliana subsp. assoana, which had formed a tight mat of tiny greyish leaves spangled with sessile yellow flowers, more inclined to open properly than some versions of this fairly widespread European mountaineer. This, the most southerly of five subspecies, is confined to Spain's Sierra Nevada and is far less often grown than subsp. praetutiana from the Apennines, whose floriferousness it rivalled. It appreciates a very lean mix of bark, John Innes no. 1, and three times as much grit, with a high-potash feed to bolster this very free-draining compost.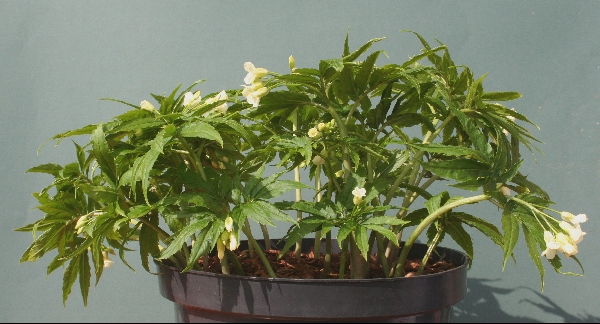 For most alpine growers the name Cardamine conjures up nightmare visions of weeding on a grand scale, so it is encouraging when a member of this genus with good manners (unlike the insidious bitter cress) appears at a show. David Boyd showed a good clump of C. kitaibelii, a well-behaved woodlander with a scattered distribution in Switzerland, Italy and northern Jugoslavia. This 20-30cm tall, rhizomatous plant has shiny green, pinnate leaves and little creamy yellow bells with nipped-in waists. It is grown in a humus-rich, acid soil and after many years is still very civilised in its behaviour, not overwhelming its neighbours or seeding far and wide.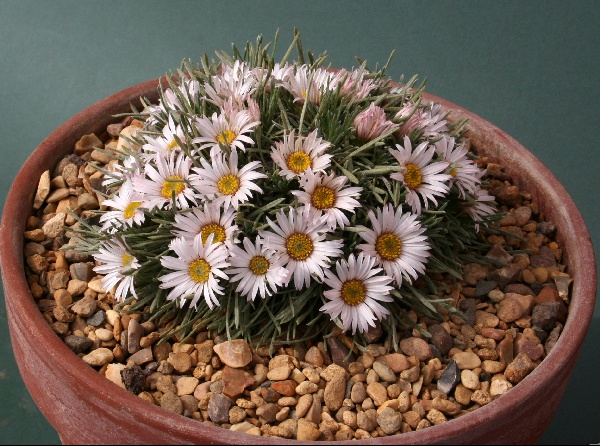 Another neat, appealing exhibit came in the shape of Townsendia hookeri, shown by Tom Green. This NW American makes a low dome, covered for a week or two in delicate pale bluish-pink daisy flowers. It needs protection from winter wet, a well-drained compost, and watering via sand plunge in winter. One other thing: watch out for aphids!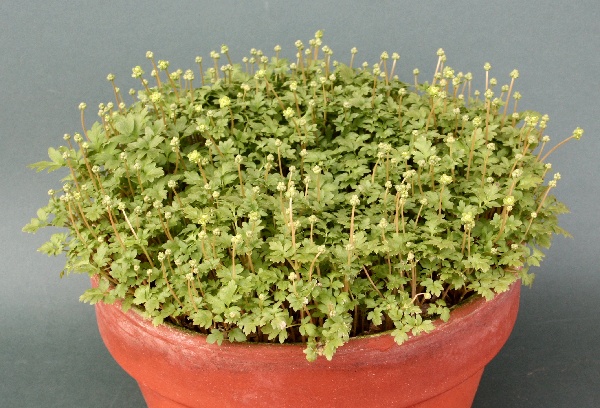 A plant of shady places, and one with appeal for lovers of all things green, was John Bunn's Adoxa moschatellina. This formed an even, slightly airy clump in a refreshing shade of apple green with tiny bobbly flowers held above the leaves, and would also serve in a foliage class, and in one for a native plant to boot. The unusual construction of the flowers accounts for its common name, Town Hall Clock.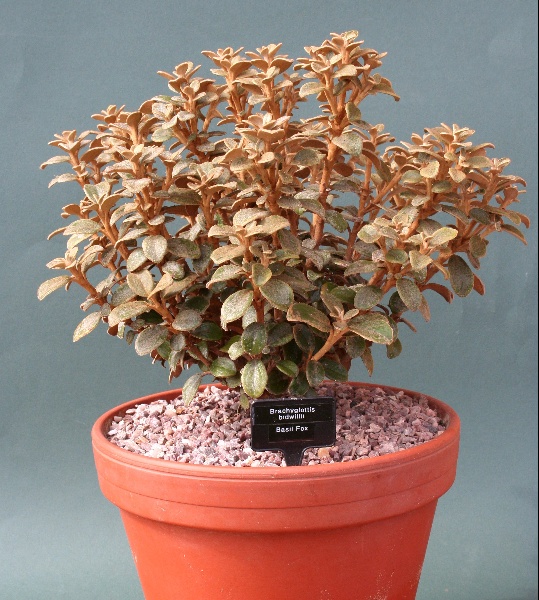 In contrast, Brachyglottis bidwillii 'Basil Fox', shown by George Young, had an almost bonsai-like appearance, its upright, congested habit giving the appearance of considerable age and its small, felted leaves with an appealing, slightly golden cast. George keeps the pot plunged to the rim in one of his alpine houses, and advises that this New Zealander prefers a lean compost that is never allowed to dry out.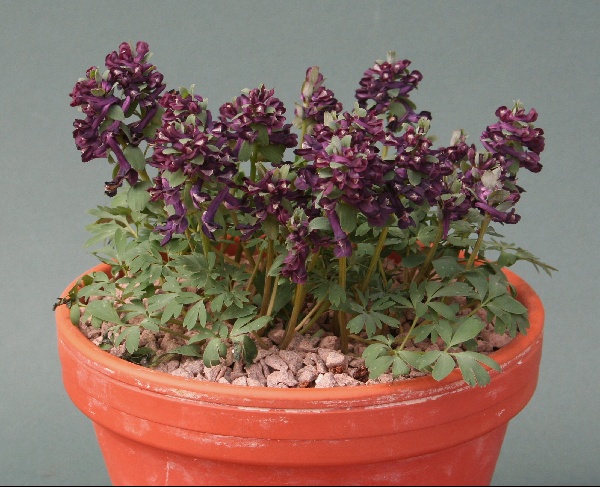 A new (for me) colour break in a familiar plant was Russell Hall's Corydalis solida 'Almandine', which was the darkest shade of smoky plum-purple I have ever seen, the flower colour complemented by the dark edges of the leaves. It lives in an alpine frame throughout the year, growing in a 50/50 mix of John Innes no. 2 and grit, with extra peat and perlite.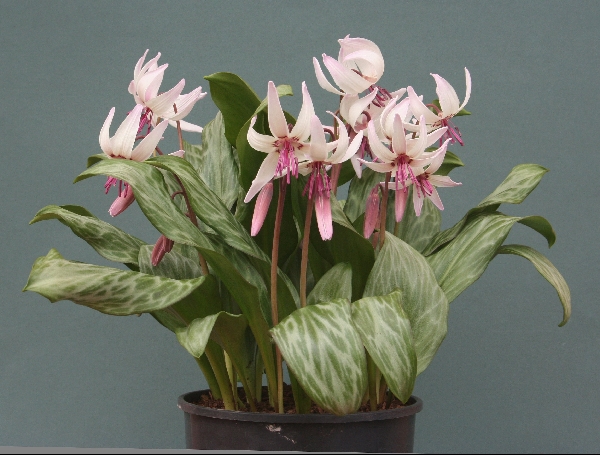 The same conditions suit the very elegant Erythronium 'Ardovie Bliss', which its owner, Ian Christie, informed me was found in Scotland, and will steadily increase to form a good clump. An apparent hybrid, with E. hendersonii as the seed parent, its flowers have a dark eye, the cream perianth segments cream with darker tips – a colour combination that picks up on the mottled leaves. Grown in woodland type conditions in John Innes no. 3, leaf-mould and grit, this newcomer is definitely one to watch out for the future.
To conclude, this was a wonderful show, a credit to the exhibitors, for there with literally hundreds of cracking plants. This report offers just a glimpse of the multitudes brought along to the Hexham show hall.
Author: Angie Jones
Photographer: Mike Jones