Northumberland AGS/SRGC Show, 2012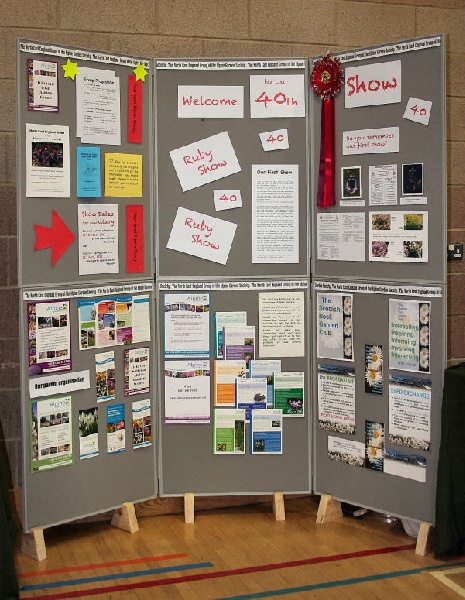 Hexham is a popular show venue with many attractions: a spacious and airy hall, a comprehensive schedule with classes to suit everyone, nurseries from England, Wales, Scotland and Northern Ireland, raffle prizes of blue eggs from Araucana hens and even (unofficially!) useful supermarket trolleys on hand to assist in transporting your exhibits.
In addition to these attractions, this year the show celebrated its 40th anniversary. To mark the occasion, the Northumberland group put on an excellent display with the theme The Colour Ruby', masterminded by Mala Janes. There were sections covering taxonomic classification, Latin pronunciation and a comprehensive selection of photos of plants with ruby colouring in either flower, foliage or fruit.
Also on display was an account of the first show held in 1972 with memorable names among the participants. Connie Greenfield was one of the judges, Michael Upward presented the prizes, Eric Watson won a trophy for the best three-pan and Bette Ivey won best in show with Cassiope 'George Taylor'. Of those mentioned in 1972, the last-named was the only one also present at this year's show and fittingly she made a speech before SRGC president Liz Mills and show secretary Peter Maguire cut the celebratory cake.
Primula petelotii won the Sandhoe Trophy for the best plant in a 19cm pot, Robin Pickering having bought the plant from Aberconwy Nursery only last year! Found at c. 1,800-2,000m on Mount Chapa in Vietnam, it is usually regarded as slightly tender. But Robin had forgotten this early last winter, so it had been left out, surviving a couple of frosts. From then on it had been given frost-free conditions. The flowers last well - it appeared week after week on the showbench, well into April. Propagation is best conducted by growing on the plantlets which are formed at the end of freely-produced stolons.
Oresitrophe rupifraga grows on shady rocks in mountain woodland between 600-2,100m in the provinces of Hubei, West Liaoning and East Shanxi, in south-eastern China. A member of the Saxifragaceae, its closest relative is Mukdenia (both genera are monotypic), though there are also clear similarities the more familiar related genera of Tiarella, Mitella and Astilbe. The broad, flat leaves (which increase greatly in size by the summer, and need plenty of water to remain in good condition) are still at the emergent, glistening green stage when the panicles of 'fluffy' (from a distance: in fact they are quite waxy on closer inspection) pink flowers appear in spring. The plant was shown as an element of a three-pan new and rare entry by Alan Newton, who grows it in a woodland mix of peat, bark, sand and perlite. After flowering it is taken outdoors (a shady spot, sheltered from strong wind, is best) and over the winter it is kept in a cold frame.
Cryptantha humilis (var. nana) was shown by Alan Furness in the class for a plant rare in cultivation. Originally named C. nana, and more recently repositioned as Cryptantha humilis var. nana, according to the US Flora, it has now been subsumed within Cryptantha humilis along with several other varieties. The genus has its heartland in the inter-montane Great Basin of Nevada and Utah, an area of low rainfall and cold winters, with low humus, 'raw' soils, often unique in texture and chemistry. This harsh environment is home to many endemic species, often of decidedly limited distribution. Seed was obtained from Alan Bradshaw of Alplains, and was collected in Montrose County, western Colorado at an altitude of 2,400m (6,900') from an area of gravel beds surfacing old river terraces. Seed sown in January 2010 had produced flowering plants that showed the quick-to-mature haste of related Myosotis: the plant has been grown in a compost of equal parts loam and flint grits with no added humus, kept in an alpine house and kept plunged but not watered directly in winter. The plant has caespitose tufts of hairy, spoon-shaped leaves with flat-topped inflorescences of white flowers whose petals are joined into a five-lobed corolla, with a raised yellow ring in the centre. In some of the flowers the centre had faded to a creamy white, this loss of colour occurring about three days after a flower opens, even if hasn't been pollinated. The white-centred flowers have reduced reproduction potential, the change in colour serving as a signal to discourage pollinators.
Primula elatior (Bardfield form), shown by John Richards, was a genuine example of our native Oxlip (there have been some outcrossed, reddish cowslips on the show benches of late, and similarly exhibits of P. elatior are sometimes more like alpine/subalpine versions from continental Europe, or else they represent the hybrid between the primrose and cowslip P. x polyantha (P. veris x vulgaris), known colloquially as 'polyanthus' or 'the false oxlip'. In Britain the only truly wild populations of Primula elatior are found in broad-leaved woodlands, colonising damp, chalky soil on the county boundaries of Cambridge, Suffolk and Essex. The plant exhibited was of a more delicate nature than its close relative, the commonly-seen Primula veris, and is easily distinguished by its paler, larger and flatter-shaped flower with less orange markings in the throat, and a one-sided umbel of flowers.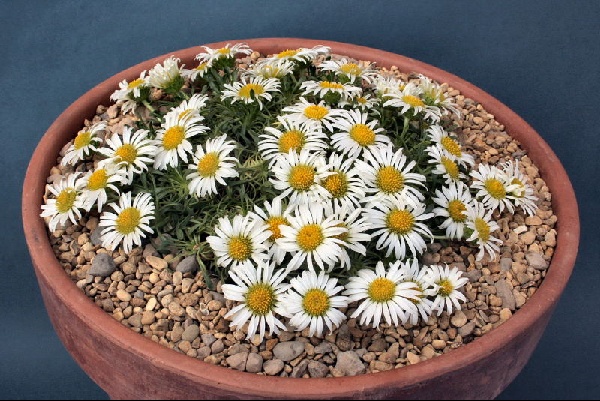 Townsendia rothrockii earned a Certificate of Merit for local grower Tom Green. He obtained it from the members' sales table at the Harrogate Show (not held this year, or last) some 10 years ago. Raised from seed wild collected in Mesa, Colorado, it is best propagated at the least every other year: the harvest of rapidly wind-dispersed seed is always worth collecting, for the parent plant can depart this life very suddenly. That said, Tom finds that his plant doesn't set seed. He grows it in a 50/50 mixture of John Innes no. 2 and grit. The flower buds abort if it gets too dry, so the plant is placed outdoors in all but very heavy rain, then taken under glass protection for the winter, when it is kept just moist.
Saxifraga x edithae 'Bridget', an Engleria favourite of long-standing, won a Forrest Medal for Chris Lilley. An old hybrid between Saxifraga marginata var. coriophylla and S. stribryni, dating from an unknown Irish breeder's efforts in the 1930's, it combines the crozier-stemmed, dark pink flowers of S. stribryni with the larger, flatter-shaped white flowers of Saxifraga marginata, which have resulted in a hybrid with multiple stems of pale pink flowers in generous quantities. The leaf rosettes retain the pronounced silvering of S .stribryni (S. marginata also manifests a silveriness in its smaller (sometimes much smaller), shorter leaves.
Chris's plant, now some 16 years old, grows in a clay pot that is kept outside the year round. He feels that this is important in order to ensure that the flowering stems remain short. It grows very slowly, so does not need regular repotting, but a weak feed is applied a couple of times after flowering, and in early summer.
Author: Diane Clement
Photographer: Mike Dale