Northumberland AGS Show, 2007 (with SRGC)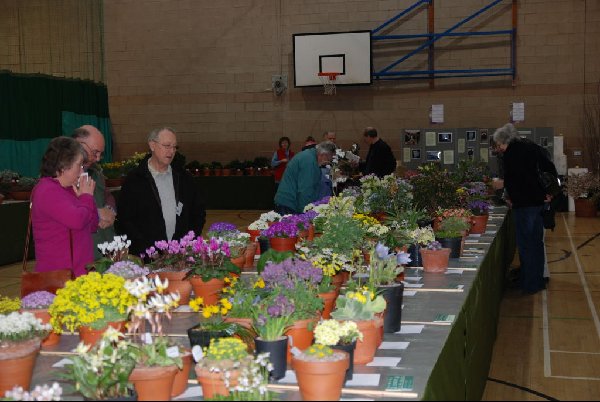 Large Sports Halls are expensive to hire, but space becomes less of a limiting factor and allows an expansive schedule, in this case with 148 classes. Such liebensraum, as well as a propitious date, attracts the punters and this was a very large Show with 715 plants in competitive classes. It was particularly noticeable that the large pan classes, often sparsely provisioned in recent years, were hotly competed, with 162 plants, and the average number of entries for the large pan classes was almost as high as for the small pan classes (an average of over four entries throughout the senior classes). Consequently the huge hall looked really well stocked, and if the suspicion was voiced that there was a slight shortage of real show-stoppers, the massed display was enough to satisfy the large numbers of visitors who called in after their weekend visit to Waitrose next door (yes, the venue is moving distinctly upmarket!).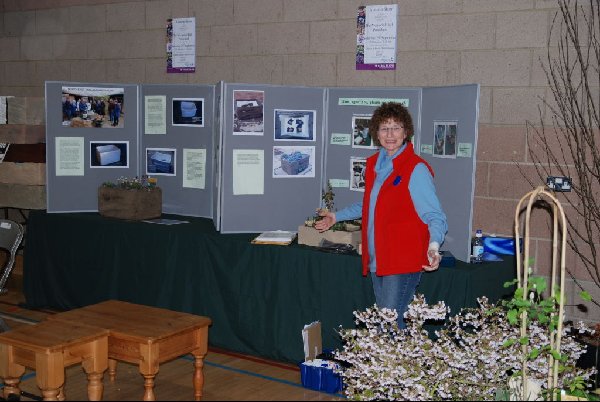 Another benefit of such a large Hall is that ambitious displays can be accommodated, and on this occasion one of the largest and most informative displays ever staged at an AGS Show was fittingly given the ultimate accolade of a Large Gold Medal. This exhibit will be featured elsewhere on the website, but brief homage should be paid here to the hard work and planning put in to this fine exhibit by the present and past Show Secretaries, Peter Maguire and Alan Newton, and especially to the inventive organiser, Mala Janes.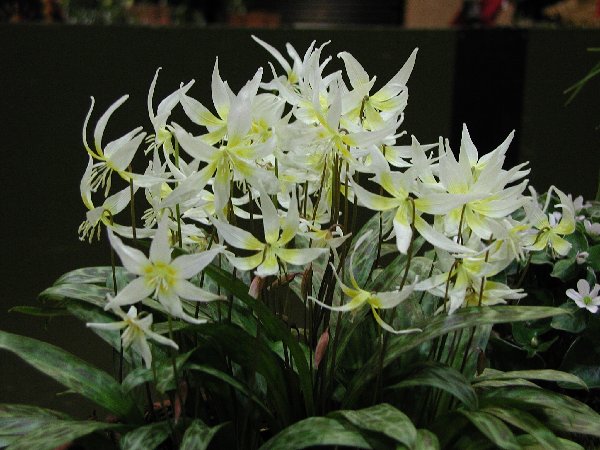 It is always pleasing when the top award is won by an exhibitor for the first time, especially when she lives in North-east England, and Della Kerr's success with a large pan of Erythronium multiscapoideum in sparkling form was greeted with great acclaim. The seed had been sown 23 years previously and the plant was a tribute to decades of careful cultivation.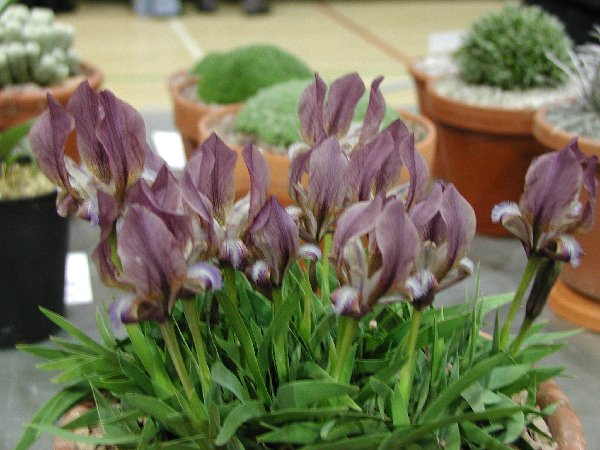 There were several interesting dwarf irises present. The Sandhoe Trophy for the best plant in a pan not exceeding 19 cm went to Iris suaveolens v. violacea. The latter is a valid and descriptive epithet for this little iris which is best distinguished from I. reichenbachii, also from the eastern Balkans, by the longer floral tube. However, for the grower it is neater, smaller flowered and an earlier flowering species, too. There was another form of the species present as well, 'rubromarginata'. This name is an old synonym for the species, but has not been recombined at varietal rank, so it is now quoted, invalidly, as a cultivar. Many eyes were drawn to an extraordinary little orange and black iris, I. pumila collected as J. & J.A(rchibald) 199590.
The late Ole Sonderhausen was another intrepid explorer of the eastern Mediterranean, from where he introduced many fine forms of bulbous species, often distributed latterly from Gothenburg Botanic Garden. His OS470 form of Fritillaria pinardii is very dwarf, but with fine robust bicolored flowers.
Another plant that attracted much interest was a hardy Cymbidium, C. goeringii. For those who considered it 'new', exotic, or even tender should note that it has been in cultivation for about 2500 years, is widespread in the wild in China, and has been grown outside, unprotected, at Kew for many years!
A much better candidate for novelty was Parrya kokandica. Seed had originally collected by Josef Halda from high in the Pamir of east Tadzhikstan and grown in the western USA by Betty Lowry who had forwarded seed to the exhibitor in 2003. The pale purple flowers have characteristically square-ended 'ace of spades'-shaped petals.
Your reporter was particularly interested to see Primula knuthiana, sourced by Jens Nielsen from northern China. This is one of the more robust members of the Pulchella section. Previously very little known, recent information had caused it to be linked to the Himalayan P. jaffreyana. The opportunity to view it 'in the flesh' for the first time yielded inconclusive results. It was difficult to see how it differed from the latter, and yet did not look quite the same!
John Richards