Northumberland AGS Show, 2006 (with SRGC)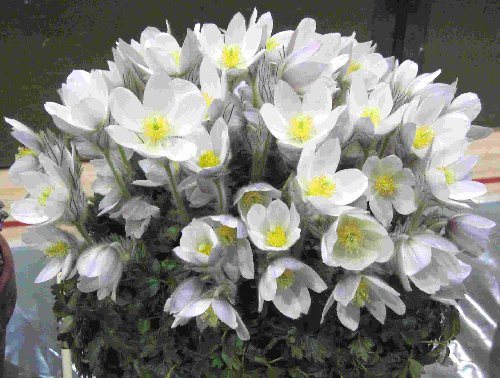 After weeks of cold, grey and wet weather, the sun was at last shining for this show. The benches were well filled and very colourful with the spectacular blues of Tecophilea much in evidence, contrasting with the yellows of Narcissus and Dionysia and whites, pinks and purples of Saxifrages, Primulas and other Dionysias. The slow season had resulted in many of the normally early flowering plants still being shown – there were still a snowdrop and a few crocuses in bloom.
This joint Scottish Rock Garden Club and AGS show was this year under SRGC rules, and there were admirable entries from north of the border. One of these, a venerable pot of Pulsatilla vernalis with countless flowers, shown by Cyril Lafong, won the Forrest Medal for the best plant in the show. The new and rare classes had interesting plants, particularly Bethamiella nordenskjoldii from Tierra del Fuego and the rare and difficult Dionysia esfandiarii., shown respectively by Alan Furness and Derek Pickard.
Section B had some entries that would have fared well in the Open Section, especially a fine pot of Viola jooi, and several pans of Asiatic Primulas all shown by Derek Lockey. And there was a single flower of Fritillaria davidii, rarely seen in flower even in the Open Section.
Pat Craven