Northumberland AGS Show, 2008
The day started early, as most show days do, with dry and bright but distinctly chilly weather. In spite of this , a significant number of entries were expected, so hopes were high for a good turn out , and we were not disappointed. As I surveyed the benches after staging was finished I saw a veritable plethora of plants with many fine examples of the broad cross-section of subjects likely to be seen at this time of the year.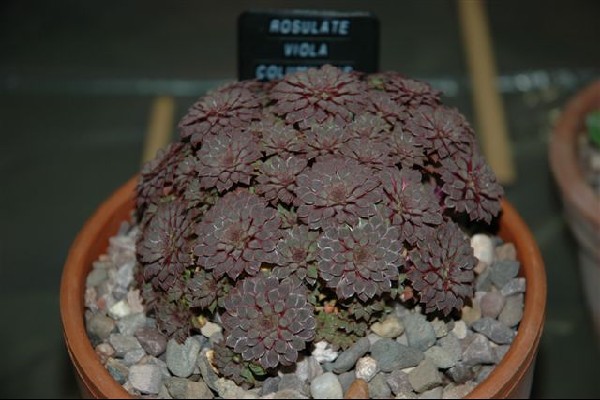 A magnificent specimen of Viola columnaris, a rosulate viola from South America was shown by Bill Robinson.These plants are often intractable in cultivation and often seemingly impossible to propagate, so to see this one looking well gives hope to other growers.
Two plants shown by Ju Bramley were excellent examples of both dedication and triumph, Dionysia mozzaffariani,a species from Iran, and D. 'Fabiana', a hybrid from Michael Kammerlander. These two plants made neat, near-perfect domes studded with masses of tiny,pale flowers.
A fine example of intricate leaf patterns with an almost marbled effect was a pan of Cyclamen hederifolium 'Bowles Apollo Group' shown by David Boyd in the foliage class.This demonstrated the versatility of certain plant genera to perform "double duty" both in and out of flower.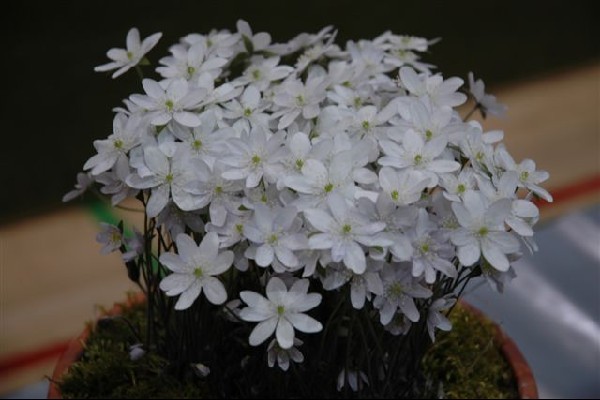 Originally from N.E. U.S.A., a handsome plant of Hepatica acutiloba was shown by the same exhibitor as the aforementioned specimen.This plant obligingly holds all its delicate, icy-blue flowers absolutely straight and close together quite naturally, without any persuasion.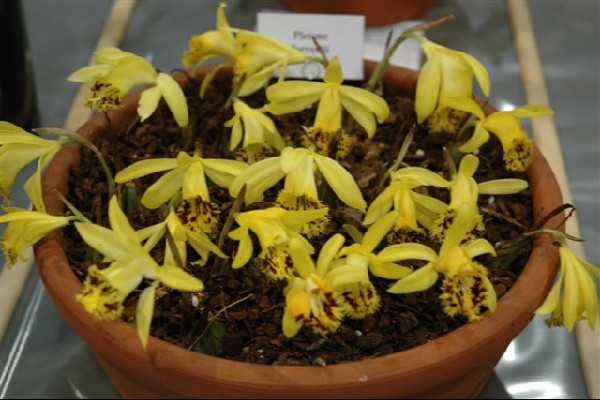 Among the orchids,was a large pan of Pleione forrestii from China shown by Alan Newton.This golden-yellow flowered plant is much more difficult to grow than the hybrids which are seen more often at shows, and this particular plant required pure beech leafmould as a growing medium.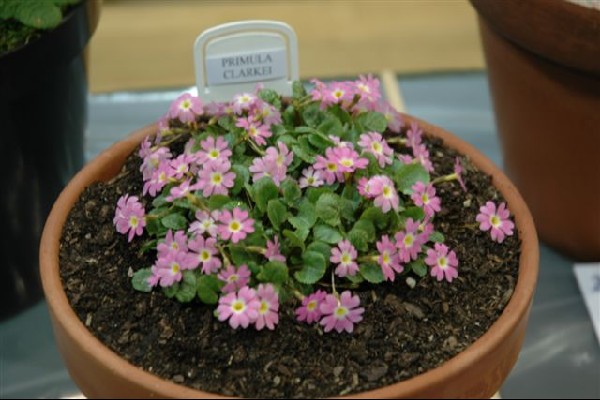 The genus Primula was well represented in many classes, and a joy to see, as was a small pan of Primula clarkei shown by Dave Newsome. This neat, elegant little plant with its bright pink, wide-open flowers held just above the mound of foliage needs good light and cool summers and even then is not easy to keep going.
The Australasian region was represented in particular by x Leucoraoulia loganii shown by George Young. This plant is a bigeneric hybrid between Leucogenes and Raoulia which come from New Zealand and makes a mound of hundreds of silvery-leaved rosettes.Such a plant needs perfect drainage and is intolerant of water on the leaves in winter.
This show had a total of 75 exhibitors with over 500 entries between them,and when the weather turned to lashing rain in the afternoon I had to admire the show photographer as he soldiered on with the rain on his back to complete his task, as I did my best to help. In spite of that, it was still a great day.
Angie Jones