North of England Show (Harrogate)
As always there was strong competition across much of the schedule, including this year both of the AGS medal classes. These can often provide single entries particularly in the large pan size but here the judges had to choose from three entries in the large 6 pan class and four entries in the small 6 pan. Forty two plants in these two classes alone! Whilst the large 6 pan entries often reflect the growers particular specialism, on this occasion Tommy Anderson's winning six came not from his own special interest (saxifrages) but from six different genera - no mean feat in itself and a fact that will often swing the vote in its favour, all other factors being equal.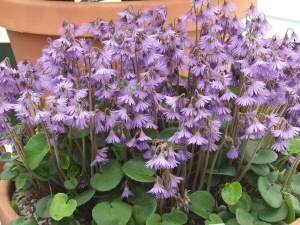 The accolade of 'best in show' went to a venerable plant of Soldanella hungarica which had been building up to this moment during various outings in recent years. This year it beat all opposition by a significant margin, providing Wilma and Jim Wright with their first and well deserved 'Farrer'.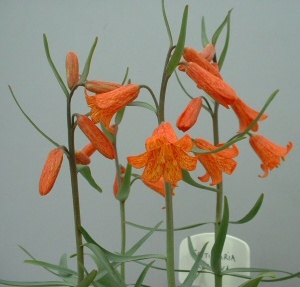 The exhibit that perhaps generated the greatest discussion was a superb (and very compact) plant of Fritillaria recurva. With more flowers to come it would have represented a great achievement if seen in the open section, but this plant was in section C. It not only won Robin Pickering of Goole the West Riding Plate for the best plant in section C, but also a well deserved Certificate of Merit. Notwithstanding its unique flower colour, I'd never understood the excitement generated by this species – far too lanky for my liking. Now I'm keen to join the queue of those eager to acquire either this particular clone or the knowledge of how to grow it.  I would happily settle for both!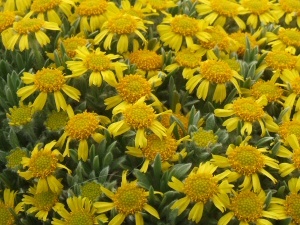 A large pant of the North American Hymenoxys acaulis caespitosa was awarded a Certificate of Merit for George Young. This would surely have been a contender for the Farrer Medal had its flowering been a little further advanced. With so many flowers still to reach their peak it will be interesting to see if it appears at next weeks show. Interestingly, this plant was quite different in stature from a smaller plant in Ian Kidman's winning 6 pan entry!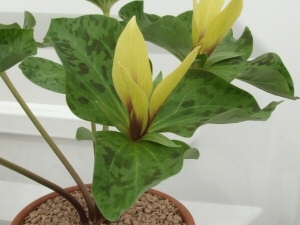 Other plants that particularly caught my attention were Trillium chloropetalum 'Val Mulvihill', with very showy flowers of a pale yellow suffused with dark red at their petal bases and a compact example of Lewisia tweedyi alba with good shaped flowers and very discrete and well behaved leaves (far superior to my own attempts which produce long, pale and flabby leaves).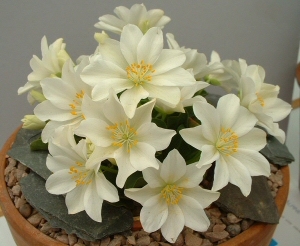 Don Peace