North of England (Harrogate) AGS Show, 2007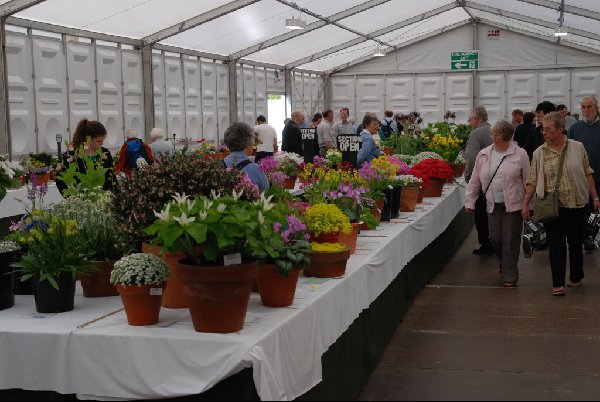 Late April can be characterised by cold dreary weather, and on these days the nine or more hours that plants spend on the benches of the Harrogate Great Yorkshire showground can drag interminably for the exhibitor. Indeed, the 2007 Show did start in such conditions, travellers from the south in particular complaining of the unaccustomed cold 'early doors', but the sun soon shone through and we were treated to a delightful day. In these conditions, the whole show has a festive air, with brass bands, ice-creams, impromptu picnics and a plethora of plant exhibits, and many visitors seemed unwilling to drag themselves home at the end of a most enjoyable day.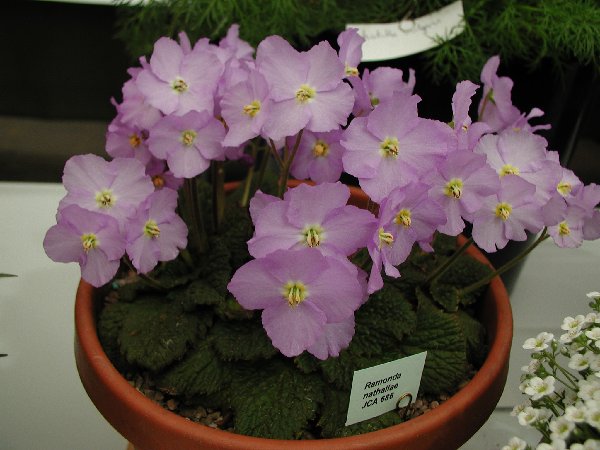 A lesson that most exhibitors learn sooner or later is that it is not enough to have a plant of the coveted such-and-such; far better to seek and nurture an outstanding form. Ramonda nathaliae is a beautiful plant of straightforward culture that lends itself to exhibition, but how many of us grow a plant to equal the Archibald collection JCA 686 with very large upstanding flowers of a limpid blue?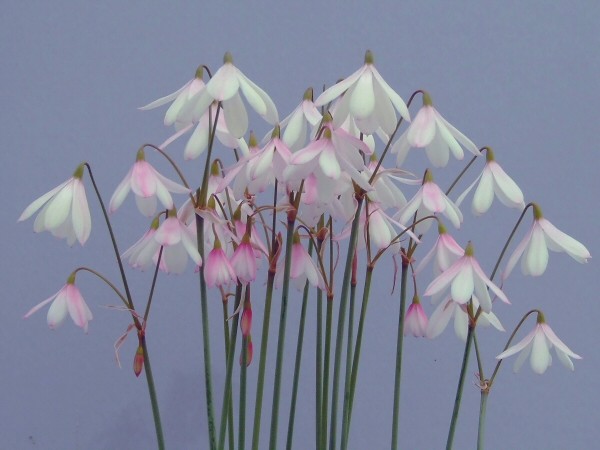 Another plant that similarly impressed was the Certificated Acis trichophylla (aka Leucojum ditto) with huge pink bells. This outstanding form can be acquired from a well-known nurseryperson member of the Society. The secret to its successful cultivation was to plant it at the bottom of a deep pot and essentially forget it for several years while it became adequately pot-bound.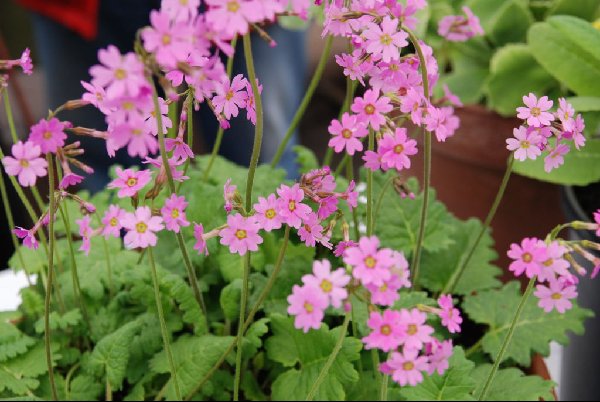 Many observers commented on a delightful form of the familiar Primula polyneura, winner of the Blackthorne Trophy, now regrettably reduced to a one-pan class. Has climate change progressed to the point that we can no longer stage three-pan exhibits of Asiatic primulas? Not on the evidence of this show! Perhaps the Show Secretary had been influenced by the fact that two habitual competitors in former three-pan days were both perforce absent last year! Most current forms of P. polyneura have large flowers of a strident magenta. Here we had smaller flowers of a delicate pink, shading rose at the petal base. This plant looked very like Forrest's P. lichiangensis, usefully demoted to a variety of the variable P. polyneura by William Wright Smith.
Formerly, most of the manifold localised species of monocarpic Greek lowland campanulas were treated as varieties of C. rupestris. Several of these have proved to be popular plants for exhibition, C. thessala having proved particularly successful in this guise. It is certainly worth searching for the more showy taxa, now treated at specific rank. C. celsii is particularly noteworthy in this regard, for the violet flowers are no less than three cm long. It was a treat to encounter in section C this rare endemic that hails from the northern Argolid, the Attic mainland and intervening islands.
Another rarely-seen Greek species is the impeccably alpine Asperula boisseri. This very compact plant originates from limestone slopes above 2000 m on Giona, Parnassos and Chelmos. The pale lilac flowers contrast well with the bluish foliage.
Two excellent Californians were shown in section B by the same exhibitor. 'Goldilocks' is perhaps the best, and certainly the most free-flowering variety of the recalcitrant serpentine endemic Fritillaria glauca. Hesperichiron californicum has prostrate white flowers with entrancing blue pencilling. In some ways it is not unalike a small lewisia, a conceit promoted by the two sepal-like bracts that enfold the young flower. As flowers mature, the five 'real' sepals emerge, telling us that the real affinities are with the Hydrophyllaceae, rather than the Portulacaceae.
John Richards