North of England AGS Show (Harrogate) 2005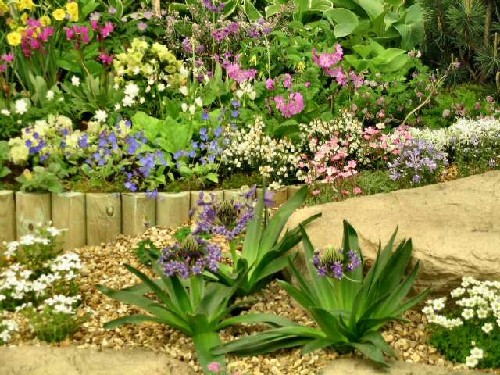 Although the AGS show at Harrogate is a one day show on the Saturday the important Harrogate Spring Show of which we are a part extends over several days. During that long period our Director, Christine McGregor is hard at work with her team of volunteers extolling the benefits of our society; a task helped by the splendid AGS Gold award winning small garden display of alpine plants designed and planted by members of the West Yorkshire AGS group. With the modern trend for smaller gardens such a display of garden and container planting demonstrated ideally how much variety and colour could be packed into such a small space; in all an excellent example of  our President`s `Alpines for All` theme. Such hard work is to be commended, resulting, as it did in many new members for the Society.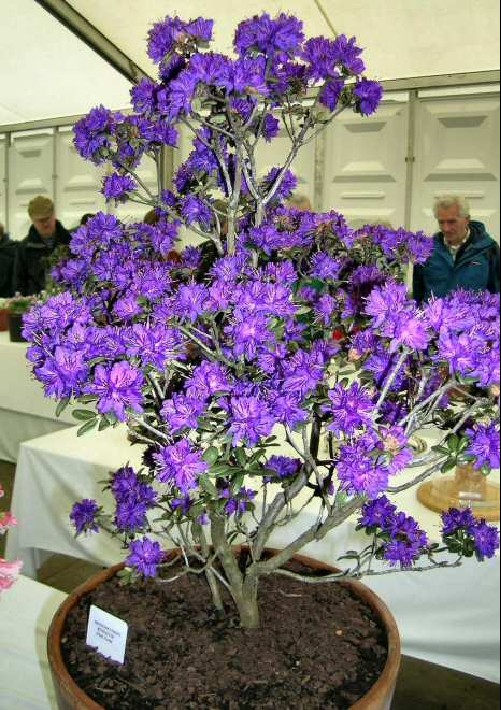 Visiting members of the public are often attracted to the large and colourful exhibits, especially on what, initially, was a rather cool, dank, and wet day; the show was not short of those. At this time of year lewisias are just beginning to show well, and the most eye catching of those was a large but compact Lewisia ` Ashwood Ruby`, probably the reddest hybrid to date. Equally attractive was a lovely lemon yellow form of L. tweedii. Other good lewisias for showing included L. cotyledon `Rose Splendour` and the pink L.` Brannen Bar`.
Elsewhere the deep,dark purple flower trusses of Rhododendron russatum and the tight, white daphne like flower clusters of R. groenlandicum sought attention; the former likely to outgrow its 36cm pot relatively quickly,while the latter not so likely to do so. Very attractive were many large pots of the garden amenable deep pink Androsace studiosorum and the paler A. s. `Doksa`, both generally happy, without winter cover, in a well drained compost on a scree, raised bed or in a trough / container garden. Equally garden worthy and making splendid show exhibits were numerous large pots of trilliums, especially the white flowered Trillium grandiflorum and the acid yellow flowers of T.luteum set off by its variegated and mottled light and dark green foliage.
In all, inspite of bleary eyes caused by the early start and late finish, another good Harrogate show that could not fail to impress any visitor looking to give alpine plants at least a corner in their garden.
Alan Furness