North of England AGS Show (Harrogate), 2010
The Harrogate Show has a feeling all of its own – being included within the North of England Horticultural Society's main spring show somehow generates an extra buzz! Picnics come out at lunchtime and people relax and chat to the sound of the band in the afternoon. Although one of the earliest starting shows (judging begins at ) and a late finish, around , the day never seems too long with the added attractions on offer.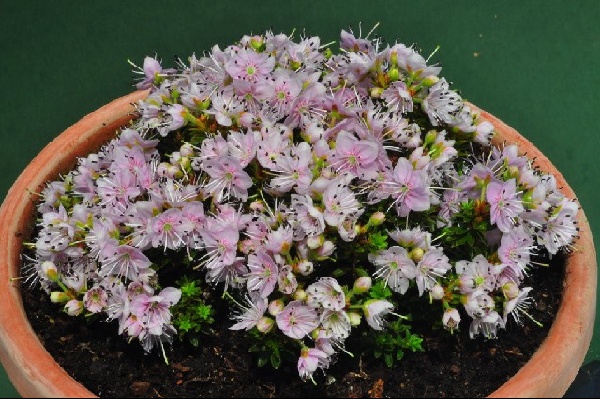 The Farrer Medal was won by Alan Furness with a striking plant of Rhodothamnus sessilifolius and many remarked that such a well flowered specimen is a rare sight these days. The same plant was also judged to be the best pan of Ericaceae and was awarded the Bill Tubbs Trophy.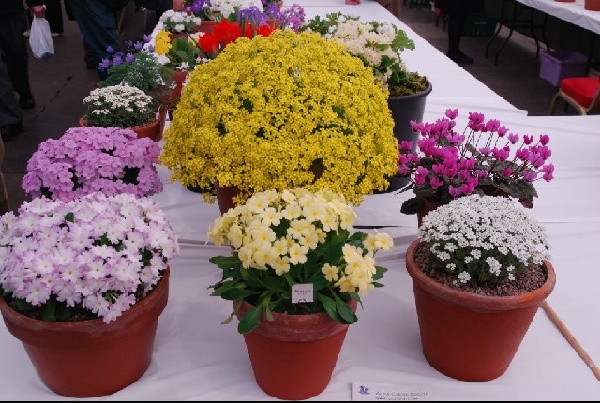 Both 6 pan classes in the Open section were won by Ian Kidman with superbly grown plants – gaining him 2 AGS Merit Medals.
The Large 6 pan included:- Primula x 'Stella', Draba longisiliqua, Cyclamen pseudibericum, Primula 'Pink Ice', Primula x 'Coy' and Androsace villosa subsp. taurica.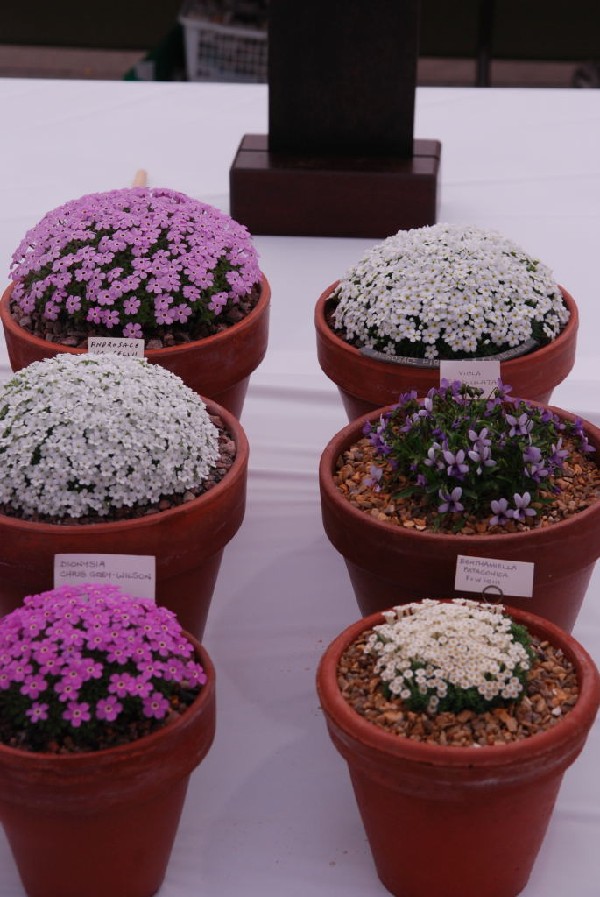 In the Small 6 pan Ian showed Dionysia viscidula x freitagii, Androsace hirtella x cylindrical, Androsace vandellii, Viola spathulata, Dionysia 'Chris Grey-Wilson' and Benthamiella patagonica.
In both sets of 6 pans the subtle colour combinations added to the overall harmony of the groupings.
Not surprisingly these two awards greatly contributed to Ian being awarded the North of England Horticultural Society's Cup for most first prize points in the Open section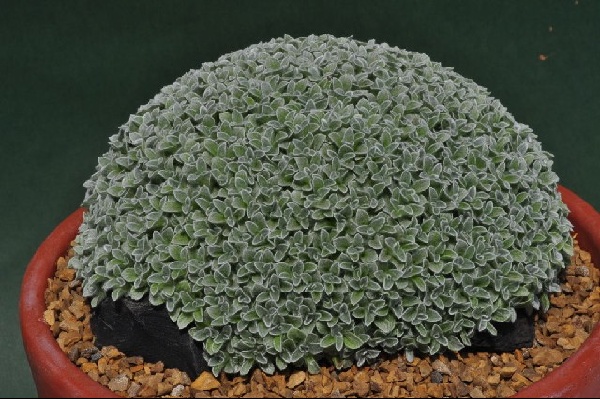 The AGS Spoon for 6 pans rock plants distinct in the Intermediate section was not awarded this year.
For most first prize points in the Intermediate section the Carter Shield was awarded to Margaret Pickering and the Harrogate Salver for most first prize points in the Novice section went to Sue Flanigan.
Sue also won the West Riding Plate for best plant in the Novice section with a superb four year old cushion of Helichrysum pagophilum, nearly 15cm across, shown in the foliage class.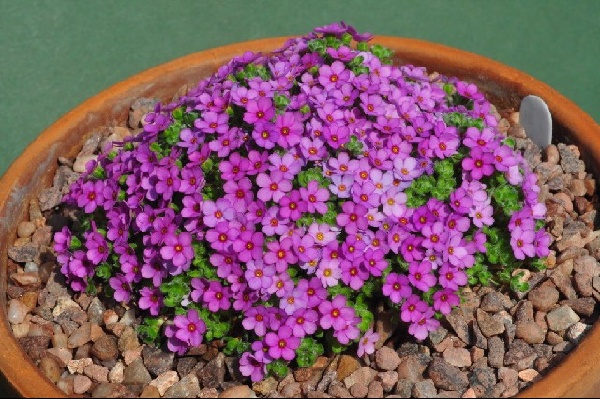 The Mr & Mrs W H Nortcliffe Memorial Trophy for the best plant across Open 2, Intermediate 2 and Novice sections went to Geoff Rollinson's Androsace delavayi (ACE 1786). An Androsace which objects to poor light, this plant had obviously not been denied its full quota and the covering of stemless pink flowers was a delight to behold!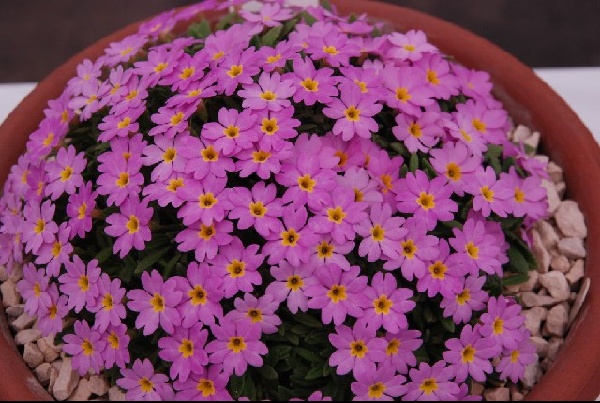 The Blackthorne Trophy was also won by Geoff with a fine plant of Primula bracteata (ACE 1671). From a 2003 sowing it had reached nearly 20cm across and displayed its rich pink flowers evenly over the domed foliage.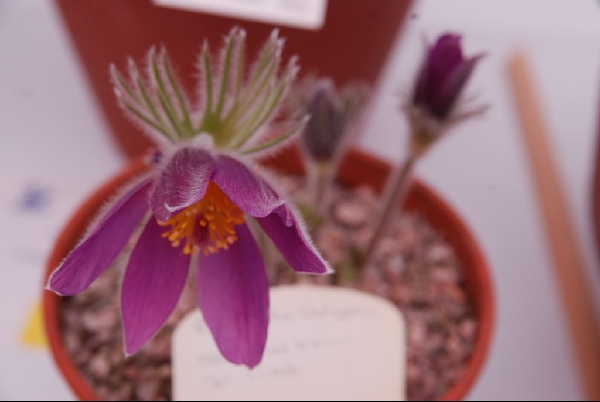 Raising from seed is a very satisfying way to grow plants and Georgina Instone's Pulsatilla vulgaris took the Colin Field Memorial Trophy for seed raised plants. Sown in 2006 one plum-purple flower was open with the promise of three more feathery buds to follow.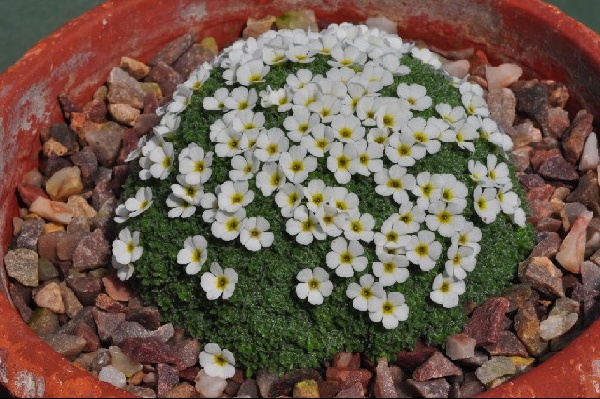 Three Certificates of Merit were awarded, the first given to a small, tight cushion of Androsace helvetica shown by Geoff Rollinson. This Swiss gem is difficult to flower and is testament to the grower's skill that it appeared with so many attractive flowers.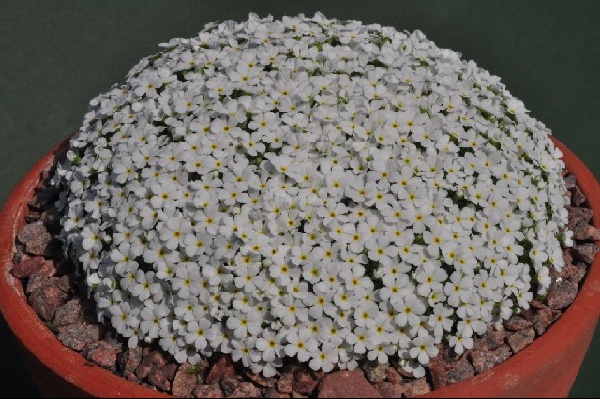 The second Certificate certainly came as no surprise – the quantity and quality of flowers on George Young's Androsace vandellii were amazing. One of a number of plants from the same stable this one proved the winner!
The third Certificate went to Iris sari shown by Fred and Pat Bundy. One of the paler forms, this 10 year old plant displayed its 8 elegant flowers with all the quiet charm of this Turkish species.
Other notable plants were two in the same class –Native to Europe. Iris pumila from George Young with gold standards and bright orange beards shone out with sheer depth of colour and Fritillaria meleagris 'Saturnus' from Don Peace stately holding aloft its reddish violet chequered bells – a form not seen enough of considering it was raised over 60 years ago!
On a final note the show hosted 7 miniature gardens, 3 flower arrangements and 6 cut flower entries which all generated a good deal of interest and discussion from the public -is this a record?
Clare Oates