North Midlands show 2010
Chesterfield was held on the second of a run of warm, sunny spring days during which our collective memories of the horrors of the past winter have faded as rapidly as many of our show subjects. Others advanced equally rapidly. A sanguinaria which I had lifted the previous Tuesday as mere 'nubbles' in hope of a display for Harrogate was resplendent (if a little one-sided) by Show Day.
This was John Savage's first Show as Secretary, and he must have been delighted at the colour that lit up the hall, so easily viewed from a raised vantage point. There have been bigger Chesterfield Shows, and previous examples have vied with this years display, particular in the most senior classes, but few could remember a Show with so many genuine contenders for the premier award, a dozen or more vast and magnificent plants in superb condition. In due recognition, no less than seven certificates of merit were awarded.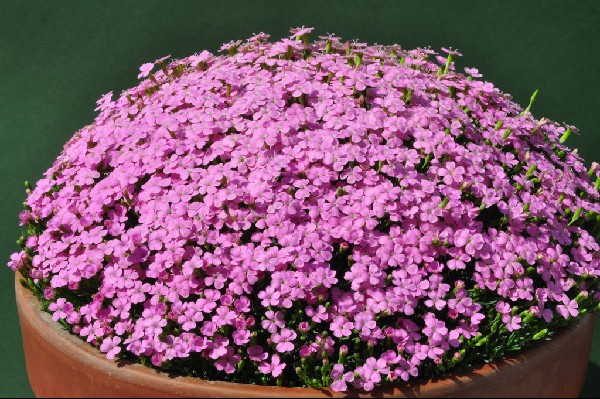 Two were awarded to plants in Frank and Barbara Hoyle's three pan entry. I have never seen a bigger Dianthus freynii, and if the warmth had not pulled some stems clear of the tightest of domes, it must have gained the Farrer.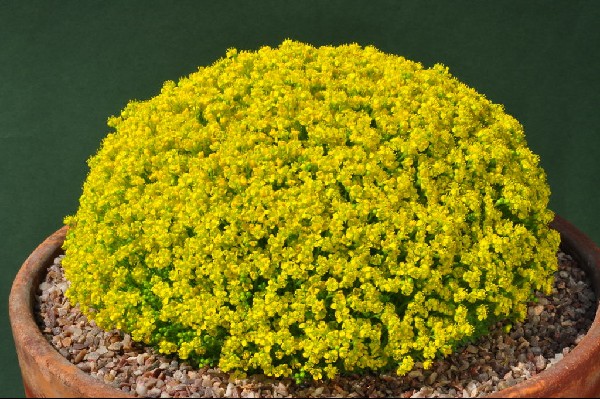 Equally meritorious, if not, perhaps quite so desirable to my eyes, was an equally huge Draba acaulis, a sister plant of which had gained the ultimate accolade last year, very slightly smaller, but still without a leaf on view.
The Hoyles had an excellent show, also winning the best small pan trophy with a very tight and brilliantly coloured Primula 'Mrs Dyas'.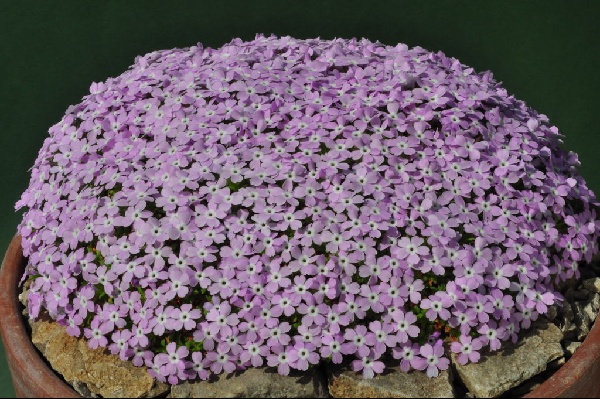 Many would have expected this year's Farrer to go to Paul and Gill Ranson's Dionysia viscidula, which had the greybeards nodding that never had a larger been seen (not true of some of the very similar hybrids with D. freitagii however?). The cushion was slightly drumlin-shaped (with a scarp and dip slope) which may have dissuaded some judges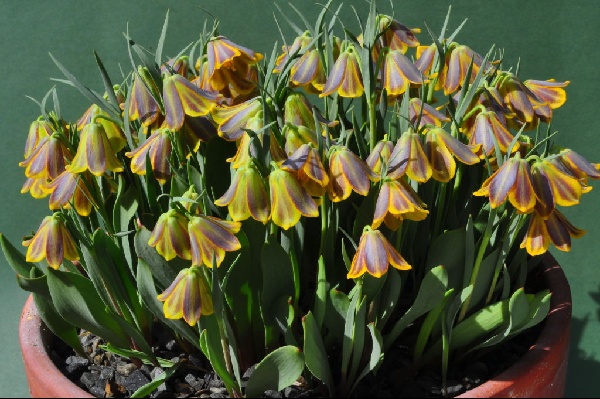 In the end the Farrer went to Bob and Rannweig Wallis's Fritillaria aff. bithynica, possibly the smallest frit on show. The choice of this tiny triumphator, surrounded by such magnificent giants, must have puzzled many of the visitors, whose presence bespoke of hard work by the Show team, and a fine reputation built up during the Bramleys' tenure (and they still received the entries!).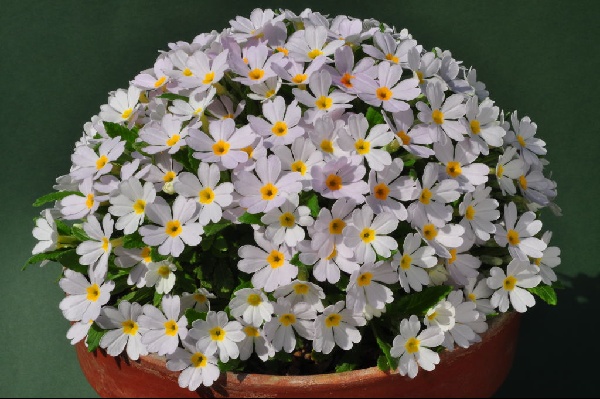 Other certificates went to Geoff Rollinson (Primula bracteata subsp. dubernardiana),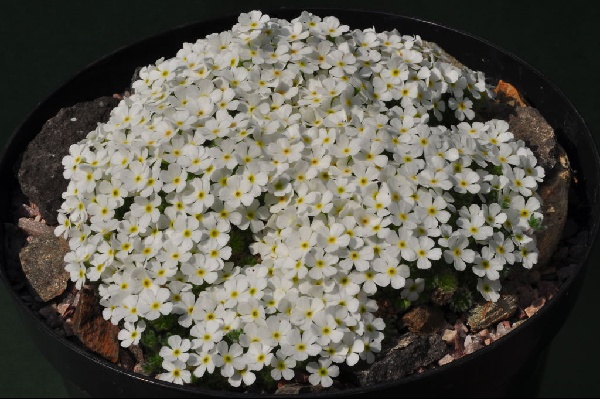 Frank and Barbara Hoyle again (Androsace muscoidea),
Carl Hardwick (Fritillaria yuminensis) and Ian Kidman (Primula 'Broadwell Milkmaid').
Another massive and heavily flowered plant, Primula elatior subsp. pseudoelatior gave the John Saxton Memorial trophy for the best plant from Europe to John Richards. John Saxton had been strongly associated with this Show and its predecessor.
Indeed it was Ian who carried the Show, taking both the AGS medal classes, winning the small six pan competition against stiff opposition, and the travelling Sewell Medal with plants of such quality that several contenders chose to place their plants elsewhere.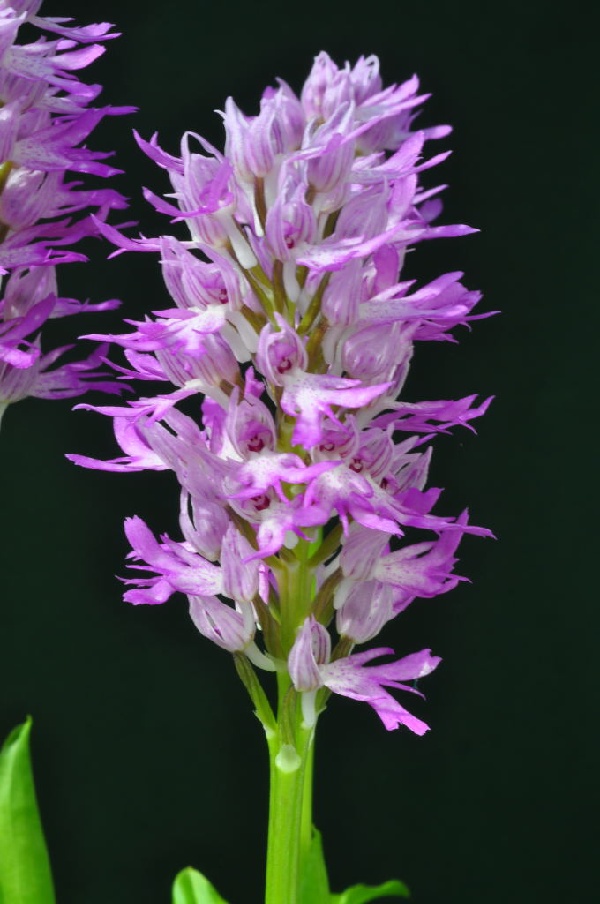 One of the features of the Show were European orchids, many of which had been superbly grown by Carl Hardwick. Orchis italica is widespread in the Mediterranean region, being a southern relative of the monkey orchid, O. simia and the soldier orchid, O. militaris, both of which are very rare British natives, but a good deal more widespread in France and Spain. O. italica is sometimes known as the 'Naked Man Orchid', for reasons which can probably be guessed at, but are best left to the imagination. It is a stately plant, about 20 cm high as seen, and with elegant wispy flowers of a pale pink. We were presented with six spikes.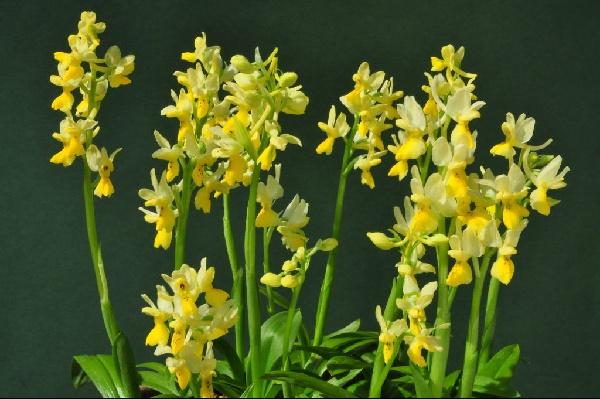 The attribution of several Orchis species has been changed after recent genetic investigations, but the aforementioned species are still safely stowed in their original genus. Most of the yellow orchis have not moved genus either, including perhaps the most elegant, O. pauciflora, whose unmarked butter-yellow flowers often sport an egg-yolk palette. In this case there were no less than 15 flowering shoots. This is another species with a Mediterranean distribution, and it was interesting to see how they had thrived after the very cold and lengthy winter.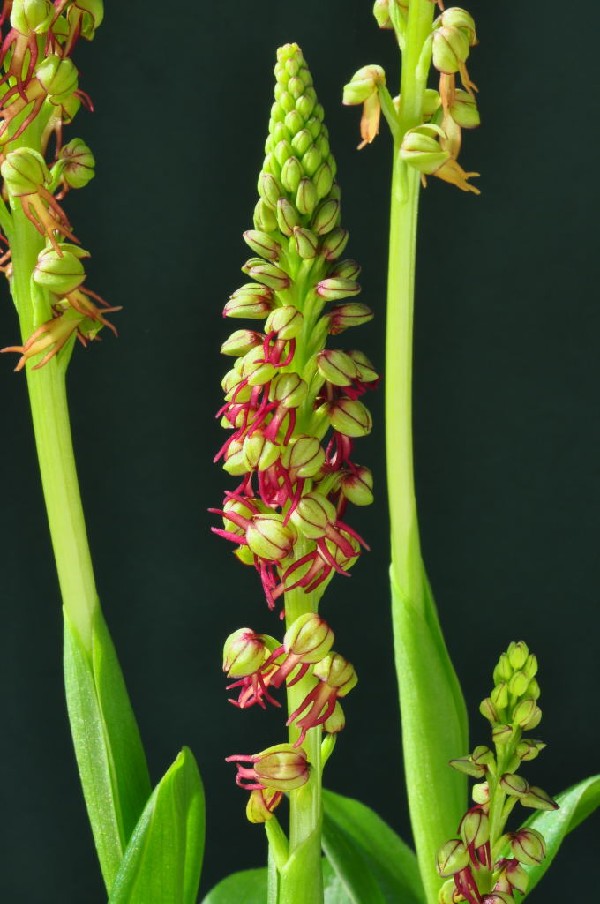 The genus Orchis has lost some species, but others have been gained, including a rare British species which was known as Aceras, but is now Orchis anthropophora. The Man Orchid is perhaps less often seen in cultivation than some of its hybrids, but the rather inconspicuous greeny-yellow flower spikes with rusty protrusions have a distinct charm when inspected closely. Doubtless this denizen of some of our chalk hills is hardier than some of its more southerly relatives.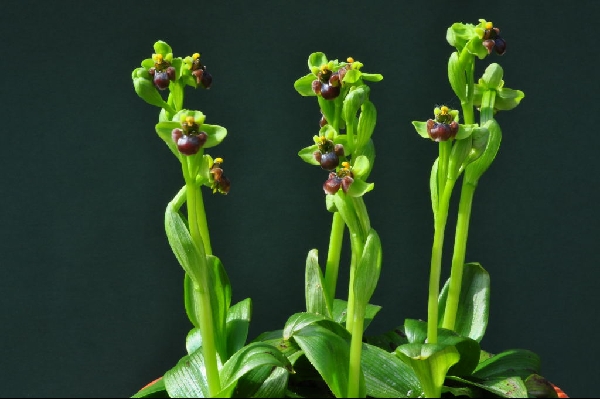 Victorious in that class was one of the very few Ophrys yet on show. The bumblebee orchid, O. bombyliflora, flowers earlier than some of its relatives in the wild and this distinction may persist in cultivation. It is often an inconspicuous, rather dowdy plant in the wild, but Ju Bramley has a fine robust form which is clearly thriving and is well-worth growing.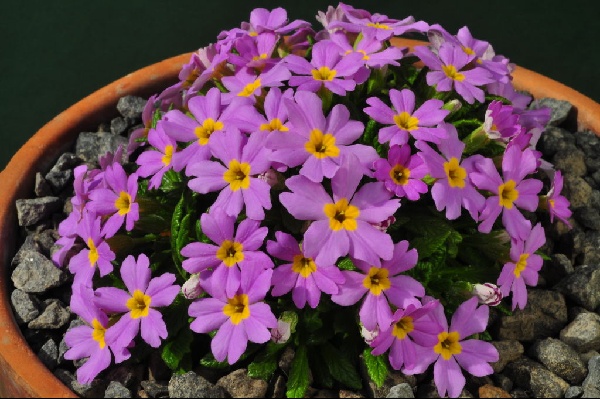 Primula bracteata is now very well established in cultivation and many exhibitors have mastered the knack of producing a small, well-flowered plant (grow it among your allioniis!). Unlike P. allionii it is difficult to propagate except by seed, so that once the serious exhibitor has begged a pinch of seed, he/she needs to maintain pin and thrum clones and hand-pollinate, as the species is straightforward in alpine-house conditions when young. Producing a big plant in large-pan classes is quite another matter, and very few have yet to master that skill. This is a species which has benefitted from several introductions, some of which came in under other names ('P. dubernardiana, P. henrici', although the true deep yellow henrici is yet to appear), but they are all fully interfertile and best treated as forms of P. bracteata. We now have a range of flower colours from cream through pale pink to a rich magenta, and of flower shapes and leaf farinosities. Some forms are markedly more worthwhile than others, and we have got to the point at which judges can afford to be more picky about the forms on show.
images: Robert Rolfe
John Richards