North Midland (Chesterfield) AGS Show, 2005
The Chesterfield Show is always one of the most impressive in terms of both number of exhibitors (80 this year) and plants (674), but size is not everything and it is the range and quality of the plants exhibited which never fails to impress. This should not surprise us given that the Chesterfield is more-or-less in the centre of England, so attracting exhibitors from all parts, and that the Show is held in the middle of the flowering season, which incidentally has probably moved forward at least 3 weeks over the past 20 years due to climate warming.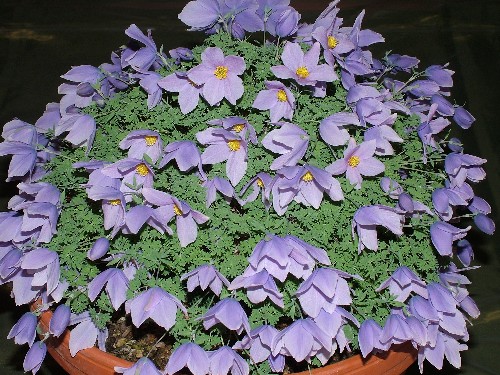 It can not have happened often in the long history of AGS Shows that different individuals of the same species of plant, shown by the same exhibitors, have received the highest accolade at consecutive shows, but this was the case with Paraquilegia grandiflora at the Cleveland Show last week and here at Chesterfield. But this Himalayan member of the buttercup family is one of the most beautiful of all alpine plants, with an ethereal quality that defies adequate description and flowers of a most beautiful shade of soft lavender blue, a combination of qualities which few judges can resist when confronted with a first class specimen.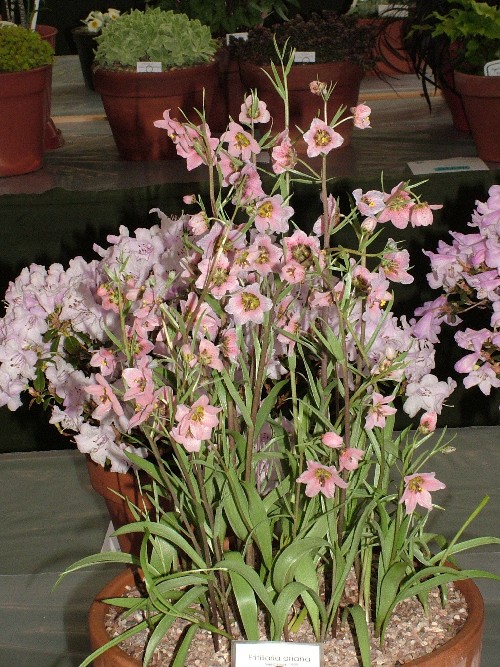 Of course, there were many, many other superb plants for us to gloat over, including masses of first class pans of narcissi, fritillaries and cyclamen in bewildering variety. One frit stood out, however, a glorious potfull of soft pink Fritillaria ariana – one to die for!. Favoured over even this beauty by some was an outstanding pan of the very rare and no doubt difficult Iris tigridia, with 9 fully open bluish-mauve flowers in perfect condition over equally pristine foliage. And then there were the primulas, many of which are easy to grow in the open garden, and their generally more tricky relatives the soldanellas, or 'Snowbells' as they are so aptly calles, androsaces and dionysias, all beautiful. I could go on and on, such was the wealth of plant material set before us for our delectation.
As well as offering the opportunity to ogle at a stunning array of perfectly grown and presented plants the Shows provide other attractions. There are always a number of nurserymen's stalls where one may purchase many of the plants seen on the benches, and a 'bring and buy' plant stall manned by local volunteers where one may acquire all sorts of unusual plants, sometimes at extraordinarily reasonable prices. And that's not to mention the refreshment area where local AGS members (usually still ladies it has to be said) provide delicious food for weary exhibitors, battle-hardened judges, and visitors on a refuelling stop before returning to the fray. If you have never visited an AGS Show you should strive to do so at your earliest convenience. I promise you will not be disappointed.
John Good