North Midland AGS Show (Chesterfield)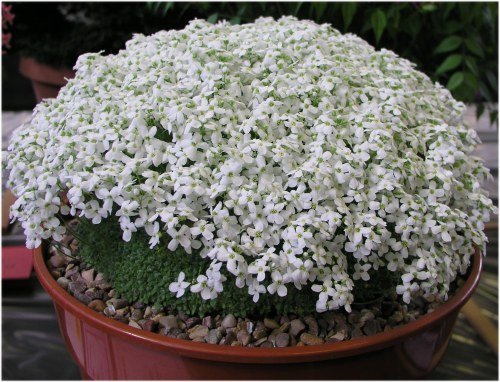 This popular show sits nicely in the middle of the main show season, relatively safe from the vagaries of the weather and able to reap further the benefits of a late flowering season. It was a 'knockout' show in many respects – spare a thought for Tommy Anderson who, following an unexpected encounter with a car door whilst unloading plants, ended up in the local casualty department rather than the show hall!For those statistically minded, there were 710 plants staged by 84 exhibitors and 10% of these came in a strong section C where a lovely pan of Soldanella carpatica (Penny and John Pope) was crying out for a 'best plant in C' award. The large open section was notable for the display of quite superb Draba exhibits, normally bridesmaids for major honours but seen here jostling neck and neck for the best in show. Draba ossetica (Robert Rolfe) ensured that the bride was dressed in white with the Farrer medal award. Had it not for a splendid Synthyris pinnatifida var languinosa, intruding on the vote for 'best in show', Draba acaulis  (Frank Hoyle -certificate of merit) and D. longisiliqua (Robert Rolfe again!) would surely have also been in on the photo finish. Ian Kidman was the open aggregate winner once more, taking the small six pan class and showing his versatility with a superb large pan of Fritillaria bucharica, voted the best pan bulbous plant and achieving a certificate of merit for Androsace idahoensis.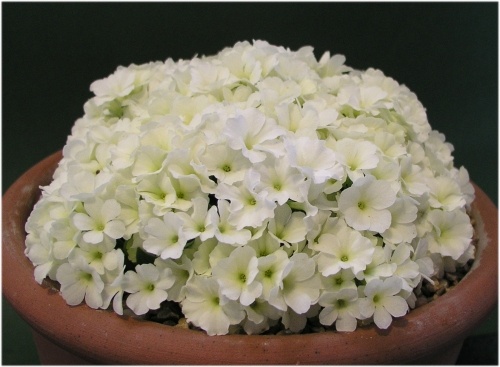 The most popular plant for exhibitors was undoubtedly Primula 'Broadwell Milkmaid'. I counted 22 plants throughout the show, the finest example of which gained a certificate of merit for Geoff Rollinson who received a second certificate for Androsace ciliata. The Ericaceae classes were somewhat down in entries but a huge pan of Arcterica nana (Ian Leslie) was a unanimous winner of the Chesterfield Vase. Orchids always feature prominently at this show and the best plant in a 19cm pot was awarded to a pan of Orchis brancifortii (Barry Tattershall). The AGS Seed Distribution Award also went to an orchid for Ophrys x heraultii raised and grown by Richard Manuel. The high standard of exhibits was mirrored by the large number of certificates awarded and there were two further stunning examples of Primula bracteata ssp dubernardiana (Peter Hood) and Narcissus watieri x gaditanus (Jim McGregor).
Jim Almond