North Midland AGS Show, 2014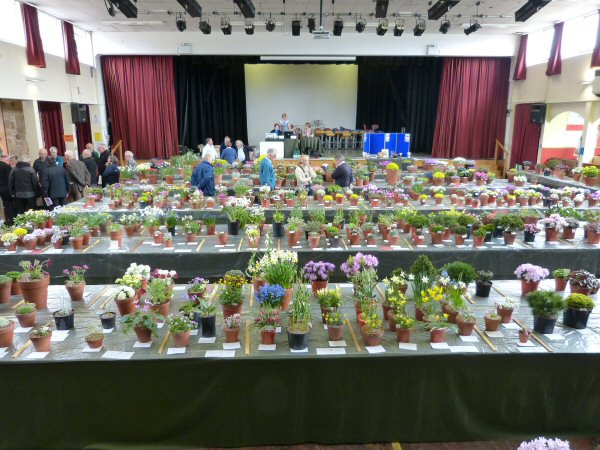 The North Midland Show at Chesterfield marks the turn of the season from early to late spring. As always it was a well-attended event, with good access from all directions bringing in 73 exhibitors with 600 plants from as far as the north-east, north-west, East Anglia and Wales.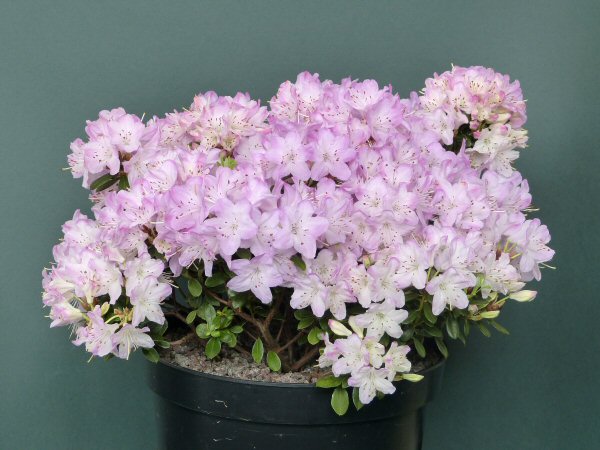 It's always pleasing to see local exhibitors winning awards at their own show, and show secretary John Savage won the Chesterfield Vase (a superb lead crystal vase depicting the twisted spire of Chesterfield) for the best Ericaceous plant with a compact specimen of Rhododendron 'Snipe', one of the Cox 'bird' hybrids, all of which make excellent garden plants as they are invariably easier to grow and more floriferous than their parents ‒ in this instance R. pemakoense x davidsonianum.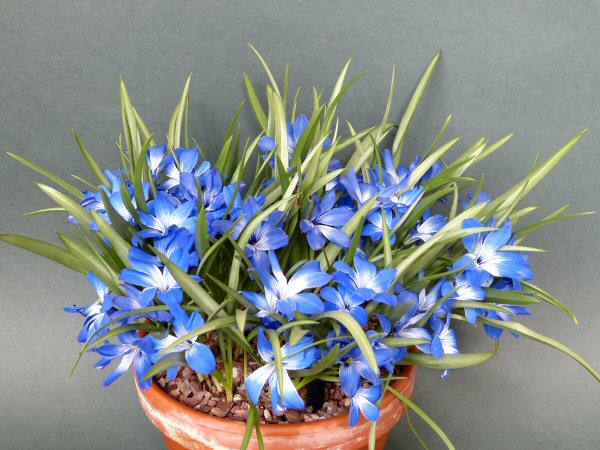 Another local winner was young Adam Bramley, who received the Nottingham Junior Challenge Trophy for the most points in the Novice Section. Many of us will remember his late and sadly-missed grandfather, Mike, a previous North Midland show secretary, who specialised in showing large, beautifully flowered half pans of Tecophilaea cyanocrocus, would have been delighted to see his grandson continuing to grow and show this and other plants so well. A handful of different colour phases are in cultivation, from pure cobalt blue to violet, with varying amounts of white in the throat. The form shown by Adam had very prominently white-centred flowers, and is usually referred to as var. leichtlinii although some regard this as the type form rather than the plain blue version.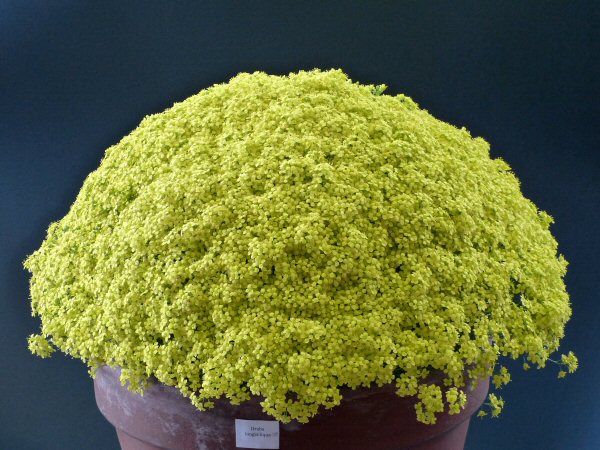 In recent years we have come to expect a very high standard from the plants exhibited by Frank and Barbara Hoyle. They seem to specialise in prodigious entries grown larger than most: their Chesterfield entries continued in this vein. They were awarded the Farrer Medal and the John Saxton Memorial Trophy for an exceptional mound of Draba longisiliqua, first seen the week before up at the Hexham Show, but still in part-bud on that occasion: here it was in its full glory. Many of us have grown this species with the collector's reference EMR 2551, referring to the original introduction by Martyn Rix, and have found some of the progeny from this bear long, rather floppy flower stems. Although this plant was from the same source, the plant had shorter than usual flower stems full of flowers.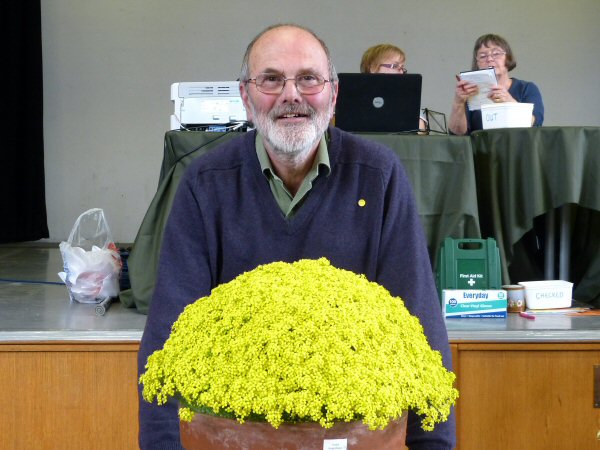 Frank reported that this was one of the first alpine plants he bought, and is now 24 years old. He had never shown it before, but after the recent cold winter of 2010, it had subsequently flowered better than ever before, but there had not hitherto been a suitable show within comfortable driving distance at which to exhibit it. Since then, it has flowered well and this year was its best year ever. Frank estimated that it had around 1700 flower stems, each bearing about 10 flowers ‒ floriferous indeed! It was instructive to compare a different form of the same plant, shown by the same exhibitor, which had less dense, but larger flowers. This form had been grown from seed sown in 2006 from a later, Czech-distributed re-introduction.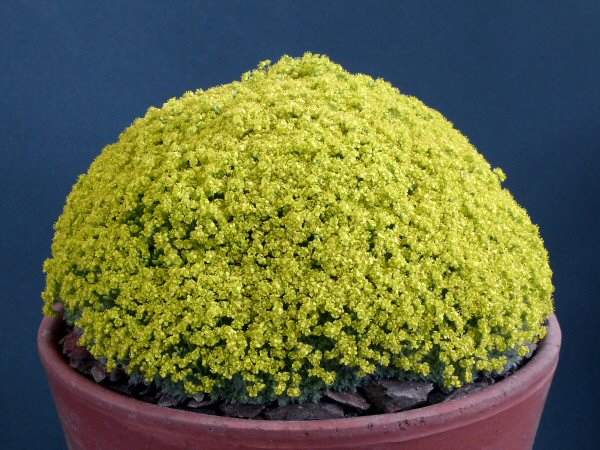 Still on the subject of drabas, I must pay tribute to Frank and Barbara Hoyle's magnificent Draba acaulis, housed in a chimney-style pot, and even heavier to transport than the previous plant, although easier in that the flowers are carried on very short stems, so that carriage damage is less probable. This plant was grown from seed sown in 1992, which had produced three seedlings. Frank won the Farrer Medal at this same venue in 2009 with the first of these seedlings, but this had succumbed to the following year's bitter winter. A second seedling, shown here five years on, has been cocooned in a fleece tent since the previous week's show to prevent bees, attracted by the strong scent, from spoiling the floral display. Frank has a third seedling coming on, which we look forward to seeing in future years. He grows his drabas in a mixture of 50/50 grit and sterilised soil, since he feels (others disagreed, but the evidence is compelling) that a rich mixture suits them best. That they generally flower best when pot-bound has a much wider consensus.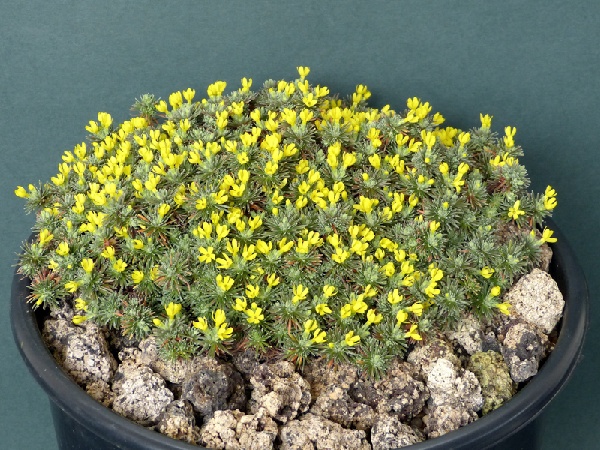 Chris Lilley showed won the class for 'one pan Primulaceae excluding Primula, Androsace, Dionysia or Cyclamen' with a naturalistic planting of Vitaliana primuliflora subsp. praetutiana. Maybe in years to come, this plant will have to be re-assingned to a different class, as taxonomists have in recent years shifted Vitaliana between Primula and Androsace, but for this year at least, it is still sitting in its monotypic genus according to The Plant List, the most up to date quick check reference to current taxonomy available on line at www.theplantlist.org. While on the subject of online references, it is useful to find that the full text of the 5-volume Flora Europaea is now available as a free e-book on Google books. Using this, I found that Chris's plant, labelled as subspecies praetutiana, represents the most easterly form of this species, from the Apennines in central Italy, bearing more rounded leaves, tomentose at the apex. Chris has previously grown this plant outside in a mixture of 60% John Innes No 3, 40% grit and a few handfuls of general purpose garden compost to bolster the moisture-retentive content. This year, for the first time, he put it under an Access frame, but after flowering, prefers to leave the pot outside to create a tighter dome.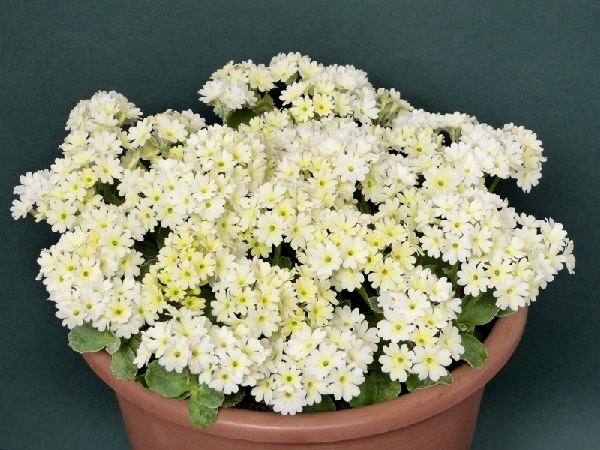 A very attractive Primula 'Lindum Limelight', was shown by Brian and Shelagh Smethurst. This has a passing resemblance to the more commonly seen 'Wharfedale Village' with its creamy flowers and is presumably of rather similar parentage, yet it has more dainty, less furled flowers on a rather more compact plant. Raised by Martin and Doreena Thompson, who have prefix this and many other raisings with 'Lindum' (an ancient word for Lincoln, their hometown), the 'Lindum' hybrids are always good plants, and in general don't take quite as long to make as large plants as the Wharfedale hybrids.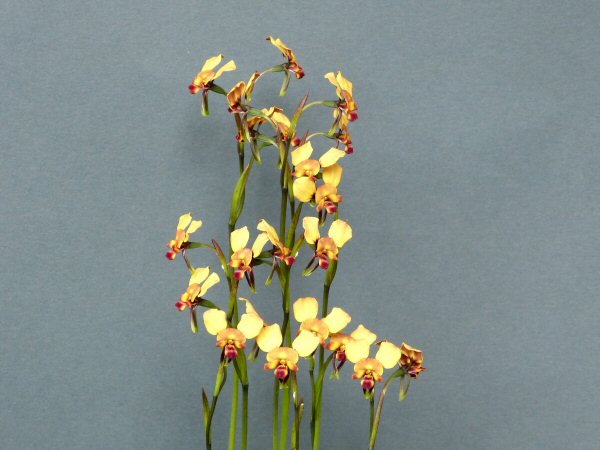 Barry Tattersall is very well known on the show circuit for specialising in orchids. On this occasion he won a Certificate of Merit for Diuris orientis, an Australian terrestial orchid that sometimes makes large colonies in the wild due to the vegetative increase of the tubers. It grows among grass in dry sclerophyll forest, flowering best after fires, and is restricted to the Nadgee-Timbilica region of Victoria, New South Wales, and Tasmania. Barry's plant bore 10 spikes of multi-headed flowers which each have two long, protruding lateral petals, giving rise to the common name of Donkey Ear orchid. Barry grows it alongside a selection of Mediterranean orchids, and claims the magic ingredient in his compost is a form of clay granules sold as' Sophisticat' cat litter, which he regards as good for ion exchange. He mixes three parts of this equal parts perlite and coarse grit, plus two parts John Innes No. 2 or 3.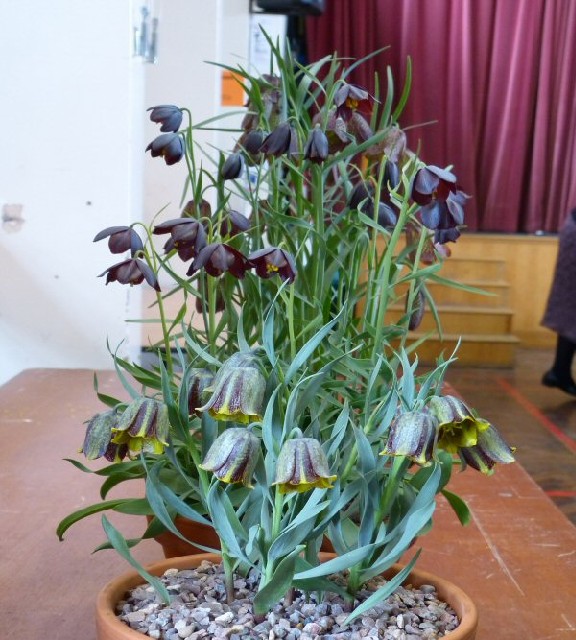 Don Peace showed a superb selection of fritillarias, winning both seed-raised classes, the three-pan entry receiving Fieldhouse Trophy. His plants were a remarkable achievement and demonstrate many years of dedication, during which seed-grown plants had been bulked up to result in 19cm pots full of flowers. Among these was Fritillaria michailovskyi showing variation from seed with one yellow flower among the more usual plum-edged in yellow; Fritillaria tuntasia, an 18 year-old stock of almost black, coolie hat-shaped flowers and a nobel group labelled Fritillaria crassifolia x ??, sown in 2002. The seed had originated from Dieter Zschummel's garden, where it had presumably crossed with another species. The resultant hybrid has two dark plum, flared flowers per stem, and glaucous foliage.
Author: Diane Clement
Photographer: Don Peace and Robert Rolfe