North Midland AGS Show, 2012
With several regular exhibitors away on holiday, a sub-zero cold snap just two days beforehand (a few miles to the west, deep snow still filled the ditches), and the knock-on effect of the decimating 2010-11 winter, show secretary John Savage had his work cut out to drum up entries for this mid-season, popular show. One noted his beautifully-grown Andromeda polifolia 'Nikko' in a three-pan class: a pity that this species, available in around a dozen versions at present, isn't shown much nowadays. And he certainly managed single-handedly to ornament a sizeable area of one show bench with a large, very well-furnished plant of Rhododendron 'Snipe' (R. pemakoense x davidsonianum), whose mass of lilac-pink funnels had been protected from the recent frost.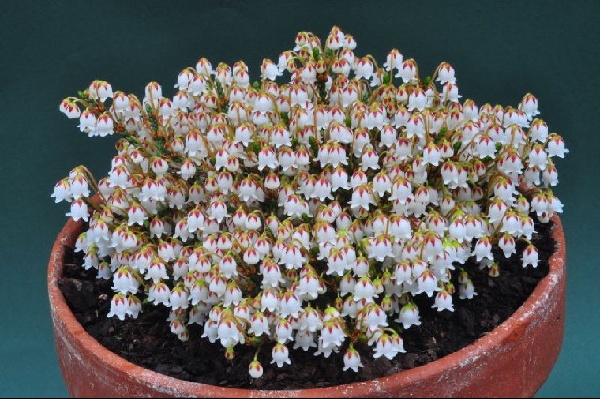 While considered for the Chesterfield Vase (best pan of Ericaceae), that award went instead to Trevor Harding's much smaller Cassiope Stormbird Group. This C. lycopodioides x selaginoides cross occurred with Mike & Polly Stone when they were at Fort Augustus. A number of their other hybrids, dating from the 1980s and 1990s, are still offered commercially, and it is a puzzle that this exemplary one hasn't been championed long before now.
A clonal name would be useful to distinguish this very appealing seedling whose striking reddish calyces (pale green in some other examples) and dwarf habit show the influence of C. selaginoides var. nana, which was brought back from Nepal by Ron McBeath 30 years ago. Cuttings are apparently easy to root, and if a nurseryman gets hold of stock, he or she will be able pretty much to guarantee bumper sales, judging by the acclaim the plant met with at the show, where it also won the Frances Hopkin Trophy for the best plant shown in a 19cm pot.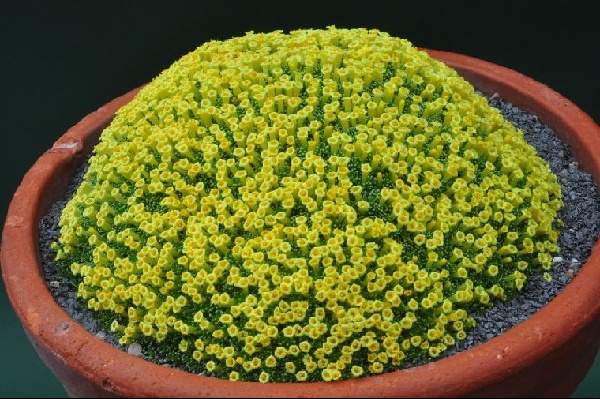 Another gifted grower of cassiopes, Ian Leslie, chose instead this time to demonstrate his prowess with the Patagonian genus Benthamiella, whose steppe haunts are a world away from the very damp habitats favoured by most cassiopes. Plants of several species have now been in cultivation just over a decade, and in general have given less trouble than was at first predicted, though they don't always flower well (possibly a consequence of too rich a compost – elsewhere in the hall, a large cushion was uncharacteristically soft and sparsely flowered), nor is a mild winter to their liking.
B. patagonica has performed best of all (nonetheless, this was the first time the genus had garnered a Farrer Medal) and several versions, raised from the trend-setting Flores & Watson introductions, are fairly frequently seen. The best plant in the show, once an Aberconwy Nursery stock plant, presented an even, 20cm diameter hummock with dense greyish rosettes whose blunt leaf tips were white – an intermittent feature of the species – and had primrose-coloured flowers, larger than some collections, but with an irregular, reflexed flange. They relied on profusion to create an impression. But for sheer allure, you had to wander over to the class for a plant native to the southern hemisphere, where the same exhibitor's B. patagonica F&W 1011, double-potted and at most 6cm across, could also be distinguished by its rather smaller, pure white flowers, the long floral tube topped by a prettily-crimped, horizontal rim, and a throat filled with bright yellow stamens.
The transformation that can occur when a flower is seen en masse was also demonstrated by a Michael Agg's trio of Anemonella thalictroides clones, and in particular the two green forms, 'Betty Blake' and 'Jade Feather' (the latter shown as 'Green Hurricane', but when offered in 1999 by Kath Dryden – at £12 for a 'tiny offset' – she wrote that 'it masquerades in the USA and Japan as this, and 'Green Dragon'; this is the original plant.' Normally white or pink and on the whole single-flowered, semi-and fully-double examples have long been cultivated. The variations selected brought to mind vaguely analogous clones of our native Anemone nemorosa, which flowers at much the same time, though in none of these endures a month or more, as do some forms of the Anemonella. 'Jade Feather' is the more outré of the two, 'Betty Blake' the neater, smaller and more precisely regular in petal presentation: this was a rare opportunity to appraise them side by side.
I suppose you could term these novelties, but in this category I would place in pole position Geoff Rollinson's Androsace aff. selago, a Josef Halda collection from the Pamir-Alai (Kyrgyzstan) at 4,850m. This presumably belongs somewhere within the multi-faceted A. villosa conglomeration, but stood apart from all others in cultivation by dint of its much-condensed, acute leaves, and its single, short-stemmed, freely-produced flowers, further distinguished by a prominent annulus and slightly relaxed petal lobes. A moraine-dweller, it had been sown in March 2008, and was thriving in a compost of equal parts John Innes no. 3, leaf-mould and grit.
Androsaces were a feature of the show, from Lionel Clarkson's handsome A. villosa (red bud form) – which won its class ahead of the following week's Farrer Medal winner, A. villosa var. barbulata, to five specimens of A. vandellii shown by George Young, who took home the Gould Trophy for the most first prize points in the Open Section. These had been sown in November 2003, and again in the same month three years later: the best of them was in close contention for the Frances Hopkin Award, though some judges were disconcerted by the small size of the individual flowers: when they are present by the thousand, with no sign of a single gap, this seems a rather perverse quibble. George also won the small Open Section, six-pan E.B. Anderson Prize, specimens of Townsendia spathulata 'Cotton Ball', Primula albenensis and the aforementioned Androsace vandellii to the fore (yet the finest example of this species, grown in a surprisingly shallow, 25cm clay pan by Geoff Rollinson [below], received the John Saxton Memorial Trophy for the best plant native to Europe).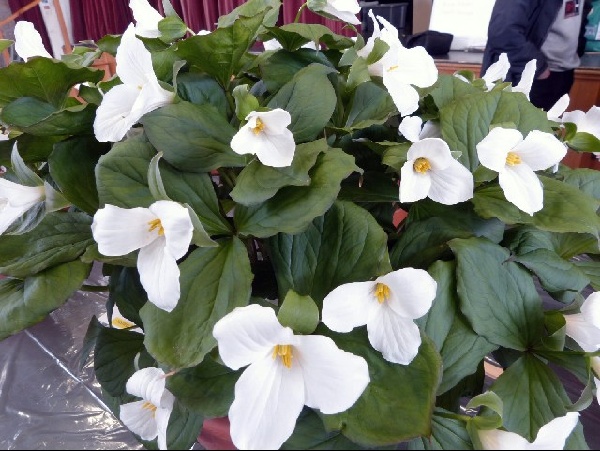 George also had a notable win in the three pans rock plants native to North America, his Hymenoxys lapidicola in rude good health (but not consenting to flower as freely as a smaller plant shown in the small Open classes), and Trillium pusillum var. pusillum a leaf-litter top-dressed, established panful boasting 20 flowers, though outgunned for best of its genus by Chris Lilley's mighty 36cm potful of T. grandiflorum, International Conference victor ludorum last year, and recipient of the Chatsworth Trophy (best bulbous plant) this time round.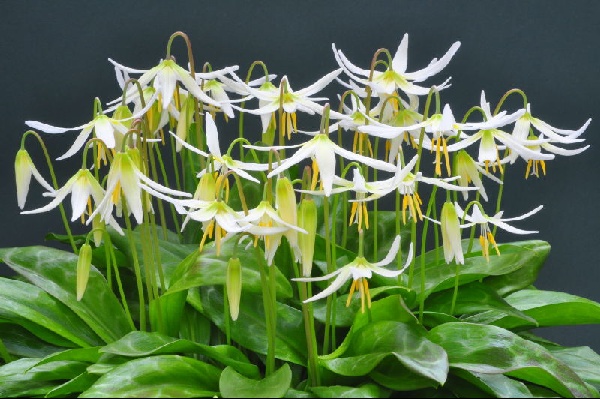 Another North American bulb, Les Brown's Erythronium oregonum (introgression with E. californicum was suspected when it last appeared in public, winning the Farrer Medal at the 2008 Harrogate Show) was a veritable showstopper. On a cold, blustery, showery day, it had responded by presenting its every flower in peak condition –the bestowal of a Certificate of Merit was well-deserved – but trying to photograph it in a draughty porch as the wind blew and the rain came down in torrents was no great fun. On the other hand, Clare Oates similarly-certificated Primula juliae was a much easier proposition, for the pert, richly-coloured flowers are held just above the leaves, though later on the foliage expands considerably, burying the waning blooms as the pedicels elongate and shed their cargoes of seed in late spring.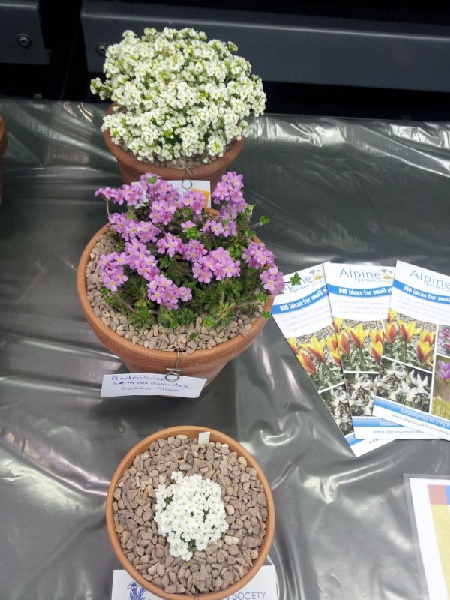 Mike & Ju Bramley ran the Chesterfield Show most ably for a number of years, and throughout were consummate exhibitors both there and at other events held in northern and central England. It was very cheering to see Ju supporting her grandson Jo (who won the Nottingham Junior Challenge Trophy, his four first prize entries including a first-rate Draba 'John Saxton' (rosularis x dedeana) as good as any of the dozen or so others shown in the Open Section, and some very promising androsaces), but sad that Mike is no longer with us. She had a very creditable Dionysia microphylla (only this species and D. involucrata 'Gothenburg White' were in evidence, all the other species having faded some weeks previously), evoking fond memories of this and other species that she grows so well, and has travelled to Iran to see in their homelands.
Although the benches scarcely teemed with entries, they were colonised by some extremely distinguished exhibits – a golden-sheened Meconopsis integrifolia (Alan Furness) sown five years ago, for example, descendants of an SSSE China introduction, that came first in the one pan rock plant for foliage effect plant class ahead of 15 other entries, and in the Intermediate Section, two tremendous, beautifully-coloured spikes of Anacamptis morio (Neil Hubbard), smelling like some expensive brand of soap, which had been obtained from a German grower, and have yielded seedlings, now being expertly nurtured in vitro. This show has always been well-supported in its Intermediate and Novice Sections: happily this tradition shows every sign of continuing in strength.
Robert Rolfe