Newcastle AGS/SRGC Show, 2016
This is one of our opportunities to get together with exhibitors and gardening friends from Scotland. Apart from the opportunity to meet with people we see all too infrequently, it is also a chance to enjoy plants representing a wider range of tastes and experiencing different climates. These important considerations aside, also on offer were the region's renowned bacon and black pudding butties at breakfast time, much appreciated after a rather stressful journey north due to the closure of the A1 motorway between Dishforth and Scotch Corner.
For this report I've decided to adopt a slightly different tack, rather than discussing the merits of half a dozen notable plants or talking about the trophy-winning plants and people. (I must however record the delight of the assembled throng when joint show secretary Alan Newton received the Ponteland Bowl for most first prize points in the Open Section.) Instead I want to talk about some of the issues confronting judges at our shows, which vex them, the Shows Committee and exhibitors. I'll also highlight some of the differences in exhibits we see between those sent from the north and south sides of the border.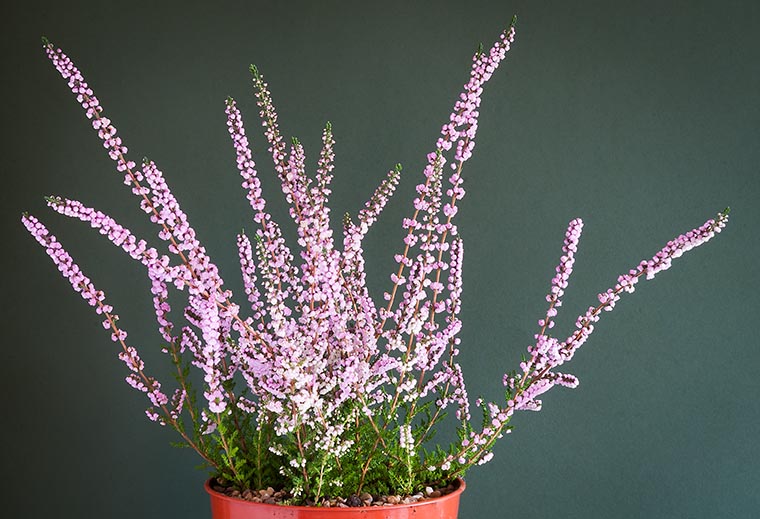 I'll start with the most obvious of these from the Newcastle Show. When did you last see a heather at an AGS Show? Indeed, there was only one at Ponteland, Calluna vulgaris 'HE Beale', brought south by Stan de Prato. The family Ericaceae is always well represented overall but where are the ericas and callunas? These plants meet all the criteria stipulated and can be grown successfully in most parts of the country. Are they out of fashion, or deemed too everyday and easy? I don't know the answer but perhaps it's time to enter some of the dwarfer ones and see what happens!
And now for something a little more contentious: the dreaded word 'suitability'. The key elements here are size and hardiness. The Show Handbook gives rules and guidance but is slightly vague, no doubt to allow some flexibility in interpretation. To quote the definition of an alpine or rock garden plant: 'all plants, including shrubs, suitable for cultivation in a rock garden of moderate size or in an unheated frame or alpine house. It excludes any plants which will not survive an average British winter under such conditions'. So what size is moderate? It depends on the size of your garden. I suspect if I ask 20 people I'll get 20 answers. Again, how much of your rock garden would you give over to a single plant? Let's not even got on to the matter of what constitutes an average British winter! Oh yes, and while we're discussing size, do we mean height, spread or a bit of both. And in the case of trees and shrubs, what size is permissible and after how many years?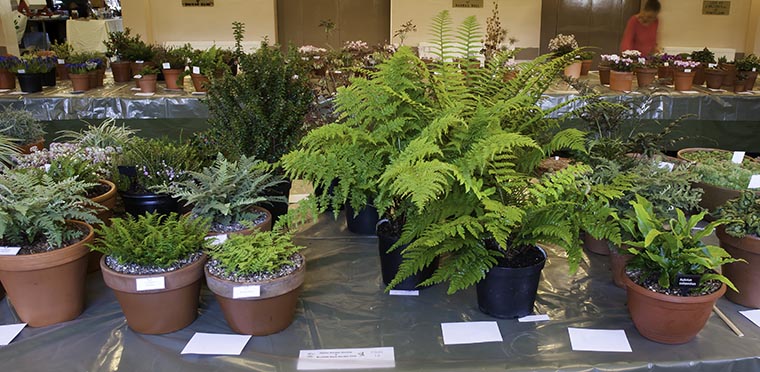 Enough ranting; let's look at some examples from the show to illustrate the issue. The large three-pan fern class contained entries ranging from 10-45cm tall and 30cm across. Are they all 'suitable'? Are they fully mature or will some of the superficially dainty ones eventually outgrow the largest on display?
Moving on to bulbous plants, we come to the genus Nerine, increasingly popular in recent years. Some are short and dainty; some are tall and certainly not dainty. Their hardiness is also variable. This is only one example in the field of bulbs (no pun intended). The hardiness of bulbs covers a wide span and often depends on how dry the compost is during cold weather, a comment applicable to many of the plants we grow and show, not just bulbs. Other factors can be equally telling. Does a lean-to greenhouse attached to the rear of a south-facing dwelling count as heated? It will certainly not experience the low temperatures it would if it were detached and oriented north-south.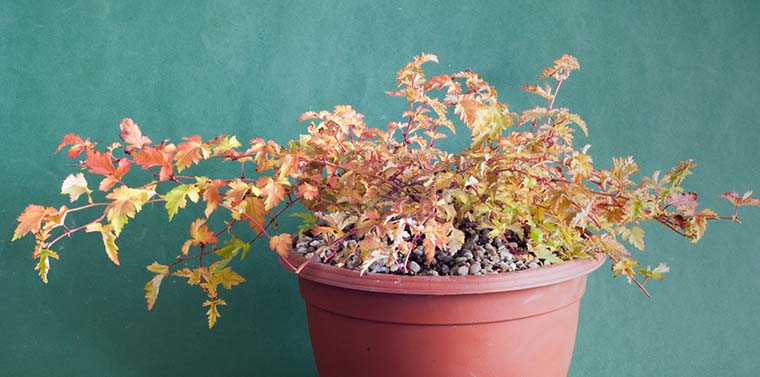 Moving on: when is a tree not a tree? A good example of this problem was a beautifully coloured Euonymus alatus 'Compactus'. A rootle around the internet will find this described as having a height and spread of one metre, usually with the 'after 10 years' caveat. Those not selling it will describe plants with this label as reaching 4-5 m. In the next foliage class was another example of fine autumn colour, displayed by an attractive small plant of Stephanandra incisa 'Crispa' [right]. This is described as being 60cm tall with a diameter of 2m and spreading by suckers. I certainly wouldn't let a plant with that description loose in my rock garden. What's a judge to do! No conifer reaching such dimensions would win its class.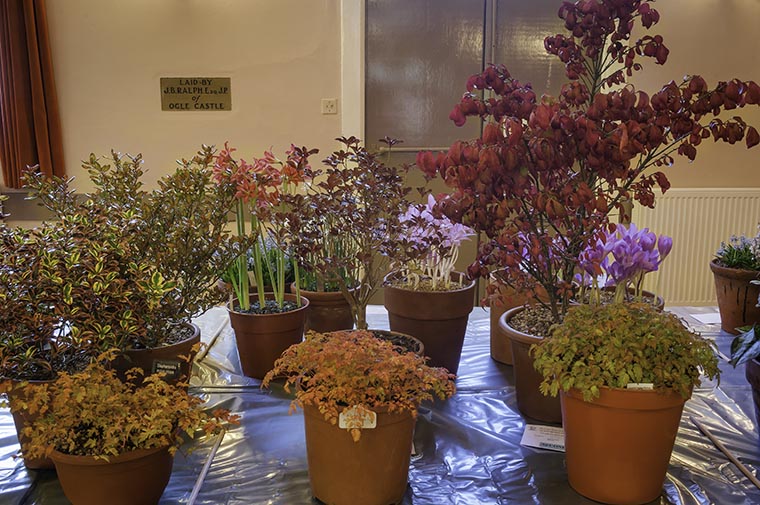 I'm going to skip quickly over the divisive topic of defining when foliage is variegated and what constitutes silver/grey foliage. Suffice to say that the following week there were two identical plants in adjoining classes for silver/grey foliage and excluding silver/grey foliage. The said plant had been exhibited in the variegated foliage class at Newcastle! [Photo: one pan rock plant showing autumn coloured foliage]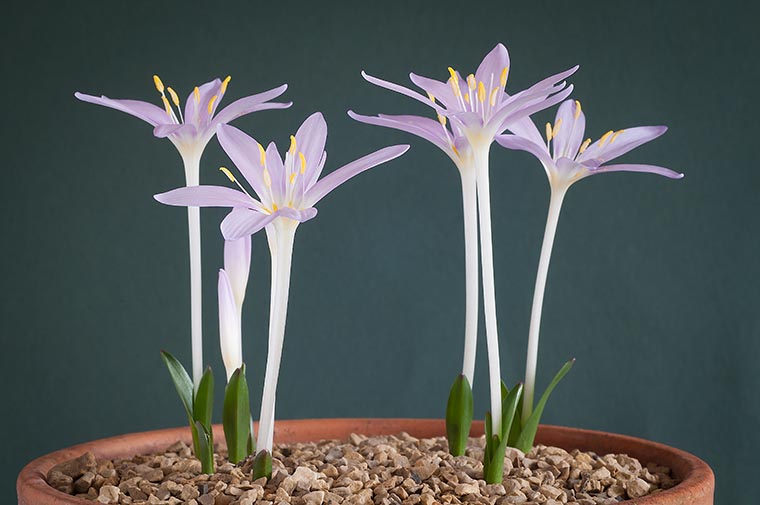 One last topic to illustrate the challenges of judging. Let's assume there are two or three pots in a class. all in the right size pot and 'according to schedule'. All are well grown, in character and in pristine condition. So, objectively, all are suitable for that magic red sticker. I'm afraid it now becomes subjective and hence prey to the foibles, preferences and prejudices of each of the three individuals trying to decide which wins. Are you swayed by a pretty face? By rarity? By colour?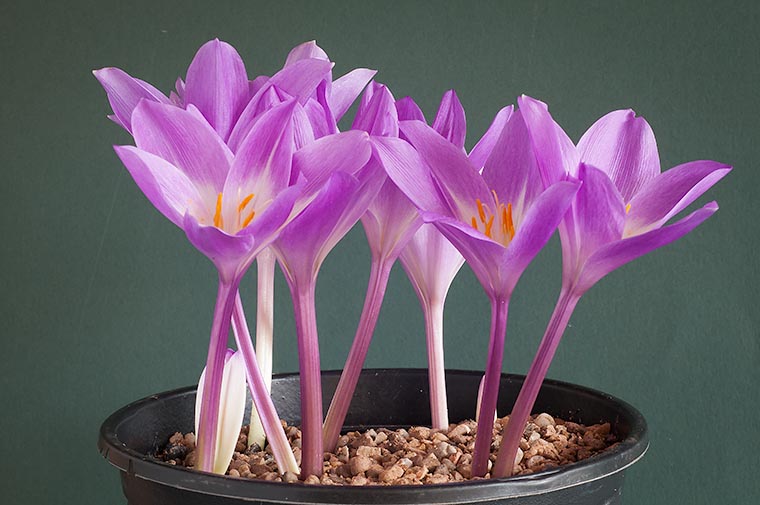 Little wonder that you sometimes hear muttered: 'Well, I wouldn't have picked that'… and some less polite comments as well! An example from this show was in a class where two pots of Colchicum vied for first place – C. baytopiorum [above] and C. Dick Trotter. The first of these small and delicate; the other big and certainly in your face. On this occasion the triumvirate chose Mr Trotter's alter ego. There is no right or wrong.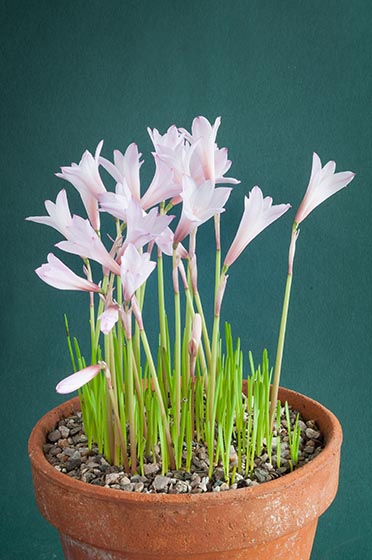 To end, I must touch on my own personal favourite plant at the show, Habranthus martinezii [right], shown by Alan Newton. This Argentinian native conformed with all of my preferences and prejudices, despite being a native to lowland fields and hillsides in Argentina and Uruguay, not deemed worthy of inclusion (so far) in the AGS Encyclopaedia of Alpines. There again, the Farrer Medal was awarded to Bob & Rannveig Wallis's Cyclamen maritimum: as the specific epithet suggests, this too is no high alpine.
Author: Martin Rogerson
Photographer: Peter Maguire