Newcastle AGS/SRGC Show, 2015
A fine autumn day: a new venue for the Newcastle Show. Approaching Cowell's Garden Centre, we passed the park and ride facilities on the Newcastle Metro for the afternoon's Rugby World Cup Match between Scotland and Samoa at St. James Park, then signs warning of red squirrels (I suspect this notice was redundant. Thirty years ago they were still frequently seen in much of north-east, but nowadays are only found further north in and around Kielder Forest.)
This was a new experiment, held in a new kind venue. Instead of another school building, we were in a garden centre, surrounded by garden tools, packets of bulbs, blousy Cyclamen persicum cultivars, and Saturday shoppers. Some at least of the last stopped to look and talk; some even attended the following Monday's local group meeting. One might say that the hall was draughty, and that even the men had to queue for the toilet facilities. And it was unusual to make your way out of the show hall through Santa's (still unoccupied) grotto. But what we gained was contact with the public, and incredible light, the autumn sun shining through the glass roof. Autumn shows always have plenty of green vegetation but at many venues, the foliage classes can seem dull and gloomy. Here they were areas of bright, sparkling green.
Having mentioned the word green, this is an autumn show, with plants in fruit, classes for seed heads and autumn foliage. One of the first plants to register was Aruncus aethusifolius, in brilliant scarlet hue. Not a rare plant, nor a difficult one. It grows without fuss outside, and for most of the year is insignificant. Then, for about a week, the best forms blaze with colour, before dropping all their leaves. For many growers, this happens the day before the show, or even while the exhibit is being staged. Mike Dale avoided that problem and gave us a taste of autumn.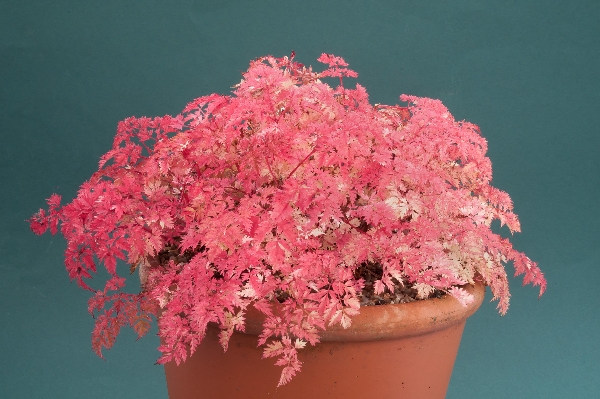 At approximately 10.30 a.m. I was invited to write this report. Taking a rapid look around the hall, my eyes were drawn to one plant. This is a good sign when looking for the best in the show. The plant was not in flower but in fruit. Gaultheria John Saxton (Keith and Rachel Lever) had already attracted attention at previous show. The contrast between the dark green leaves and the evenly placed clusters heavy with red fruit was emphasised in the bright light. Fortunately, the judges did not suffer from red/green colour blindness; the plant was awarded the Forrest Medal shortly afterwards.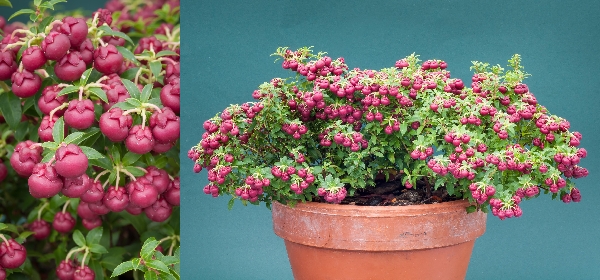 A wide range of plants were in contention when it came to deciding the winner of the trophy for the best foliage plant. The ultimate winner was a beautiful specimen of Celmisia semi-cordata, grown from seed by joint show secretary Alan Furness. Among the others that attracted attention were Brachyglottis bidwellii 'Basil Fox' from George Young and Ivor Betteridge's Ficinia truncata 'Ice Crystal'. The first of these is notable for the symmetry of its branches and leaves, and presents a challenge to coax into even growth and maintain the matt surface of its leaves clean and undamaged by insects, spider, and other livestock. The Ficinia has featured at a number of shows this year; it is a dark green sedge from South Africa, with the leaves looking almost as if the tips have been cut off, (hence the specific name.) Its most dramatic feature, the white margins to the leaves, look as if they are frosted, (hence the clonal name.) Some authorities question its hardiness but Ivor has had no difficulty keeping it in a cold greenhouse. It now well established commercially; our host garden centre was selling plants filling 1 litre pots.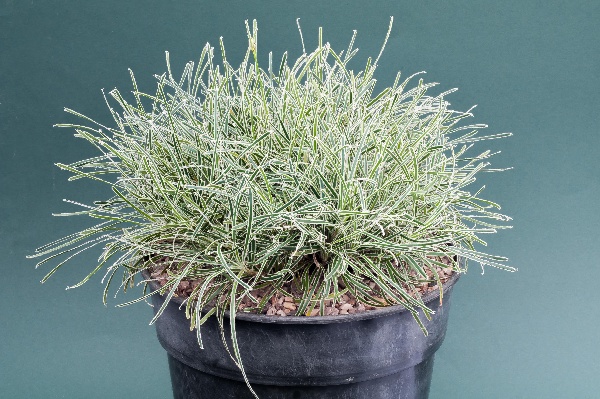 So far I have not mentioned any flowers. They too sparkled in the bright light. Crocus, Colchicum, Gentiana and Oxalis all dazzled with wide-open flowers, the last of these especially. So often, they refuse to open and just look scruffy or drawn. Here, their colours made a real contribution to the brightness of the hall. Ivor Betteridge had intended to show three Oxalis in the class for three plants of one genus, but felt on arrival that his plant of O. flavum (surprisingly white) was insufficiently performing, so put his other two with a Cyclamen to win the class for three rock plants in flower. Both plants are summer dormant, autumn flowering and winter growing; they should be kept dry in summer, but watered (and given good light to keep them compact) in autumn. Oxalis massoniana from South Africa is bright orange while Oxalis perdicaria 'Cetrino' (not "Citrino", despite citations to the contrary) from South America is a shade of lemon yellow that looked particularly good in the bright light.
For a show jointly staged by the Alpine Garden Society and the Scottish Rock Garden Club, it is remarkable that one (or rather two) of the most prolific contributors each year come from South Wales. Bob and Rannveig Wallis rarely miss the Newcastle Show, and usually go home with the North of England Horticultural Society Cup (the aggregate trophy,) the AGS Medal for the small six-pan, or, as on this occasion, both. It is not just quantity, but quality. The entry for class one received two Certificates of Merit (Biarum marmarisense and Hyacinthoides ciliolata); the six-pan entry included Pterostylis coccinea which won the Patricia Furness Vase for the best plant in a pot not exceeding 19cm, wisely excluding Cyclamen. Indeed, I felt I could write about every plant in that exhibit but was most attracted to a race of Colchicum.
Colchicums are often rather untidy on the show bench, as they race up towards the light, and then collapse. The two plants of Colchicum cupanii were comparatively smaller and neater, though well flowered. Unlike most of the genus, this species is synanthous, which connotes that it flowers in tandem with the leaves. It responds well to typical bulb treatment, but unlike most will not start to flower until it has been watered, whereupon the leaves, which wrap themselves in pairs around the stem, also emerge. The variant glossophyllum is a more delicate plant with pink flowers from mainland Greece; C. cupanii as widely distributed in North Africa and Crete is larger and paler; in this case almost white and starting to suffer from its long journey and spell in the sun by the end of the day.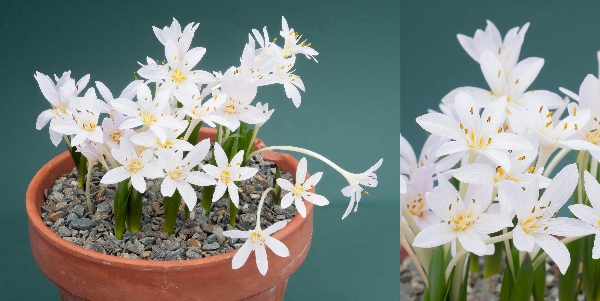 Cyclamen are almost synonymous with the autumn shows. This year at Newcastle we were without the real heavyweight plants we sometimes see at other times and in other places. But we were not without interest. A fine plant of Cyclamen mirabile won for Bob Worsley both the Newcastle Trophy for the best plant in the Intermediate and Novice sections, and the Ewesley Salver for the best small Cyclamen. Enthusiasts were drawn to a plant of Cyclamen africanum with leaves suffused with an almost complete silver wash (another component in Bob and Rannveig's AGS Medal group). The plant which particularly caught my attention was Dave Riley's plant of Cyclamen colchicum. This species is seldom seen on the show bench, partly because, like allied Cyclamen purpurascens, it often flowers too early for our shows. Almost evergreen under some conditions, in most years the leaves go down a week or two before the new flowers, followed by the leaves, come up. Some growers, like Dave, remove the old leaves when they are looking tired. His plant, which is over 16 years old, has particularly well-marked leaves. However, it continues to frustrate by refusing to set any seed.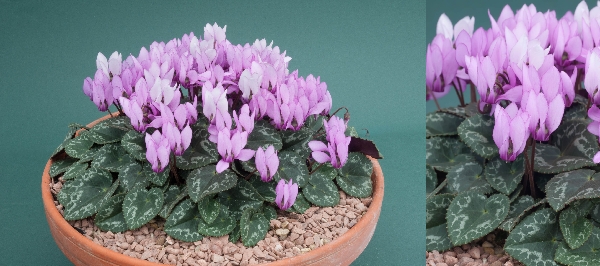 New to cultivation, Stenoglottis woodii is a delicate, autumn-flowering, terrestrial orchid from South Africa. The pink flowers looked as fresh as if they had just opened, even though it had been on the show bench two weeks earlier. Alan Newton, the owner, notes that it is long-lived, and also specifies that it was sourced from a nursery that grows orchids from seed. Grown in a mixture of sharp sand and peat (milled bark would be an alternative for those who don't like using peat) and liquid-fed every two weeks, it is winter dormant and at this time should be kept in cool, dry place, but never dried out.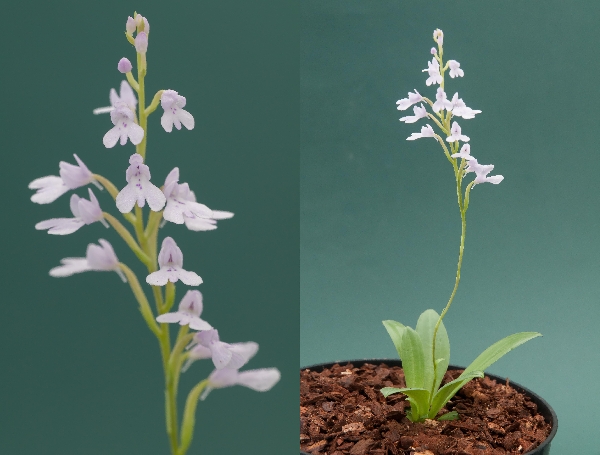 Finally, during the early afternoon, there was a loud roar, as the Vulcan bomber flew low overhead on its farewell tour of Britain. Special thanks go to show secretaries Alan Furness and Alan Newton (who negotiated the new venue through his extensive family links,) and especially to the owner and staff of Cowell's Garden Centre.
Author: Peter Hood
Photographer: Peter Maguire