Newcastle AGS/SRGC Show, 2013
The day was dark, dank and drear as I set out, with light drizzle persisting until my arrival at Ponteland Memorial Hall. However, the greetings from faces familiar and unfamiliar alike, plus the colours of the flowers and the autumn tints of the berries and foliage classes, soon wiped away any despondent feelings engendered by the weather. Pots of Cyclamen, Colchicum, Crocus, Nerine, Galanthus and others, bolstered by the colours of the autumn fruits and foliage, brightened the hall.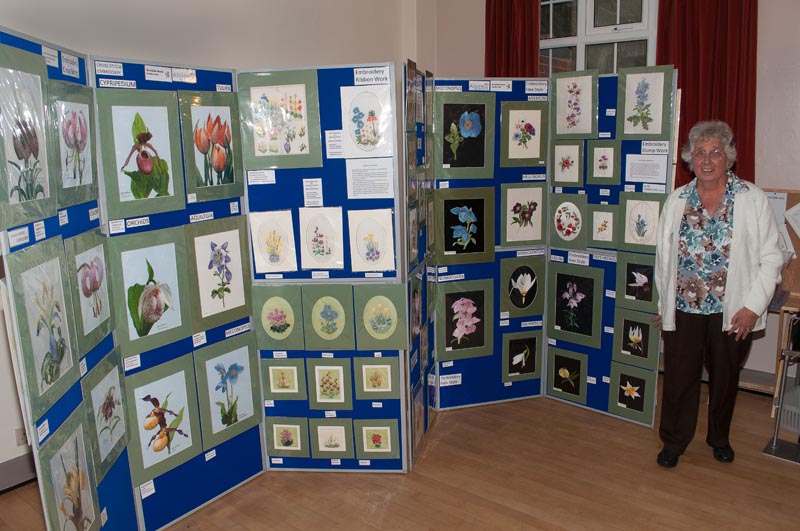 There was much to see and do. Alongside a 'WELCOME' board, with complementary AGS literature, was a delightful 'Name the Bird' competition displaying photos of familiar visitors to our gardens (and some less familiar ones too). At the other end of the hall was yet another of Jean Morris's superb cross-stitch and embroidery presentations. There were 104 examples of her work, with three panels illustrating 24 British native orchids, which deservedly received a Gold Award. There were numerous plants to buy at the specialist nursery stands and members` stall, or if food was needed, the 'special' bacon rolls – lashings of bacon and slices of black pudding – certainly met the need.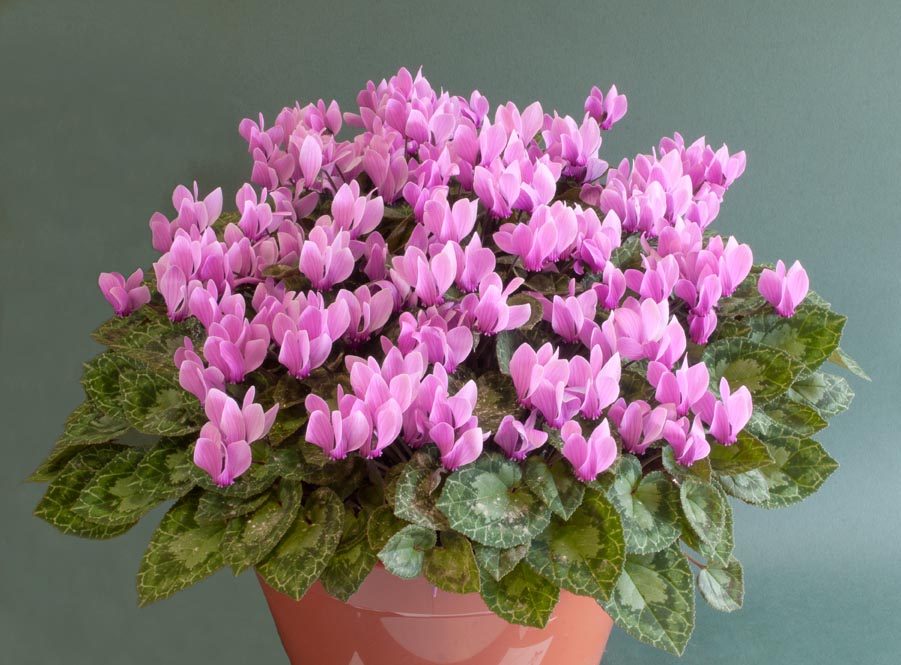 This year the show was held under Scottish Rock Garden Club rules and so a Forrest Medal was awarded to the best plant in show, a very handsome pot of Cyclamen graecum subsp. graecum grown by Bob & Rannveig Wallis. This species is noted not just for its lovely flowers, but also for the beautiful, multifarious patternings on the leaves, and this example was exemplary in this respect. While many people think of it as a plant that needs dry conditions, for optimum flowering it is important not to let it dry out completely in the summer: residual moisture at the roots fosters the sort of dazzling performance seen at the Ponteland Show.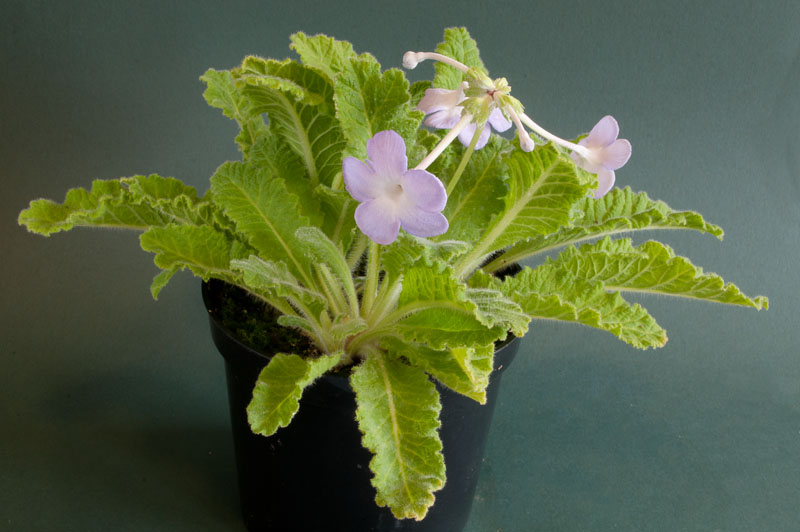 Flowering out of season, the rarely seen, distinctive Soldanelloid Primula sherriffae, shown by Tim Lever, was represented in the raised from seed class from a 2011 sowing. The parent plant, which has endured at Aberconwy for about ten years but rarely set seed, is a descendant of an original collection by Ludlow and Sherriff in Bhutan in 1934, an RHS Award Of Merit recipient in 1936. The expedition collected two similar primulas, the other being P. ludlowii., now considered by John Richards and others a 'depauperate' form of P. sherriffae. In the wild it grows on mossy cliffs below the tree-line and accordingly, in cultivation, while it may survive an odd degree of frost, it is best grown frost-free. The example here was growing in virtually pure acidic, humus-rich compost, with a half-strength liquid tomato fertiliser dosing if the foliage shows signs of yellowing.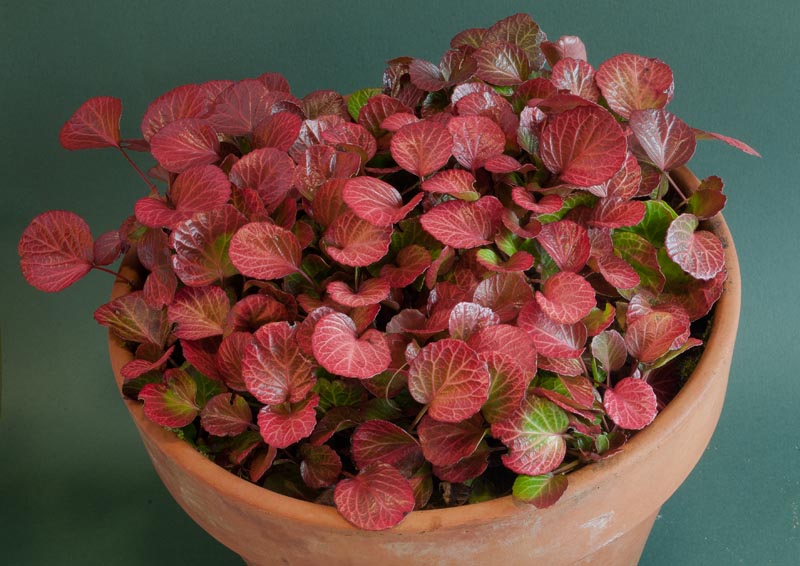 Like many other primulas, P. sherriffae has been re-distributed from Scottish garden (in this case RBG Edinburgh). Shortias too are a feature of favoured gardens north of the border, and Shortia uniflora 'Grandiflora' (exhibited by Carole & Ian Bainbridge) is a personal favourite, not just for its attractive flowers in spring, but also for the rich colours of the autumnal foliage. This plant, some 20 years old, is grown outside all year round in an ericacaeous compost, flowering well and remains verdant all summer if never allowed to dry out. Not repotted until absolutely necessary, removal of any dead leaves and a humus-rich top-dressing every year replace that procedure. From August, if placed in full sun, the previously green start to acquire reddish tints, and frequent turning ensures even coloration. This example positively glowed and was a close contender for the best foliage plant.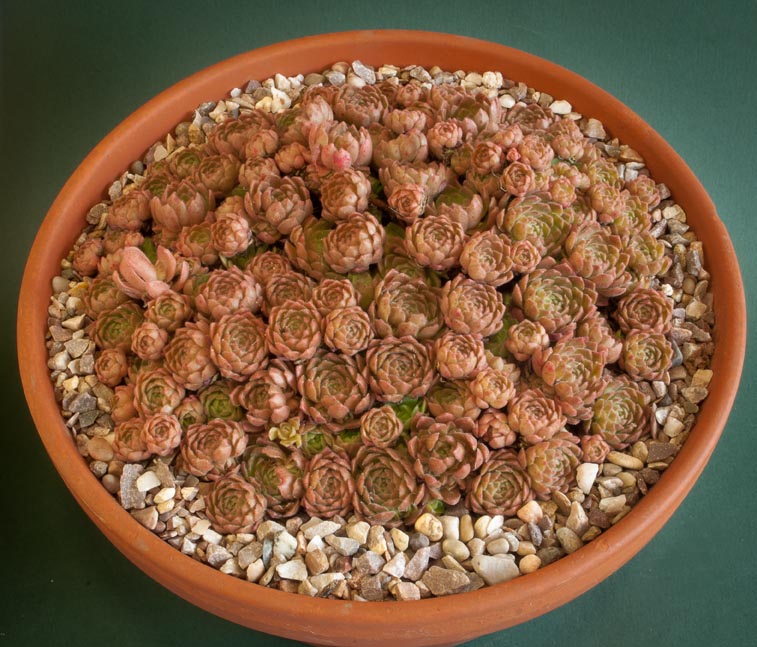 Rosularia serpentinica (Ivor Betteridge), which has a closer affinity with Sedum than Sempervivum, attracted my attention for its subtle autumn colouring as much for its neat and pristine rosettes. In The Alpine Gardener Vol. 78, no. 1, p. 116, it is pictured in its green phase. But if kept outside in full sun it develops a soft reddish blush. This particular introduction can be traced back to a gathering from dry rocky crevices at 2,000-3,000 metres on Honaz Daš (Turkey). Distributed by Norman Stevens, who knows this area of the world very well, it had been grown in a standard 50/50 mix of John Innes no. 2 and sharp grit.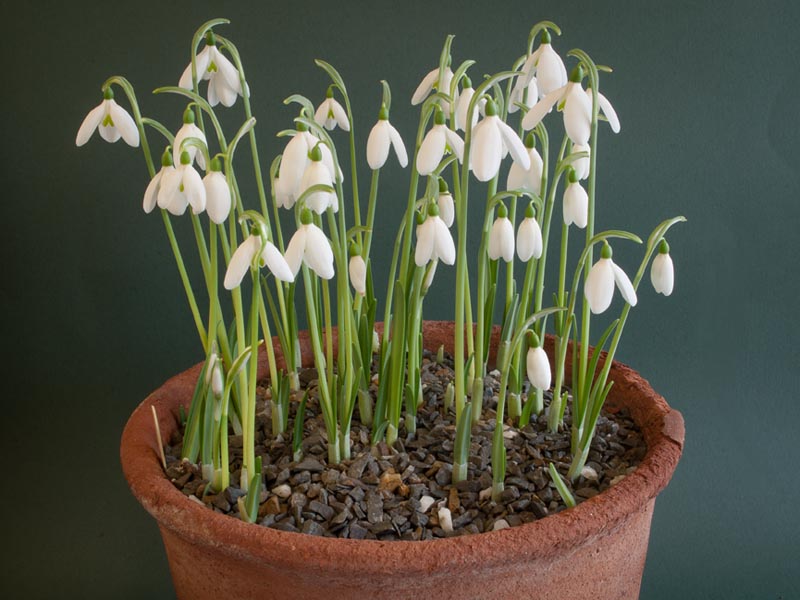 Another easternmost Mediterranean endemic, Galanthus peshmenii, was shown by three exhibitors, each entry admirable in its own way. However the one which stood out for me was Bob & Rannveig Wallis's 'Kastellorizo', from the Greek island of that name, shown in a three-pan class. This appeared to have slightly larger flowers than usual. In general, G. peshmenii increases well, but can be shy flowering, although this was far from evident in the examples on the bench. Frequent repotting is beneficial, one successful exhibitor using a mixture of 2 parts John Innes no. 3 to one of grit.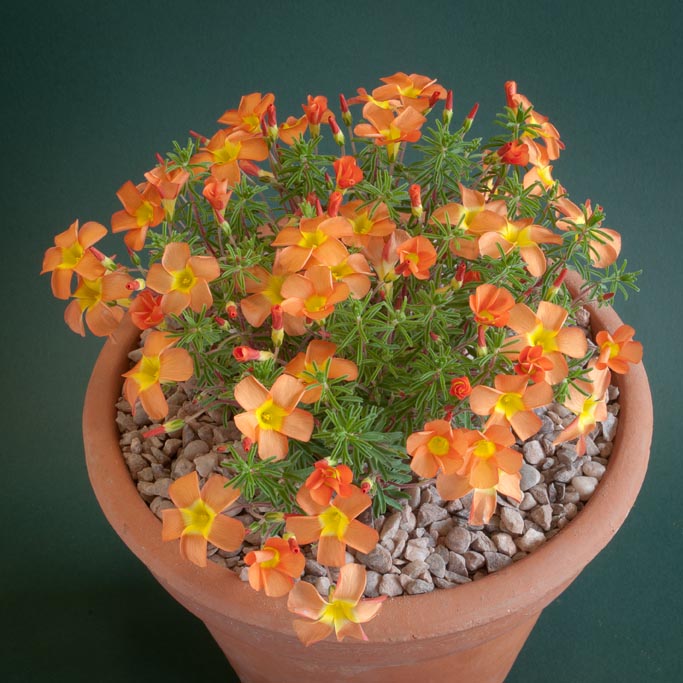 Whereas the South American Oxalis perdicaria brightened the show benches at Kent, a fortnight later it was the South African O. massoniana (Tim Lever) that came to the fore. Named after the eighteenth century Scottish botanist Francis Masson, its range in the wild is restricted to Van Rhyn`s Pass, a barren, rocky, sandstone plateau. Here it inhabits sandy, clay crevices and depressions, seasonally wet, and despite its seemingly fastidious tastes it has established well as an alpine house plants, having been introduced into England in 2000 from material cultivated in New Zealand. Grown in a well-drained loam, with added organic matter and perlite, it needs repotting in August and should be kept cool when in growth, but with good light to prevent etiolation. A never-dry but well-drained compost is best, and since it seems fairly hardy, a billet outdoors in a sandy crevice bed would be worth experimenting with, although heavy autumn rain will damage the flowers.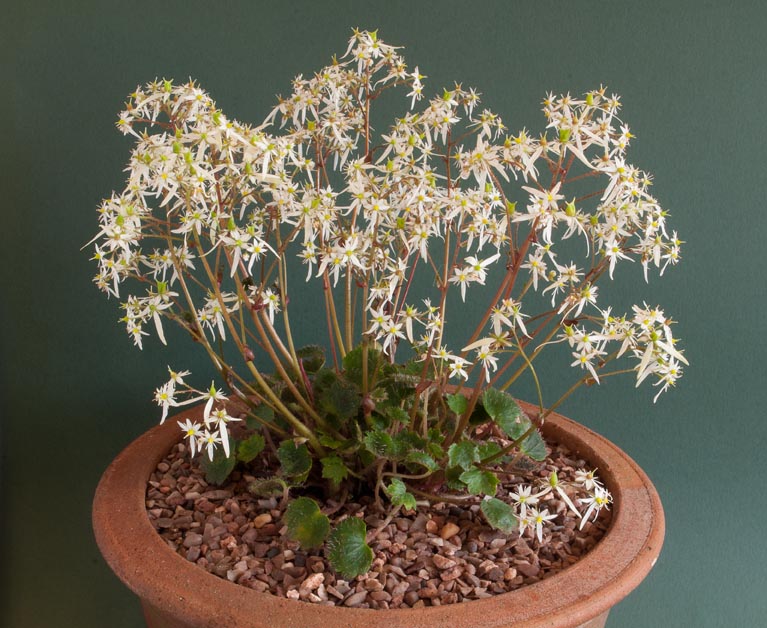 One of autumn`s pleasures is seeing the range of S. fortunei cultivars with their extensive range of leaf forms, topped by an equally attractive spread of flower types and colours. Several appeared in the Intermediate Section, including the deep pink 'Cherry Pie', which in a three-pan class superbly complemented the dark-leaved 'Black Ruby, contrasting with S. cortusifolia 'Silver Velvet'. Perhaps my favourite was, literally, in a class of its own, Christine Boulby's S. fortunei 'Fumiko' [left], with its froth of white, starry flowers. It had been grown in a mixture comprising equal parts sand, general purpose compost, and grit, plus a scattering of fish blood and bone. Repotted annually, and kept in throughout, in summer the pot stands on damp sand, after which it over-winters in a cold frame and is kept fairly dry once it loses its leaves.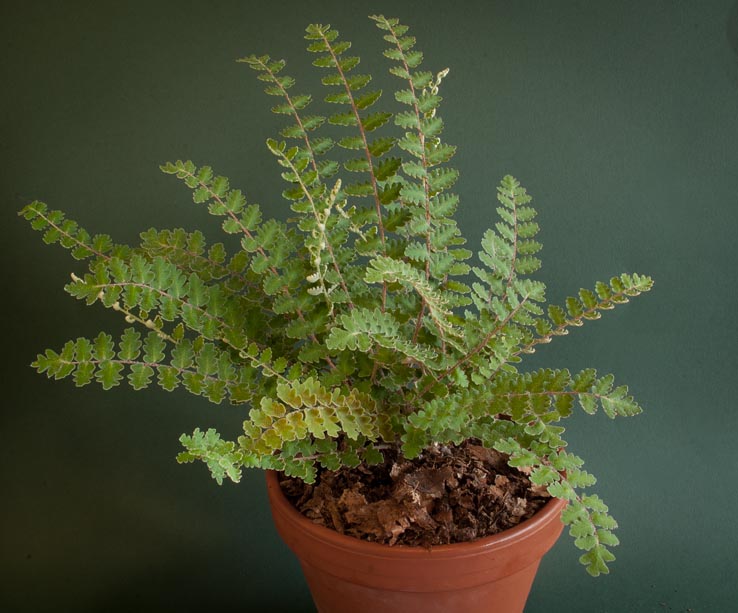 From flowers to fruit and foliage. There were a number of attractive ferns on the bench, both in the foliage and fern classes. Cheilanthes sinuata (Rod & Shirley Johnson) attracted my attention as, while various of this genus appear regularly on the show benches, this was one that I had not previously seen. An attractive American native, whose common name is Wavy Cloak Fern, is reaches 15-45 cm tall, and grows in crevices and on rocky slopes, often on limestone, as at Big Bend National Park, where at 3,500m it can be seen in quantity. Extremely drought tolerant, and hardy, it needs perfect drainage: lingering moisture is fatal and as such it is especially at risk in the winter. This specimen had been obtained at the Malvern Show from Shady Plants, ex Ireland. It is grown in equal parts of John Innes no. 3, leaf-mould and chippings, and kept in a glass-sided frame in full sun. The plunge is kept well watered and additional water is given round the edge of the pot in hot weather.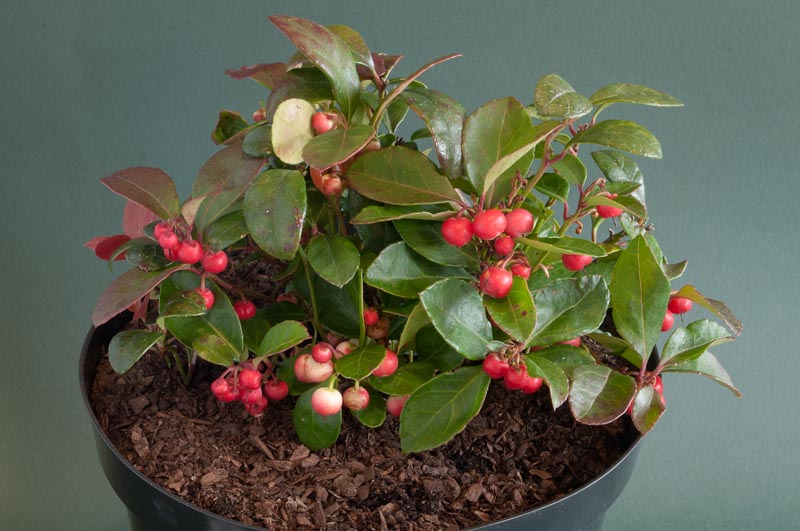 In the Intermediate Section, Colin & Kathleen Billington entered several attractive shrubs, including two well-berried furnished examples of Gaultheria procumbens, the clone 'Very Berry' with its slightly larger berries perhaps my favourite. However it was their Myrteola nummularia, recipient of the award for the best plant in Intermediate and Novice Sections, which really stood out. One of twelve species of this genus of evergreen shrubs from South America, this is the only one of interest to the alpine gardener. Found in southern Argentina and Chile, Fuegia and the Falklands where it grows in the raised parts of bogs; often intertwined with sphagnum moss and Blechnum penna-marina. It requires a moist, acid, humus-rich soil in full sun, although it will tolerate some shade.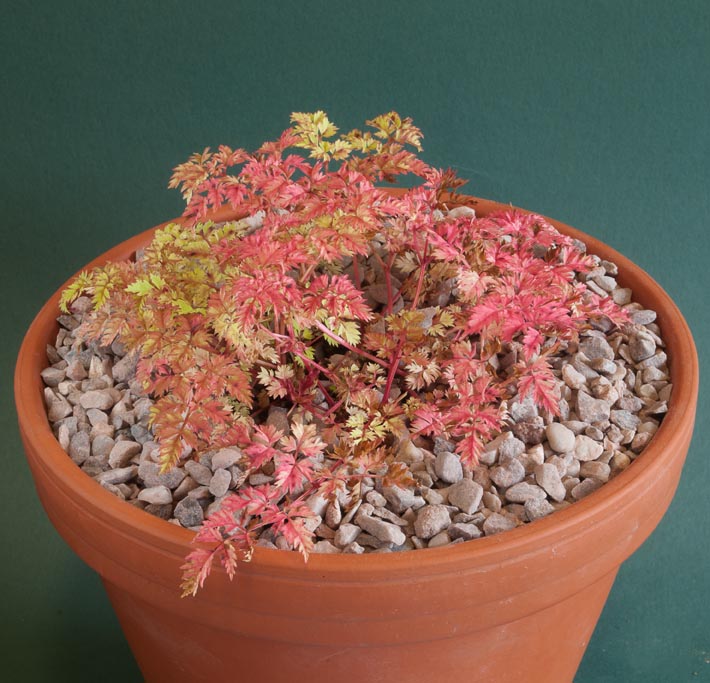 Aruncus aethusifolius (Francis Hughes) was the only entry in the Novice Section, though it thoroughly deserved its red sticker. Surely there must be other growers out there who would like to bring along their cherished and, I suspect, their extremely well-grown plants, for us all to enjoy and discuss on the show benches? The genus Aruncus, 'Goat's Beards', is generally are too large for the rock gardener, but A. aethusifolius, only 20-30 cm tall, is ideal. Broadly similar to Astilbe, this low mound-forming, rhizomatous plant, with ferny foliage, bears short spikes of creamy-white flowers in June. In autumn the foliage, as here, produces most attractive colour for the garden. It requires dry shade, and had been grown in John Innes no. 2 with grit and sand in equal parts.
Quite apart from the special awards there were five Certificates of Merit, reflecting the overall quality of the show. It was a pleasure to attend and thanks must go to Alan Newton and his many helpers for all their hard work before, during and after the show.
Author: Dave Mountfort
Photographer: Peter Maguire