Newcastle AGS/SRGC Show, 2012
This being the last show of the year, the weather was suitably autumnal, both misty and chilly, with the stream alongside the show hall swollen and muddy after yet more rain. But the day started dry − always a bonus when staging − and although they had been subjected to another extreme season, the plants were in full autumnal mode, with both fruits and seasonal tints much in evidence.
At the front of the stage there were two displays by local group members. One, a series of excellent photographs of plants with a Ruby-linked theme, celebrating the Local Group's Ruby Anniversary, was compiled by Mala Janes. The other, an exhibit of plants in autumn, showing the variety of colour, flower, form and fruit demonstrated by different plants at this time of year, was shown by Mike and Pearl Dale. These received Large Gold and Silver Medals respectively.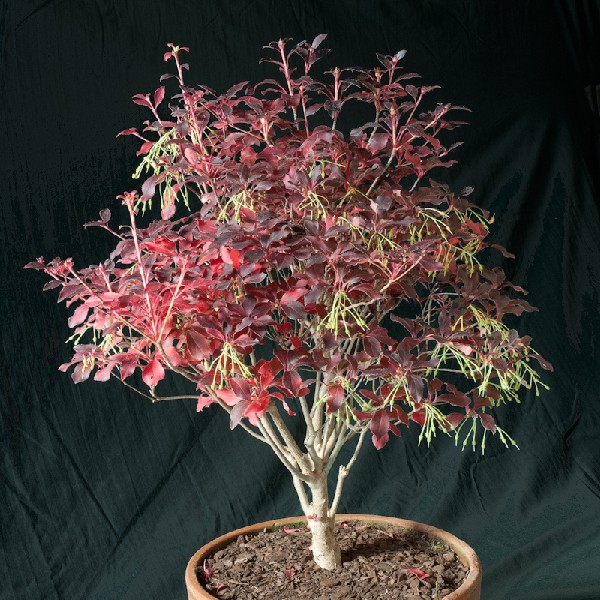 In the Open Section dwarf shrub class, an elegant pan of Enkianthus campanulatus 'Wallaby' with deep ruby leaves was shown by Keith and Rachel Lever (proprietiorso f Aberconwy Nursery). This plant, noted for its autumn colour and dwarf size, only reaches about 60cm after many years. It is fully hardy and needs to be grown lime-free; even young plants show good autumn colour.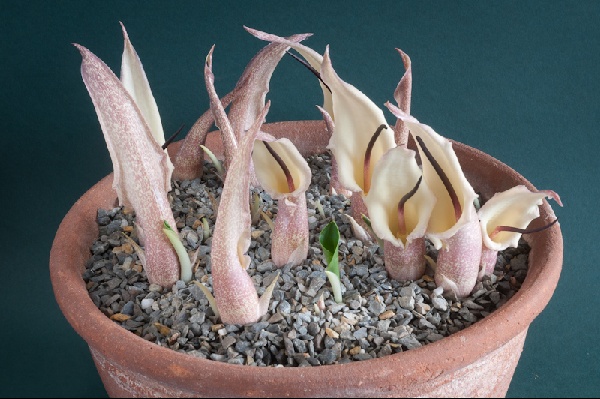 By contrast, in three-pan bulbous class, a large grouping of Biarum marmarisense, shown by Bob and Rannveig Wallis, proved a show-stopper. This SW Turkish endemic filled the pan with numerous flowering spathes which appear before or just as the leaves emerge. Like many aroids this plant is scented, though fortunately the aroma is described as 'fruity', and is indeed pollinated by fruit flies, unlike many of its fly-visited, malodorous cousins. An amazing assemblage, this was awarded the Farrer Medal, which was well deserved. Technically, of course, an alpine it was not: this species grows at only 100m above sea level and therefore likes warmth through the season.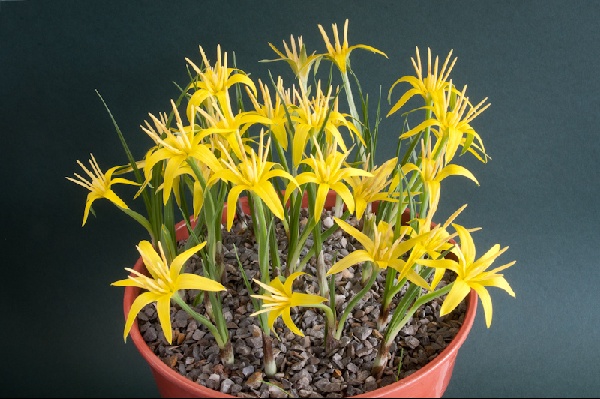 Another excellent and unusual exhibit shown by Bob and Rannveig was a large pan of Empodium flexile. This plant from Namaqualand in South Africa grows at relatively high altitudes and is currently considered a member of the Hypoxidaceae. The bright yellow tepals are crowned by long, slender, upright stamens, making for a very neat plant, which is also scented, the 'perfume' described as something between detergent and polish, so not necessarily for close range scrutiny!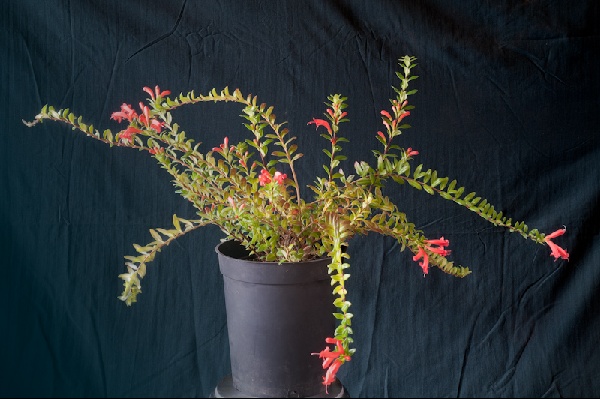 In the one pan native to Asia class, exhibited by local group member Alan Newton, was the almost shrub-like Aescynanthus buxifolius KR 7798, which is in fact a member of the Gesneriaceae. An alliance not immediately obvious, given its long stems and crimson, tubular flowers. A Vietnamese native, it requires careful attention under cold glass with frost protection in order to do well, but is clearly a useful addition to the showing list.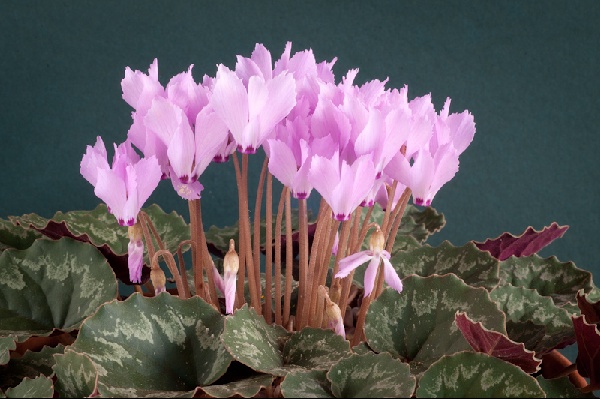 Further along the benches, a very neat and elegant example of Cyclamen mirabile shown by Don Peace stood out from the competition. There were quite a few other species on display: this one shone by virtue of its very neat habit with all the flowers upright through the centre, in a lovely shade of pink. The judges thought so as well, for it was awarded the Ewesley Salver for the best plant in a 19cm pot.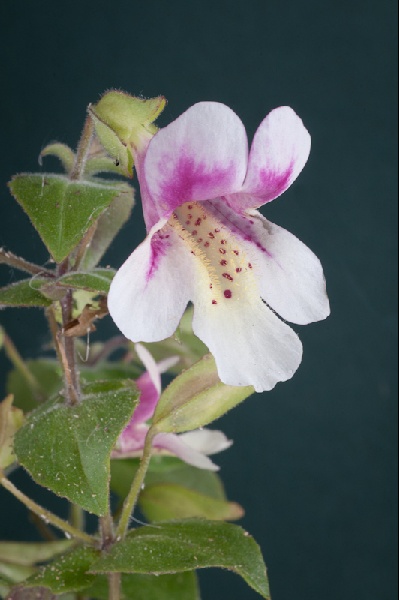 A plant shown by George Young in the one pan native to the southern hemisphere was a decidedly late-flowering (normally it blooms from May-July) Mimulus naiandinus with numerous white flowers with very striking purple mouths and a yellow 'flash' on their lower lips. This plant, now known from several sites in the Chilean Andes, was discovered by Cheese & Watson in 1972 C&W5257() and was known as Mimulus 'Andean Nymph' for many years until its 2000 naming. A short-lived perennial, it requires very well-drained but continuously damp soil in an alpine house, where it will seed around, gently, into the surrounding plunge.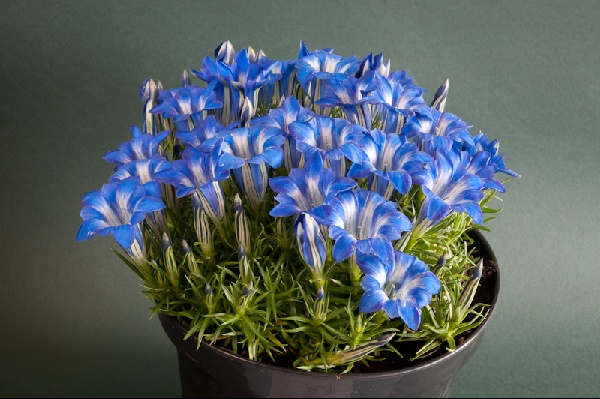 Among the gentians, Gentiana 'The Caley' stood out; it was shown by Beryl and Ian McNaughton. This plant, bred by the exhibitors, was late-flowering, with short flowering stems, and with all itsflowers fully open at the same time, at same height, in a most attractive shade of dark blue. On the day the plant fulfilled all these requirements and was presented for consideration to the Joint Rock Committee, where it was duly awarded a Preliminary Certificate. Clearly one to watch.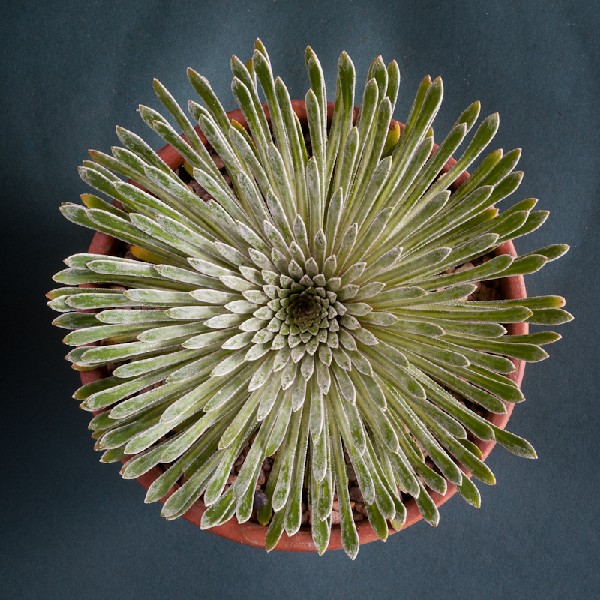 In the Novice section a fine exhibit of Saxifraga longifolia, shown by Keith Blundell, demonstrated how, before flowering, the single rosettes become enlarged and draw themselves up into a mound of perfectly placed leaves with a small, tight, hollow in the centre, in splendid contrast to the astonishing flower spike that will follow. A handsome plant, principally from the Pyrenees, it remains one of the finest saxifrages in cultivation, and repays its several year wait from seed in full.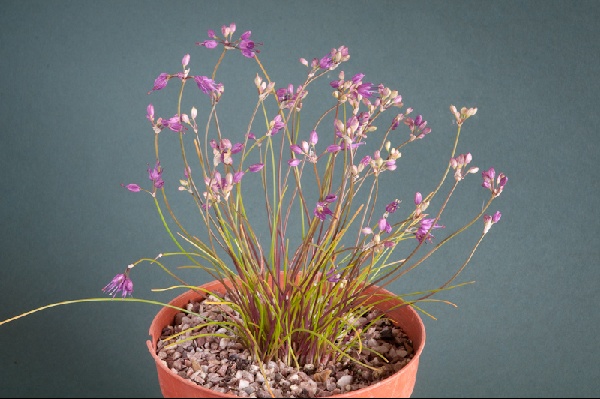 A bulbous plant of note in class 117 was Allium thunbergii 'Ozawa', shown by Georgina Instone, which is a strong, robust form of this Japanese species, with pinkish-purple flowers and dark purple flowering stems. The leaves, being very narrow, and dark green, complement the flowers, and give the whole plant a neat appearance, late into the season. Benefitting from well-drained soil with full sun, it is one of the best and most reliable of the autumn-flowering species.
As a whole, the plants on display afforded glorious autumn tints, late-season flowers and coloured berries. Reassuring, for over the past two years, here in East Anglia, we have already experienced by turns the coldest, warmest, driest, and now wettest of the seasons from our topsy-turvy weather. I cannot help wondering what will come next, and what effect it will have on the plants.
Angie Jones