Newcastle AGS Show, 2006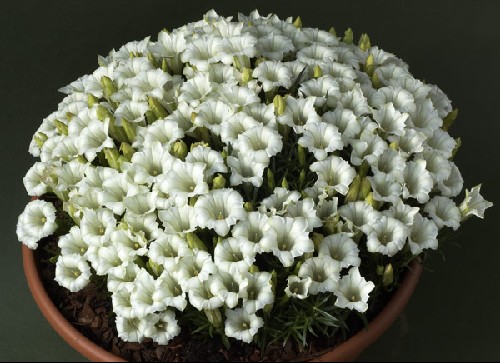 The feeling of melancholia, brought on by the realisation that this was to be the final show of the 2006 season and fed by the early morning fog, quickly dissolved through the vision of some 381 plants on the benches assembled by 45 supportive exhibitors.  Foremost amongst these exhibits, and awarded the Farrer medal was Gentiana 'Limelight', presented by Ian Christie.  This is a white seedling subtly infused with the faintest of lime green inside and outside the trumpets which were massed on the plant.  It had been selected by Ian from seedlings of Gentiana 'Saltaire' (another of Ian's raising).  In the week prior to the show, a Gentian day had taken place at Harlow Car with the Joint Rock Garden Plant Committee in attendance, who awarded the plant a Preliminary Certificate.  Also receiving an award at Harlow Car and now on the bench as part of a three pan exhibit was Gentiana sino-ornata 'Purity', another white seedling, but consistantly so.  This was selected from wild collected seed by Keith and Rachel Lever.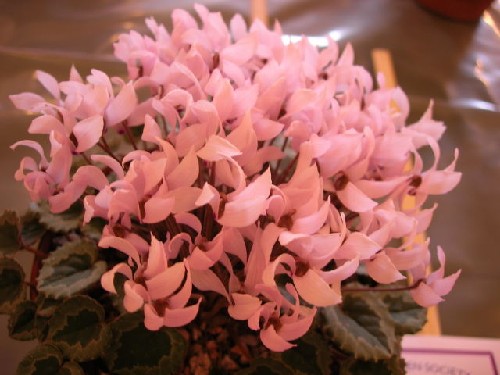 Gentians were ably supported by Cyclamen and Crocus exhibits bringing the colour to the benches.  Local Cyclamen maestro David Boyd entered nearly 30 specimens that helped him win the Ponteland Bowl.  However a magnificently flowered Cyclamen mirable gave Jim Watson the Newcastle Trophy and a Certificate of Merit.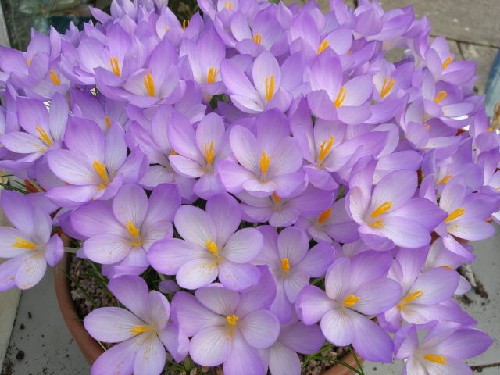 Crocus were in larger numbers this year, probably due to the warm autumn, and a large well flowered pan of Crocus goulimyi was also awarded a Certificate of Merit, Jim McGregor being the recipient.  Another noticeable trait of this exhibit was the sturdiness of the flower stems that prevented early collapse that was noted in several other exhibits even before the show closed.All in all a very entertaining day and just a final thank you to all the support staff who throughout the year that have made our shows a success.
Dave Riley