Midland AGS show, 2010
As I set off for Knowle at 7.a.m. the skies were clear, the sun was shining, the outside temperature on the car`s gauge read '0' C and there was no visible sign of Iceland`s volcanic dust in the air. All heralded a good day, and as the benches rapidly filled with plants and stewards worked hard to make room for them, it was clear that we were not to be disappointed.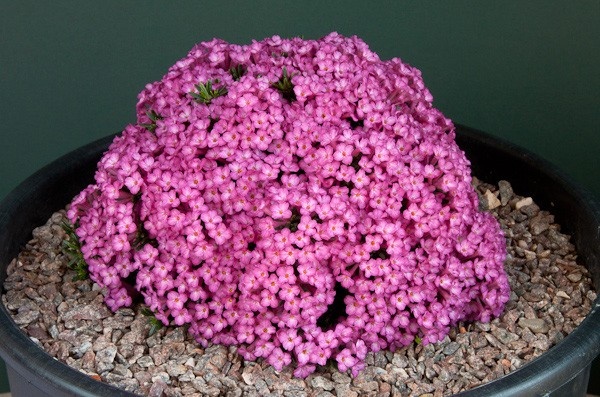 This year there were not quite so many Daphnes, although a beautifully flowered plant of Daphne petrea 'Lydora' shown by Lionel Clarkson won the Farrer Medal.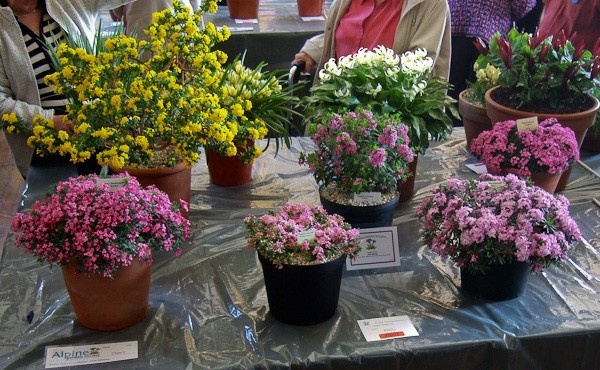 Yet again a fine six pan of Daphnes (arbuscula 'Diva', petrea 'Lydora', circassica, cneorum 'Klaus Patzner', x hendersonii 'Kath Dryden' and calcicola 'Gang Ho Ba') grown by Robin White won the large AGS medal.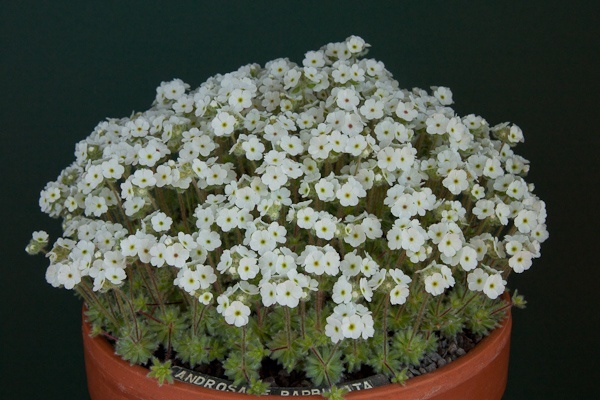 There were a number of fine Androsace to be seen. Among them were an excellent specimen of A. barbulata (pictured) shown by Don and Heather Hyde in the three pan primulaceae class; a compact 'clump' forming A. chamaejasme of Brian Burrow; A. kosopoljanskii, a form of villosa similar to taurica from the Don Valley in Russia.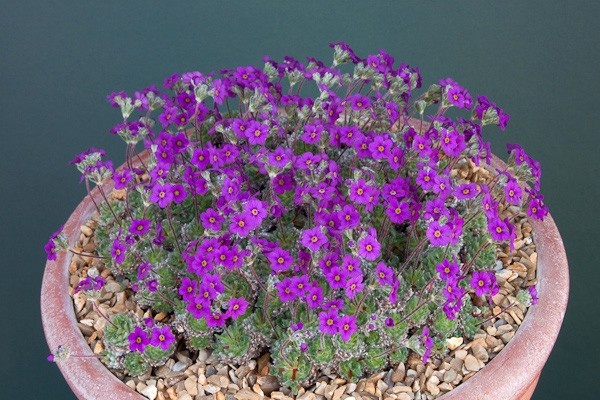 and A. robusta named as ssp. gracilis although perhaps should have been ssp purpurea, both of these last two shown by Eric Jarrett. The latter won a certificate of merit and with its numerous purple flowers was much admired. It was from a Peter Boardman collection in the Himalayas via Potterton`s Nursery and the grower said that it flowers best after a long settled cold period such as last winter.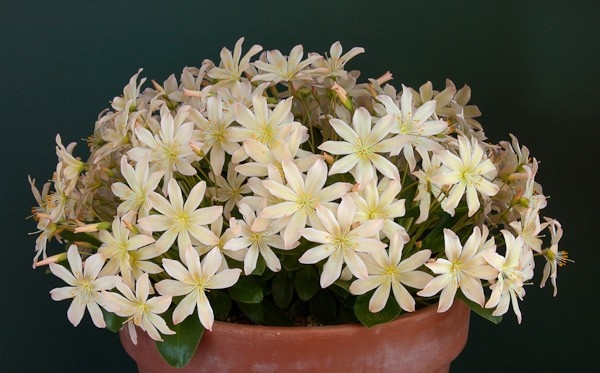 Other plants awarded certificates of merit were:- Lewisia tweedyi grown by Alan and Janet Cook, which, with its especially large flowers filling and overhanging a 36cm pot, was a contender for the Farrer;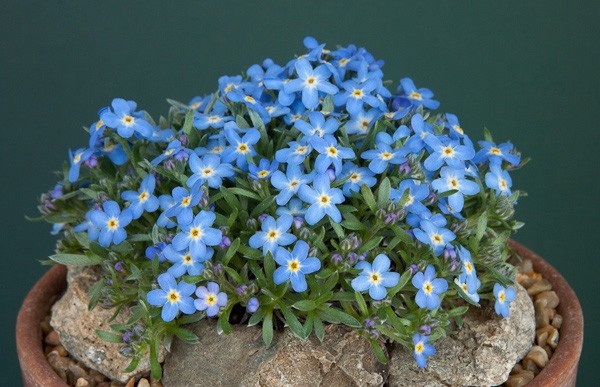 a delightful little well-flowered cushion of Eritrichium howardii belonging to Paul and Gill Ransom;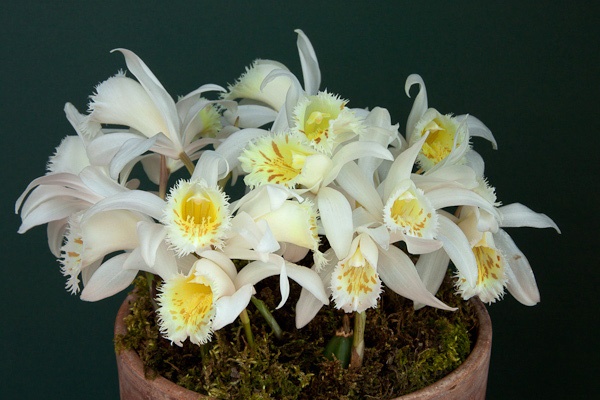 Pleione grandiflorum of Cecilia Coller, with its subtle lemon marking in the throat of its pure white flowers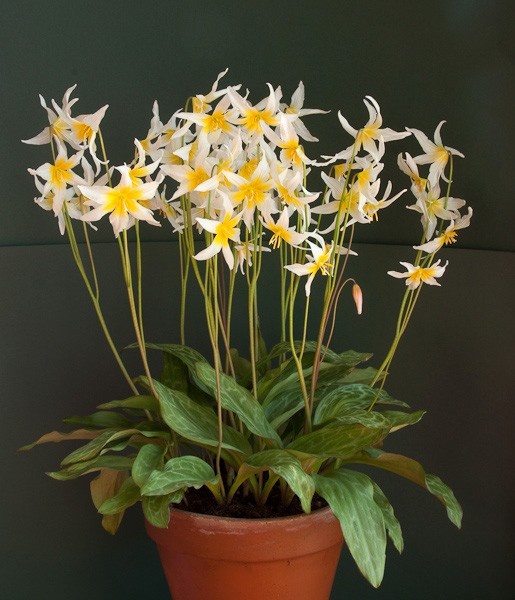 and the Erythronium helenae of George Elder.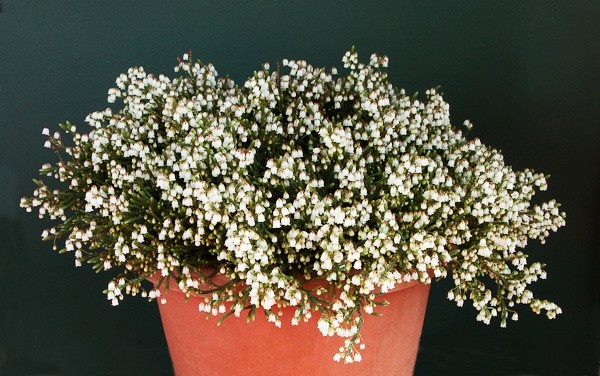 Add to this, Cassiope 'Badenoch' which won Dave Mountfort the Edinburgh Quaich for the best ericaceae;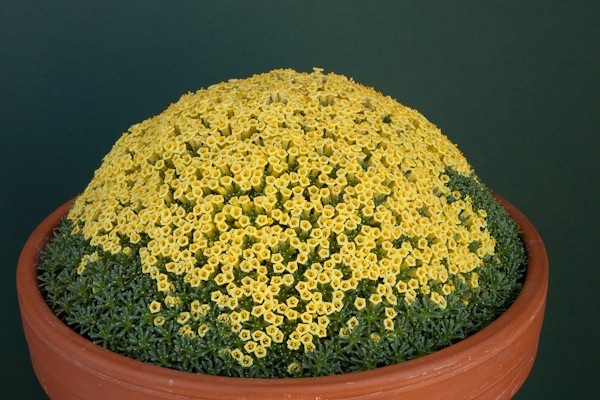 Benthamiella patagonica which won the best plant in 'B' for Margaret Pickering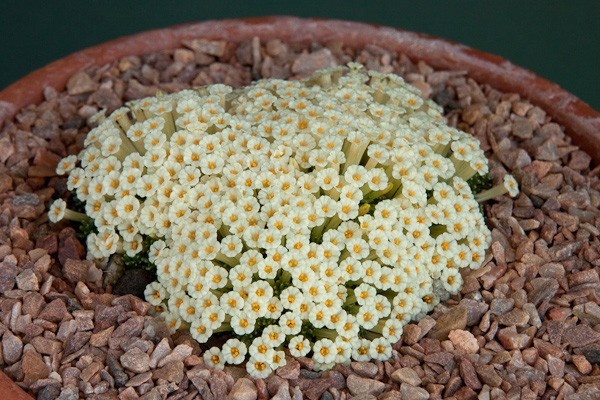 another fine example of this same plant won the Midland Challenge Cup for Eric Jarrett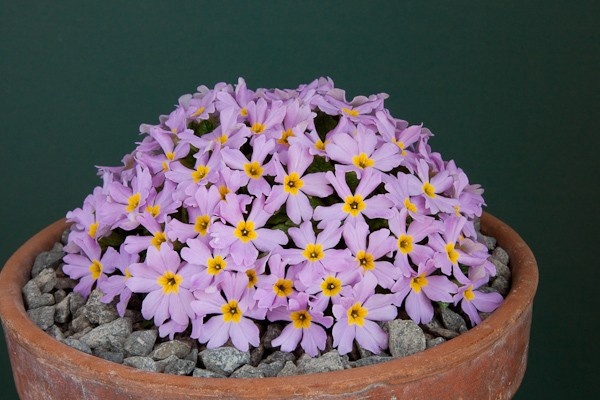 and Primula bracteata which won the Primula Bowl for Peter Hood, and one can see that there was much to delight the eye.
There were a good number of entries in the Intermediate and Novice sections with some fine plants on display. A three pan foliage class benched by Paul Street featured a lovely example of Rhodiola heterodonta, a tough plant from the high Himalaya which stays out uncovered throughout the year and which taxonomists seem uncertain as to whether or not it should be classed as a Sedum. There were a number of good pots of Iris in these sections, including I. babadagica and I. suaveolens both staged by Andrew Ward.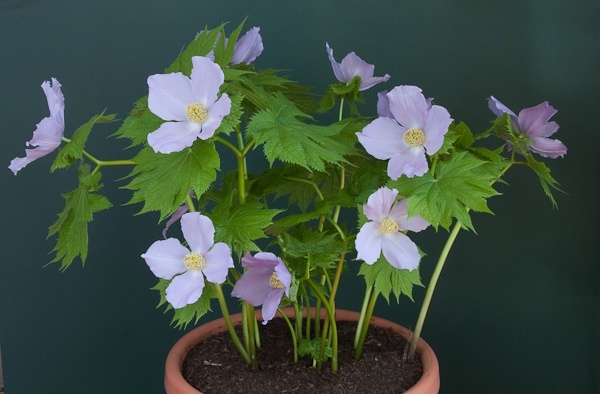 One could go on and mention the Glaucidium palmatum (pictured) , the Fritillaria tubiformis of Don Peace, the small but beautifully formed pure white Hesperochiron californicum of Joy Bishop, the Aubretia glabrescens of Robin Pickering with its lovely foliage and flowers,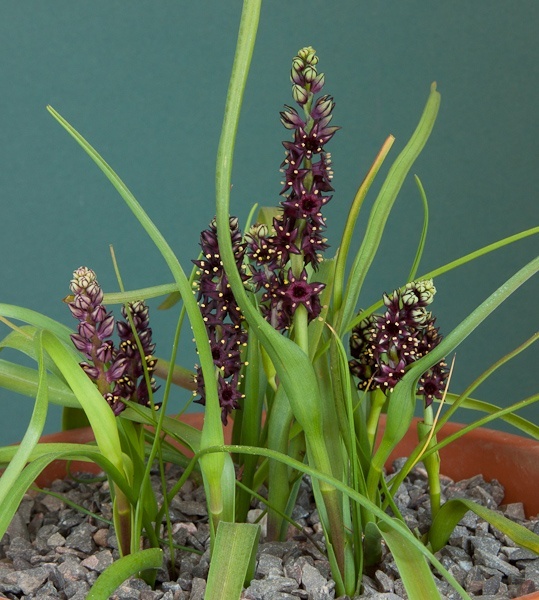 the Dionysia viscidula of the Ransoms, the Phlox caespitosa of Cecilia Coller, the unusual Wurmbea recurva (pictured) of George Elder, etc., etc., but time and space forbids.
The success of the show can be summed up in the words that I overheard from so many of those in the show hall, "What a lovely show." Our thanks must go to John Harrison and his team who worked so hard to make it so enjoyable and of course to the exhibitors.
Another comment that I also overheard from a number of growers, including a number basking outside in the sun, was, "How on earth will my plants back home be coping with all this heat". On the way home the temperature gauge was now at 18 C!
Dave Mountfort