Midland AGS Show, 2006
This show was a stunning spectacle of colour, courtesy of 99 exhibitors who staged 765 plants. A real concern for the show secretary, was accommodating them all on the benches!
Two exhibitors ended the day with a pronounced spring in their step after clinching a particular major show honour for the first time. Les Brown showed how the normally unfancied genus Scilla, can produce a star turn in the form of Scilla monophyllus, recipient of the Farrer medal. Carl Hardwick claimed his first AGS medal with a showy large six pan blending Orchidaceae with a couple of Fritillarias to good effect.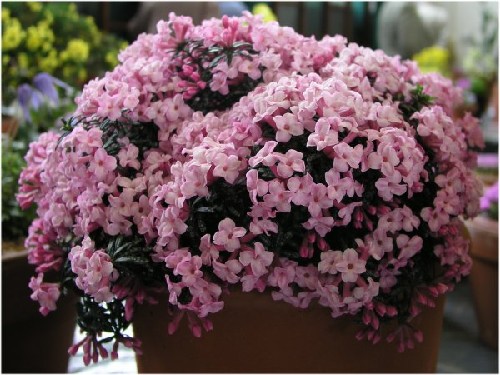 Two exceptional plants present in the large open class, frequently seen but surely seldom bettered were Primula 'Aire Mist' (Ian Leslie) and Sebaea thomasii (Keith and Rachel Lever), both were awarded a certificate of merit. Ericaceae were represented mainly by showy Rhododendron exhibits but the cream of this family crop was a large pan of Cassiope lycopodioides 'Beatrice Lilley' just a few days off it's peak of flower power but excellent nevertheless. Much of the fragrance present within the hall could be attributed to Robin White and his usual range of quality Daphnes, including a particularly well bloomed pan of Daphne 'Blackthorn Rose' which received a certificate of merit.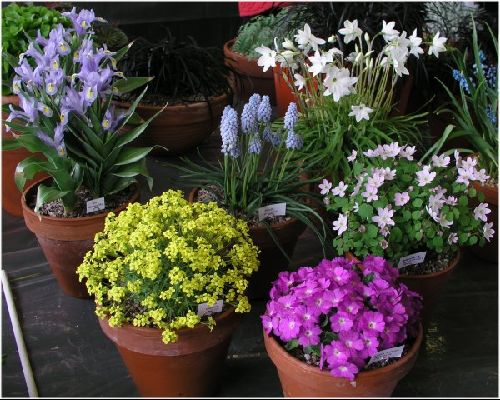 The travelling E.B. Anderson award brought a varied range 'traditional' alpine plants together with monocotyledons in the small open six pan, keenly fought and ensuring a little agonising for the judges with Jim Almond emerging successful. Cecilia Coller took solace with the open aggregate award and a wonderful array exhibits, including a quite delightful fully double flowered form of Anemonella thalictroides. This was in the running for the best plant in the small pan classes, ultimately losing out to a perfectly flowered cushion of the tricky Benthamiella patagonica (Peter Erskine). Peter also demonstrated his skill with this particular genus with another super pan of B. longifolia, rewarded with a certificate of merit. George Elder was responsible for a certificate worthy pan of Erythronium helenae with magnificent blooms (up to 3) on several sturdy stems.
B section was well and Mel Linney racked up enough first prize points to take the aggregate, a super large pan of Androsace hirtella (Alan and Janet Cook) was judged the best in this section. There was strong support for section C with nearly 40 plants exhibited, including a very competitive, quality three pan, Elaine Linney, taking the aggregate here.
Jim Almond