Midland AGS Show, 2016
It has been said of the British climate that sometimes it is possible to experience all the four seasons in one day. I cannot comment on the meteorological accuracy of this statement but Saturday 16th April certainly came close. It also happened to be the day of the Midland Show. I left my Cotswold home in sleety rain, with the temperature only three degrees above freezing. By the time I reached the motorway it had dropped to 1.5°C and the sleet had turned to snow. It is well known that snow is more likely at Easter than at Christmas but I was not prepared for the blizzard conditions encountered on the M42.
Although my journey was a slow one, I arrived in Knowle with plenty of time to enjoy just looking round after having staging my plants. Although my initial impression was that the number of entries was down on last year, the reduction in numbers was much less than at earlier shows. Some classes that have been well supported in previous years had suffered, particularly those for Lewisia (a genus with which this show has long been associated), which meant for the first time ever, the Roy Elliott Memorial Salver was not awarded. The cold weather that set in after winter was supposed to be over can be blamed.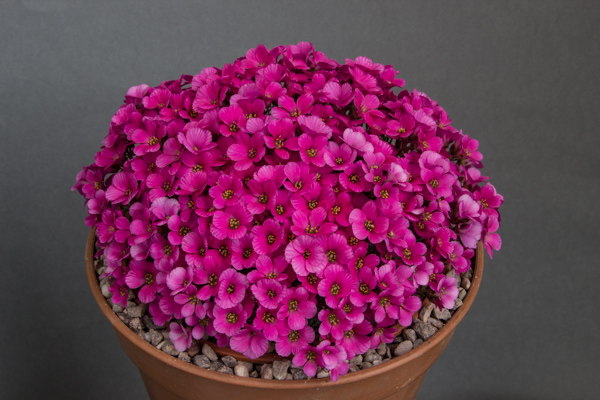 Even so, there was no shortage of first-rate plants elsewhere and I would like to start by mentioning Robert Rolfe's Saxifraga x concinna 'Ben Loyal', raised by John Mullaney approximately 16 years ago. This slow-growing but floriferous and very strikingly coloured clone is one of at least seven from this source to have been named ('Helvellyn' having recently been christened by Aberconwy Nursery), their coloration ranging from pale to deep purple-pink. Robert was duly awarded the Midland Challenge Cup for his efforts.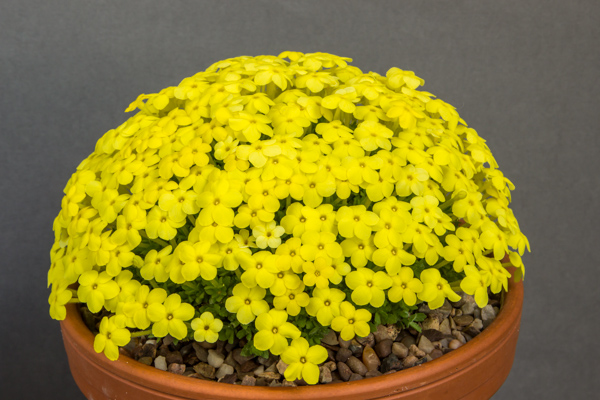 [Ed. Mention should also be made of the show reporter's beautifully flowered Dionysia caespitosa x gaubae [left] which occurred spontaneously his alpine house and was in even better condition this year than last. It received a Certificate of Merit and was one of the handful of the genus present: another novel hybrid, Paul & Gill's D. esfandiarii cross – the other parent has not been verified, is also worthy of note.]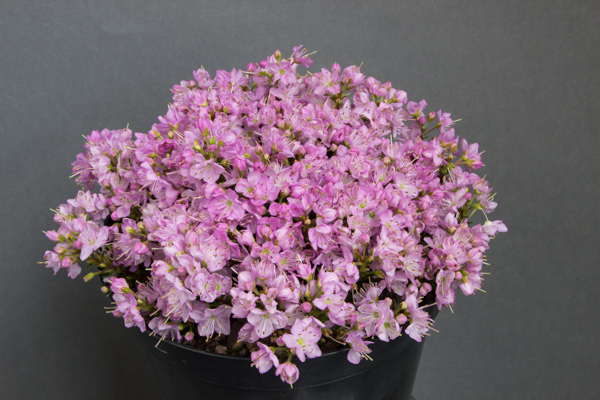 Also up for consideration was Ian Kidman's superb x Kalmiothamnus 'Sindelberg' [right] (in fact he showed two specimens of similar age), a recreation of Barry Starling's 1978 cross. The flowers are only at their best for a few days, and to bring a plant down from near Durham with all of them still in place (they dislodge very easily indeed) was a triumph in itself. It grows rather more quickly – or rather less slowly – than its notoriously tricky European parent, Rhodothamnus chamaecistus, but has seldom been exhibited. In the meantime, stocks of the once quite widely grown, NW American Kalmiopsis leachiana have dwindled, in British gardens at any rate – it isn't even listed in recent editions of The RHS Plant Finder.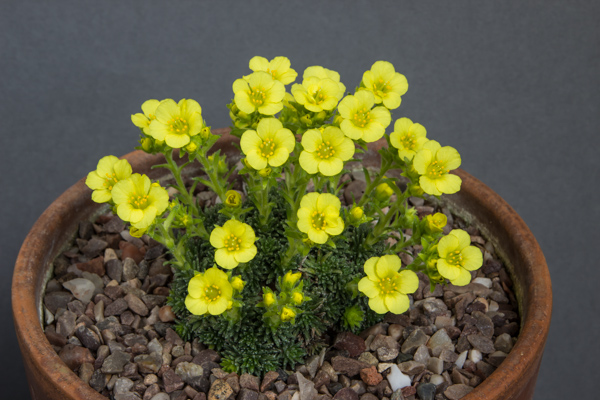 Geoff Rollinson has been growing and exhibiting alpines for more years than I dare to mention and has managed to maintain a level of excellence that we would all love to achieve. At this show he won not only the Midland Primula Bowl with a superb Primula henrici, but also collected two Certificates of Merit with Androsace villosa var. taurica (runner-up to the best in show; he also had a smaller but equally well-flowered 19cm potful) and the very rare and difficult Saxifraga felineri [left] from the Picos de Europa, related to the Pyrenean S. aretioides but even slower-growing, and with larger, softer yellow flowers. Its identity has been questioned but nobody has come up with a satisfactory alternative identity. Incidentally the Primula was awarded the Farrer Medal, by a unanimous vote.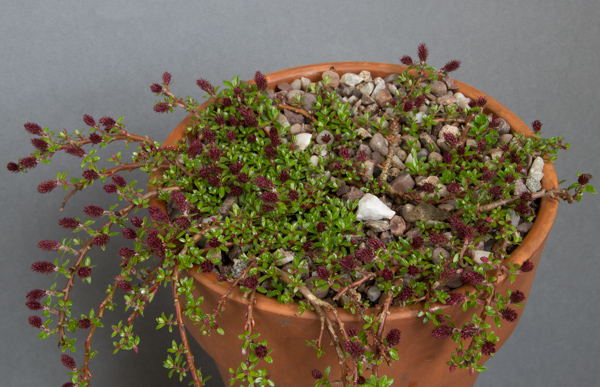 Another exhibitor having an enjoyable day, but not yet in the Open Section, was Pauline Carless. Her delightful Salix hylematica received the Crataegus Trophy for the best plant in the Intermediate Section, the bright green leaves a perfect foil for the reddish purple catkins. A very dwarf plant that will ultimately spread widely, it had been kept under control by confinement to a deep pot judicious pruning. This and other winning entries led her to receive the Albury Trophy for maximum points in the Intermediate Section.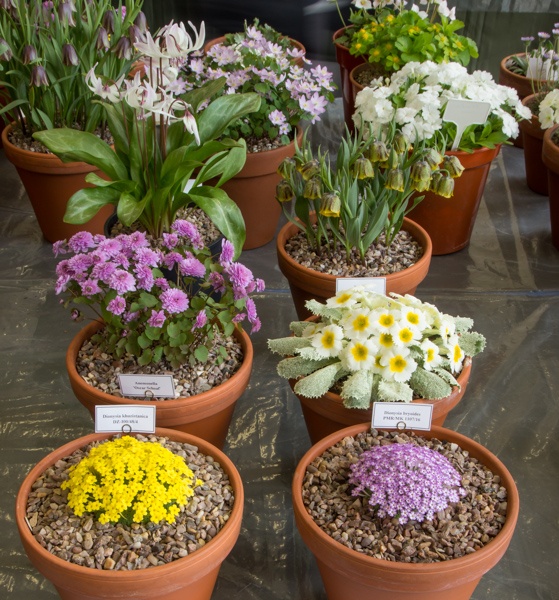 A visit to any AGS show will delight visitors with a very wide range of plants. It is generally accepted that the most challenging classes are those designated for six-pan exhibits. Each plant is judged on the understanding that it should be capable of winning if shown in an appropriate single pan class. I am pleased to report that there is at least one exhibitor who routinely enjoys the challenge of six-pan classes. At this show he won both an AGS Medal [left] and the Midland Jubilee Goblet.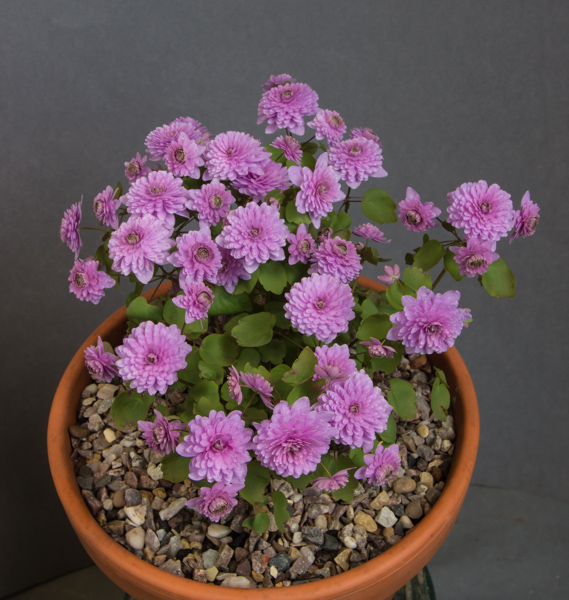 Congratulations to Don Peace for this achievement, which contributed to his retaking the Leschallas Cup for the Open Section aggregate. A few words of thanks too, aimed at Peter Farkasch, who has been unable to attend this year's shows but has sent along plants with a friend: on this occasion his entry included a lovely Anemonella thalictroides 'Betty Blake', lime-green and minutely doubled to complement Don's rich pink, much larger-flowered 'Oscar Schoaf' [right].
Finally, I must congratulate Lesley Travis for his exhibits which led him to receive the Perry Cup for the Novice Section aggregate. I must also offer my sincere thanks to John Harrison, Diane Clement and all the team for their hard work and success in making the day a happy one.
By the time I left the show hall all the snow had disappeared and the sun was shining in an almost clear blue sky. I know that this is an alpine Show, but please: next year could we be spared the 'alpine' weather at its outset?
Author: Eric Jarrett
Photographer: Jon Evans