Midland AGS Show, 2015
Despite the strong, unseasonal sunshine (which was later to benefit plants whose flowers had not quite fully opened when first staged) a chilling wind reminded everyone that it is impossible to predict the weather with any certainty, especially at this time of the year.
Building alterations to the venue restricted parking somewhat but exhibitors are always resourceful and staging was not impeded: this was as always well marshalled by John Harrison and his stalwart team. A total of 627 plants was staged – this figure all the more impressive when the considerable number of large pans is considered.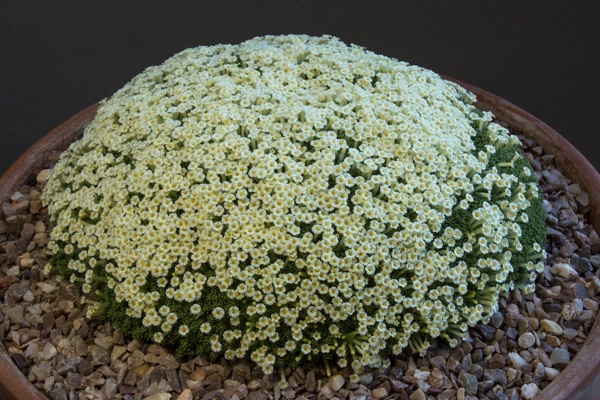 The Farrer Medal went to Eric Jarrett for an abundantly flowered Benthamiella patagonica F&W 10111.The plant, now over 10 years old, benefits from maximum light at all times, leading Eric to experiment this year with twin cell polypropylene external sheets to shade his alpine house, since this material gives better light provision than more traditional alternatives. Feeding is carried out occasionally, using suitably diluted Tomorite.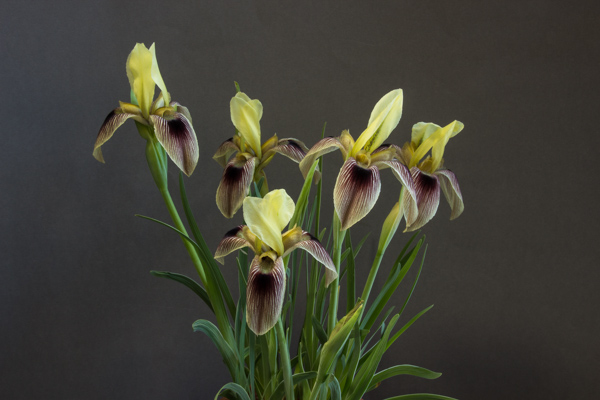 Eric enjoyed several other successes, his Lewisia tweedyi (not the largest present but the most compact and floriferous) gaining the Roy Elliott Memorial Salver, while the Midland Challenge Cup and a Certificate of Merit went to a graceful Iris afghanica with five flowers in their prime (he had earlier removed a further two that had waned). For good measure, he received two further Certificates of Merit for another Benthamiella, the very seldom seen B. graminifolia [below], and for a beautifully flowered Dionysia caespitosa.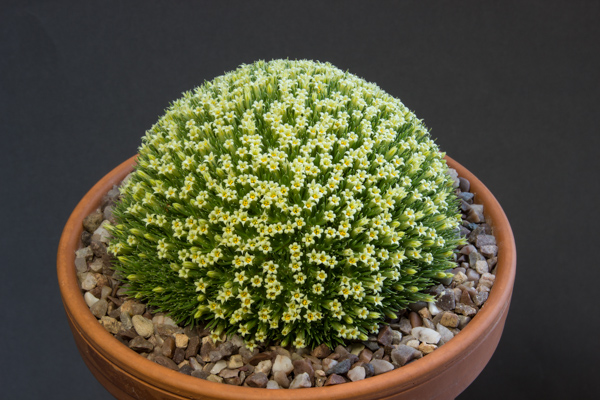 The first of these took several years to settle into Eric's growing regime, and only recently has it started to come into its stride. A lean compost of grit/perlite/sand/John Innes no. 3 is used. The Dionysia, a 'thrum' from a batch which the exhibitor raised from seed, at present lacks a mate, for its pin counterpart died. Fortunately another long-styled seedling from the same sowing had been given to Brian Burrow, who has promised to put it out to stud in order to perpetuate the stock.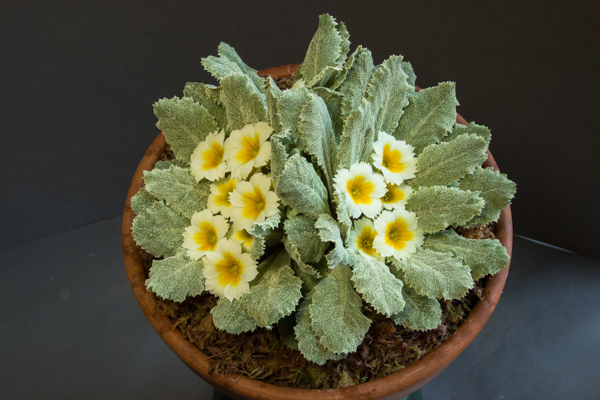 Don Peace, to the fore again in the Open Section, took the Leschallas Cup (for most first prize points), a small six-pan AGS Medal (Androsace yargonensis and Dionysia khuzistanica DZ 100-48-4 had especial appeal) and the Midland Primula Bowl. It was his larger pan of Primula aureata that received the award [left], though a second clump was notably crisp and clean, reflecting his increasing expertise with petiolarid primulas. Don also staged two seedlings from a 2006 sowing of Anisotome imbricata, one with the usual hairy, slightly dull foliage but the other a most attractive bright green.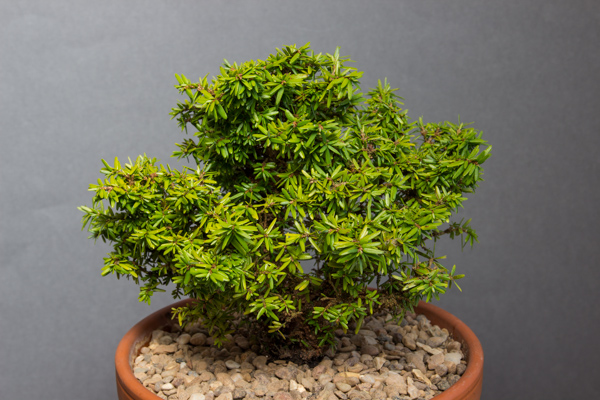 Winner of the Albury Trophy Bob Worsley had amongst his entries a delightful pan of Primula modesta in its white form. Lesley Travis gained the Perry Cup with five first prizes including a neat pan of Tsuga canadensis 'Essex'. The Essex in question is a North American, not an English place name: it was discovered growing wild in 1984.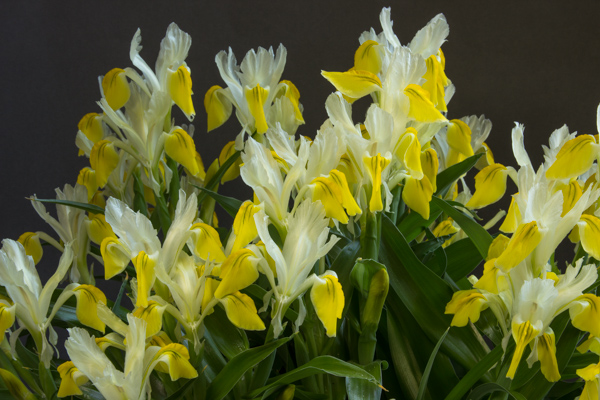 Amazingly − this was his first attempt at showing − local member Roy Skidmore received the Crataegus Trophy (best plant in the Intermediate Section) for a huge pot of Iris bucharica [left] which presented some 30 flowering stems in perfect condition. Another local member, Denise Bridges, had an attractive stand of the slender Tulipa clusiana var. chrysantha.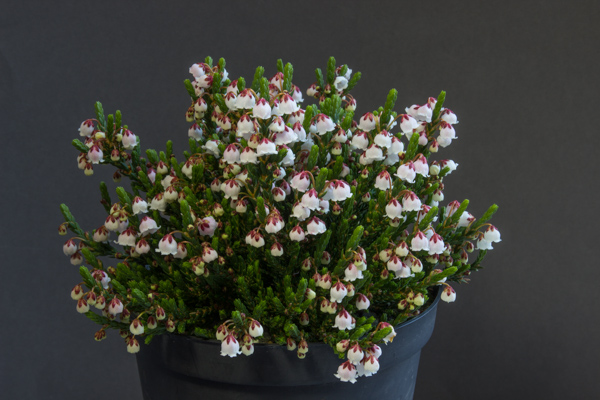 Martin and Anna Sheader were awarded the Blackthorn Trophy for a trio of daphnes that included Daphne petraea 'Vanguard', derived from a cross between the clones 'Cima Tombea' and 'The Beacon'. Staying with dwarf shrubs, the Edinburgh Quaich was awarded to Cassiope lycopodioides shown by Ian Kidman, who considered his x Kalmiothamnus 'Sindelberg' was superior due to its greater difficulty of culture. I in turn was impressed with his Cassiope mertensiana var. californica [right] which on close inspection had a subtle pink glow to the flowers, and certainly has not been seen very often with in such very good flower. Obtained from that home of many good cassiopes, Timpany Nursery in Northern Ireland, it is nurtured in a compost rich in leaf-mould, with regular doses of an Ericaceous plant food.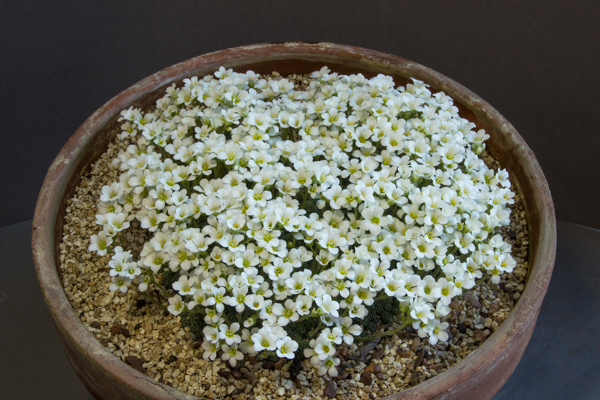 Two further Certificates of Merit went to members of the same genus. Geoff Mawson's Saxifraga diapensioides [left], a previous Farrer Medal winner, must now have a good claim to being the largest of its kind in British cultivation, while Lionel Clarkson's Saxifraga 'Tycho Brahe', now in full flower five weeks after its first appearance at the Kendal Show, was an unusually fine specimen of this 1976 cross between S. stribrnyi and S. grisebachii 'Wisley', named after the 16th century Danish astronomer.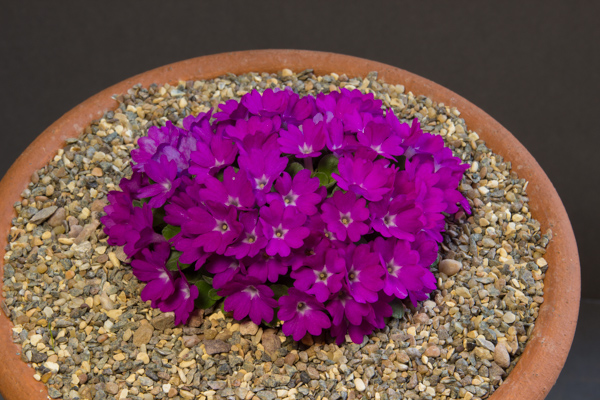 The Primula allionii season was nearly over for another year, but a hemispherical beacon of deep pink shone out in the form of the clone 'Mathew Evans', exhibited by Tommy Anderson to the satisfaction of extremely hard working show photographer Jon Evans.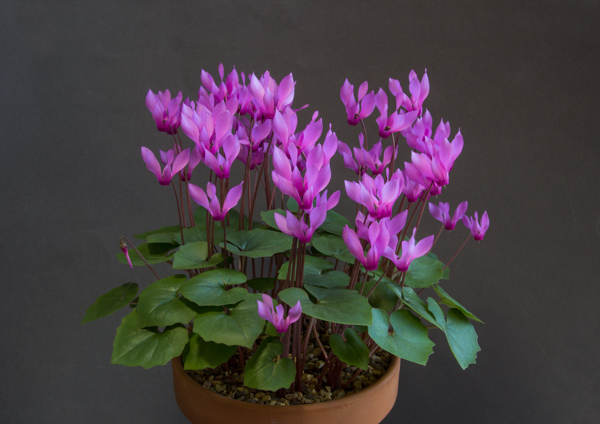 Steve Walters continues to show the way with his Cyclamen collection, represented here by two plants of Cyclamen rhodium subsp. peloponnesiacum grown from Greek CSE 92060 seed collected in the Pavori gorge. The plants were markedly different, one with bright pink flowers and plain foliage [left], the other pale pink and with spotted leaves, yet both attractive in their own right. Steve uses John Innes no. 3/leaf-mould/grit/pine needle duff and added bone meal when repotting. In the Open Section, Ian Robertson had several venerable members of the genus but his Cyclamen x schwarzii was very well flowered indeed.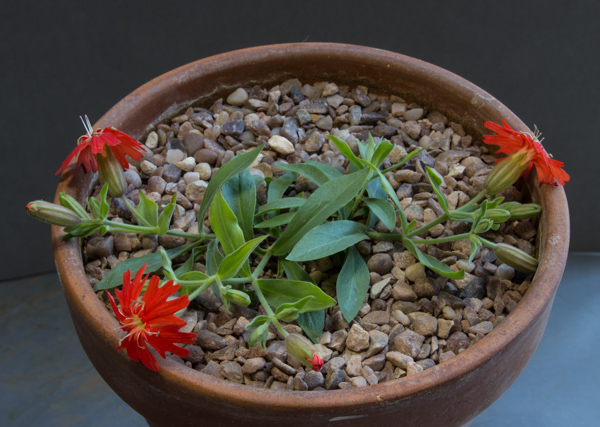 Among the North American contingent, bright scarlet Silene californica [right], rarely seen of late, was staged by Brian Burrow, the seed obtained from Alplains and sown in late 2012. Two other plants that reflected their growers' skill were Alan and Janet Cook's Lewisia brachycalyx, a form with both attractive flowers and leaves, and (moving back to Europe), their Androsace vandellii, seldom shown as a mature cushion in full flower recently.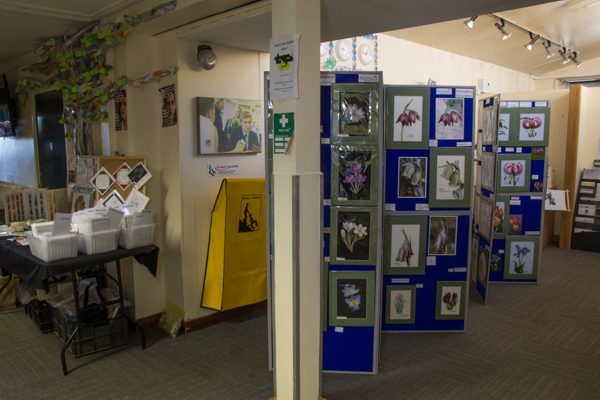 Finally, a Large Gold Award was given to Jean Morris for yet another extensive display of embroidery.
Author: Dave Riley
Photographer: Jon Evans