Midland AGS Show, 2014
The early season impetus, spurred on by a mild winter, was showing deceleration as evidenced by the quality of the plants on display, but this was more than offset by the variety of exhibits on the benches, resulting in the sort of entertaining, enjoyable show we are accustomed to at Knowle. As a pleasant bonus, the sun shone so strongly in the afternoon that the hall curtains needed drawing to reduce the room temperature for the benefit of the plants!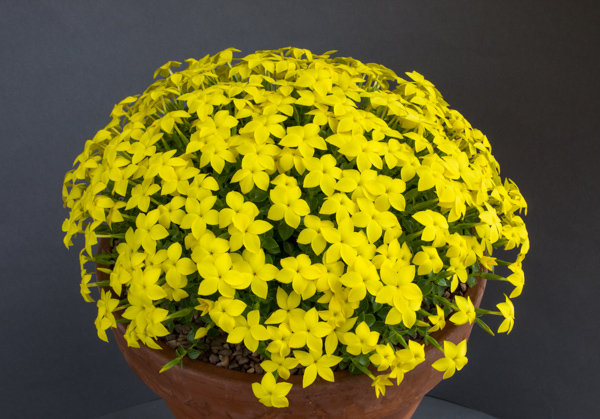 The Farrer Medal choice (or, more accurately, the lack of one) has caused controversy at some recent shows. A different matter at the Midland Show, where Aberconwy Nursery's Tim Lever won his first such accolade with a fine plant of the sweetly scented Sebaea thomasii, this form with notably broad-petalled flowers. The only member of its fairly large genus to have settled down in cultivation, this Drakensberg native is clearly suited to the North Wales climate, for it has previously made its mark when exhibited by Tim's father, and is also prospering planted out in a crevice bed at Aberconwy.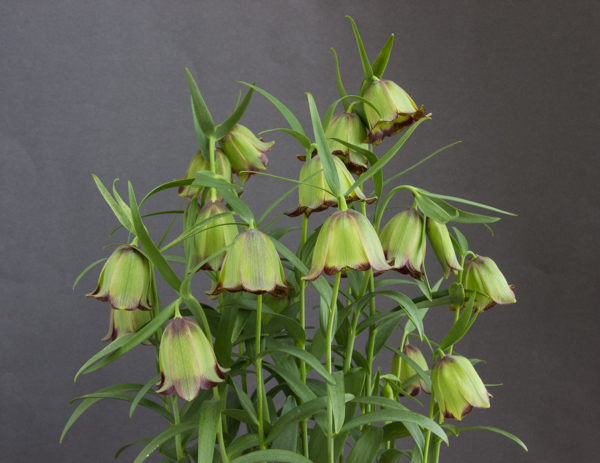 Don Peace is certainly in contention for the Giuseppi Cup this year, and he continued his run of show bench successes by winning the Leschallas Cup, the Midland Goblet, and the Midland Challenge Cup. The last of these, given to the finest plant in a 19cm pot, was for Fritillaria tuntasia, a narrowly endemic southern Greek species whose almost black flowers have a sheen imparted by their covering of bloom that contrasts beautifully with the glaucous foliage. Several other exhibitors had very good examples of other rarely-shown fritillaries, and a second Greek islander, George Elder's F. theophrasti [left], was notable in its seed-raised class. Until this 2000 coining it went by the name F. pontica var. substipelata, but it is more distinguished than almost any manifestation of that species, with large, pale green flowers stained brownish-purple on the interior of the slightly flared bell and along its mouth.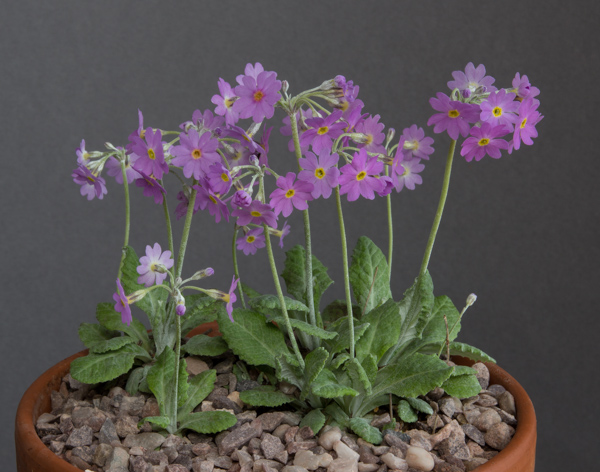 The Albury Trophy for most points in the Intermediate section went to Brian Sulman from Mildenhall, and the equivalent Novice Section Perry Cup went to Rosie Turner from Macclesfield, who also managed the Donald Lowndes Memorial Salver for Primula frondosa. The latter is an ideal plant to begin with, for it will flower in its second year from seed, is readily available, and in addition to being the easiest of its section, it is also one of the prettiest. If kept under glass, the farina which coats the stems and the foliage remains in good condition through to flowering time, after which it is happier outdoors or in a cold frame, in semi-shade.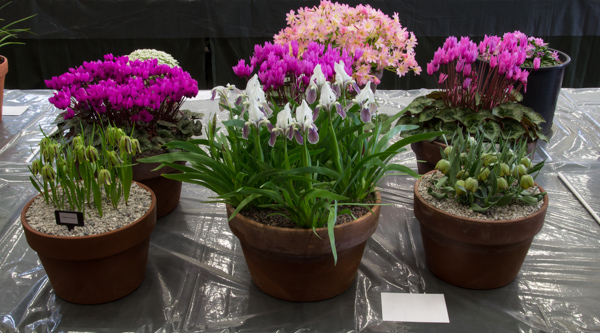 The Large pan AGS Medal was fiercely competed and narrowly won by Ian Robertson from Shaftesbury. The back row consisted of three large, mature Cyclamen, of which C. rhodium subsp. vividum in a form with particularly well-marked leaves also received a Certificate of Merit. The front three continued the Turkish/Greek theme of the entry, for both fritillaries were from the first of these countries, while the Iris attica, which some mistook for a garden hybrid on account of its showily bicoloured, white and lilac-pink flowers, was of known Greek provenance.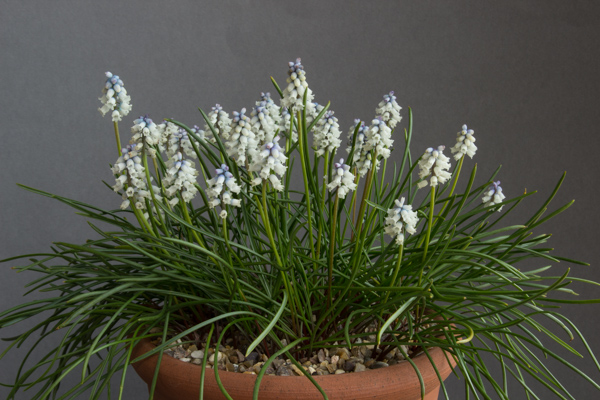 Another Turkish bulb, Eric Jarrett's Muscari mcbeathianum, was awarded the show's other Certificate of Merit. Typically one of the smallest grape hyacinths (an exhibit the following week, with stems to 5cm tall, astonished those who few who have seen it in the wild, and suggested that the bulbs must have been given a rich diet, rather than the sandy soil it is used to in its only Turkish station), a concerted effort from the outset by its discoverers, Jim & Jenny Archibald, have led to its establishment as a delicate, well-mannered alpine house occupant.
At the other end of the scale, George Elder's large pan of Californian Erythronium helenae would surely have received similar recognition if the show had been held just a day or two earlier. Nonetheless, the brilliant white flowers with their bright yellow centres were dazzling, not least on account of their size, half as large again in comparison with typical material. A new monograph on this ever more popular genus is due out shortly. Trillium lovers (who often have an equal affection for erythroniums) have been well catered for in this respect since the mid-1990s, so its publication is not before time. Another Californian, Trillium chloropetalum, was present in one of the so-called garnet ruby forms, its richly coloured flowers held sessile above the inticately patterned leaves.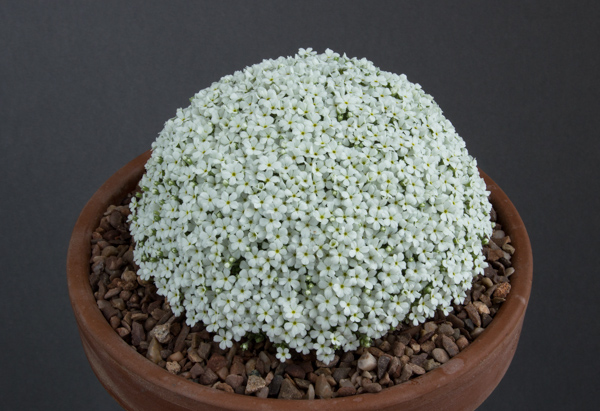 Tony Stanley maintained his current showing success with Androsace vandellii which gained the Crataegus Trophy and The Midland Primula Bowl with a delightful hybrid seedling of Primula 'Wharfedale Village' given to him by Tommy Anderson. This is yellower than its known parent, the exact components of which remain unknown, but with the input of P. x pubescens dominant.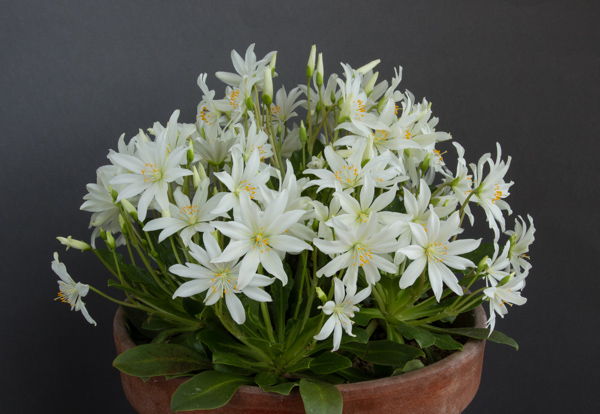 This award plant recital finishes with Barry Winter receiving the Roy Elliott Memorial Salver for his huge Lewisia tweedyi 'Alba', and the Edinburgh Quaich going to Ian Sharpe for the Glendoick hybrid Rhododendron 'Snipe' (the same hybrid, but from a different owner, that attracted a similar award at Chesterfield a week before), benefitting from a mild spring.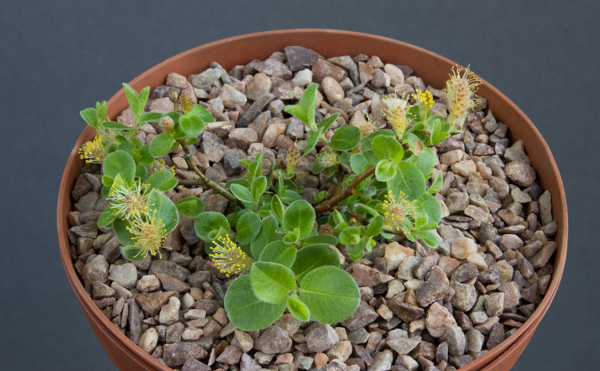 Other exhibits that caught the eye included two from Brian Burrow. Saxifraga stenophylla was reintroduced from seed in 2005, and is generally a more compelling plant than the related S. flagellaris (the two are considered synonymous in some treatments), easily propagated from the amss of wiry runners that form in late spring. Salix x margarita (aurita x herbacea), located in Glen Callender, Scotland, by National Collection holder David Tennant, is a much slower proposition, grown by just a few enthusiasts.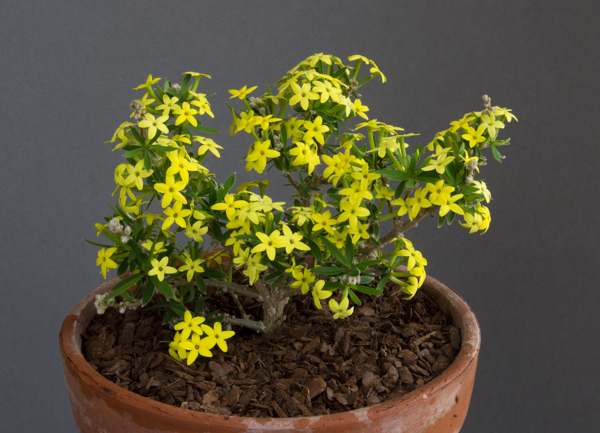 Both Dorothy Sample and Martin & Anna-Liisa Sheader had well-flowered specimens of Daphne modesta, which is becoming more readily available. It has typically five lobed blossoms, but of bright yellow, not pink, and is native to western Sichuan and Yunnan, growing at 2,100- 2,800m on rocky slopes.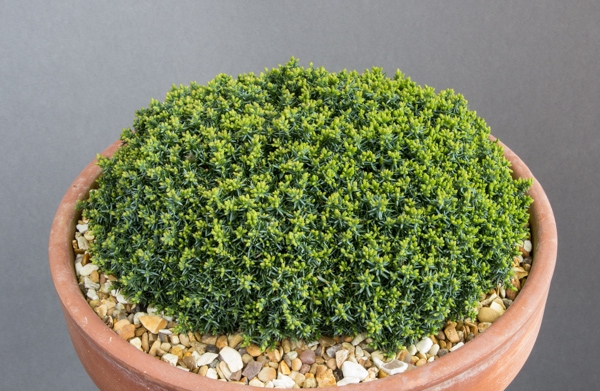 More diminutive still, and grown instead for its form and foliage (which at this stage, when the new buds are at their most verdant, is particularly handsome), David Richards' delightful, silvery-blue Juniperus horizontalis 'Neumann' formed a small 'pancake', although lusher, dome-shaped can result from less Spartan cultivation. This was selected by the head propagator at the German Zu Jeddeloh nursery prior to 1978, when it was probably first listed. Interest in growing dwarf conifers is on the increase, fuelled by the availability of truly dwarf pines and others from the Czech Republic especially: other previously unavailable material came up for auction recently when one of the finest collections in the United Kingdom was dispersed.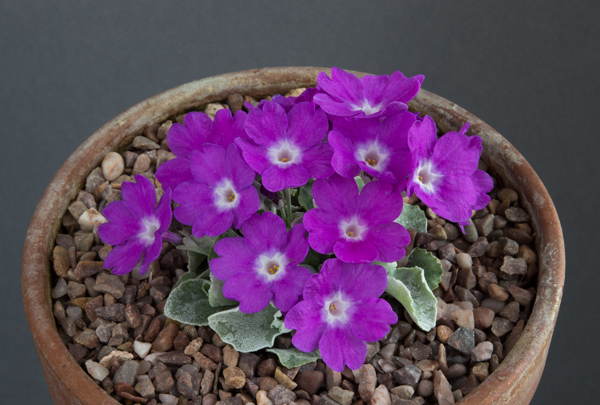 Three further primulas are worth noting from this show. Yet another fine offering from the Brian Burrow stable, Primula BB10/21/2 (allionii x carniolica) x albenensis [left] differed in its depth of colour and flower size from the one that made its debut at the Cleveland Show in 2012 ‒ another as yet unnamed seedling from this cross comes nearer in height to the pollen parent, at 10cm tall, with umbels of up to a dozen flowers. P. 'Stella', exhibited by Lionel Clarkson, had an initially chequered history, and was named by the plant's saviour, David Philbey, after the nursery owner he obtained it from, following confusion caused by the original name of 'Martin's form'.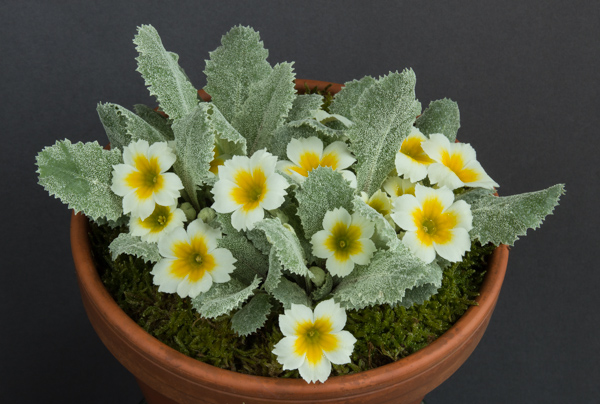 Don Peace had a fine P. aureata that brought to mind his earlier exhibits of this most distinctive of Petiolarids at the Midland Show. Nursery stocks took a battering when a hot summer was followed by a cold, protracted winter, and while you could once happily order both a pin and a thrum (in order to build up a stock from seed), you will need to be very resourceful to do so at present.
Author: Dave Riley
Photographer: Jon Evans