Midland AGS Show, 2013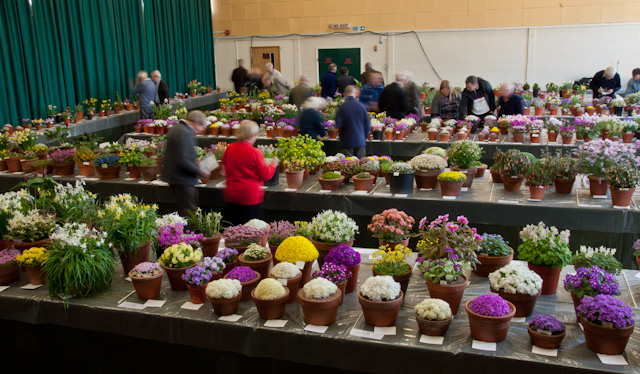 It was, to quote one diehard observer, 'a proper show'. The struggle to find show plants in the freezing conditions had been made much easier as conditions returned slowly to normal. Spring had finally caught up, before dashing headlong into summer. Primula, Dionysia, Androsace, Saxifraga, Fritillaria and just about everything else you might expect were all well represented in a riot of colour. Stewards were busy making space for late entries. Judges were scratching foreheads at the prospect of decisions awaiting them. Crowds, not clouds, were gathering. It was indeed a proper show!
The Farrer Medal plant was not a great surprise, for Bob and Rannveig Wallis have benched Iris suaveolens on many other occasions, each time seemingly better than ever. This small member of the pogon group will grow outside in a well-drained scree bed but can be grown to perfection when containerised. Despite having two colour forms to choose from (purple and yellowish-green), the latter phase normally wins hands down, when deciding which pans are destined for the car boot. The management of such a large (30cm) container operates over a two-year cycle. In a bid to repeat success, the plant admired at Knowle will be dismantled, replanted and with any luck ready to exhibit again in 2015. Protection from the South Wales winter climate (a polytunnel) goes without saying and a nourishing mix of two parts John Innes no. 3 to one part coarse grit is used.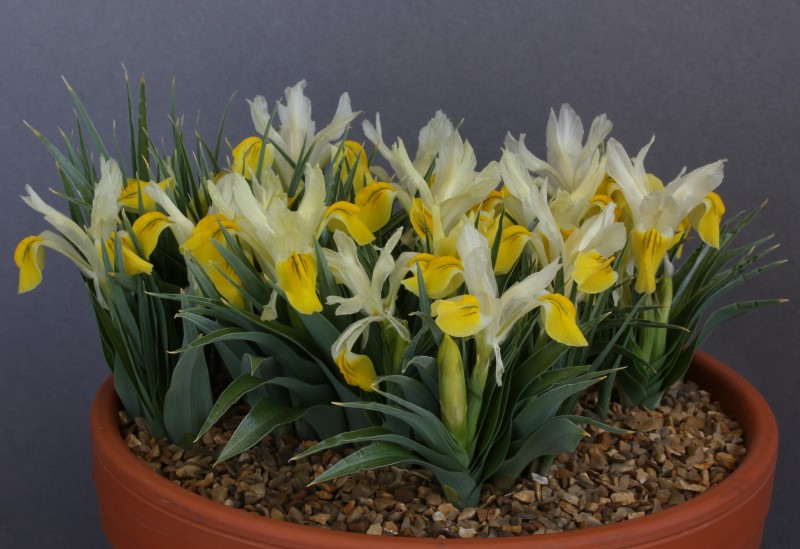 Another Iris caught the eye in the Intermediate Section, where the relatively 'easy' Iris bucharica was looking very much 'in character' and in peak bloom. Leggy or even trailing plants of the taller, garden worthy junos are only too easily produced when grown under glass. Bulked up from a single bulb purchased in 2004, Andrew Ward's exhibit spends most of the year in the open garden until the plant noses above ground. It is then lifted, potted and protected from the elements until flowering: any temptation to force the performance should be firmly resisted. There was no hint of 'You should have seen this plant yesterday' or 'Wait until next week': this was clearly an exhibit that had come to its very best on the day of the show'.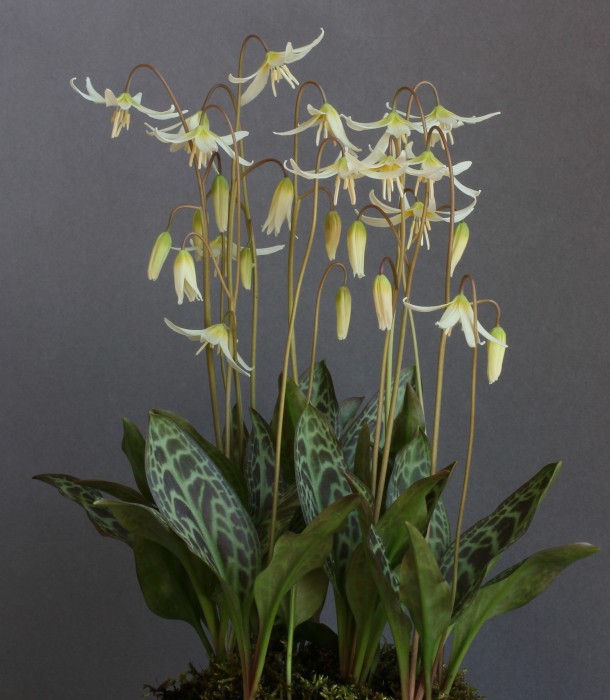 There was a very good representation of NW American erythroniums, with several exhibitors showing E. helenae, whose bright white flowers are accentuated by their yellow centres, while Tim Lever bringing along a fine potful of E. hendersonii (a relatively pale lilac pink form, though with the trademark blackish-purple eye, and a capacity to increase well vegetatively, which is not always the case with this species). Exceptionally, the latter can produce as many as a dozen flowers per scape, whereas the cream-coloured E. citrinum, also native to Oregon and northern California, is again one of the taller species, at up to c. 30cm, but usually contents itself with two- or three-bloomed scapes in gardens. The two will hybridise both in cultivation and in the wild.
The young foliage of E. citrinum is particularly striking - perhaps the most handsome of all the Section Pardalinae representatives, for the dark green, 15cm long, lanceolate leaves are marbled and precisely patterned with a series of chevrons and mosaic shapes, with a creamy veining, broad in some areas, very narrow in others, providing their definition. It is a pity that this obliging species, which does well in a slightly-shaded position outdoors, clumping up modestly and providing a generous seed set most years, is not more often grown. Robert Rolfe, who exhibited a mature clump grown in a deep black plastic pot, surfaced with moss (although in the wild it is an inhabitant of chaparral and mixed woodland) has grown the species for 30 years, and cautions that unless taken to a show soon after the buds open, and with the car kept as cool as possible for the length of the journey, the perianth segments will curl up into a tight huddle as a reaction to warmth, and not regain their customary poise until long after judging is over.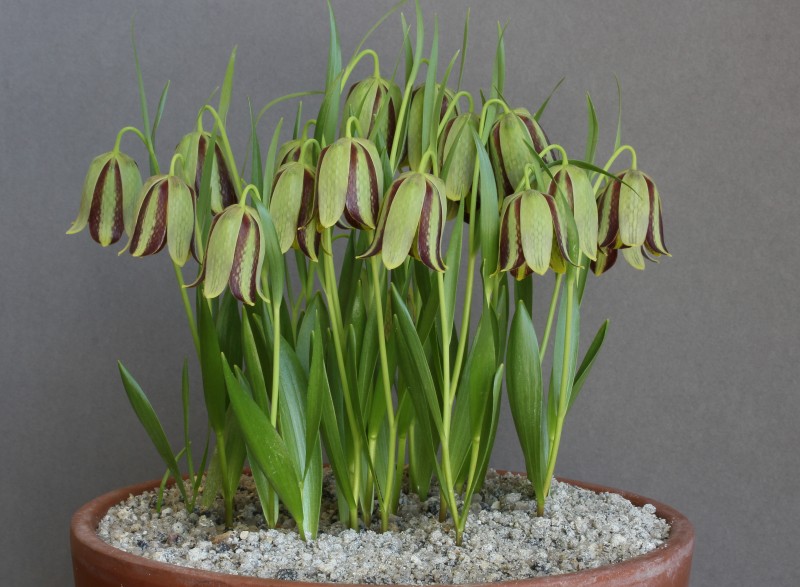 Exhibiting monocotyledons should quite rightly be more than just a matter of purchasing a job lot of bulbs and creating an instant red sticker display. A single bulb of Fritillaria hermonis, purchased from Norman Stevens 14 years ago, was snapped longitudinally into two when dormant by Ian Robertson, as part of the slow process of bulking up a single clone. Eventually, by repeating the process, these built up into a number of flowering-sized bulbs to ensure an evenly flowered, uniform display. During the annual repot every autumn, rice and larger daughter bulbs are removed to bulk up for future exhibits, although a judicious number are retained to ensure the judges are swayed by the sight of an 'established' pan. This species is both straightforward to grow and vigorous. A standard watering regime utilising clay pots plunged in sand is all that is required, a net sided polytunnel providing an all year round home.
An appealing dwarf stock from the High Atlas, Matthiola scapifera, has been in cultivation at least 50 years, and while less concise when grown in an alpine house than on the screes and ridge-top crevices of its homelands, it nonetheless remains very appealing. It was first brought to the attention of alpine gardeners by Richard Seligman in 1937, following his visit to Morocco the previous year in the company of E.K. Balls. They didn't manage to find any seed, but considered the 'little splashes of pink' found at over 3,000m perhaps the loveliest of all the really high alpines encountered on the trip. Jim Archibald retraced their steps 25 years later, exhibiting a plant a decade thereafter that was granted a Preliminary Commendation, for all that the write-up predicted 'it will not take very easily to cultivation'. Not so, for as the owner of a fine clump, Dot Sample, observed, it is an ideal plant for nursery owners such as herself, increasing well by underground stolons, and proving more amenable than one might expect. The stock had been raised in the 1980s from seed supplied by Les Kreeger. The potful exhibited had spent the winter under alpine house conditions.
Like its European counterpart M. fruticulosa subsp. perennis, it is a very rewarding crucifer that should be grown in a shaley scree mixture, and will sometimes flower copiously within its relatively long season of bloom. This was perhaps its first appearance at a show in more than a decade; fitting company on a day that brought many little-seen alpines together in very fine form. Oh, and if you're not convinced to give it a try, it is ever so sweetly scented in the evening!
Primulaceae were well represented with some extremely competitive classes that ensured the judges earned their lunch. One or two decisions were less tricky with four out of the five Certificates of Merit coming from this family. Two are singled out for mention here.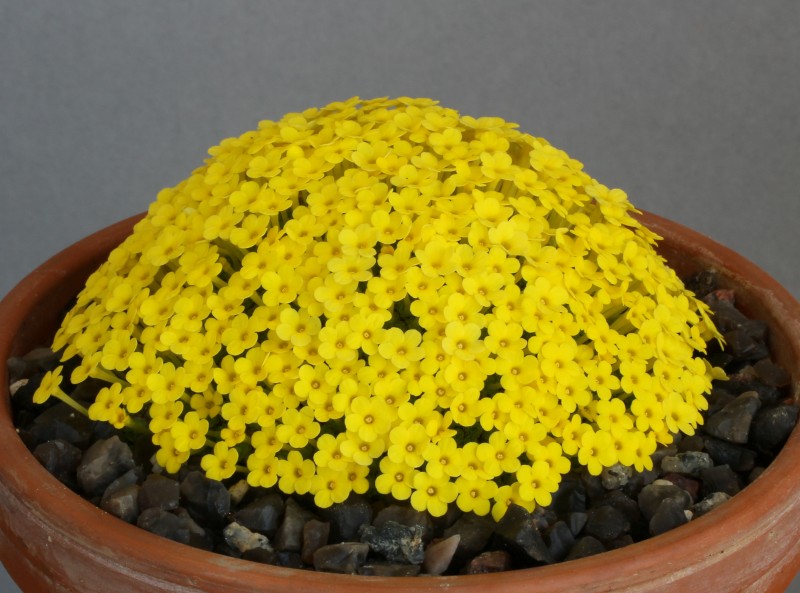 Dionysia khuzistanica is one of several Iranian species introduced to cultivation in and around the new millennium with varying degrees of success. A Dieter Zschummel seed collection of this slowcoach attracted a number of devotees and the plant before us, still in a 19cm pot, bore testimony to the skill and patience of Nigel Fuller. Function rather than mere alchemy is the purpose of Dionysia growing media and Nigel uses a mix of one part John Innes no. 2, two parts Cornish grit plus one part pumice. This meets the modest need for nutrients and ensures draining is exemplary while effectively retaining moisture. Of course, the skill of growing such plants is far more involved than simply choosing an appropriate potting medium! The watering regime, ventilation, freedom from pests and swift attention to fungal ailments hold centre stage in this respect, a cavalier approach to any of these leading to failure.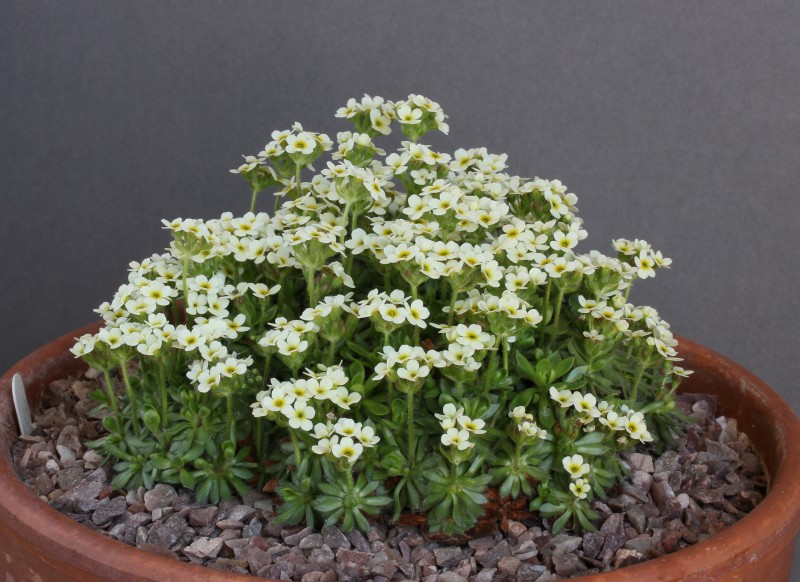 Androsace lehmanniana is found throughout Asia and North America, with plants from the latter continent generally assigned the synonym A. carinata. It is similar to the European A. chamaejasme and can make a wonderful, if slow, display for show purposes, coupled with an air of difficulty to woo the judges. Geoff Rollinson grows difficult plants incredibly well in a manner reminiscent of Ronnie O'Sullivan effortlessly potting snooker balls in competition. Originally grown from wild-sourced seed, a succession of show plants have been raised from cuttings to ensure there is a conveyor belt-like succession in his production line. It is a difficult plant to keep neat and tidy and resents summer heat so Geoff plunges the plant outside from late spring to early autumn and only then is the pan returned to the confines of the alpine house. When repotting, drainage is a key consideration and a mix of one part John Innes no. 3, one part leaf-mould and three to four parts grit is used.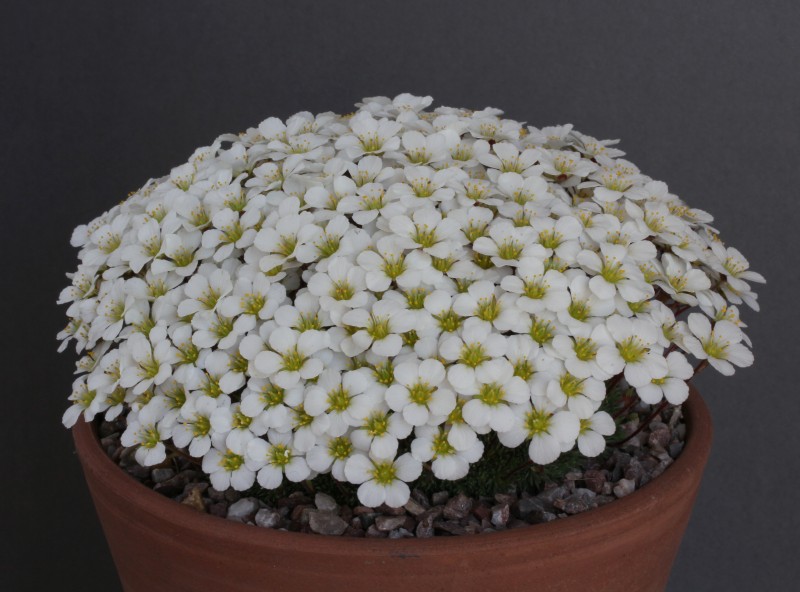 The Midland Challenge Cup was awarded to a sumptuous pan of Saxifraga burseriana 'Mangart'. George Young obtained his plant originally as a cutting from Eric Watson, who grew it outdoors in his Newcastle garden. This fine form from the Slovenian mountain of the same name is notoriously slow and is grown during the spring and summer in a sand plunge covered by an open-ended polytunnel. During the winter months it resides in the alpine house. This particular winter has evidently suited the plant, since it has never before flowered so well for its owner.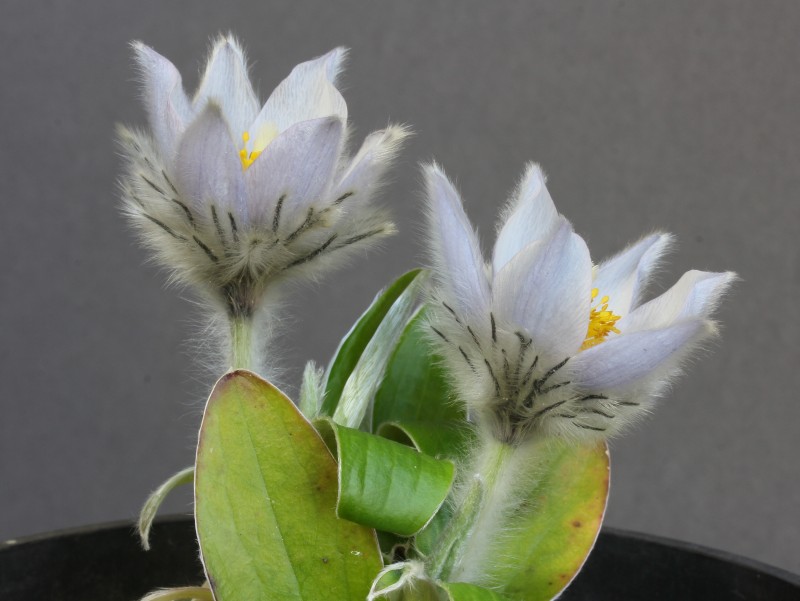 George was also responsible for one of those 'stop you in your tracks' exhibits with his eye-catching Pulsatilla (syn. Miyakea) integrifolia. This very rare plant comes from the Russian island of Sakhalin where it grows in alpine tundra at c. 1,300-1,600m. A snowmelt species, the flowers, bracts and stems densely covered in hairs in the manner of P. vernalis, it differs from other members of the genus in its rather fleshy, entire leaves. A chance purchase from Peter Korn of Gothenberg Botanic Garden, whilst he was in the UK lecturing to the local AGS Group, has proved to be a sound investment. It has been grown in a plastic pot filled with a lean, gritty, acidic mix for the past four years. Like many onlookers, George was celebrating his first sight of this little stunner in flower.
AGS shows are not just about the exhibits, and the nursery stalls were as jam-packed with interesting plants as ever. An era was passing as Midland Show stalwart Robin White of Blackthorn Nursery packed away his stacked trays for the last time. Not surprisingly, these had been plundered and now lay virtually empty, testimony to the appeal of his offerings. I'm sure we shall see many of his plants returning to the show bench. But that now empty stall will be one heck of an act to follow.
Author: Jim Almond
Photographers: Jim Almond and Jon Evans