Midland AGS Show, 2012
With its easily accessible location, close to the M42 in the Birmingham suburb of Knowle, this popular, long-standing event attracts exhibitors for all corners of England and Wales. Many AGS shows are held in schools or colleges, and the Arden School is one of the more pleasant, more suitable of these, with gardens at the front of the building and the three important features of the show – the exhibits, plant sales and catering – all located next to each other, creating a congenial hubbub.
At any show an exhibitor would be delighted to have one entry considered for the Farrer Medal. To have two plants up for consideration is beyond most growers' expectations. Given that the only two plants vying for the premier award at Knowle belonged to Chris Lilley, he could be forgiven for looking rather pleased.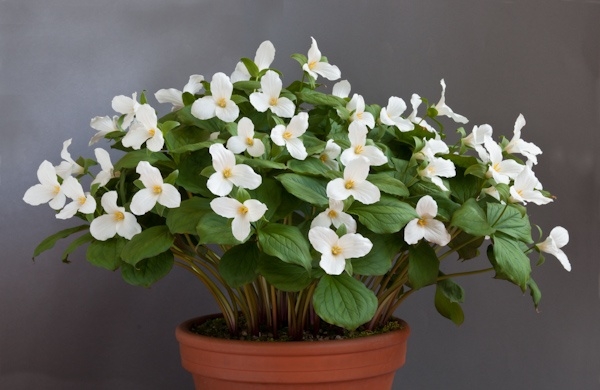 Both plants were part of his entry in the class for three pans of distinct genera. The Caucasian native Androsace villosa var. barbulata was pitted against a burgeoning pan of Trillium grandiflorum, the same potful with which its owner jointly won Farrer and Forrest Medals at last year's International Conference Show. Its liverwort-encrusted compost testified that it hadn't moved for the past 12 months. This time, though, the trillium had to settle for a Certificate of Merit.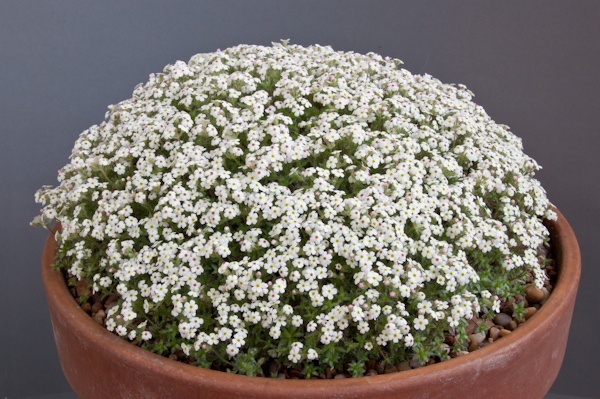 Chris had obtained his Androsace five years ago from Parham Bungalow Plants. The pot, kept plunged in gritty sand in a cold frame, contained a mix of 60 per cent John Innes no. 2 and 40 per cent grit, to which had been added a couple of handfuls of a general purpose compost. Fed with half-strength Tomorite just before it comes into flower, and again at the end of the growing season, it had rallied to scoop the first ever such medal for this taxon. The third component of Chris's exhibit, an exuberant, overflowing pan of Primula sieboldii, rounded off an exemplary trio.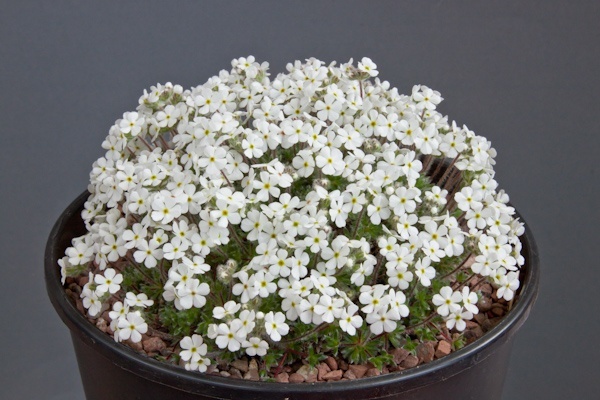 Androsaces featured prominently at the show, and Lionel Clarkson garnered a Certificate of Merit for Androsace robusta var. robusta, though there was debate among judges and exhibitors over whether it was a form of A. villosa. Lionel's plant in the single pan Androsace class was grown in a long tom black plastic pot in a mix of three parts John Innes no. 2, five parts grit and one part composted bark.
He prefers to use these pots rather than clay ones, maintaining that the plants prefer the deeper root run, with watering reduced because the pots aren't porous and don't have to be plunged, though he cautions that they must be shaded to avoid sunlight 'cooking' the roots. To this end, Lionel's plant, which was raised from seed sown in 2006, is kept in a cold frame all year. His prowess with the genus (and containers) was also displayed in the class for three pans of Primulaceae, distinct, which he won with Androsace villosa (red bud form), A. muscoidea and A. robusta var. breviscapa.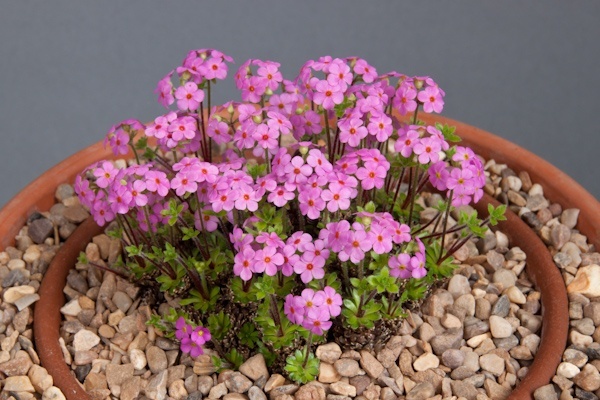 An entry of Androsace rigida var. minor drew much attention. Sown six years ago by Alan and Janet Cook, this slow-growing western Chinese native resides in a very well-ventilated, open-sided alpine house: seldom if ever has it been shown in better flower.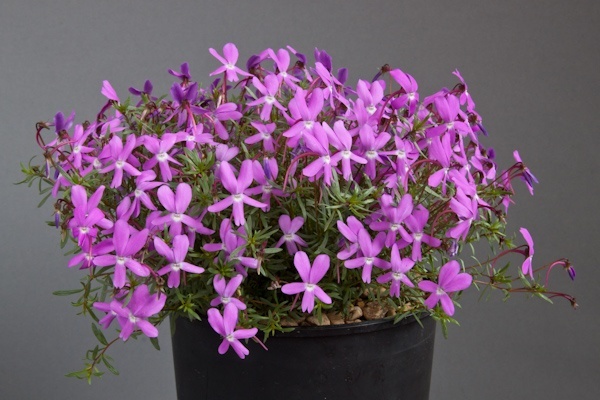 The Midland Challenge Cup for the best plant in a 19cm pot was won by Robin White of Blackthorn Nursery with his novel hybrid between Viola delphinantha and V. cazorlensis, entered in the class for plants new in cultivation. Robin made the cross in 2006 and says that to date it has proved easier to grow, and to overwinter, than the seed parent. The flower is slightly longer than that of V. delphinantha with the short notched lower petals of V. cazorlensis, while the overall habit is more compact than the latter, though it does produce stolens. It flowers very freely in an alpine house, and is also happy in tufa or alkaline scree in the open garden. The reverse cross has produced almost identical seedlings.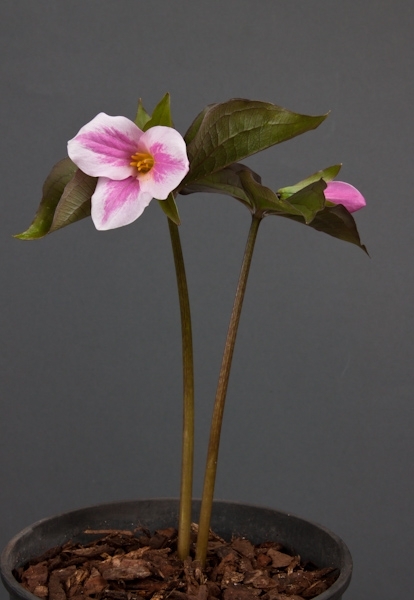 Second place in this class went to a much admired bicoloured form of Trillium grandiflorum shown by Diane Clement. This had arisen as a chance seedling among other trilliums in a shady woodland bed. Although very slightly akin to T. rivale in its flower, there are no records of any T. grandiflorum hybrids. Diane believes it must be the seedling of a white-flowered T. grandiflorum. 'It flowered last year for the first time', she said, 'and I was aware that it had quite dark flowers, but I was away at the time and didn't see the flower fully open. The dark pink staining on the petals is extremely unusual for T. grandiflorum and it also shows dark colouring in the leaves. I believe this form must be very rare in cultivation.' Diane has been in touch with growers in the eastern US via the internet forum Trillium-L. Mark Rose in Virginia reports having found similar plants on the border of North Carolina and Virginia near the Blue Ridge Parkway. John Gyer (New Jersey) saw a population in northern Virginia with a few plants that had pink flowers with deeper stripes. They occur at a high elevation, on weathered greenstone (volcanic ash laid down in the Precambrian era).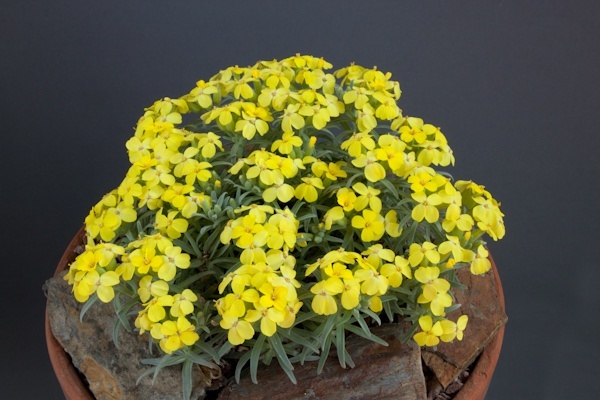 The class for one pan of Brassicaceae was won by Dave Mountfort's pristine pot of the lemon-yellow flowered Degenia velebitica. This species is native to a very restricted area of the Velebit Mountains in Croatia. Obtained in 2009 as a seedling from Tony Lee, it had grown quickly but can be difficult to keep in character. Because of this, good specimens are rarely seen on the show benches.
In an alpine house it had been lax in cushion and leggy in flower, so for the past year it has been kept in a south-facing cold frame, plunged in sand and open to the weather for most of the year. The pot contains a gritty John Innes no. 2 mix to which is added a little composted bark. The plant requires a reasonable amount of water when in growth. Though not tried in the open garden, with protection from winter wet it will do well on a scree or in a raised bed. (Tony has a plant growing in a crevice bed.) Like many of the Brassicaceae it sets seed readily, and is best propagated this way.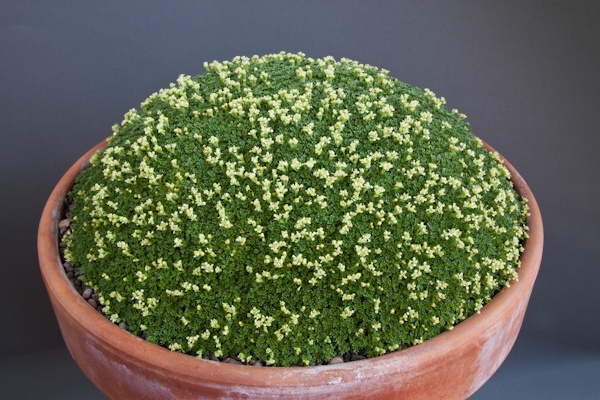 The second-placed entry in the same class was a ten-year-old Lepidium nanum shown by Martin and Anna Sheader. This North American dwarf pepperweed, native to Nevada and Utah, had been grown from seed. Many growers have tried and given up with this plant, but Martin says that for the first two or three years it has a loose habit and then tightens up, so persistence is essential to obtain a good cushion. In some years the plant covers itself with flowers, but even though hundreds of the pale yellow blooms were evident, this wasn't one of them. It needs an open, gritty compost and is repotted every two to three years.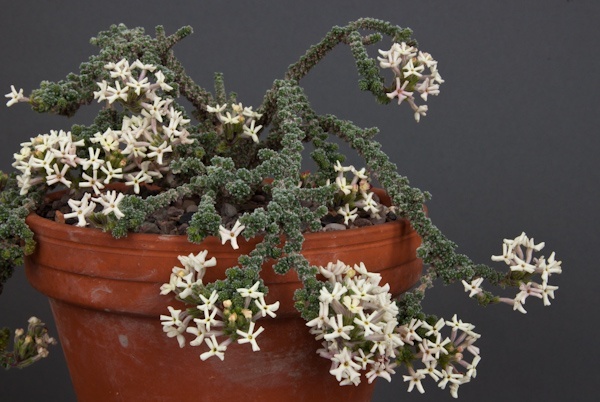 The Sheaders also exhibited an undescribed Junellia, propagated from seed obtained six years ago in northern Santa Cruz province (Argentina). Belonging to the Junellia patagonica group, it is found on high, dry ridges on steppe, where temperatures can drop to -20C. It produces cream-coloured flowers at the tips of its branches and Aberconwy Nursery has successfully propagated it from cuttings. The proprietors' were in fact poised to snip off pieces of this exhibit at the end of the show.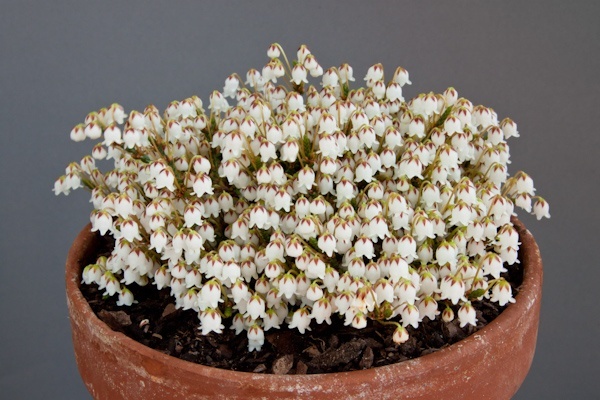 The Edinburgh Quaich for the best pan of Ericaceae was won by Trevor Harding with a compact Cassiope Stormbird Group [left]. In the Intermediate Section this reporter's Cassiope 'Badenoch' was awarded the Crategeus Trophy for best plant, while in a busy Novice Section, Stuart Dolby showed a well-flowered Cassiope wardii hybrid.
John Fitzpatrick