Midland AGS Show, 2011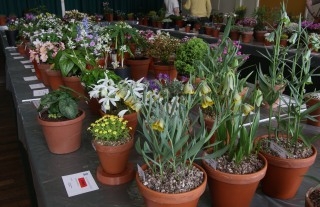 'Oh, what a beautiful morning ...!' An invigorating 6˚ C as I set off for Knowle but the prospect of a warm, sunny day and another great Show. I wasn't to be disappointed.
A strange season, this. The prolonged bitter spell through to the New Year, the lowest rainfall in March for at least 30 years and the recent warm sunny spell conspired to hold some plants back but conversely appears to have encouraged others to flower earlier than usual. Perhaps it was this topsy-turviness, rather than the escalating cost of petrol, that resulted in slightly fewer exhibitors this year and rather fewer plants. Yet despite climatic vagaries there were more than enough plants on the benches to keep even the most avid alpine grower interested, their variety and condition a tribute to their exhibitors.
The judges set to work; their decisions not always straightforward ones. There were discussions on what precisely constitutes a shrub as opposed to a subshrub or a tree, on how to decide whether a plant is 'rare' in cultivation, and of course on the difficulty of choosing between two excellent plants. Don`t feel too sorry for them: their 'in-house' lunch more than compensated for these and other dilemmas.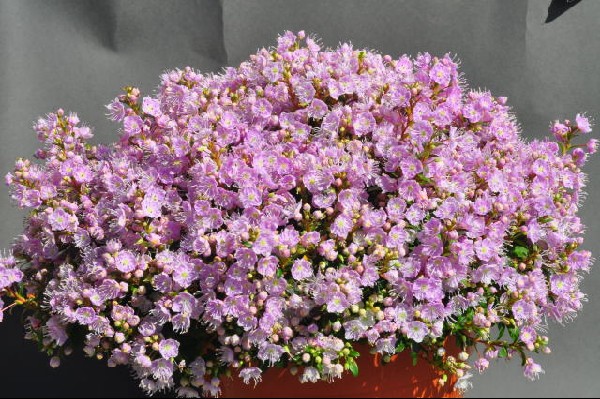 By noon the outdoor temperature had reached 22˚ C (it was even warmer in the hall, where show-goers talked anxiously about their plants at home, the provision of shading (or lack of it!) and how to ration the remaining contents of almost empty water tubs. The Farrer Medal went to a superb Kalmiopsis leachiana exhibited by Alan & Janet Cook, which also won the Edinburgh Quaich for the best Ericaceae (an award it first received in 2009). Exhibitors will be all too aware that this species opens its flowers in succession, and can be down-pointed in competition for having too much bud, yet by the time that the terminal flowers open, those lower down the raceme will be on the point of dropping. Removing these and any developing seed heads is a labour of love. This specimen was as fully-flowered as could be wished, with little evidence of dropped flowers.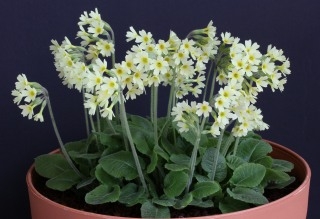 A month earlier Primula allionii and its hybrids had held sway on the show bench, but the last of these petered out after last week's North Midland Show. The Midland Primula Bowl was won by a large pot of Primula elatior subsp. leucophylla exhibited by Brian & Jo Walker. This delicate oxlip is from alpine meadows, on limestone, in the eastern Carpathians and the Caucasus (where Russian taxonomists prefer the epithet ruprechtii, separating the taxon on minor calyx details and the greater persistence of the tomentum on the undersides of the leaves).
The same exhibitors also brought along an elegant, single crown of the P. orbicularis, a rarely-cultivated 'Nivalid' (Section Chrystallophlomis) native to open damp moorland and woodland fringes in S Gansu, E Qinhai and W Sichuan and SW Kansu at up to 4500m. Older accounts give the flower colour as sometimes cream, or even white (like the very closely related P. chionantha) but in Flora of China the range is ordained as pale to bright yellow. This plant, which originated from Edrom Nurseries, dies down in the winter to a resting bud and needs to be kept just moist at this stage, though with no watering during frosts. To keep the white-farinose leaves pristine, glass protection is provided until after flowering has finished, when a cool, sheltered position outside or a north-facing shade frame will provide preferable conditions.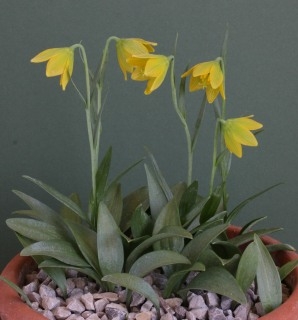 The Crataegus Trophy for the best plant in the Intermediate Section went to a small pot of Fritillaria conica belonging to Peter Taggart,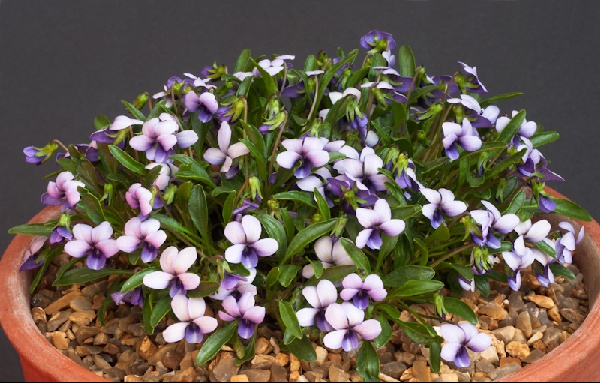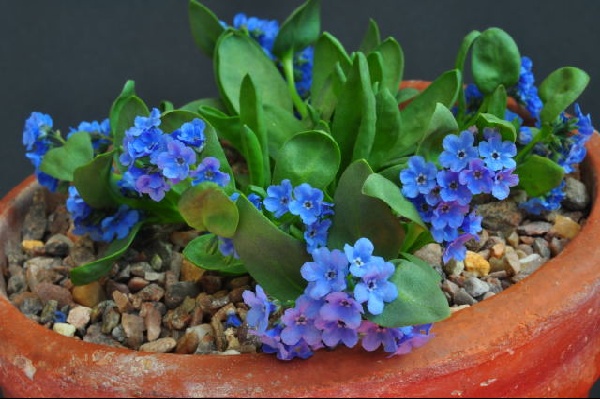 while the Midland Challenge Cup (for the best plant in a 19 cm pot) was awarded to the Iranian Viola spathulata ( shown above) , exhibited by Ian Kidman in a small six pan entry that also included the diminutive Mertensia alpina recipient of a Certificate of Merit.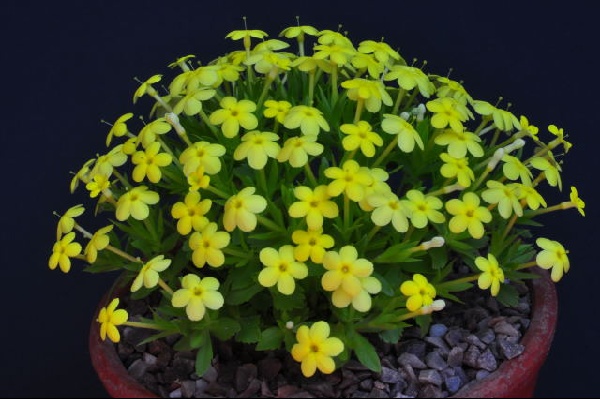 Next door, Eric Jarrett's winning entry included another rather tricky Iranian, the comparatively late-flowering Dionysia caespitosa, often short-lived in cultivation but consenting to set a decent amount of seed if painstakingly hand-pollinated: this too received a Certificate of Merit.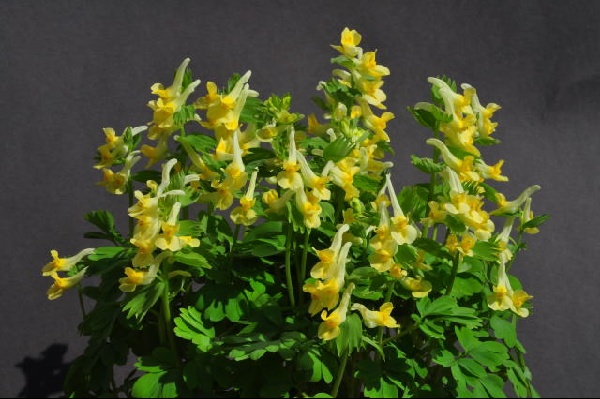 The dionysia varies in depth of colour according to flower age, whereas Corydalis bracteata (another Certificate of Merit plant, grown by George Young) has a pale spur but a much deeper yellow palate – and a lemony smell for good measure. Cultivated since the early nineteenth century, it is known in particular to like a cool position and a long winter rest – if the early days of spring are very mild, it often tries to flower before reaching the surface, and the buds abort. This was a typical example of what might be thought a rather uniform species as seen in gardens. But latterly the selection 'Marina', which opens pale cream and quickly becomes almost white, has been distributed, stocks having been worked up from a single tuber selected in Siberia.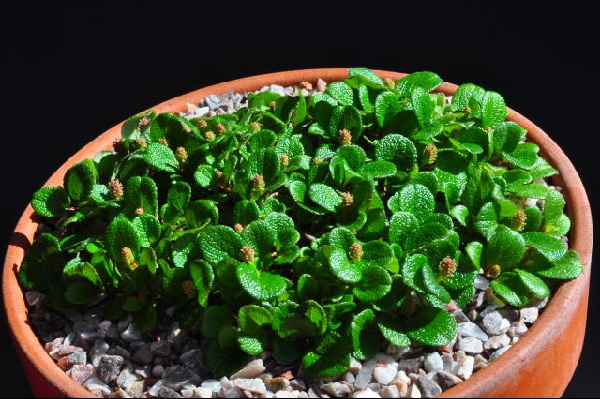 The circumpolar Salix reticulata is one of the finest of the dwarf, creeping willows, and various forms have been seen at this year's Shows. At their best a few weeks after the leaves have appeared and clothed the gnarled, prostrate branches, at this stage the foliage almost glistens, acting as a fine foil to the upright catkins. A huddled, well-established example, with the qualifier 'Arctic form' giving some indication of its provenance, was the fourth recipient of a Certificate of Merit. Brian Burrow, its owner, mentioned that it was very slow-growing but readily propagated from short spur branches, severed in the autumn and left overwinter in a rooting mix high in humus.
By we, not to mention the plants, were ready for home. Many thanks to John Harrison and his well-organised, hard-working team. '...Oh, what a beautiful day.'
Dave Mountfort