Midland AGS Show, 2005
The Midland Show is normally outside the travelling radius of this reporter, so it was a pleasure to visit  for the first time this very well-established event, one of the Societies premier Shows. The present venue is excellent; easily accessible from the motorway, with good parking, a spacious and well-lit hall, good accessible sales areas, delicious catering; what more could a visitor want? Well, plants of course, and this was an excellent Show. 2004 had been a stellar year at Midland, the best on record, with 769 plants provided by 82 exhibitors. Such a freak total may never be achieved again, but after a cold wet week, Mike Wrenn must have been pleased with 583 plants from 74 exhibitors, particularly as the standard was so high. At least five plants of Farrer medal standard could be identified. With nearly 70 plants in section B, the junior classes were quite well represented too.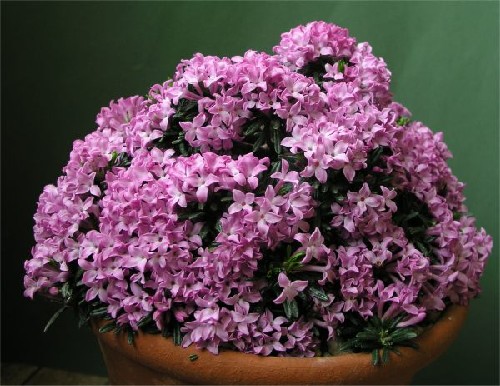 This was the week when daphnes performed well for the first time this year, and there were some excellent large pans of D. petraea, D. x hendersonii and D. cneorum in some of its more compact guises. Flowering was perhaps slightly more patchy than in some years, so it was fitting that the premium award should go to a very well-flowered D. arbuscula, and still more appropriate that the exhibitor, Robin White, has played such a pivotal role in the present popularity of the genus, raising and introducing many forms and hybrids, and propagating them for general distribution. Robin had an excellent Show, also gaining a certificate for an excellent pot of Viola delphinantha. Certificates also went to a very good Primula bracteata (John Dixon) and to Orchis morio (Richard Manuel).
Mid April is a good time for the earlier androsaces, and the premier exhibitors' species, A. vandelii, produced major awards for two growers, Don Peace (best small pan) and Richard Clements (best from seed).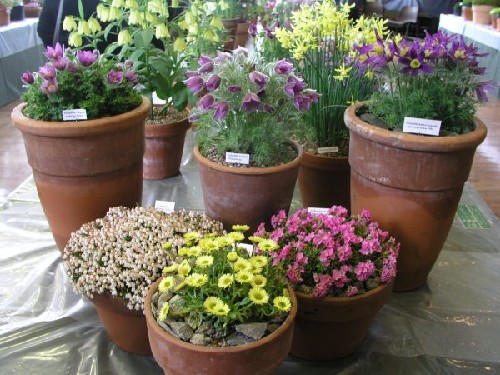 Apart from Arcterica nana, Ericaceae rarely make much of an impact at the earlier Shows, but here we enjoyed no less than 26 meritorious plants in the four specialist senior classes. This region has always produced good growers of Ericaceae, from the late Sid Lilley onwards, and it was good to see the tradition continued, with no less than 14 cassiopes appearing in good condition. Perhaps the time has come for a resurgence in interest in this rather neglected genus? In this context many of us were delighted to see Harry Roberts recovered from illness and winning the Edinburgh Quaich for the best Ericaceae.
Pulsatilla was another genus which came to the fore for the first time this season, causing both the Ranunculaceae classes (including Papaveraceae and Fumariaceae), to be particularly keenly contested. The exhibit which gained the large pan AGS medal (Class 1) displayed no less than three representatives of this genus in long-tom pots.
All in all, a super Show, which made my long journey very worthwhile.
John Richards