Malvern AGS Show, 2008
As we approached Malvern showground the early mist had cleared, the sun was breaking through what clouds there were and Freddie Mercury's "It's a Beautiful Day" drifted from the car radio. It turned out to be the hottest day of the year so far and even during the very early staging time it was good to be in shirt sleeves instead of being wrapped up against the cold as in previous years. The common sense of the A.G.S. show being only a one day event was demonstrated by the many sad looking exhibits at the other end of the show hall. These had already been on display for three warm days and still had to endure one more. In contrast the 640 A.G.S. exhibits staged by 54 exhibitors were as fresh and good looking at the end of the day as at the beginning.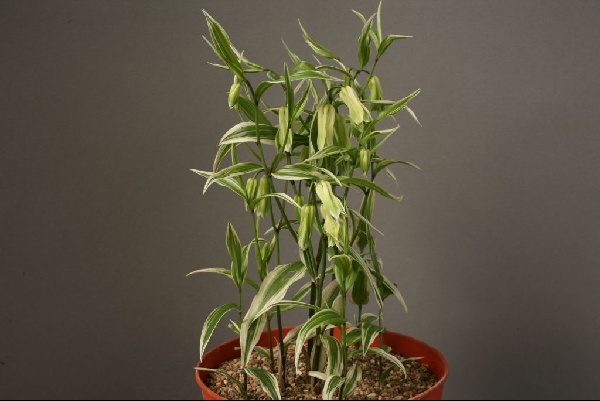 Quite often garden worthy plants appear on the show benches and one entry in section C of Disporum sessile 'Variegatum' was no exception. Commonly known as Japanese Fairy Bells this shade lover grows to 30 cm and will double or even treble its size each year. As it is deciduous it does need a marker to prevent it being accidentally dug up during its dormant period. I grow it in a border dedicated to variegated plants where it blends in well with Polygonatum odoratum 'Variegatum'.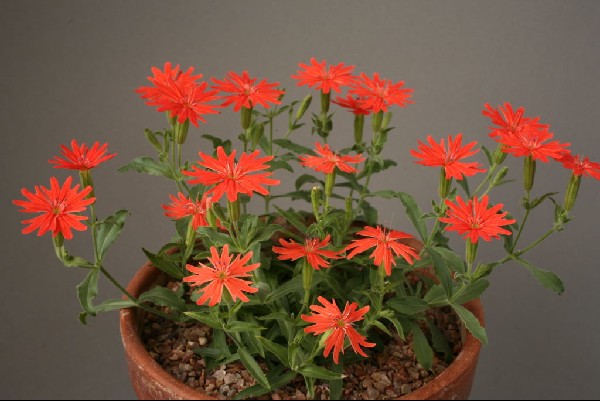 North American silenes usually make their appearance at Malvern and today was no exception. Silene californica exhibited by Edward Spencer is a striking species with brick red flowers on stems that vary in length 6 – 20 cm and grows throughout California. Here was an exhibit with the shorter stems and had been grown from seed sown during 2004/5. The exhibiter had potted up two plants together and although seed grown plants usually show some variation it was almost impossible to spot it here. John Innes Compost No.1 with added grit is used and the pot is plunged in sand in a cold frame.all year round. Although seed had been set in previous years it had never germinated.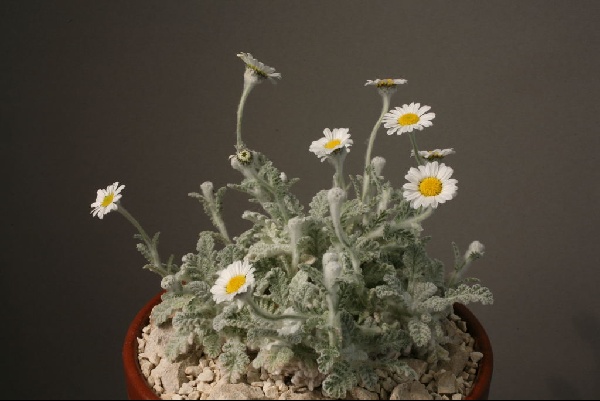 It doesn't seem very long ago that Pyrethrum (Tanacetum) leontopodium made its appearance in the new or rare classes but here a large plant in full bloom was exhibited in the silver or grey foliage class showing off its beautiful silver-grey velvety felt leaves. It is endemic to the alpine levels of the Tien Shan in Kyrgyzstan and the exhibitors, Rod and Shirley Johnson, try to imitate its alpine habitat by plunging it in a cold frame with the covers open all winter. In my experience this plant has died after blooming if not in the first year, the second. But this winter treatment appears to have solved that problem. The exhibited plant was grown from seed sown in 2003 and is grown in a compost of equal parts of John Innes No. 2, sand and coarse grit.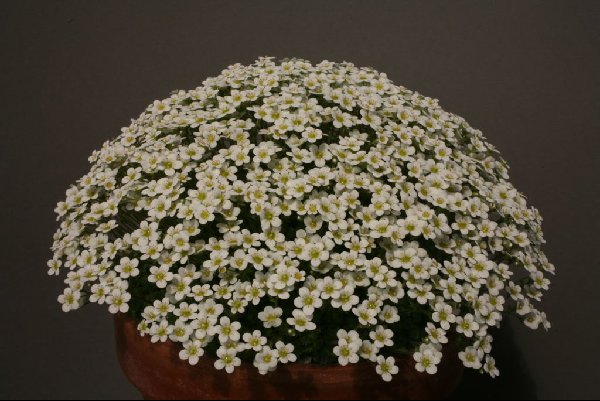 Saxifraga pubescens 'Snowcap' has been around a long time and is a reliable bloomer at this time of the year. There were many exhibits of this plant on the showbench each demonstrating how good cultivation can produce a large dome of white flowers and so become a future Farrer plant. Anyone contemplating growing saxifrages for blooming at this time of the year should try this one. It is a good reliable doer and is usually available on the AGS sales tables.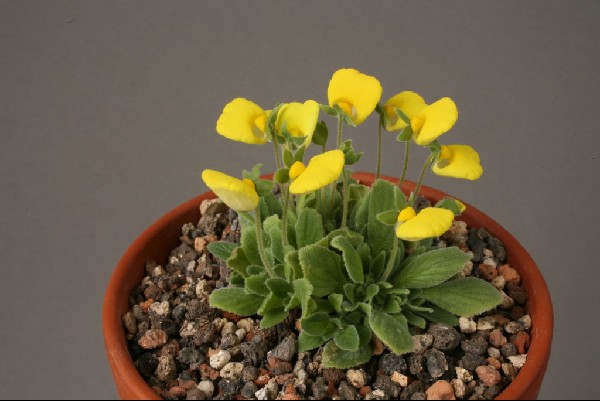 We can always depend on the new or rare in cultivation classes to produce something to delight the eye and sure enough here was another little treasure exhibited by Anna and Martin Sheader.. Calceolaria glacialis grown from seed sown in January 2007 showed the beginnings of the cushion that it forms in its native habitat and its small pouches were reminiscent of the well known C. uniflora. C. glacialis grows at 3500 – 4900 m in the arid, sandy grasslands of Bolivia and northern Argentina. The exhibited plant was growing in a well drained compost and although it receives copious watering during summer it does resent hot weather.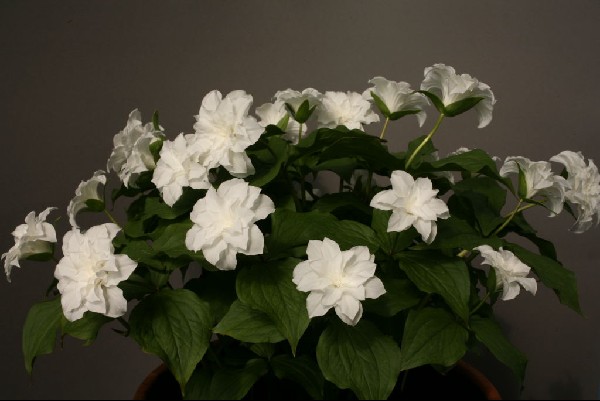 There is always a number of exhibits that draws the "Ooohs and aahhs" from visitors and a magnificent pot of Trillium grandiflorum 'Flore Plena' shown by Ivor Betteridge was one such plant. Very similar to the cultivar 'Snow Bunting' it was impossible to tell if there was any difference without he two plants side by side. The double form of the eastern North American woodlander is always a talking point and this exhibit was good enough to receive a Certificate of Merit. The exhibitor received several plants about twelve years ago and potted them up together. The pot lives outdoors in a shady corner for most of the year just bringing it inside ready for the show. It grows in the compost recommended by Royton Heath in his book Collectors Alpines, that is 4 parts leaf mould, 1 part each of loam and coarse sand and plenty of lime free water in the growing season..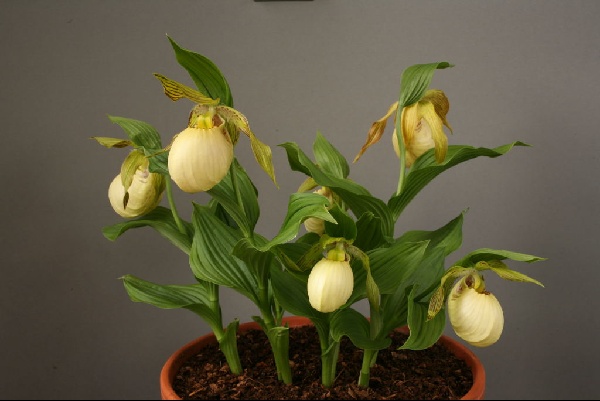 Another exhibit that caught my eye and also awarded a Certificate of Merit was the beautiful Cypripedium fasciolatum from China. This plant was received as a seedling approximately 10 years ago from a well known orchid grower in Cumbria and carefully grown on in a compost of 80% pumice/grit/perlite and 20% organic material. It is kept outdoors in a north facing aspect with just enough water during its dormant stage to keep it barely moist. As it comes into growth it receives more water and during summer is kept in a shady spot..The result of all this painstaking cultivation was a superb exhibit.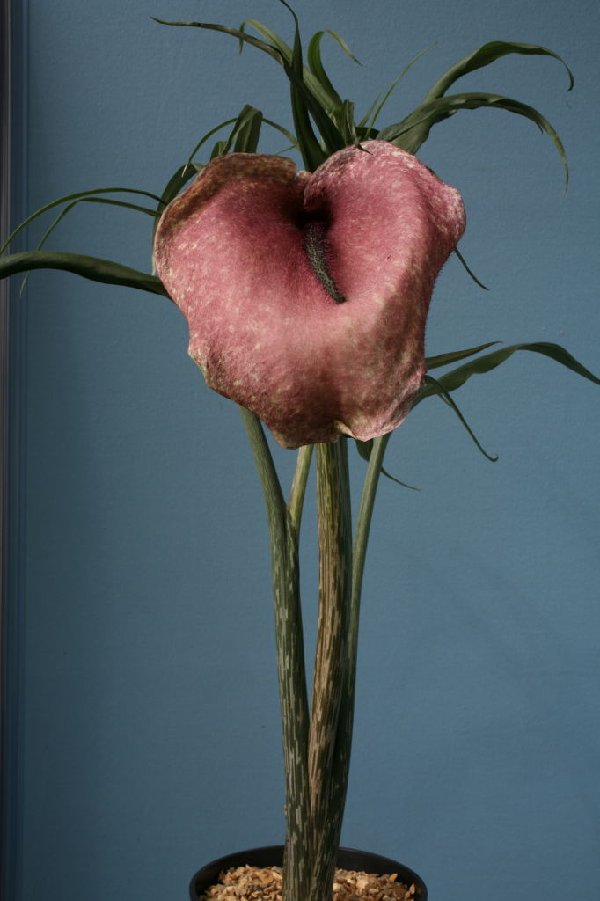 Every so often a plant appears on the show bench which is not only unusual but a bit of fun. Dracunculus miscivorus, the Dead Horse Arum, was exhibited by Cecilia Coller who obtained it as an unknown bulb at the East Anglia bulb sale some 6-7 years ago. It has been grown on in the same small pot using a John Innes No.2 compost ever since then but for the purposes of the show it was double potted into a 19 cm pot. Cecelia's patience was finally rewarded with the first flowering in 2007. During its dormant period the bulb remains in cool shade under the greenhouse bench. As the short lasting flower dies it becomes very smelly and in its native habitat in the Balearic Islands it supplies the Balearic lizard with a wide range of food from the flies attracted by the smell and the seeds when in fruit.
Graham Nicholls