Malvern AGS Show, 2007
In spite of the show being relocated from its usual spot in the Wye Hall to the Gardeners Pavilion the Show Secretary reported that everything went like clockwork thanks to the hard working show committee and Malvern staff. Rain and wind didn't deter the 52 exhibitors with some interesting exhibits on the bench. One advantage of exhibiting at this show, staging commences at 7 am, is the chance to have an 'early bird' view of the rest of the main Malvern show with special reference to the plant sales.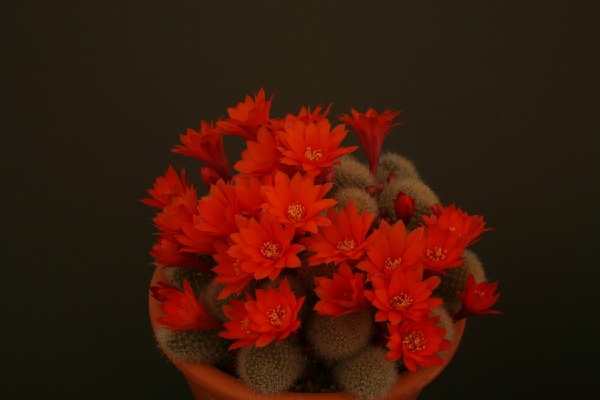 With nearly 400 plants on view a wide range could be expected and we weren't disappointed. A few years ago the A.G.S. hierarchy would have been apoplectic to see a cactus entered in the show but here was a selection of Rebutia and Mammillaria staged by Harold Webb (Rebutia hoffmannii shown right). These are high altitude plants of South America with vivid coloured flowers that brightened the day and quite acceptable now with Cactaceae added to the short botanical list. I noticed that more campanulas than usual made their appearance here no doubt due to the hot weather in April. For example Campanula thessala usually graces the showbench at the Summer Show South but here it was three weeks earlier, shown by Lee and Julie Martin, overflowing the pot as normal. It's not very often an Indian Paintbrush is seen in cultivation so Castilleja miniata with bright red bracts aroused much interest for visitors.
The high number of pans of Rhodohypoxis again proved that summer has come early although other bulbous plants such as Fritillaria, Arisaema, and Trillium appeared to smooth the path from Spring to Summer.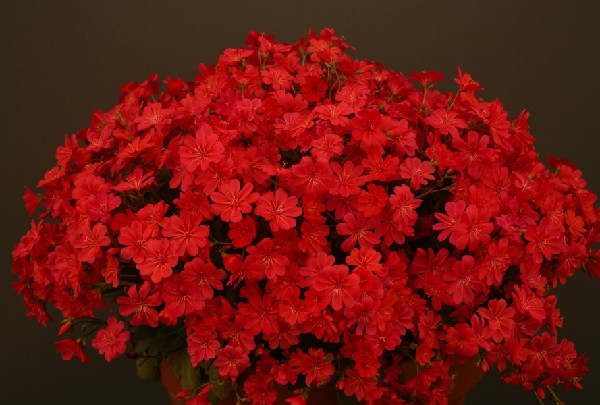 Lewisias usually make their appearance here but the species class was poorly represented mainly with the small flowered L. columbiana. The cotyledon hybrids though have come on apace in their colour forms as shown with various entries having bright orange or deep red flowers. I remember some 20 odd years ago being contacted by someone intent on breeding a red lewisia. Nowadays the colours are far removed from the plants growing in the wild.
There was fierce competition for the best plant in a 19 cm pot and the award eventually went to Hedi and Jim Hancox with their Androsace vandellii.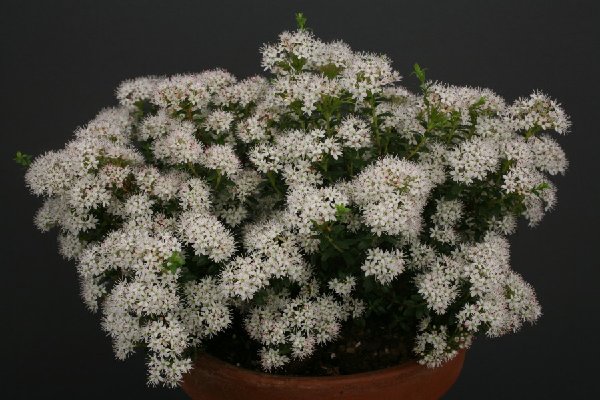 Ericaceous plants were well represented with Rhododendrons, Gautherias, Vacciniums and Leophyllum buxifolium that I had last seen growing in the iron rich sand of the New Jersey Pine Barrens on the east coast of the U.S.A. Makes me wonder how on earth it can be cultivated in a pot.
One interesting in depth discussion arose from Dave Mountfort's entries of Rhododendron kusianum in three different classes. Seed from the American Rock Garden Society (as it was then) seed distribution was sown on 24 February 1995. The seed came from the same capsule but the three staged plants were visibly different in growth and flower colour although all lovely in their own way and one of these deservedly gained a Certificate of Merit for Dave.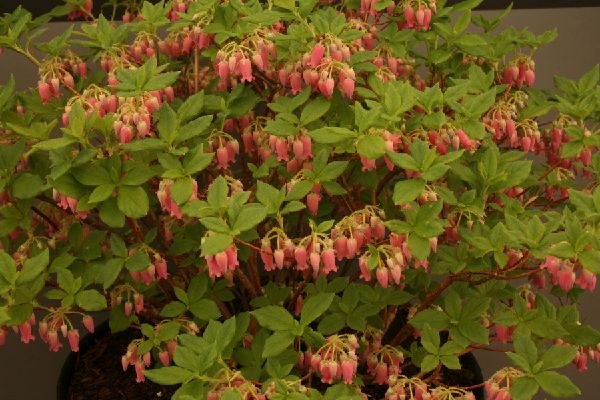 Finally, and remaining with the ericaceous entries, a magnificent twelve year old plant of the Japanese native Menziesia ciliicalyx won the Farrer medal for Ian Leslie.
Graham Nicholls