Malvern AGS Show, 2006
The Malvern show is the start of the season for the major RHS four day organised events. We are privileged to be asked to contribute by running our own AGS show on the Saturday. The weather leading up to the event was best described as typically English summer; warm during the morning and early afternoon giving way to thunderstorms and torrential downpours by evening. On the day mist and heavy cloud greeted the exhibitors as they arrived in the early morning but by midday things had improved considerably with warm sunshine.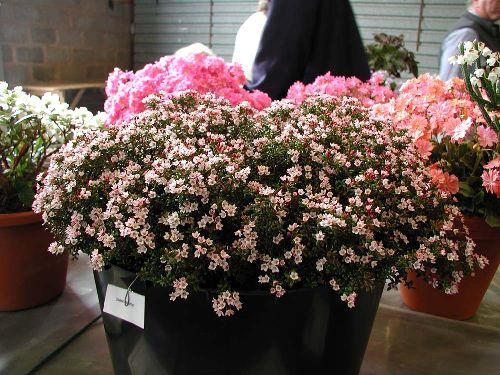 As is usual with this event there was plenty of colour evident in the hall from the ranks of Lewisia's and Ericaceous exhibits backed by the more subtle Orchidaceae. Due to the lateness of the season there were fewer Campanulas that we have seen recently but this was more than compensated for by the Gentians predominantly of the acaulis type. It was among the Ericaceous exhibits that a fine plant of Loisleuria procumbens ( Ian Leslie ) caught my eye. This has a justifiable reputation for being tricky in cultivation and very shy flowering although you would not think so by seeing this exhibit filling its 36cms pot liberally covered with its delicate pale pink flowers. The judges were also impressed as they awarded the plant with the best dwarf shrub and the coveted "best in show" award.We are seeing more and more of the Australasian terrestrial orchids at our shows these days but representing the continent this time was D. maculata ( Barry Tattersall ) a specie that I have not seen on the bench before. Found predominantly in Sydney but extending along the costal plains south it is doubtful if truly hardy but alpine house cultivation seems to suffice. The small yellow flowers with distinctive brown / red markings on the labellum and dorsal sepal made an attractive combination. At 30cms high it probably to tall to be alpine enough for some, it still managed to win its class for "One rock plant native to Australasia".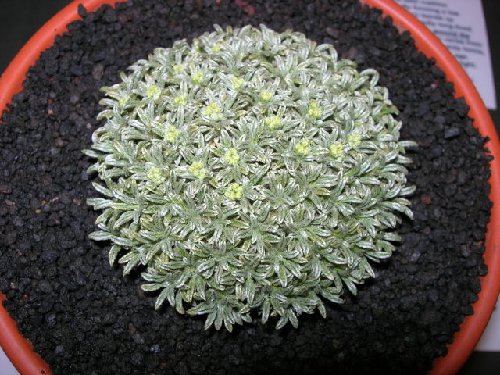 A fine example of the showman's art was in evidence in class 82, 3 pans new or rare in cultivation. All the exhibits were beautifully presented but one in particular is worthy of singling out for comment. Azorella ameghinoi we have seen before but this time it was the way it was presented that caused most comment. The exhibitors ( Martin & Anna Sheader ) had top dressed the pot with a very dark grey material that showed off the silvery cushion to perfection. The material used was purchased from a Bonsai nursery and as a form of pumice is very light care has to be taken during staging to prevent it all from blowing away. Not much use then for dressing your scree's, even if you could afford to do so.Altogether a very enjoyable day despite, just as everyone was preparing to go home, the thunderstorms returned ensuring we all had a very damp journey.
Eric Jarrett