Malvern AGS Show, 2015
The hitherto late season finally caught up, the 431 plants benched presenting a wonderful kaleidoscope of colour and variety. Andean plants are now being grown to higher standards than ever before and appearing in appreciable numbers on the benches, with excellent examples from the genera Petunia, Junellia, Azorella, Nototriche and Nassauvia on display. (There was also a little-known Himalayan plant, of which more later.)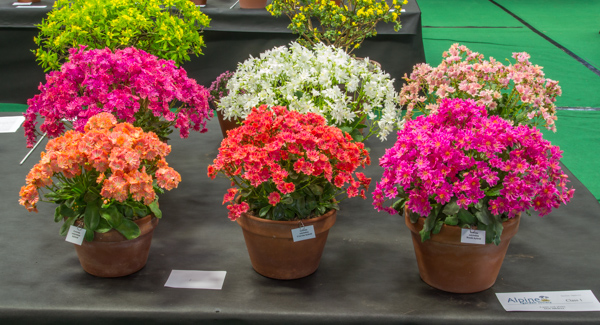 Lewisias in every colour and shade presented a dazzling spectacle for the public as they came through doors that fortunately the favourable weather allowed the organisers to leave open this year. The AGS Medal for Class One went to six mature, floriferous Lewisa cotyledon selections, exhibited by Alan and Janet Cook from Dinton. The sole entry, it was well worthy of the award.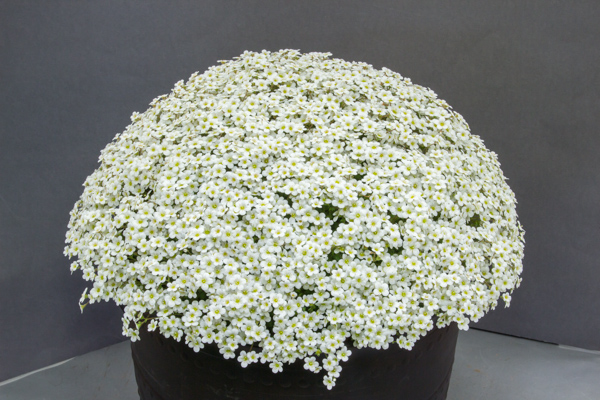 Elsewhere, they staged a magnificent dome of Saxifraga pubescens 'Snowcap' that had been nurtured for many years, and kept part-shaded under glass: it burns easily in strong sunshine, particularly if dry at the root for even a short spell. This was just one of six plants belonging to various exhibitors that received a Certificate of Merit. They must have been close to gaining yet another with their Androsace studiosorum 'Doksa', grown fully in character so that the umbels of whitish flowers were carried in abundance on short scapes, held only a few centimetres above the gritty topdressing.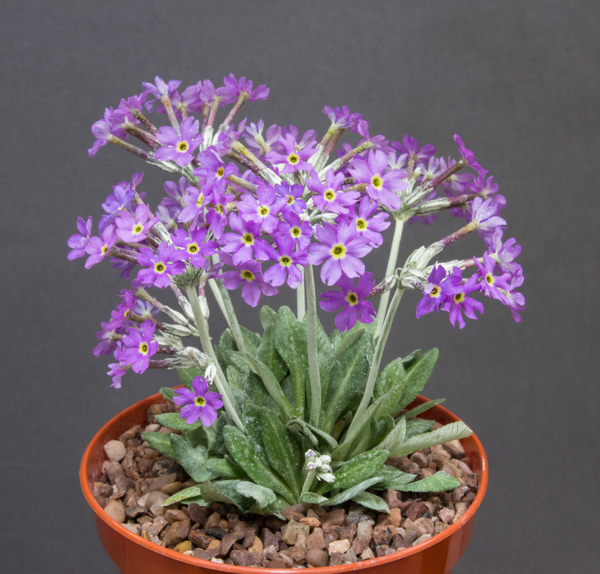 It was good to see the numbers of entries in the Intermediate and Novice Sections increase a little, though it would be good to see a few more. Getting up at the crack of dawn in order to observe the 8.30 a.m. staging curfew must seem daunting. The Susan Clements Trophy for the best plant in the Intermediate Section was won by Sonia Morris from Stourbridge with a lovely specimen of Primula halleri. Always modest about her plants, in truth she grows them very well in her semi-shaded alpine house. A moisture-retentive compost suits this larger relative of our native Birds'-eye Primrose (P. farinosa), distinguished by its long floral tubes, hence the synonym P. longiflora. Many members will know it from the Alps, where it often inhabits high meadows in the company of pulsatillas and trumpet gentians, but it also occurs much further east, in Albania and Bulgaria.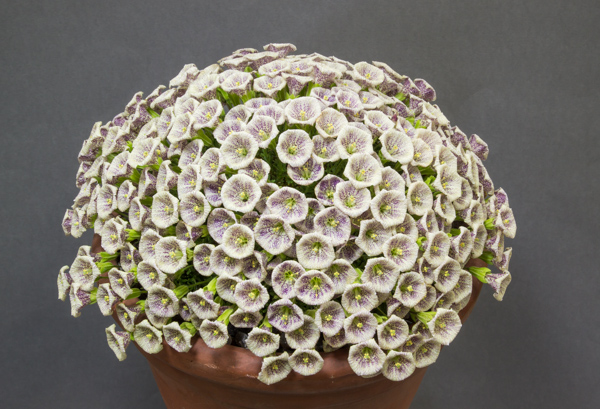 The Farrer Medal winner, Petunia patagonica F&W 9290, formed a very densely flowered, perfect low arc of intricately-veined, greyish-yellow flowers. This plant derived from seed gathered fifteen years ago in the dry steppe of Argentina's southerly Santa Cruz area. It was exhibited by John Kemp from Headcorn (Kent) who was unfortunately unable to attend the show: some good friends brought it for him instead. Speaking with him a few days later, he told that he grows it in a briskly-ventilated alpine house, where it occupies a sand plunge and is repotted in very gritty, sparse compost.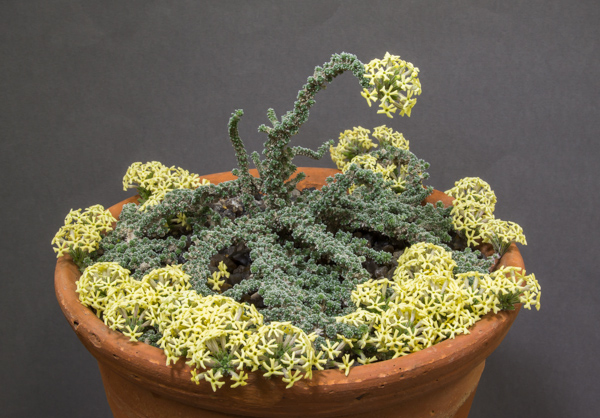 Next to it (and given the same treatment) his Junellia coralloides (which has settled down well in cultivation, and was described for the first time in The Alpine Gardener last June) received a Certificate of Merit. Well done, John!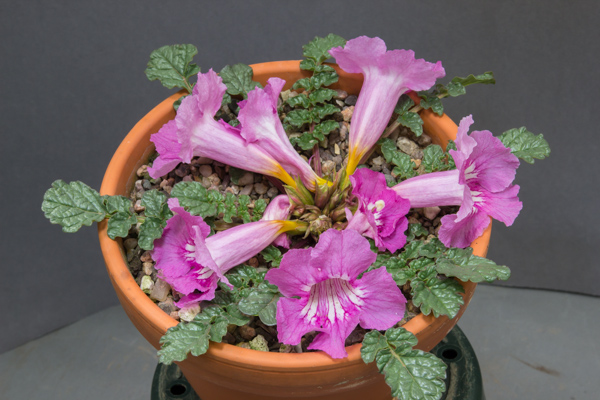 Another very interesting 19cm exhibit that won the Ashwood Trophy for Peter Farkash (Sandbach) was Incarvillea younghusbandii. He also was not at the show, so detective work was necessary. He says that the identity is under discussion but that this species is from the Himalayas and Tibet: Ludlow & Sherriff sent back seed at the end of the Second World War, having found it above Ganden monastery (Tibet) growing with gentians, primulas and Paraquilegia anemonoides. Purely by accident, he placed it in a favourable position in a cold frame and discovered its liking for moisture. It too was awarded a Certificate of Merit.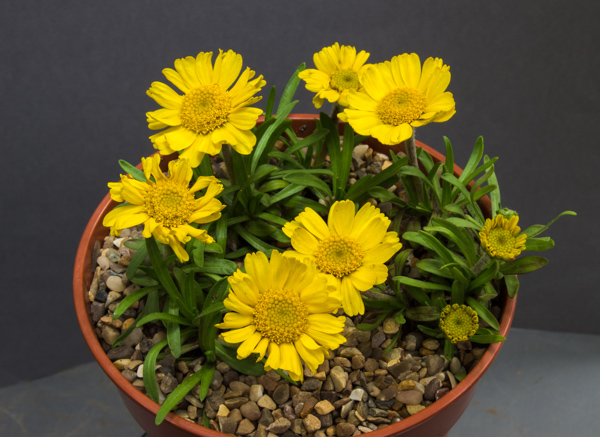 Tetraneuris scaposa has had several aliases, including Cephalophora scaposa and a bungled variety of Hymenoxys (now Tetraneuris) acaulis. Shown in the class for a plant native to the Americas, its distribution is from Kansas, Nebraska and Colorado south to Texas, New Mexico and Oklahoma. Sam and Mavis Lloyd (Redditch) rescued this from their rock garden, where it was languishing, replanting it in a better-drained, 'alpine' compost. The results spoke for themselves. This lovely, bright yellow member of the Asteraceae can exceptionally produce up to 50 short stems, the multi-rayed flowers with between 12-26 ray florets.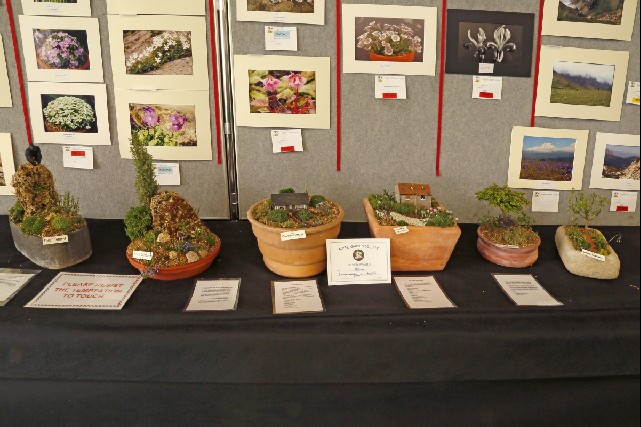 My report would need extending greatly to incorporate the many other good plants on the bench but I must mention the alpine garden trough display that Anne Vale exhibited. This received a Silver Award and included perfect miniature representations of King Kong with the blonde-haired victim on one 'peak', and a group of rock climbers on another. She tells me she purloined these from her husband's 'O' gauge model railway layout. [Photo: Doug Joyce]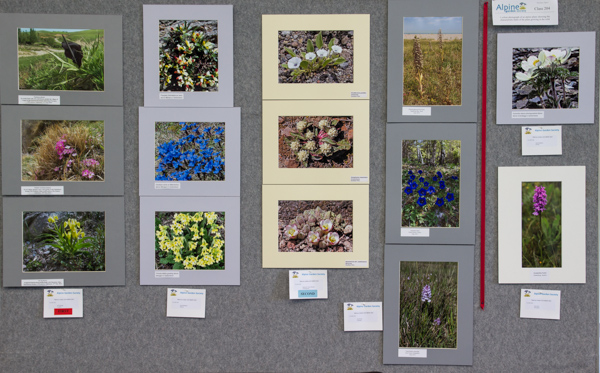 The above were surrounded on all sides by the Artistic Display which always seems a particularly good backdrop to the plant contingent, especially when some of the photographs portray the plants exhibited in their natural environments. Jon Evans was responsible for organising and putting up the boards; he also received a Large Gold Award for his own photographic display. A lot of work, much appreciated by the many visitors.
Author: Jo Walker
Photographer: Jon Evans