Malvern AGS Show, 2014
After a mild winter and spring it was somewhat difficult to predict what might appear at the show. As things turned out, many of the early spring plants were over and some of those from late spring had yet to flower, so entries were slightly down in number. This said, there were reasonable numbers of high quality, well-grown exhibits. At Malvern, the prevailing weather conditions are perhaps more important than at most other shows in that exhibitors and other attendees have a long day to fill and an extensive showground to explore in addition to the AGS Show. The meteorological forecast was not promising, but thankfully the predicted heavy rain didn't appear, though we did have occasional brief showers between the bouts of sunshine.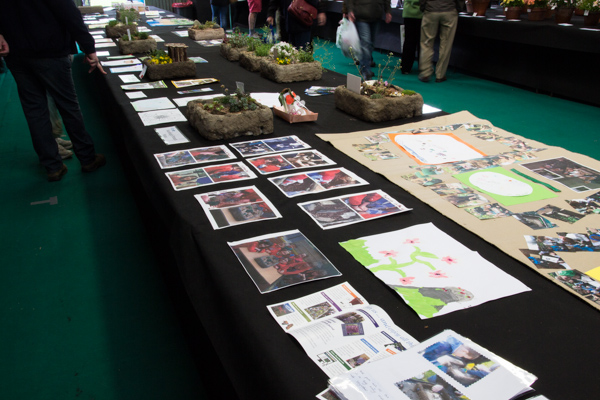 The new show secretary, Ross Barbour, must be congratulated on his innovative approach in visiting and encouraging local schools to participate in the show. Schools exhibited and competed in a trough-planting competition and also produced an array of attractive and well-researched posters. The enthusiasm of the participants was clear and it is very much to be hoped that this will become an annual event.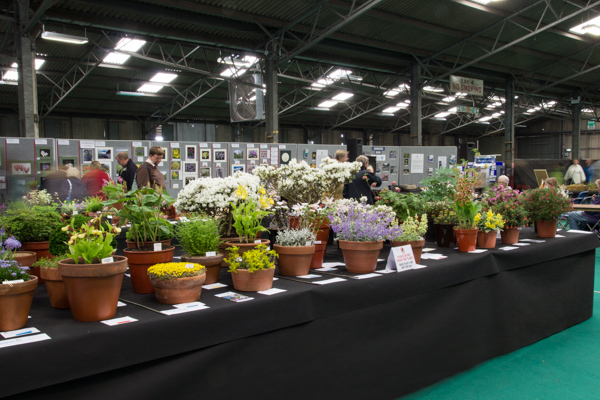 There was a good mix of plants on show, with several attractive and interesting species, adding to my ever-growing list of must-have plants – if only I had the space (or ability) to grow them. Alliums have always been a personal favourite, especially the dwarf, pompom-headed species, and several were exhibited in perfect condition.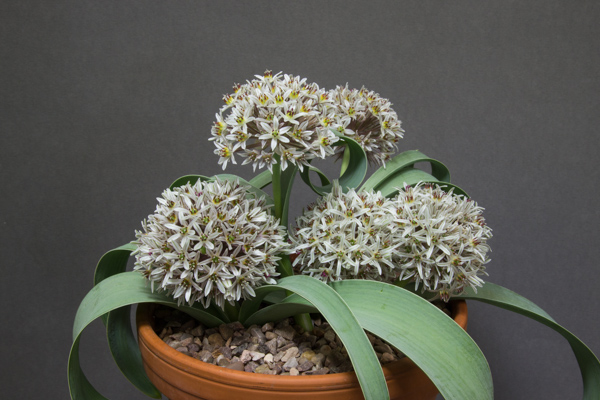 In the three-pan class for plants from one continent, Ivor Betteridge exhibited a well-balanced trio of alliums with flowers in muted pastel shades and with glaucous foliage – Allium shelkovnikovii, A. bodeanum and A. elburzense [right] – the latter receiving a Certificate of Merit, though its identity might need reconfiguring as A. egorovae. Another update: A. bodeanum is nowadays generally considered to be a synonym of A. cristophii. Ivor acquired bulbs of these north Iranian dryland species from Norman Stevens and has grown them in a mix of one part John Innes no. 2, one part peat and two parts grit. After flowering the pans are kept dry until around October, depending on weather conditions, when repotting is carried out and watering is resumed. These are all beautiful, rewarding species that should be grown more widely.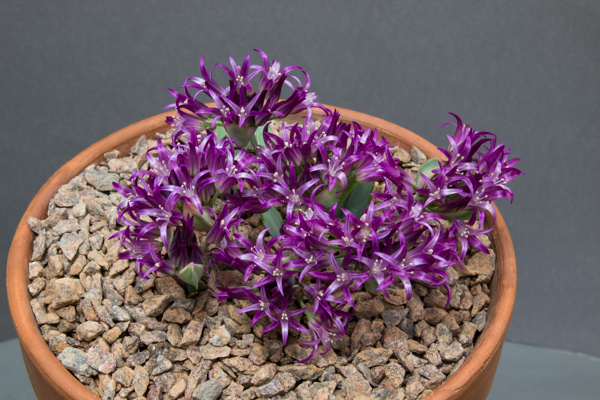 Another dwarf Allium in a more vibrant hue was shown by your reporter and his wife in an adjacent class for a single pan of a rock plant native to the Americas. We showed this plant under the name Allium platycaule, but later realized that it was the more compact, larger-flowered species, A. falcifolium. It is easy to allow plant labels to fade to the point where they become illegible, and this is obviously what had happened here. This is a NW American species growing on rocky, serpentine slopes, often in association with oak trees; its range is from San Francisco Bay to Oregon. We use a similar compost to Ivor's, but leave the pots outside as the foliage dies down in late spring, bringing them under cover in autumn, when normal watering is resumed.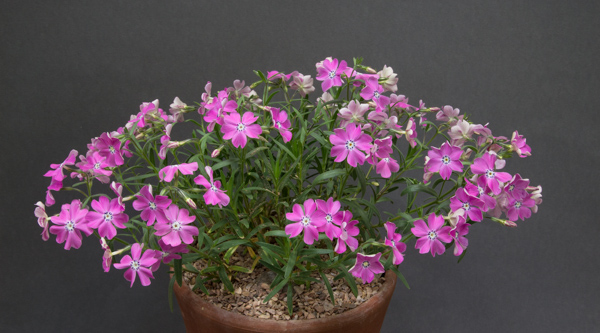 Graham Nicholls, who specialises in North American alpines (and, of course, campanulas), exhibited a well- and evenly-flowered plant of Phlox grayi, a rare plant in the wild, growing on dry slopes at altitudes of 1,600-3,000m in California, Utah, New Mexico and Arizona. The plant exhibited had been raised from Alplains seed and was grown in an open compost with about 50% grit. To obtain a floriferous, bushy specimen, the plant needs to be cut back almost to ground level after flowering, otherwise the growth becomes atypically lax. It also needs a deep pot or pan to flower successfully, but, if you achieve the knack of growing this species, you will be rewarded with a brilliant display every year.
Campanulas were thin on the ground, for the main Campanula season comes rather later in the summer. Anne Vale showed an interesting little, unidentified (just possibly undescribed) species somewhatsimilar in appearance if not in its distribution to C. alpestris, for it was from the Zigana Pass in the Pontic Mountains of north-eastern Turkey, and may have something to do with the C. tridentata alliance. Seed was sourced from the North American Rock Garden Society's seed distribution and the plant was growing in an open compost (50% grit); it spends the winter outside. The taxonomy of campanulas can be challenging, concepts varying from one treatment to another. Many of the smaller species are well suited to raised bed, trough or pan culture, and are well worth growing, even if, as in this case, the identity of the species is uncertain.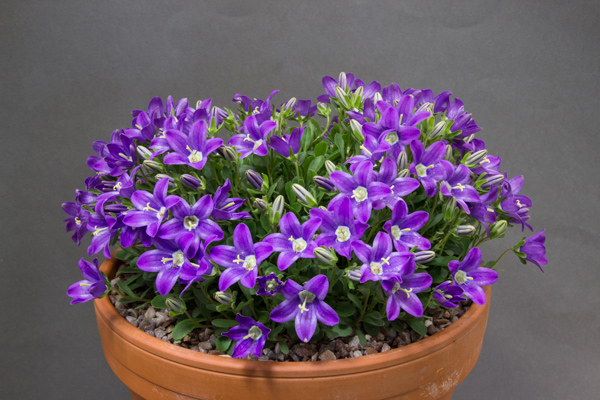 Another compact campanula, C. radchensis, shown by Eric Jarrett in the large Open Section, was not quite at its peak but had richly-coloured flowers attractively edged in pale blue, giving it a distinctive appearance. Eric's material of this beautiful species can be traced back over several generations of enthusiasts to Campanula monographer Clifford Crook. Occurring in the Caucasus, where it grows in screes and rock meadows, the species is close to, and often considered to be a synonym of Campanula saxifraga subsp. aucheri. Eric tends to use more open composts than many other growers – in this case 65% grit.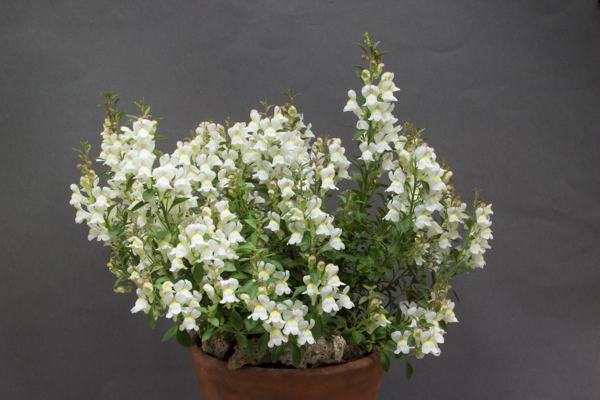 Elsewhere in the Open Section, Robert Rolfe exhibited two plants of the Rock Snapdragon, Antirrhinum sempervirens, an extremely floriferous, dwarf, woody-based shrub from the central Pyrenees and eastern central Spain, where it grows on rocky slopes. It thrives in a deep pot, producing a succession of scented flowers over a long period. Trimming back the plant after flowering maintains the growth habit and stimulates a repeat performance. It is also well worth growing this plant in raised beds and troughs, where it will flower for much of the summer, and is less susceptible to red spider mite infestation, its principal foe under glass.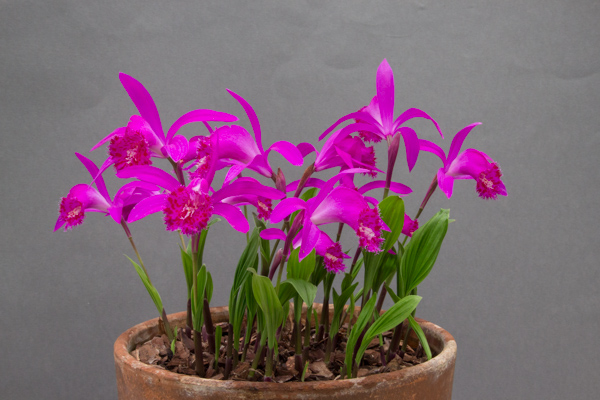 Pauline Carless was awarded the Susan Clements Memorial Trophy for the best plant in the Intermediate and Novice Sections, for Pleione Berapi gx.'Purple Sandpiper' (Ed. Visitors who walked as far as the RHS Floral Marquee were able to enjoy drifts of this and many other pleiones on Ian Butterfield's naturalistic stand, a highlight among the numerous nursery displays).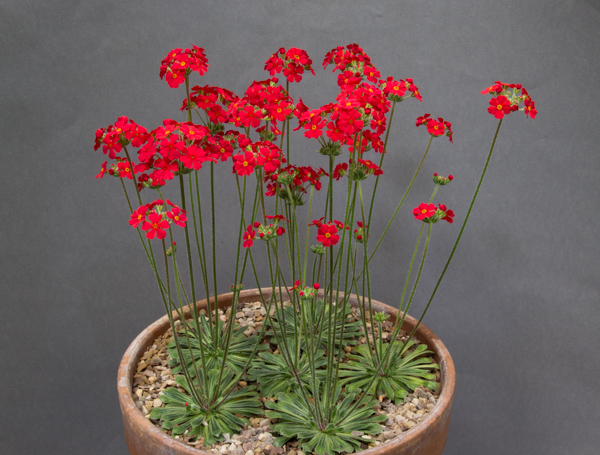 Certificates of Merit were also awarded to Alan & Janet Cook for a spectacular pan of pillar-box red Androsace bulleyana [left] and to Eric Jarrett for a well-flowered cushion of Androsace globifera.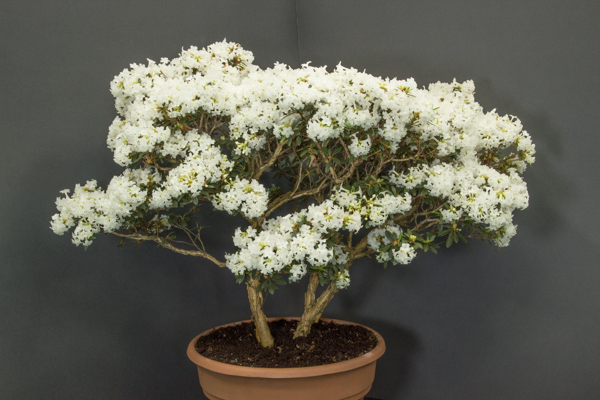 The Farrer Medal for best plant in the show went to a mature, well-flowered Rhododendron 'Sarled' (= sargentianum x trichostomum) exhibited by Ron & Hilary Price, kept outsde their front door in a free-standing pot. They won the same award ten years ago, at the Southport Show, but with a sister specimen that never recovered from the experience, perhaps as a consequence of its potbound state. Having learned a lesson, they soak its worthy successor on a daily basis when in full growth (the pot was troublingly light after its show bench turn but this was later remedied), and the rewards were self-evident.
Author: Martin Sheader
Photographers: Doug Joyce and Jon Evans