Malvern AGS Show, 2013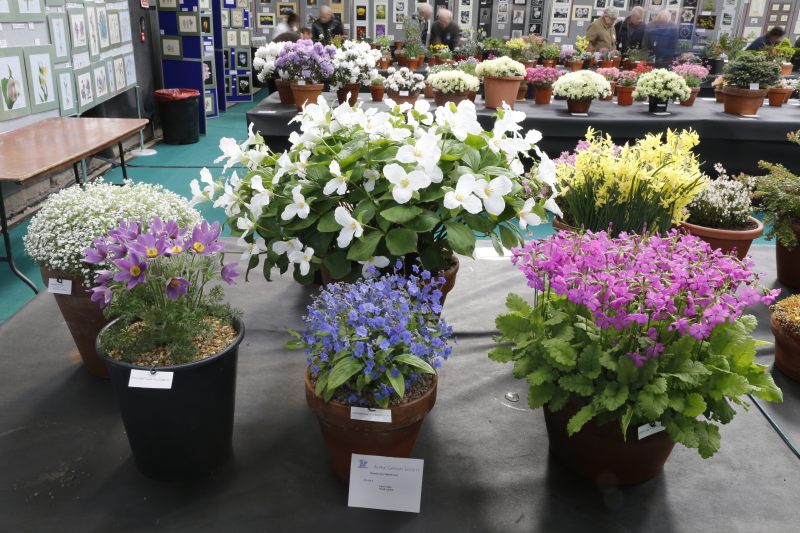 Gardeners are a predictable bunch; whenever and wherever we gather, someone is sure to comment: 'It's been a funny year'. Several did so at the Malvern Show, though with some justification, given that the very wet summer of 2012 had been followed by a very long, cold winter that, even by the day of the show, had not relented. Although the day was bright and sunny, it was also very cold. And, this being Malvern, the afternoon produced a thunderstorm, upholding something of a tradition for this event. The prevailing cold might have made some of the earlier shows a little short on entries, but their mid-season successors have benefitted greatly. On entering the display shed, visitors were treated to what must surely rank as one of the best ever Malvern Shows.
This show now forms part of the four-day AGS display with an Artistic Section and an area filled with planted troughs and containers remaining on display throughout. They formed an impressive backdrop to the main event: the competitive flower show. This is restricted to the Saturday, since it is a very tall order to persuade exhibitors to make two round trips (one to stage the plants, another to retrieve them four days later), man the show hall, and generally keep the plants in their prime. None of this mattered on the day as the Artistic work and planted containers formed a very impressive backdrop for the main event.
On arrival I found the hall buzzing with exhibitors placing their entries, and gratefully accepting the cups of hot tea and coffee provided, probably as much for warmth as for refreshment. To fit in with the overall Malvern RHS Show opening hours, judging starts earlier than at most AGS Shows, and has to be completed 9 a.m. Jim McGregor, drawing on his years of experience as Director of Shows, took on the role of Judging Coordinator, ensuring that there was no slacking!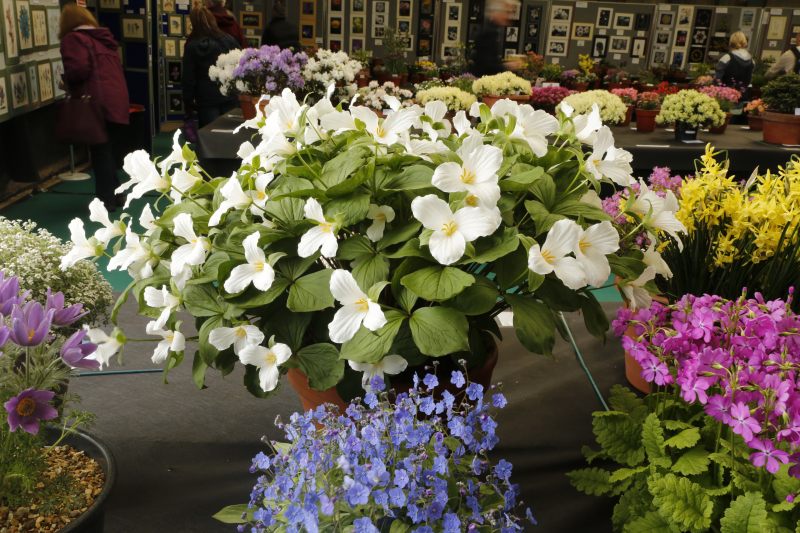 Chris Lilley's Trillium grandiflorum was voted Best in Show but, as with Fritillaria davidii a month earlier, since this had already been awarded a Farrer Medal at the preceding show, it was ineligible to receive another. Chris commented that this may be the last time he will exhibit this very successful plant, for the clump has now increased to the extent that it is nudging the 36cm maximum pot size limit.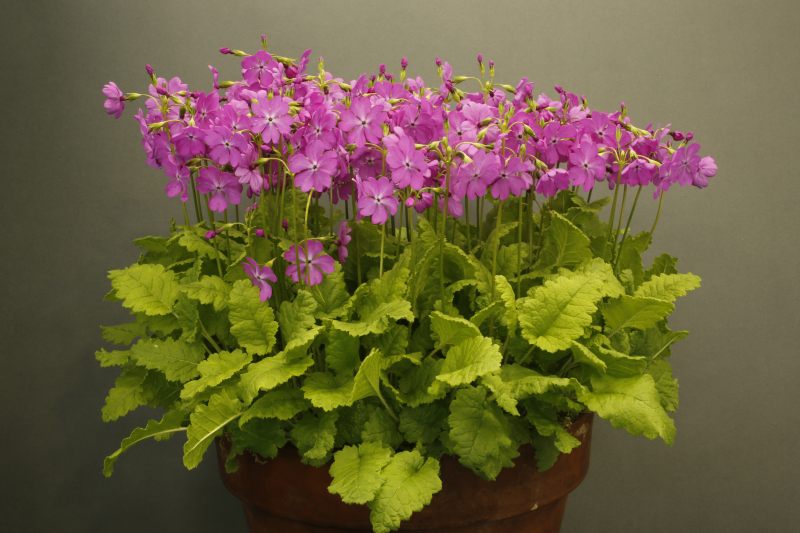 The outstanding component of his large six-pan entry [top], it was very ably supported by, among others, a very floriferous Primula sieboldii, praised by several judges as the finest example of the species they had seen. A Certificate of Merit was bestowed, demonstrating once again that even a relatively easy plant, grow to such a standard, can prove a show-stopper.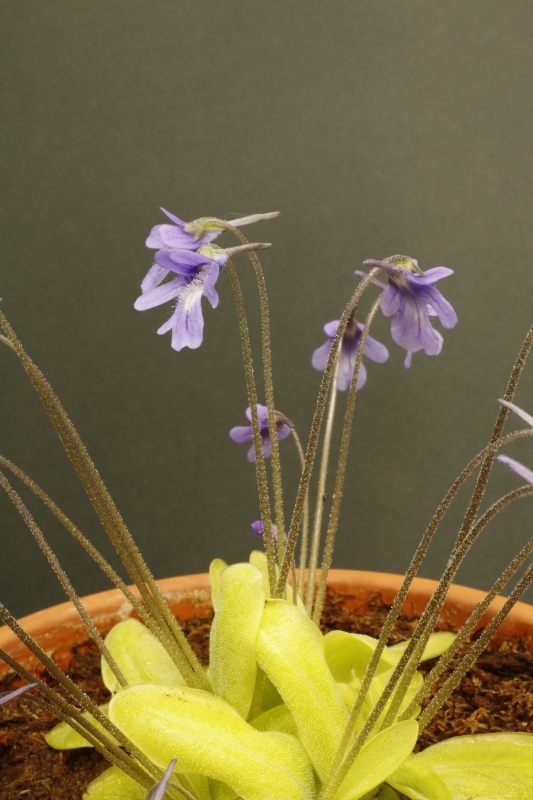 Another Certificate of Merit went to Don Peace's charming Pinguicula macroceras subsp. nortensis, which has a limited distribution along the westernmost sector of the California-Oregon border and was described as a new taxon in 1997. Seed was obtained from the AGS Seed Exchange in 2009, and the seedlings had been grown on in a mixture of Cambark, perlite and 'Swedish' peat. The pot stands in a saucer of rainwater and is only watered with the same, rather than water from the tap. Although doubts were raised on the subject of hardiness hardiness, these might reflect a confusion in some minds between this and the numerous species from Central and South America, a number of which are undoubtedly tender. This North American representative comes from an area where winter temperatures down to around −20C are experienced, so hardiness should not be an issue.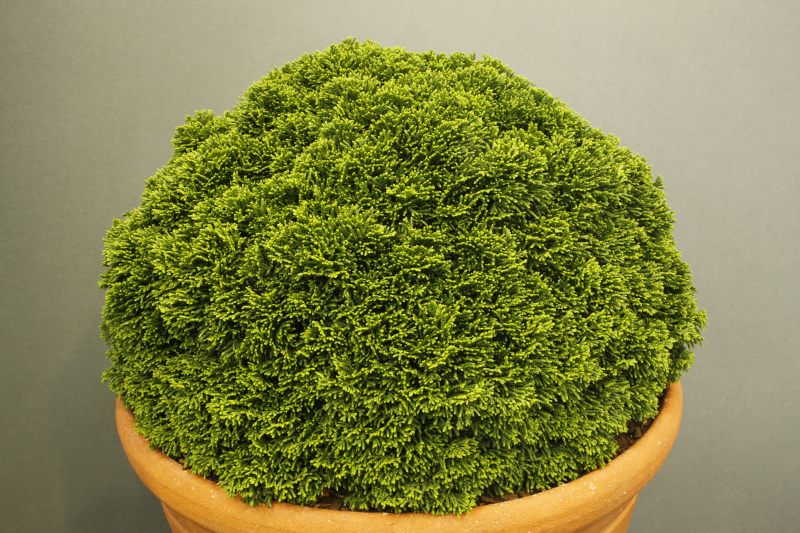 We rarely see dwarf conifers selected for awards, but Lee & Julie Martin's Chamaecyparis obtusa 'Bambi' was a distinguished exception. Believed to be at least 15 years old, it was presented in immaculate condition with good, very uniform new growth, and no sign of the dead older branchlets and foliage in the main body of the plant that can so often spoil an otherwise good exhibit. Although this did not win its class (that award going to an even older Juniperus horizontalis 'Neumann)', it was another Certificate of Merit recipient.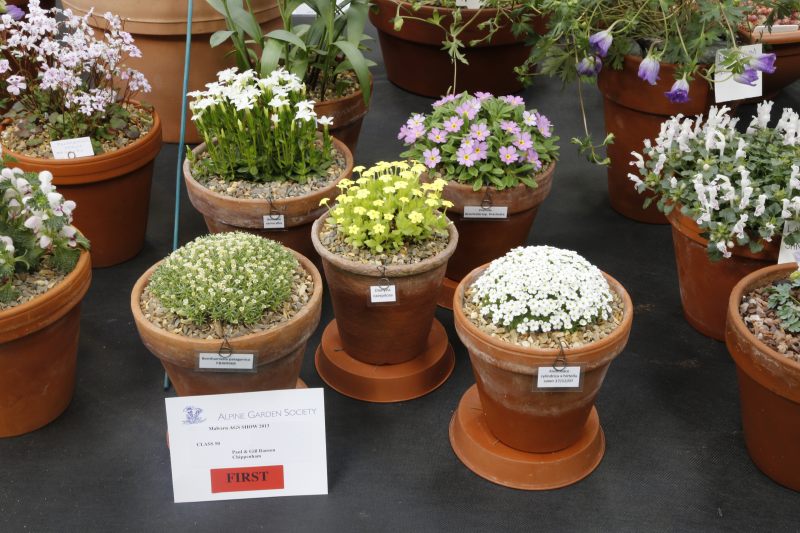 As is often the case, the Open Section small six-pan class was keenly contested, with all the exhibits in excellent condition. The judges finally placed Paul and Gill Ranson's exhibit of Gentiana verna 'Alba', Benthiamella patagonica, Androsace cylindrica x hirtella, Primula bracteata, Dionysia caespitosa and Fritillaria pontica first, reasoning that their range of plants was slightly more challenging to grow than those of rival entries.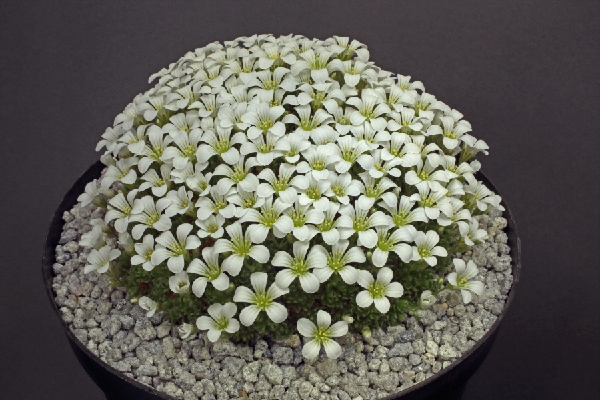 This being a show organised jointly by the Three Counties and the RHS means that exhibitors are bound to remain until the end of the day. Only at 6 p.m. can plants start to be cleared, and for some this who are set to travel long distances this is problematic. For your reporter, on the other hand, it was an advantage, affording more time to look round at the exhibits. Catching my eye as I walked round was an appealing 'mossy' saxifrage exhibited by Mark Childerhouse.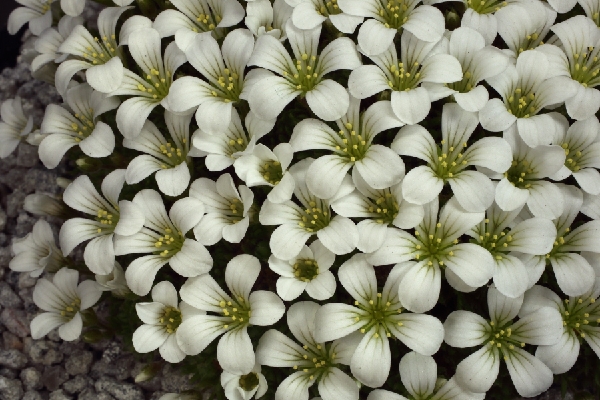 His Saxifraga pedemontana subsp. cervicornis was very reminiscent of a version distributed by Robert Rolfe from the mid 1980s onwards, for it was very compact and bore its comparatively large, white flowers on the shortest of stems. But that material is from the Caucasus, whereas subsp. cervicornis is restricted to Corsica and Sardinia. While growable outdoors, it prefers the shelter of a part-shaded alpine house, where it grows well in a compost of 50% leaf-mould and 50% grit, with annual repotting in its early years at least.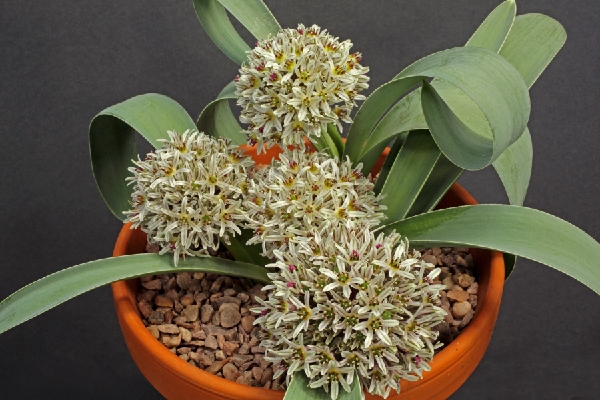 In the class for one pan native to Asia, what Ivor Betteridge showed as Allium elburzense performed very well; a slightly smaller form was victorious in the nearby class for a bulbous plant. Grown from three bulbs purchased from Norman Stevens in 2005 and repotted annually, the two exhibits showed perfectly what can be achieved with care and attention. (Ed. The name of a fellow Iranian species, A. egorovae, has been suggested for this stock, which has globular, compound heads of creamy-greenish flowers, whereas those of A. elburzense are violet-coloured.)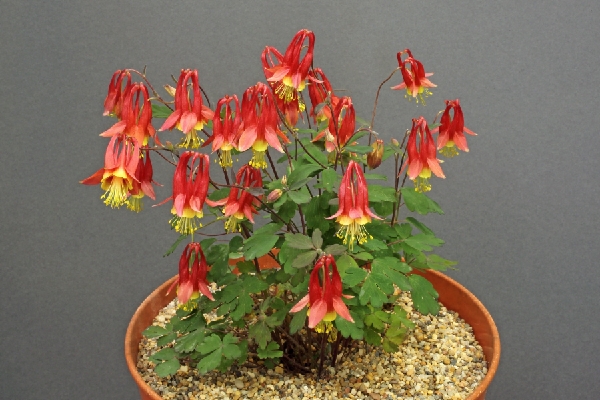 As already noted, it is certainly not only rare or difficult plants that win first prizes. I was particularly impressed by Jackie Street's exhibit of Aquilegia canadensis 'Nana'. This is a plant that is readily available from nurserymen and one that I have grown in the garden for many years. However, I have never coaxed the number of flowers, all in their prime, that deservedly gained her victory in its class.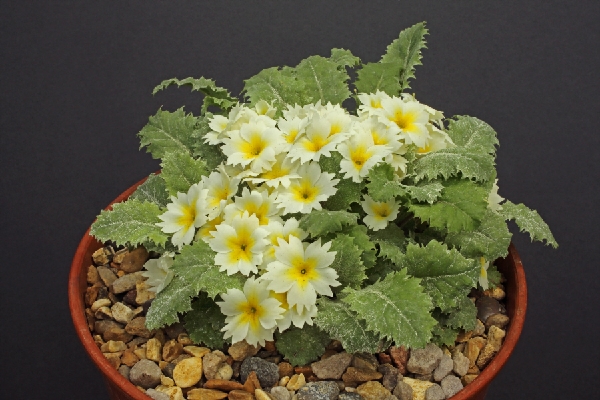 We were delighted this year to welcome several friends and skilled exhibitors from Northern Ireland. It was instructive to discuss with them the different plants that they can grow. Many of these we would find difficult to keep happy. All three brought plants; all three secured at least one first prize. But it was Liam Byrne's excellent example of Primula aureata that impressed me most. Not long ago, pin and thrum stocks were readily available from at least one mainland nursery, but these have been much reduced by the winter of 2010-11 in particular.
Another exhibit that deserves special mention is Lionel Clarkson's Androsace villosa var. taurica. Often one is presented with rather lax, unexciting plants with this label, whereas this example had formed a tight mound with multi-headed flowers on 1cm stems. Confirmation yet again that when growing from seed, rigorous selection pays dividends.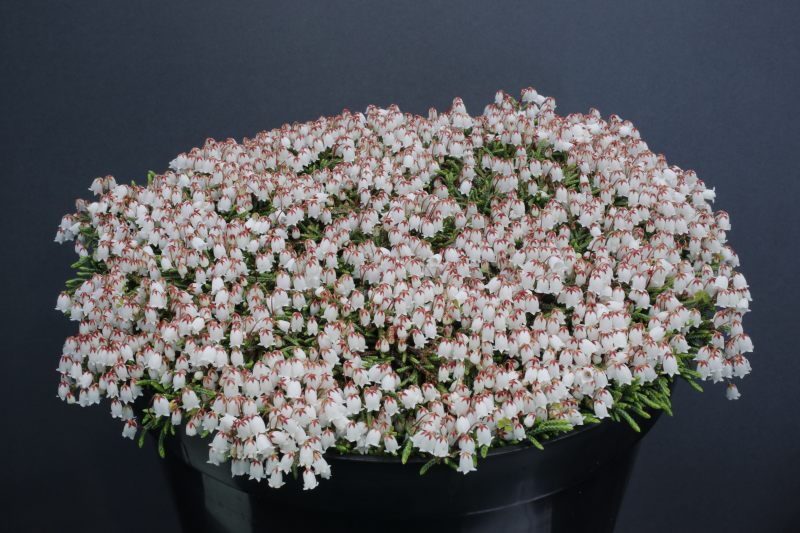 There were fewer Ericaceae that have been seen in some other years but a very well-furnished Cassiope lycopodioides 'Beatrice Lilley' still cut the mustard for Dave Mountfort, winning its class and receiving the Bill Tubbs Trophy for the best pan of Ericaceae. (Like Sid Lilley, who first brought this plant to attention, Bill Tubbs lived in the Birmingham area, and during the 1960s and 1970s especially was deeply involved in the organisation of the Society's shows.)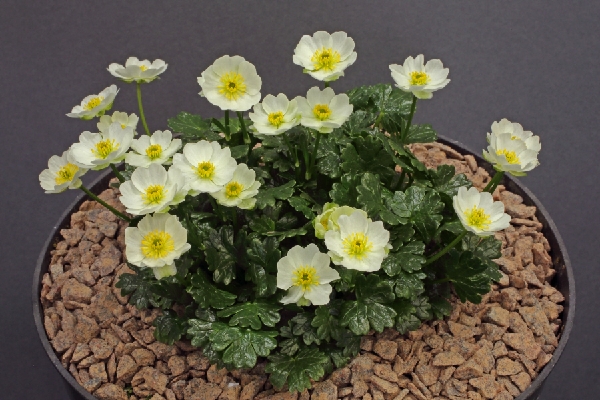 The final plant in this report is a personal all-time favourites. Although Ranunculus alpestris appears occasionally on the show bench, I have never seen one as good as the won brought from his North Wales garden by Ian Leslie. Often rather drawn and sparsely flowered when it does appear, this examplar was relatively compact − helped no doubt by the cool weather – and displayed 23 pristine white flowers against the healthiest of bright green foliage. But it was up against Don Peace's very well established Anemonella thalictroides 'Oscar Schoaf' in the Ranunculaceae class, and had to make do with a second place.
I must also extend thanks to show secretary Richard Clements and his team of helpers, who additionally set up all the artistic exhibits and the display of troughs. This was done before the main show opened, then repeated in reverse on Saturday evening at close of play.
Author: Eric Jarrett
Photographer: Doug Joyce