Malvern AGS Show, 2012
The AGS Malvern Show is held on the Saturday of the four-day Malvern Spring Gardening Show. This event in Worcestershire, organised by the Three Counties Agricultural Society in conjunction with the RHS, has the largest potential audience of all our shows, with in excess of 20,000 people attending on the Saturday alone.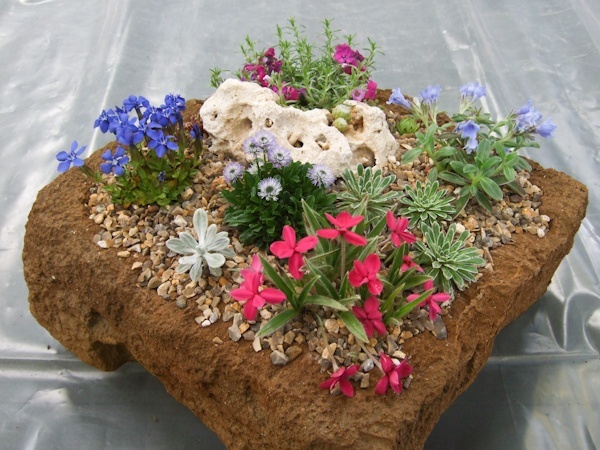 In previous years, because the AGS show is staged on just one day, we have been allocated a position in a far-flung corner of one of the large exhibition sheds. This year, AGS Director Christine McGregor negotiated a more prominent position, with the condition that the Society also filled the space on the other three days. It was decided that planted troughs and containers should occupy the benches on the Thursday, Friday and Sunday, and prize money was offered to encourage members to contribute. As a result, about 50 exhibits ranging from troughs to miniature gardens attracted the attention of visitors.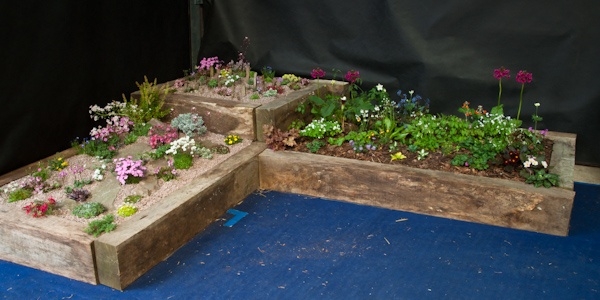 A raised bed was constructed and planted by Jo and Brian Walker and members of the Warwickshire and Birmingham Local Groups, while Simon Bond from Thuya Alpine Nursery contributed two large tubs, one planted with dwarf conifers, the other with a mixture of alpines. Jo also gave demonstrations showing how to make hypertufa troughs.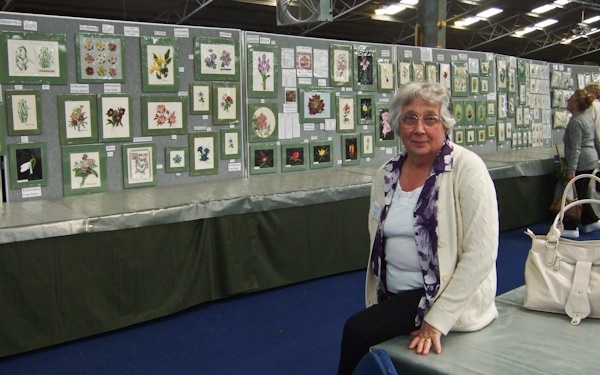 Another element in our four-day exhibit was a display of 170 pieces of needlework by Jean Morris. She started embroidering alpines and related plants 12 years ago after giving up work as a hairdresser. On the day of the AGS show, she was awarded a Large Gold Award for this outstanding portfolio of work and a Certificate of Merit for her exquisitely crafted image of Sempervivum calcareum 'Guillaumes'. There was also an extensive photographic display by Jon Evans.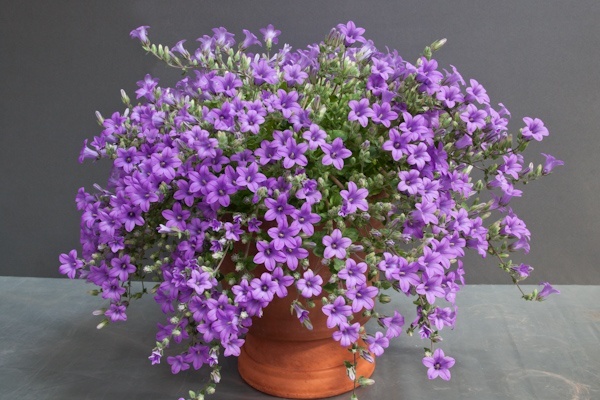 There was no doubt about the most eye-catching plant in the show - Campanula aff. andrewsii shown by Lee and Julie Martin. This burgeoning specimen had been grown from seed gathered by Melvyn Jope in southern Greece (MELJ200994). The seed was sown in spring 2010 and the seedlings repotted every four months or so to ensure the plants did not become pot-bound. Lee reckoned that the plant on the bench, with hundreds of buds still to open, had a few days to go before giving its best display. It was awarded a Certificate of Merit, but what Lee and Julie didn't know at this stage was that this plant's finest hour had yet to come (see the Summer Show South report).
There was plenty of colour from other plants to draw in admiring visitors, particularly from lewisias, cypripediums, pleiones and rhododendrons, though there were fewer of the latter than is usual at this show. The colours were punctuated by splashes of white from pans of Saxifraga pubescens, one of which was awarded the Farrer Medal.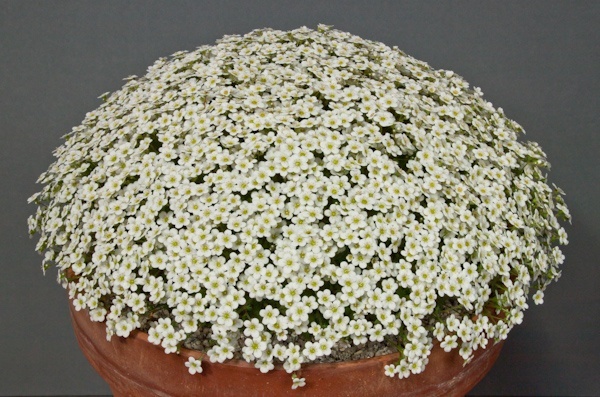 Mark Childerhouse grew his S. pubescens 'Snowcap' from a cutting taken 13 years ago. The cushion had a noticeably low profile which he attributed to good ventilation in the alpine house, enhanced by an electric fan most of the time. The plant, grown in a 50-50 mix of John Innes No. 2 and grit with a little added leaf-mould, had benefitted from the cold spell in mid spring, the flowers lasting well, with no deadheading required before the show, and many buds still to open. The plant is given a sequestered iron feed before it comes into bud. This was Mark's third Farrer, his first two having been won with the March-flowering kabschia S. 'Mary Golds'.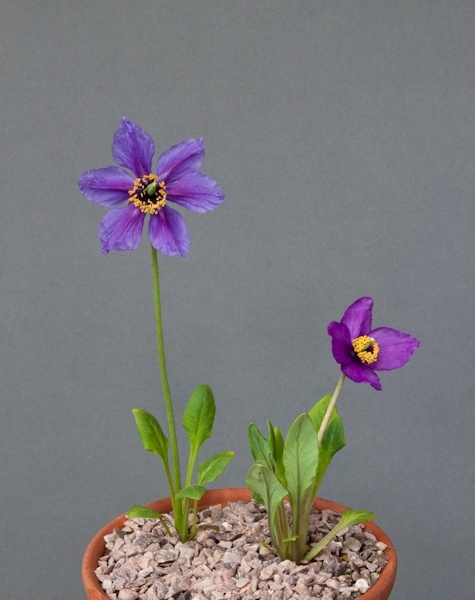 In the class for three rock plants requiring similar cultural conditions, John Richards showed three monocarpic Meconopsis species: M. delavayi in flower and M. punicea and M. rudis in bud. Ensuring that they set seed is vital to keep them in cultivation. John achieves his best results through cross- pollination, growing several plants and transferring pollen from one to the stigma of another. Harvested seed is stored in glassine packets in a fridge (some is usually sent to the Meconopsis Group and the AGS seed exchanges). Sown in early January, it is covered with grit and placed outside. As soon as germination occurs, in March, the pots are brought into an alpine house until the seedlings have two true leaves and are ready for pricking out, usually in late April. The seedlings are then placed outside and given a liquid feed every two weeks. By late June they are generally ready for their final positions, either in a pot for exhibition or in a raised, semi-shaded site. A lime-free, humus-rich compost is recommended. Plants in the open are covered with a cloche during winter, whereas potted plants are grown in a semi-shaded plunge and covered with frame lights from November until March. Flowering occurs the following May.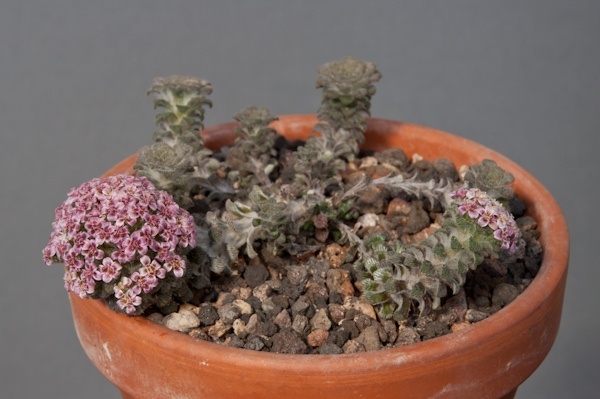 Martin and Anna Sheader, who have a particular interest in Andean plants, had some interesting specimens on show. Nassauvia darwinii, a member of the Asteraceae, forms a slow-growing mat or cushion and (in this example) was white-flowered. It is native to southern Chile and Argentina, where it inhabits mountain steppe at up to 1,700m, although in Tierra del Fuego it descends to around sea level. An open, gritty compost is necessary for both this and N. lagascae, which was at one time seen with some regularity on the show bench but is presently seldom exhibited.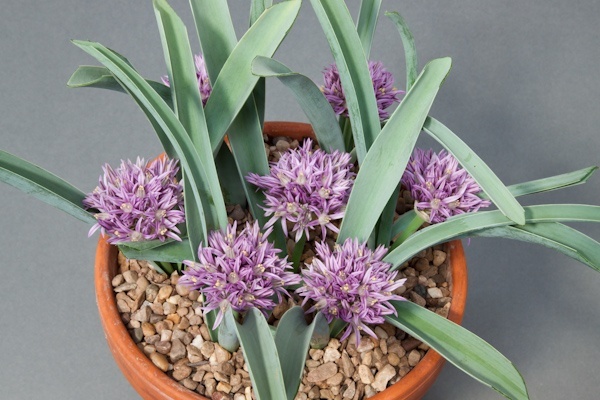 Ivor Betteridge won the Ashwood Trophy for the best plant in a 19cm pot with the Iranian Allium shelkovnikovii. Three bulbs bought in 2005 had doubled up to six within two years, and they have continued to multiply since. Grown in a mix of one part John Innes No. 2, one part peat and one and a half parts grit, they are repotted every year and reside in a cold frame, where all survived the hard winter of 2010-11. The bulbs are fed before rather than after flowering because, like many alliums, the leaves start to go over before or soon after flowering takes place. The lilac-blue colour of the flowers shows variation in cultivation. Ivor's alliums formed part of a three-pan exhibit that also included Phlox grayi and Saxifraga pubescens 'Snowcap'.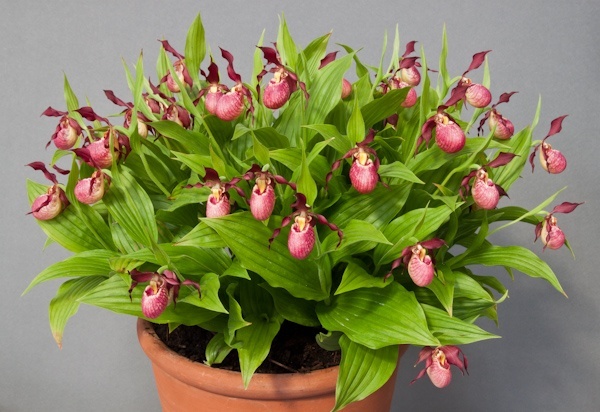 Robin Pickering yet again displayed his prowess with cypripediums, winning a Certificate of Merit for C. Gisela gx. Robin inherited the plant ten years ago from his mother, who had tended it for 17 years. During that time the plant has been well rewarded, with Farrer Medals in 2007 and 2011 and now its seventh Certificate of Merit. Robin's mother grew the plant in a mix of two parts John Innes No. 2, one part leaf-mould and one part grit, but Robin now uses two parts John Innes No. 2, one part composted bark, one part perlite and two parts grit, and repots every second year.
The plant is kept under staging in an alpine house from October to February, then moved into a shaded part of the house. If conditions get too hot it goes back under the staging. A Chempak high-potash feed is administered two or three times before and after flowering. Last year he detached 16 crowns from the plant in a first time attempt to propagate further stock. It still managed to produce 43 flowers this year (compared with 48 in 2011). Of the 16 divisions, all but three flowered this year.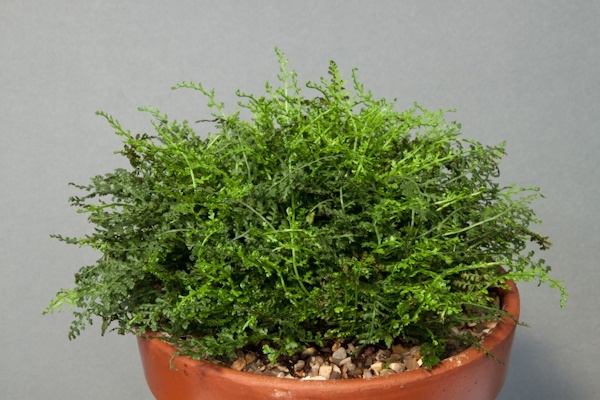 Another Certificate of Merit was awarded to Sam and Mavis Lloyd for Asplenium fontanum, an evergreen European fern. Their plant is about 15 years old and picked up its first AGS red sticker at the Summer Show South in 2000. In the interim it once died back completely but was successfully revived. Sam and Mavis freely admit that the plant is pot-bound – it has been in its current situation for seven years in a mix of one-third John Innes ericaceous plus two-thirds oak leaf-mould and is given an occasional high-nitrogen liquid feed (Chempak No. 2). In warm weather it is kept outdoors, benefiting from semi-dappled shade and regularly misting. Sam is reluctant to divide the clump, preferring to propagate from spores.
Author: John Fitzpatrick
Photographer: Jon Evans