Malvern AGS Show, 2010
Climate change? You can keep it! Anyone who staged exhibits at Malvern on a freezing wet Saturday morning at around 7am needed their heads read, and I was one of them. With judging starting at speed was of the essence and the only way to keep warm, in fact a visit to the toilets to use the hand dryer seemed a good option at times.
As usual the show was a riot of colour although due to the bad winter and late spring some classes, e.g Campanulaceae, were a bit light. Bulbous plants were much in evidence and I am sure there were more orchids than usual exhibited.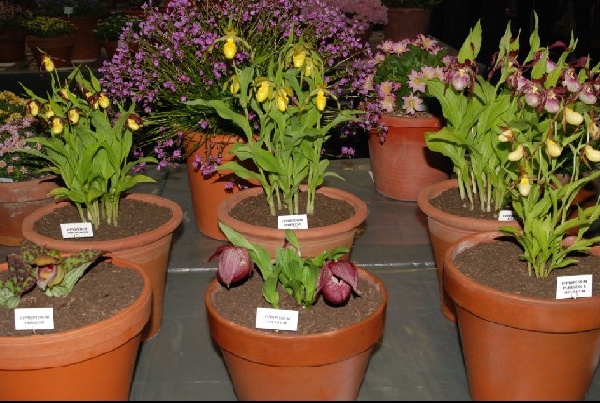 Colin & Elaine Barr from High Wycombe staged a magnificent set of six cypripedium in class 1 and deservedly won an AGS medal. Cypripedium tibeticum and C. fargesii especially brought comments from the public.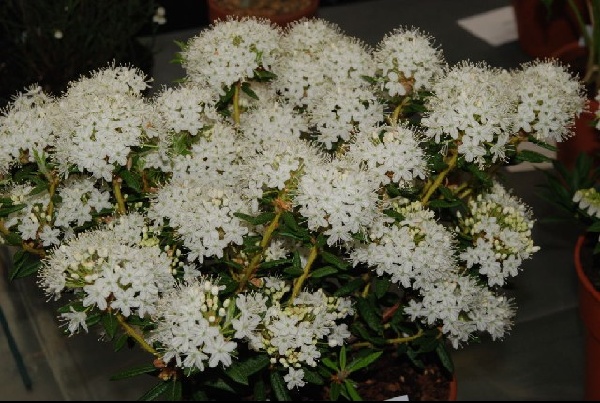 The Ashwood Trophy for best plants in a 19cm pot went to Lee & Julie Martin with a lovely Ledum groenlandicum 'Helma' that was covered with large white balls of flowers.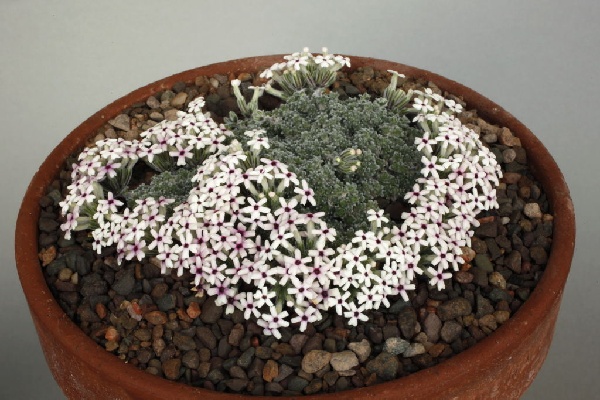 Another well know pair of exhibitors Martin & Anna Sheader received a Certificate of Merit for Junella patagonica that hails from the windy steppes of southern Patagonia. It survives very cold winters down there so it was quite at home in Malvern on Saturday. This nine year old plant formed a tight cushion featuring tiny pale pink flowers with carmine centres around the edge of the plant as in the wild.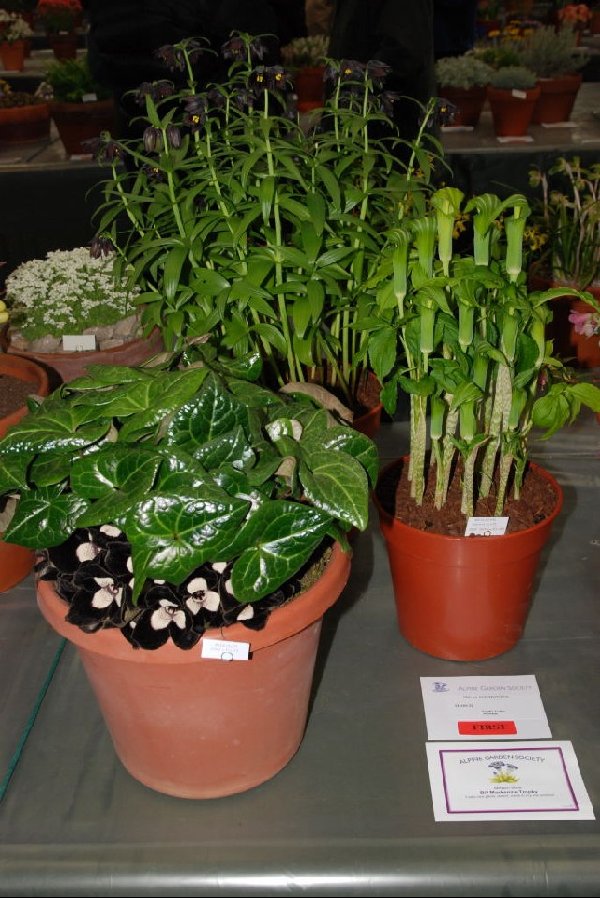 Cecilia Coller all the way from Norwich can always be relied on to produce something unusual winning the Bill MacKenzie Trophy with her three plants from Asia. Arisaema japonicum, Asarum maximum & the late flowering Fritillaria camschatcensis with almost black flowers. Another plant belonging to Cecilia took my eye, Podophyllum delavayi with beautiful textured brown/orange leaves. This outstanding exhibitor was a worthy winner of the Walker Trophy for the most first prize points in the open section.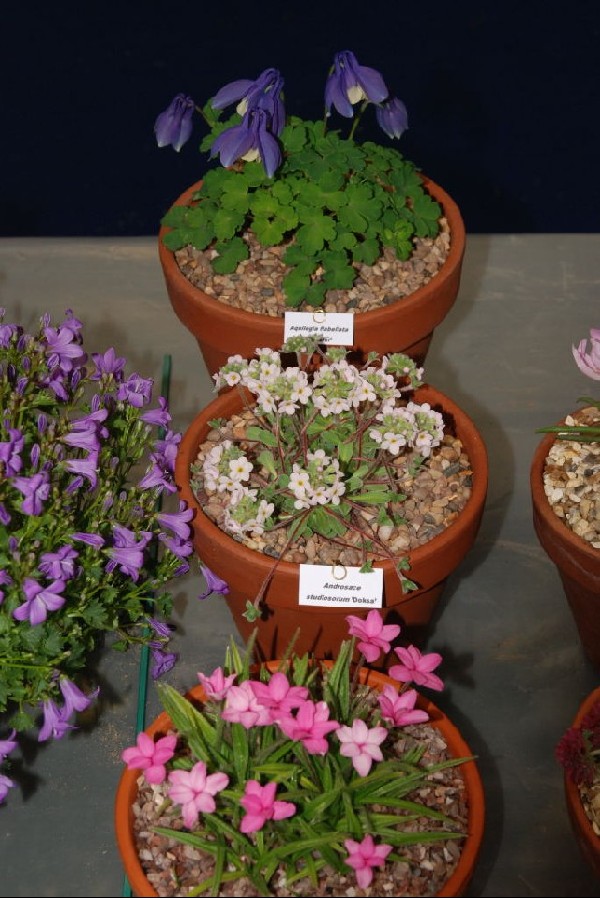 It's always interesting to see what up and coming exhibitors we have in the Novice section and the selection of plants they grow. John Fitzpatrick of Hereford received the Hartside trophy for the most first prize points in this section and his 3 rock plants in flower exhibit of Aquilegia flabellata 'Ministar' Androsace studiosorum 'Doksa' and Rhodohypoxis baurii showed lots of promise.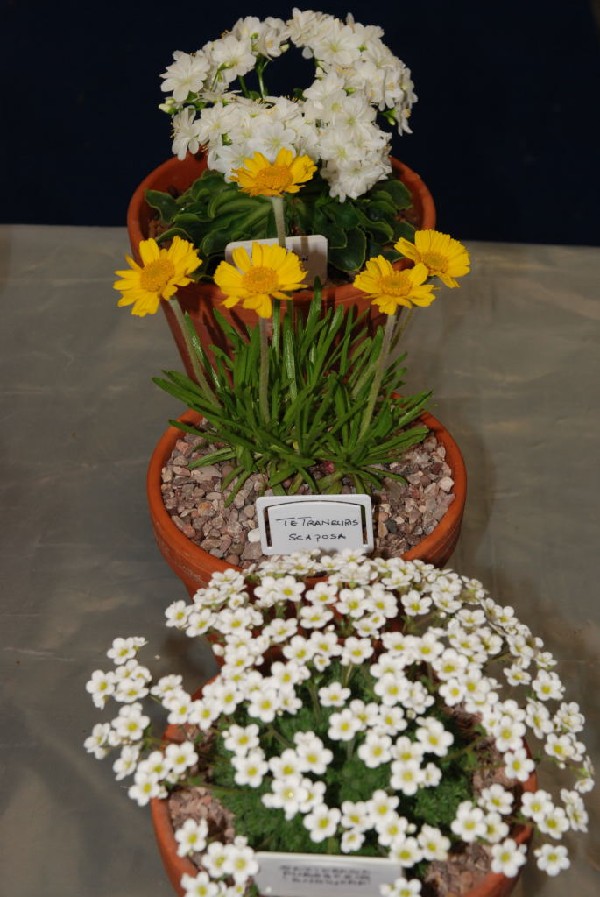 In B section Margaret Pickering from Goole certainly deserved the Lingen Trophy for the most first prize points in this section (Image shows Margarets 3 pan enytry). I have seen many of her excellent exhibits at other shows and she didn't disappoint here. Her Erigeron 'Canary Bird', a plant that I have killed on many occasions, was a mass of yellow flowers grown to perfection. Her Lewisia 'Carousel Hybrid' was multicoloured as many of them are but I was surprised to see it growing as a tight dome something I have never seen on my plants in the garden. Silene hookeri is very late with me this year but Margaret showed a nice Silene hookeri v. ingramii with deep pink flowers.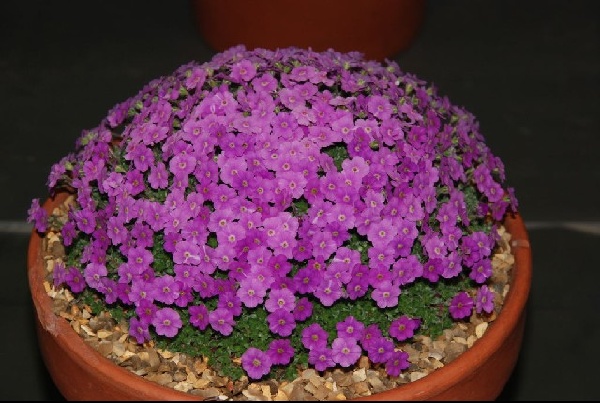 The Farrer plant was shown by Eric Jarrett of Stroud who continues to produce prize winning exhibits year after year. The natural hybrid Androsace xmarpensis is fairly well known and was found by George Smith who collected material in July 1988 on a south-facing shoulder of the Kali Gandaki Gorge in central Nepal. At the time of the hybrid description in the SRGC Journal of January 1995 the parents were named as A. globifera and A. muscoidea f. Longiscapa but there is still some argument over this. Although the exhibited plant was covered with flowers this doesn't happen very often as Eric said and anyone who expects a dome of flowers with no sign of green leaves will mostly be disappointed. However we can all dream can't we?
Graham Nicholls