Loughborough Autumn AGS Show, 2008
The Loughborough shows have a well deserved reputation for providing plenty of things to see and do. It was disappointing that this year the date coincided with the Scottish weekend conference as this invariably meant that some of the well known exhibitors, that usually visit the show, were absent. Although entries were down on last year there was still plenty of interest and debate.
Saxifraga fortunei Black Ruby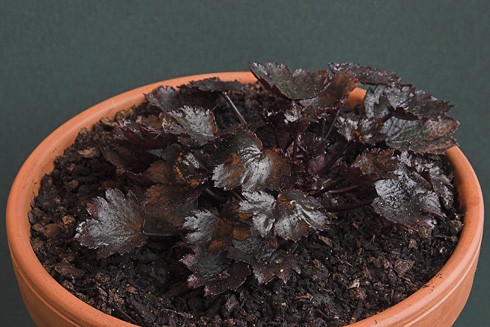 A plant that often appears at autumn shows but I cannot remember seeing it in such a dramatic setting. Forming one of the plants in Robert Amos's 3 pan exhibit, in class 85, it was made striking by using a top dressing that very closely matched the colour of the leaves of the plant. Black (very dark green actually) leaves made obvious by their sheen against a black dressing gave a challenge to the photographers. A definite plant for your gothic garden for sure.
Narcissus cavanillesii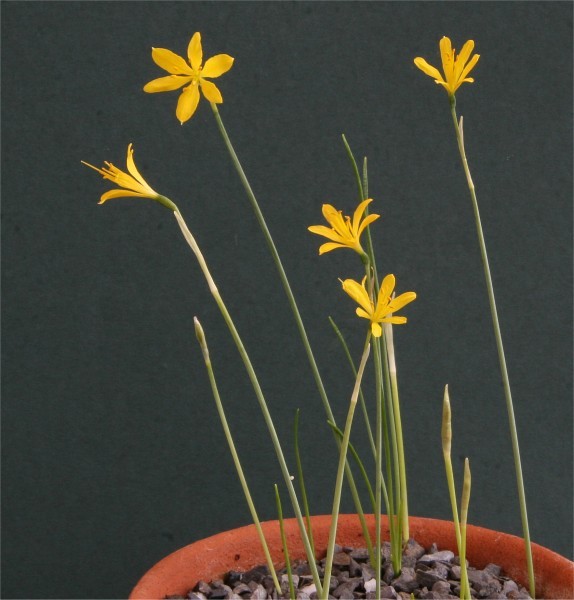 Originally exhibited by Stern in 1963 as Tapeinanthus humilis where it was awarded a PC. It is now considered to be a very primitive form of Narcissus without a corona but with petals joined at the base into a short tube. It is native to Southern Spain and North Africa and has been collected by various people including Salmon and Blanchard. Not reputed to be very demanding in cultivation requiring only "normal" Mediterranean bulb treatment. Exhibited by Dr. and Mrs. R. B. Wallis as part of their 3 pan entry in class 50.
Strumaria watermeyeri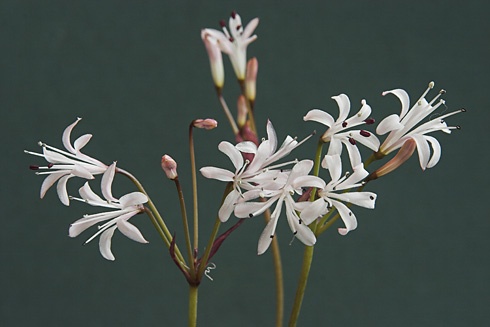 In the same class as the above this small South African bulb was of great interest. A genus of 23 species of which about half are in cultivation. They are closely related to Hessea and more distantly to Nerine and offer great promise as small Autumn flowering plants for pots as there is some doubt as to their hardiness. Exhibited by Jon Evans.
Digitalis dubia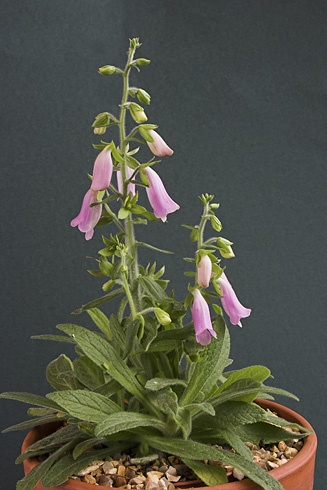 This small foxglove has been exhibited before at one of the summer shows and its long flowering season was put to good use in Cecilia Coller's 3 pan distinct (Class 39). Originating in the Balearic Islands it can be grown in a very well drained site in full sun. It also makes a very attractive pot plant grown in JI No.1 and plenty of grit. The form displayed had remained compact although it can reach 30cms in some conditions. The pendant pale rose flowers were further enhanced by the dark spotting within.
Lupinus albifrons var collinus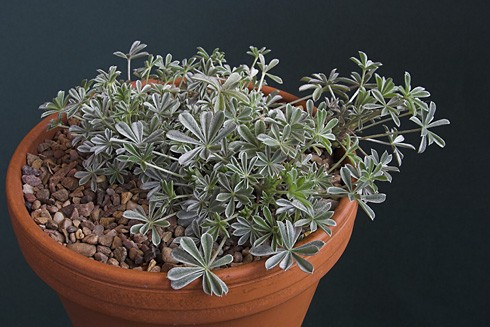 I recall seeing this plant for the first time in one of Tim Ingrams raised beds back in Kent. It was therefore a pleasure to see an exhibit of 3 pans silver or grey ( Class 22) with this amongst the group. Ivor Betteridge had grown it from Ron Ratco seed it had given the exhibitor some problems when he discovered that mealy bug had taken up residence. Repeated drenching with insecticide cleared the problem and the plant was looking in perfect health.
Eric Jarrett