Loughborough Autumn AGS Show, 2006
This year's show was only a week earlier than the 2005 show, but the result was that there were many fewer crocuses, and a proportionately larger number of cyclamen dominating the benches.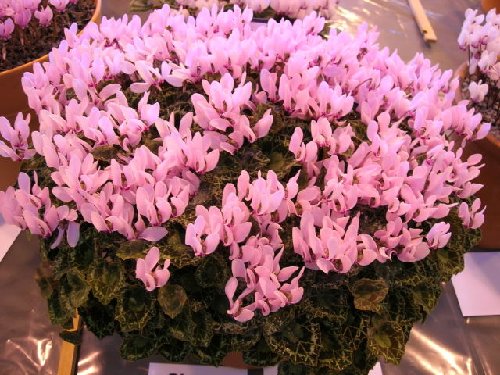 Of the many splendid cyclamen on show, the best was adjudged to be a very compact and floriferous form of C. graecum ssp. anatolicum (right) grown from seed sown by the exhibitor in 1998. There were many fewer colchicums than cyclamen, but two of the best, shown by the same exhibitor, were Colchicum cilicium and the commoner but no less desirable C. speciosum 'Album'.  Colchicum byzantinum 'Rosy Star' (syn. C. laetum, of gardens), a fine old selection made by E.A. Bowles, with narrowish upright 'petals' of a clear mid-pink colouration was also exhibited.  All these colchicums are easy to grow in the open garden in any reasonable soil in full sun or part shade. Colchicum cilicium has smaller leaves than the other two, and they disappear by late spring, so it may be better suited for smaller gardens.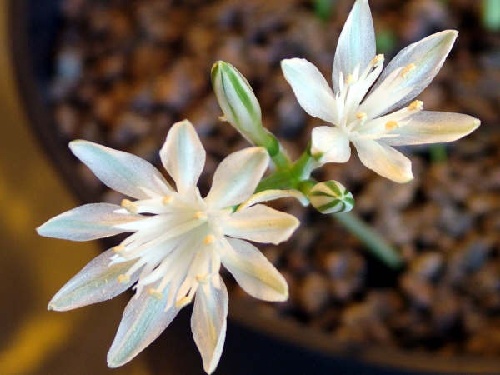 There were many other interesting bulbs on display, including a rarely exhibited species from the Drakensberg mountains, Empodium sp. (aff. namaquensis). This had striking, large, upward-facing, bright golden yellow flowers, strongly and mysteriously scented, some said of lemons and spice, others being less polite! Another unusual bulb was Vagaria parviflora (left), a member of the daffodil family from Morocco with clusters of pure white flowers appearing before the leaves on 15 cm stems. This is grown by the exhibitor in more or less pure sand, with a small amount of gritty loam. It is kept dry throughout the summer.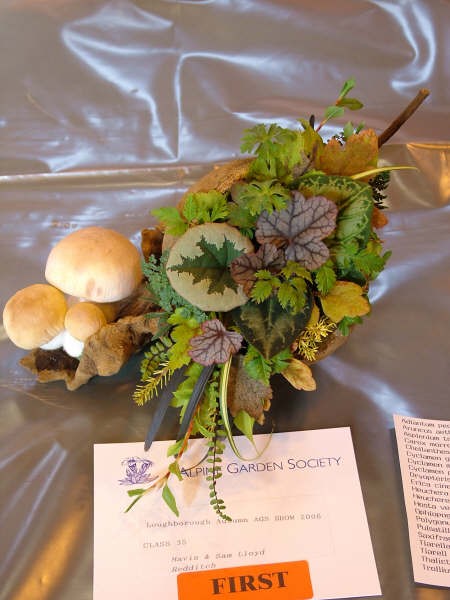 There are classes for arrangements of cut flowers of alpines at most of the Shows, but while these attract much attention from visitors, they are rarely mentioned in show reports. At this show there was a variation in that Class 35 was for an arrangement of alpine plant foliage and shrubs, with no flowers being allowed. The winning exhibit contained foliage of no less than 26 species, set in an attractive sculpted wooden base. Hopefully, seeing it illustrated here will encourage others to have a go in this or similar classes.  
John Good