Loughborough Autumn AGS Show, 2015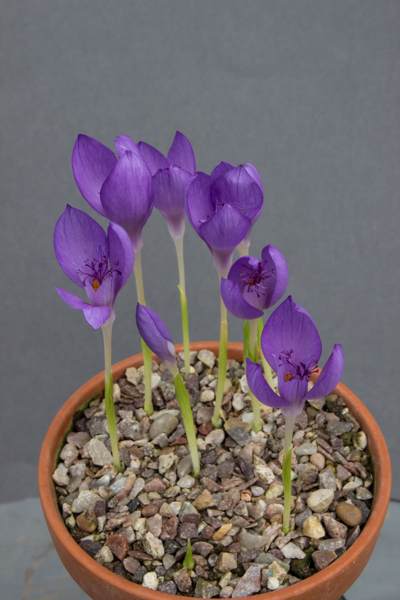 After what can only be described as a week of perfect weather, with wall-to-wall sunshine and cool nights, it came as a bit of a shock to set off early on the Saturday of the show in thick fog. This, along with the fact that it was still dark, made my first part of the journey a bit challenging. Fortunately by the time that dawn was breaking over the M42, the fog had cleared – only to be replaced by grey cloud cover.
The weather leading up to the show had set my hopes high for a good show. On entering the hall my expectations were amply met, with much colour on all the benches and a good sprinkling of very interesting plants. However there was a noticeable lack of autumn crocuses on display: talking to some of the exhibitors this was put down to the vagaries of the season, for in various parts of the country they are running late. This did not stop Pauline Carless from winning the Minera Trophy for the best plant in Intermediate and Novice Sections. Although her Crocus banaticus formed part of a three-pan exhibit given a second place, this element was still by far the best contender and easily won the award.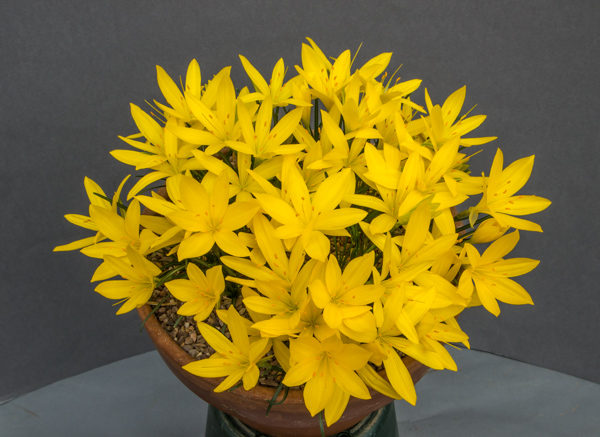 Although there were very few Crocus present this lack was compensated by the large number of colchicums and sternbergias on display. With the latter, there were many very fine examples showing the variability in the autumnal species. Ex Director of Shows Jim McGregor received a Certificate of Merit for his excellent pot of Sternbergia sicula which was by far the best example your reporter has seen for many years.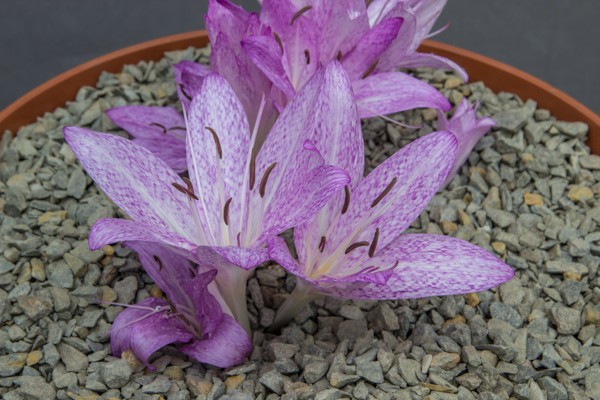 It was interesting to see Bob and Rannveig Wallis's Colchicum macrophyllum, a native of Crete, Rhodes and SW Turkey where it grows in scrub on rocky hillsides. It flowers at only five inches high but care needs to be exercised in the choice of neighbouring plants as the handsome, pleated, Veratrum-like foliage can grow very large. (It has even been exhibited as a foliage plant in the spring.) Pot grown from a Jim Archibald collection, the exhibitors afford it the protection of an unheated bulb frame, where it copes with very infrequent repotting (every five years or so).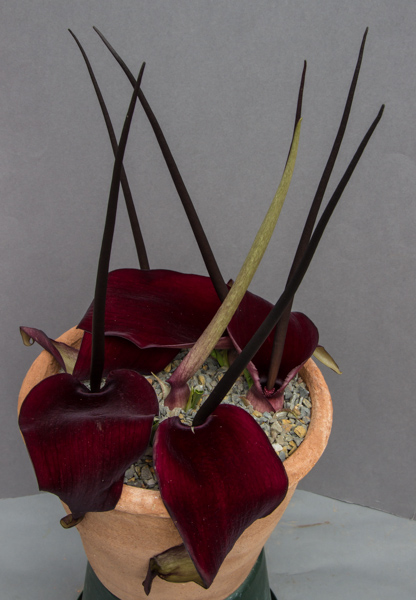 They were also awarded a Certificate of Merit for their Biarum pyrami which was looking splendid with six flowering spathes of deepest maroon… but a stench that could clear the hall. They assure me that this pot takes a very back seat in the car during its journey to and from Wales. They were also awarded the E. B. Anderson Prize for their small six-pan. These and other wins meant that they were also awarded the Derby Group Trophy for the maximum points in the Open Section.
We always expect to see near-perfect Cyclamen at this show and I am pleased to report that the tradition was upheld again. Ian Robertson has gained a formidable reputation for his cultivation of this genus and he continued to amaze with the plants he brought with him this time. Two were considered under consideration for the ultimate award, the Farrer Medal going to his plant of Cyclamen maritimum (C. graecum subsp. anatolicum in previous reports, dating from before this earlier name was reinstated) after first receiving the Nottingham Group Trophy for the best of the genus on show. Placed alongside as part of the same three-pan, C. graecum subsp. candicum had to be content this time with a well-deserved Certificate of Merit.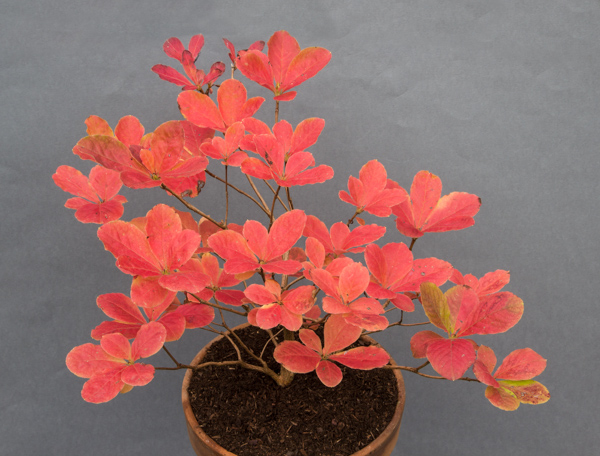 As you might expect at an autumn show, there are classes for plants in cone, seed, fruit or autumn-coloured foliage'. Dave Mountfort's Rhododendron schlippenbachii, commonly known as the Royal Azalea, was outstanding in the last of these categories. Native to Jeju (Cheju) Island off the coast of South Korea, and growing there to a height of one to one a half metres, this dwarf form is only c. 45cm tall after some twelve years. Kept in a pot the year round, this is plunged in sand in an open but shady position. In autumn the large, rather thin leaves take on a colour that can only be described as pinkish-orange and was enhanced dramatically under the hall's lighting, unlike the pink of certain spring-flowering cushion plants. Even so, the Leicester Group Trophy went instead to Keith & Rachel Lever's Gaultheria crassa 'John Saxton', producing its dark red fruits on a bi-yearly cycle and here present in abundance. Originally given to them by Bob Straughan, much-missed proprietor of the much-missed Highgates Nursery in Belper, this particular plant is reckoned to be at least 10 years old. Although relatively easy to grow it has proved difficult to propagate, even in the skilled hands of the Levers.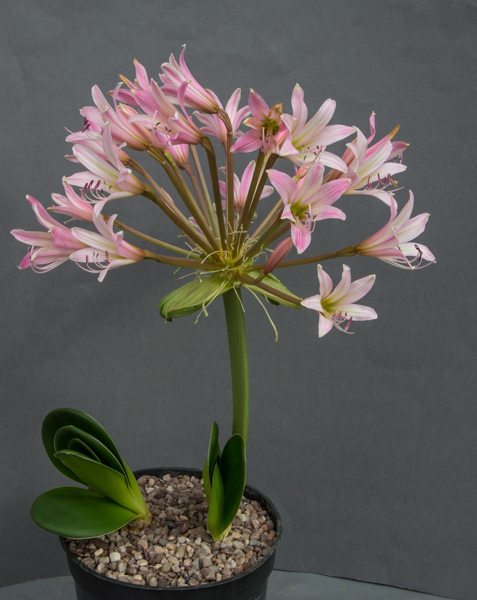 We are steadily seeing more South African plants, particularly bulbs. This show was no exception and George Elder brought along some very interesting examples. His three-pan, comprising Brunsvigia bosmaniae, B. nervosa and Lachenalia corymbosa (formerly Polyxena brevifolia) gave rise to some discussion regarding their hardiness and suitability. Eventually a vote was taken by all the judges and it was agreed that they fell within the guidelines, being able 'to survive an average British winter' if grown under cold glass).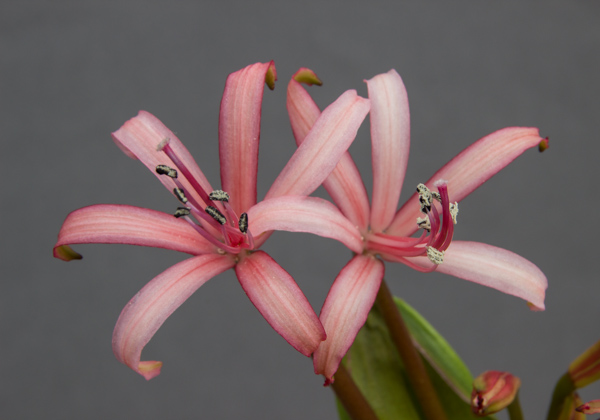 All are grown in an alpine house and kept fairly dry during the summer months. As they appear to resent disturbance, repotting takes place infrequently (just twice in 13 years for the B. bosmaniae!). They were all very impressive and much credit goes to George as they are not easy to flower. B. bosmaniae [above] was flowering for the first time in 13 years, B. nervosa after nine, though he hopes that flowering will be more frequent as the plants age.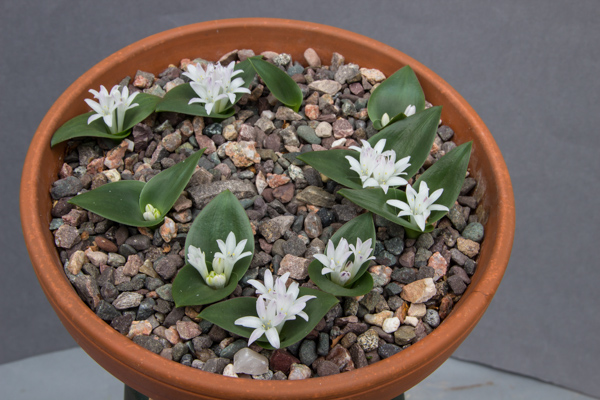 I was also very taken by George's pan of Lachenalia maughanii (formerly Polyxena maughanii), another Cape bulb from the western Karoo and Bokkeveld Mts. Only 5cm tall, with the white flowers, rather like the florets of a florist's hyacinth, nestling between short, broad, glossy leaves high, this tiny bulb represented everything one looks for in an alpine plant. I hope to see more of it in the future. Jon Evans, who also specializes in such plants, finds that collar rot in November, post-flowering, is the main hazard. To combat this, the bulbs rest on the surface of a compost made up of two parts grit and one part John Innes no. 3, and are then encased in 3cms of coarse grit. Prompt, careful removal of the dying flowers is also necessary.
Sadly the Novice Section would have benefited from a few more entries but those present were of sufficient quality to give one encouragement for the future. The best plant was adjudged Roy Skidmore's Cyclamen graecum. Although no flowers were present, it was the age and handsome, zonally-marked leaves of this specimen that won the day. A useful lesson here for prospective exhibitors! Most points in this Section were won by Mark Lee, whereas in the Intermediate Section classes Cyclamen were again to the fore and Steve Walters was awarded the aggregate Marjorie Dudfield Cup.
I would like to finish by thanking show Secretaries Martin and Neil for organising the day and all of their helpers who actually made it happen.
Author: Eric Jarrett
Photographer: Jon Evans