Loughborough Autumn AGS Show, 2005
Loughborough has long been known as the venue for one of the best early Spring shows. By virtue of its geographical location, in the middle of England, and its invariably superb organisation, it always attracts many exhibitors and a good number of members of the general public. The sadness at the demise of the long-running Wirral group Autumn show in 2004 was therefore much reduced when the Show Secretaries at Loughborough, Doreen and Eric Webster, offered to take over this Show. In addition they had persuaded the Leicester, Nottingham and Derby Groups to provide new trophies for the Show, to add to those which the Wirral group kindly passed on.
On arrival at the Show hall it was clear that there had been an excellent response from exhibitors to the new Show, the benches being laden down with a wide array of beautiful and in many cases very colourful plants. As would be expected at this time of the year, autumn-flowering bulbs provided much of the show, with an astonishing array of species and forms of cyclamen exhibited as well as a wide array of crocus species, supplemented by various colchicums and a few of the startling yellow sternbergias that are such a joy to behold when seen in their natural habitat on barren Greek hillsides.  Few narcissi flower in the Autumn, but one that does and which also comes from Greece is Narcissus serotinus, a dainty and delightful species with heavily scented (some would say sickly scented) white flowers on thin stems. A wonderful pot of this species, built up vegetatively from a few bulbs over a number of years, won the Farrer Medal for best in Show.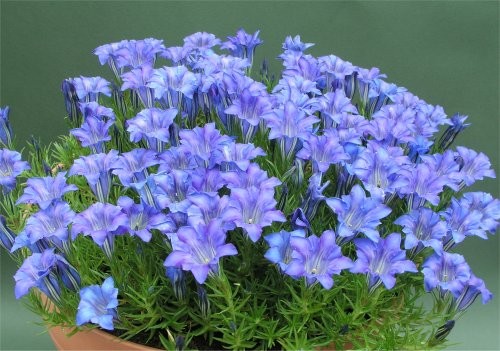 Among the many non-bulbous plants exhibited were several wonderful Autumn gentians, filling 12" pots and covered with myriads of upturned trumpets in various shades of blue, with a few albino cultivars among them. Less spectacularly beautiful, but equally attractive in their own way were two white-flowered orchids, Spiranthes cernua var. odorata 'Chad's Ford', a readily obtainable plant which flourishes in permanently moist, even wet soil in the garden, and the much less freely available Goodyera kwangtungensis, which grows in shady places in woodland in Guandong Province, China. The excellent specimen on the bench had been grown in a mixture of leafmould, loam and grit kept permananetly moist in a shaded alpine house.
The quality of the plants exhibited and the steady flow of visitors suggest that this Show has come to stay.
John Good