Loughborough Autumn AGS Show, 2014
The M1 is possibly the most daunting of British motorways to negotiate, especially when the weather is wet. But the expectation of arriving (alive) at the Loughborough show is worth the trepidation. Travelling from the south, the realisation that the turn-off junction is near is signified by a natural road side rock garden, the motorway being cut into the surrounding uplifted and tilting ancient sedimentary rock. Ignoring the above, ease of access to this show is a bonus – M1 all the way and a mile or so of dual carriage way make Sat Navs pretty much redundant. Entry to the show from the car park leads through a teeming sales area which only the most hardened exhibitor could fail to slow down, if not stop for, on the way to the very impressive show benches.
All shows are subject to the vagaries of the weather. The little rain that had fallen on the journey did little to remedy the previous month's warm and dry conditions, which lacked the trigger for plants to bounce into growth through normal early autumn weather patterns. Nonetheless a good number of plants entered had performed well, having been grown outside in open frames or dug up from the garden for exhibiting (a practice not often encountered these days but total legal).
Some autumn shows can be quite (shall we say) 'green', whereas this one had plenty of colour in the form of sundry Crocus, Colchicum and Cyclamen exhibits, the latter forming the back bone of the overall exhibits. A fine example of Cyclamen hederifolium shown by Adam Bramley was awarded the Crosshall Goblet for the best plant in the Novice Section.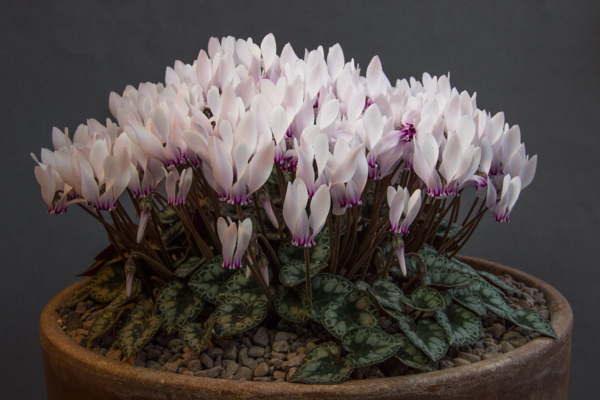 Cyclamen enthusiasts had a field day, given the numbers and quality of those on show, the best of them, as defined by the award of both the Nottingham Group Trophy (best Cyclamen) and the Farrer Medal (best plant in show; importantly only bestowed if the plant in question reaches the required standard) was a glorious example of Cyclamen graecum subsp. candicum, shown by Ian Robertson. The plant has its origins in a Turkish Cyclamen Society trip in 1996 with Ian taking over ownership in 1998. Thereafter it has never been wholly repotted, compost having merely been teased away from the sides of the tuber to around halfway down the pot and fresh compost (based on sieved beech leaf-mould, John Innes no. 2 and Seramis/perlite) lightly tamped home. Watering is never completely withheld, for this would damage the thick, permanent roots characteristic of the species.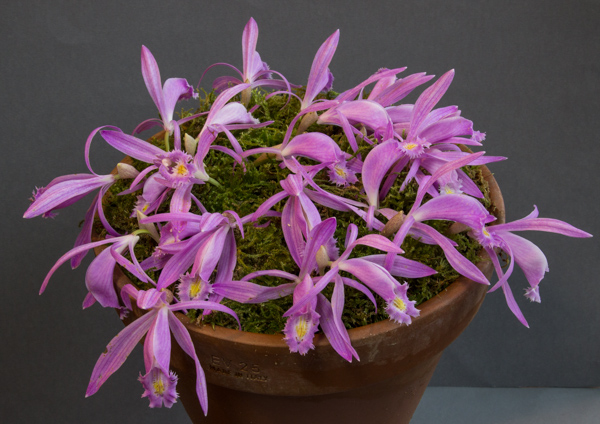 Ian also received two Certificates of Merit, firstly with Pleione praecox, one of the few autumn flowering species with a wide distribution from Nepal south-easterwards to Vietnam. Grown in pure New Zealand sphagnum moss which, during the growing season, is submerged in rain-water every three days or so, then more or less dried off while dormant. His second such award was for a charming pan of a bicoloured form of Crocus niveus [below]; so high was the quality of this exhibit that the RHS Joint Rock Committee sitting at this show awarded this an RHS First Class Certificate. What some will not have realised was that in order to keep it in prime condition en route, Ian had wound down his car window to bring down the temperature and prevent the flowers from over-reaching themselves.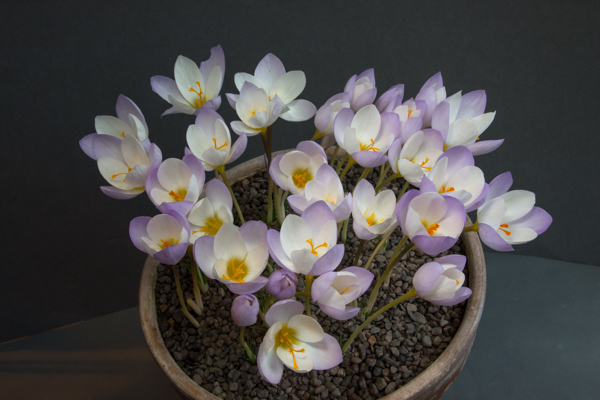 Grown from a packet of seeds received from Crocus specialist Alan Edwards and separated out after a couple of flowering seasons, this panful is kept under glass all year round (though the species grows well in the garden as well) in a standard alpine mix of 1 part John Innes no. 2, 1 part peat and 1 part 'Seramis' or 'Sanicat' (a clay-based, cat litter medium), with little or no watering during its summer resting period. Don Peace showed a smaller, more vividly toned example with dark perianth tubes: these and other variants, some concolorous as in the mixed populations seen in southernmost Greece, can be routinely expected.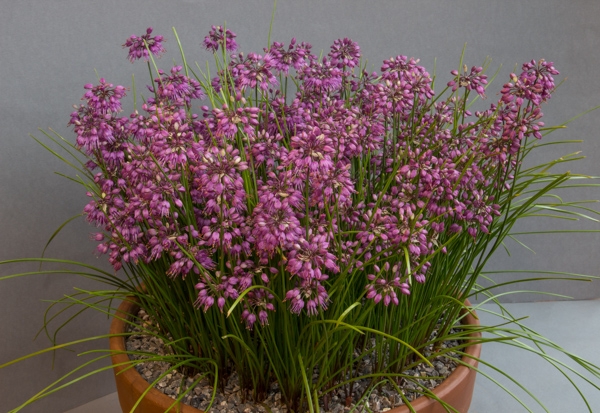 Ian wasn't the only multi-award winner at the show. Lee and Julie Martin walked off with a brace of Certificates of Merit for, as part of a three-pan entry, a mighty pan of Allium thunbergii, that purple flowered beauty from Japan, Korea and China (a whitish form was shown by one or two other exhibitors in the 19cm pan classes). Easy to grow either in pots or the open garden, admittedly, but to achieve the quality of the pan exhibited takes some doing. A potting mix based largely on loam with added leaf-mould and grit is a principal requirement. A plant for the beginner and seasoned exhibitors alike, the pot is kept outside all year round but given some protection from the hardest of winter weather.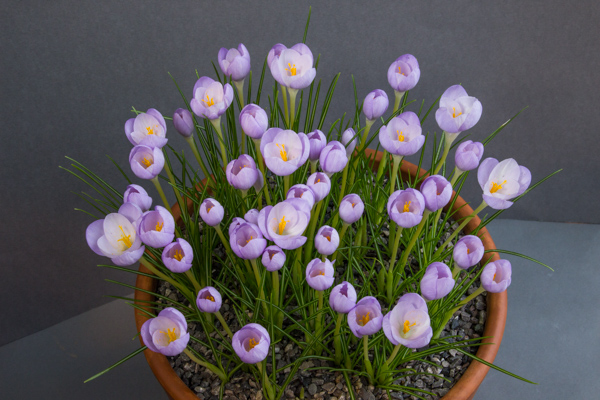 The second Certificate was given to a large, even pan of Crocus goulimyi, its slim, sentry-like stems topped with purple helmets. This is kept in a bulb house, to give it a good dry summer and is repotted every other year and fed with Maxicrop in the interim.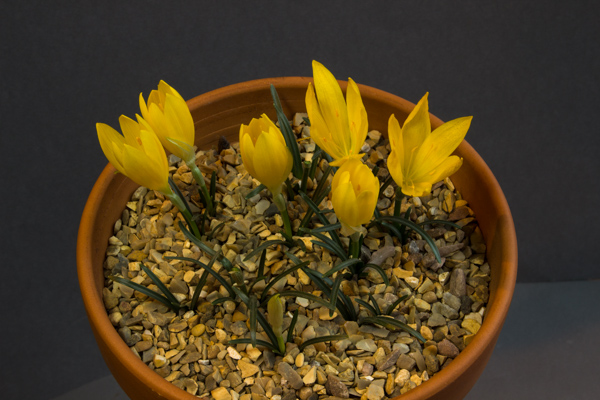 The genus Sternbergia supplies a number of good exhibits at all the autumn shows with the Minera Trophy for the best bulbous plant in the Intermediate and Novice sections being awarded to a small but well grown pan of Sternbergia sicula shown by Steve Walters [right]. Another good yellow bulb, this time a denizen of South Africa, is Empodium flexile, familiar to those who frequent autumn shows but encouragingly bigger and better each year. Bob and Rannveig Wallis grow this as well as anybody else, and also took the AGS medal for the small six-pan class.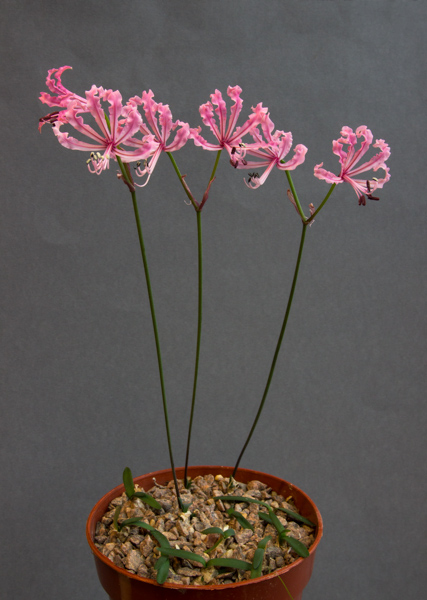 Not all plants can get awards and some fall into the 'small and interesting' bracket. This is where a number of the autumn-flowering South African bulbs would fit. Jon Evans not only takes excellent photographs; he also shows some very interesting bulbs from this region, witness his Nerine humilis from Piekenierskloof. This particular form is known to be of small stature but still retains relatively large flowers. The secret to success with many of the winter-growing, summer-dormant South African bulbs seems to be based on growing the bulb barely buried in soil, so the top of the bulb is exposed (covering with grit to protect from adverse winter weather),and very limited feeding. A promising number of non-flowering shoots could be seen: a move to a larger pot would induce these to convert to blooming size more or less straightaway.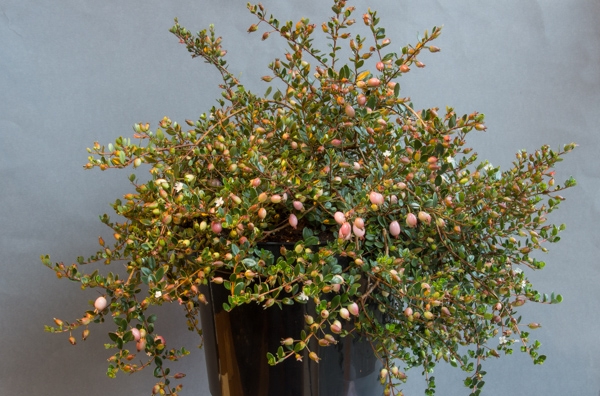 From this report it would appear that this show was all about bulbs and corms. Well to an extent that's true: autumn does indeed herald the start of the season for many of these, and they made up the majority of the flowering plants but it was also a very good display of autumnal colour and fruits, a notable example being Myrteola mummularia, shown by Colin and Kathleen Billington in the Intermediate Section, recipient of the Leicester Group Trophy for the best pan in cone, seed, fruit or autumn coloured foliage. The large, well adorned plant exhibited both flower and berry and the foliage was in such pristine condition that it could not but be admired, to the extent that one scrutineer picked a ripe drupe and ate it, reporting a subtle but likeable taste.
All in all, another first-rate Loughborough show, at the end of which the rain held off for exhibitors to fill their cars, the day finishing in sunshine, after which, for many, back on the M1.
Author: Ray Drew
Photographer: Jon Evans