Loughborough Autumn AGS Show, 2013
After the cancellation of the spring show it was a welcome return to Loughborough, where new show secretaries Martin Rogerson and Neil Hubbard were at the helm, following on from Eric & Doreen Webster's marathon joint custodianship.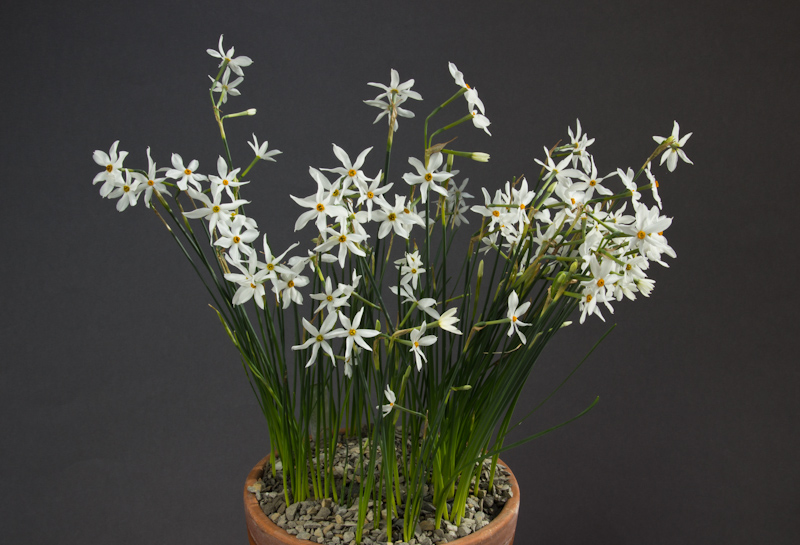 Bob and Rannveig Wallis won an AGS Medal with a display of six 19cm pans including a Certificate of Merit-winning Narcissus miniatus. An eastern Mediterranean bulb, from Turkey, Greece, and various islands, Crete among them, it is tricky to flower with any reliability, never mind as abundantly as in this case. The bulbs are planted deep, towards the bottom of the pot, and not disturbed so that they become decidedly crowded, which aids flowering. Instead of the annual given to most bulbs, spent compost is removed from the top third or more of the pot and replaced with a freshly mixed infill. The bulbs remain in situ more often than not, since a full removal and replanting usually means that flowering will not take place again for up to three years. The first watering is given in mid-September after the sort of dry summer that suits many other Mediterranean bulbs.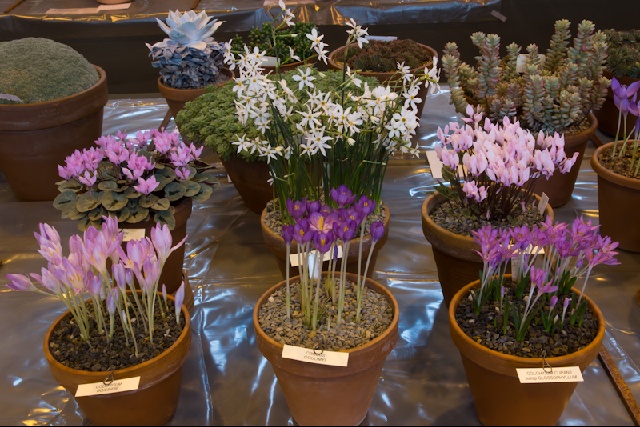 Also part of the winning six-pan was a very creditable group of Colchicum boissieri, a native of southern Greece (where it is far more localised than has often been suggested), Turkey and the islands of Chios and Samos which grows in the semi-shade of cedar and other sparse woodland at up to 1,700m. Increasing via stoloniferous corms, in cultivation these corms are thicker than in the wild, perhaps due to greater nutrient availability. Each produces two, sometimes three narrow leaves in spring to charge it for autumn flowering. The Wallises also won the Derby Group Trophy for the most first prize points in Open Section.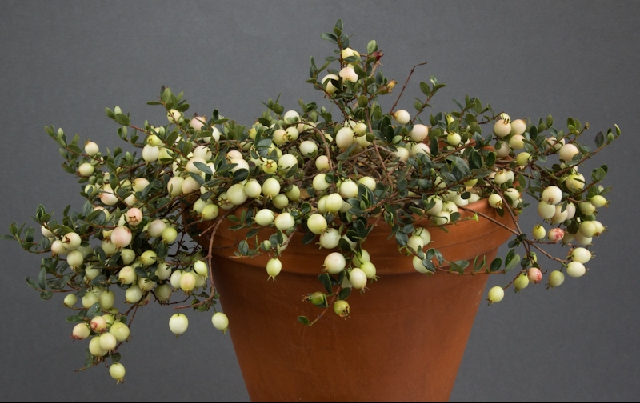 The Leicester Group Trophy for the best pan in cone, seed or fruit or autumn coloured foliage went to a pan of Myrteola nummularia exhibited by Cecilia Coller, which had come to attention a week earlier at the Kent Show on account of its very generous crop of drupes. Grown in a mix of John Innes no. 2 and grit with a bit of leaf-mould, this southern South American native is apparently very easy to grow, although it benefits from hard pruning to prevent it from becoming leggy and unattractive. The covering of creamy-white berries, some just beginning to turn pink, was unbeatable on the day.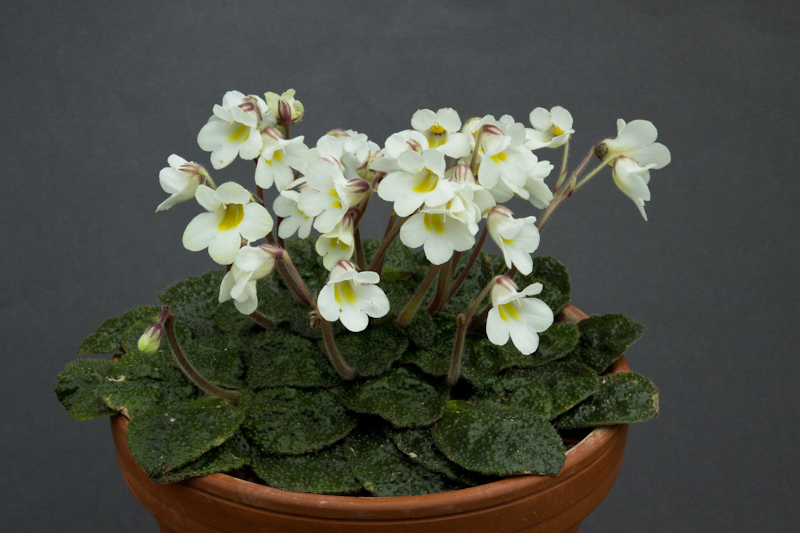 Petrocosmeas, now seen in considerable variety, and a number of them frost-hardy (though not necessarily freeze-resistant) under glass provided some excellent displays of flower and foliage. Particularly noteworthy was a pan of Petrocosmea begoniifolia shown by Wilma and Jim Wright, its profusion of generously-sized white flowers topping the dark green, glossy, hirsute foliage, and causing several to comment it was the best example they had seen.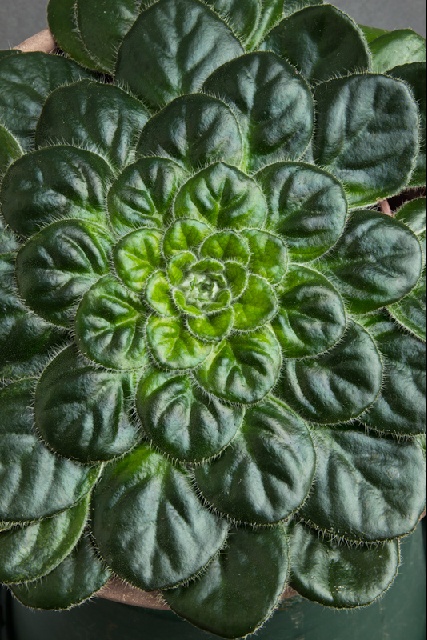 Sam & Mavis Lloyd meanwhile entered a perfect flat rosette of Petrocosmea minor in a grown for foliage effect class: it was blemish-free and fairly glistened! Both plants had been purchased from Aberconwy Nursery around three or four years ago and then grown in shady, frost-free positions, with a protective covering of fleece in severe conditions. P. begoniifolia is grown in a 50/50 mix of John Innes and grit to ensure good drainage. P. minor suffered badly from frosting soon after purchase but the centre was replanted with no root at all to form the impressive specimen seen on the bench. Water from below.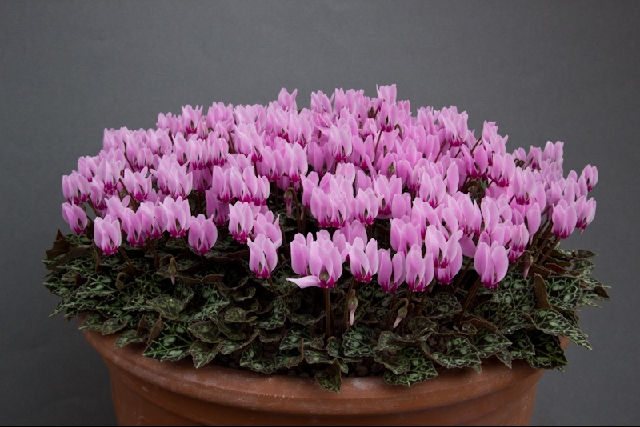 Ian Robertson received the Farrer Medal and the Nottingham Group Trophy for a very large pot of Cyclamen graecum subsp. anatolicum while another pan of the same subspecies, with darker, smaller flowers on appealingly short stems received a Certificate of Merit. Both are well documented in past reports, having won many prizes between them. Grown in a sand plunge for most of the year and not watered after the leaves die down, they are dunked in water as a first watering to kick-start the flowering process. The first time that Ian exhibited at this show, he arrived too late to secure pole position, close to the entrance door, and almost incurred a hernia carrying these and other very heavy pots indoors. A lesson learned, he now ensures a more favourable parking slot.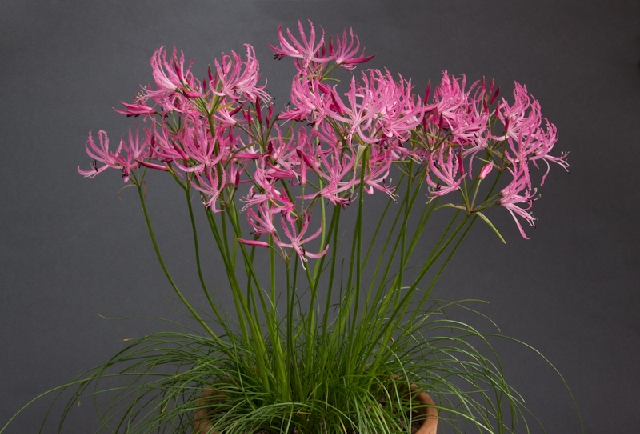 A pan of Nerine filifolia exhibited by Peter Farkasch was awarded a Certificate of Merit for its excellent display of pink flowers. (That hardiest member of the genus, N. bowdenii, was concurrently enjoying a vintage year in some local gardens, although others further south have reported a substandard performance, rather puzzlingly.) Bought from Aberconwy Nurseries around five years ago, it is grown in sandy-gritty compost and watered from below when semi-dormant, then from above − with a liquid feed of Tomorite and seaweed extract − when in bud to increase flower production. To hasten the bulking-up process, the seed pods can be dropped straight into the pot when they are ripe, and will self-sow easily with this slight prompt. Given plenty of sun, free-flowering can be relied upon.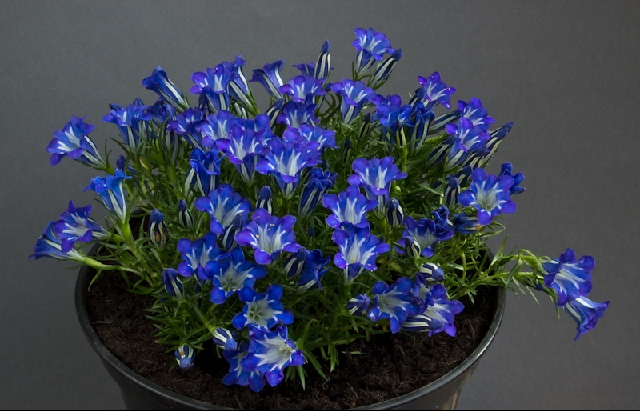 The L.W. Browne Memorial Trophy for the best gentian went to Gentiana 'Braemar', grown by John Richards. Grown outside in full light, the timing of the show was perfect for the even coverage of flowers that set it apart from other gentians on display. It has a three week or more flowering period, and benefits from regularly picking over of the spent, yellowing corollas every few days. A Berrybank hybrid, 'Braemar' was bred by Ian McNaughton, and shows the strong influence of G. veitchiorum, its vibrant striping more pronounced than almost any other hybrid..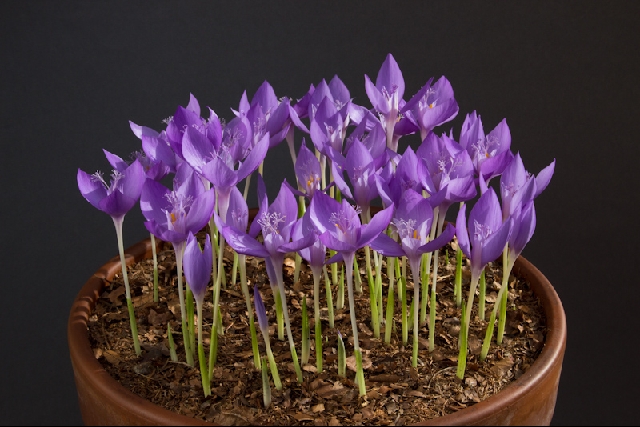 An excellent large pan of Crocus banaticus shown by Paul and Gill Ransom also drew attention. Grown from seed sown in December 2002 and left in a peat bed, it had soon multiplied. Kept in damp and cool conditions all year round, C. banaticus will increase well both clonally and from seed, but it is more vulnerable to frost in a severe winter when pot-grown than in the open ground.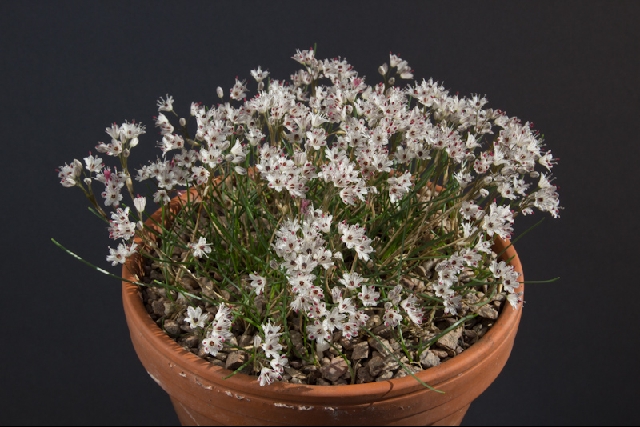 A very neat pan of Allium callimischon subsp. haemostictum in a dwarf form barely 10cm tall grown by David Charlton was massed with flower, and much admired. Raised over 10 years from a single bulb, it now fills the pan with a profusion of small, rather papery greyish-white flowers flecked with red. During the summer dormancy what appear to be dry sticks will remain above the surface, it is from these that the autumn flowers are produced and so is vital that they are not trimmed off by the tidy-minded gardener, a blunder perpetrated from time to time by the uninitiated.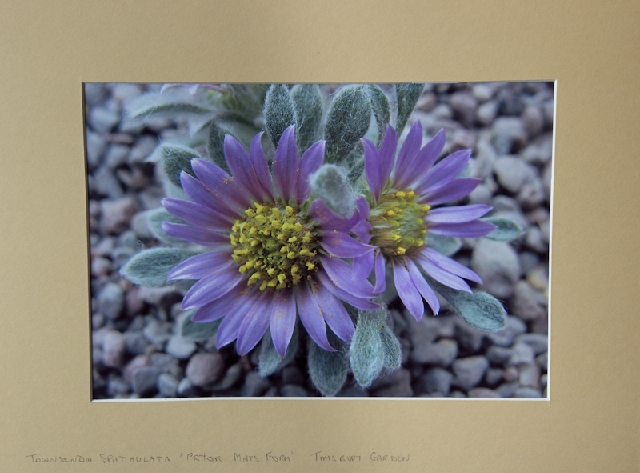 Another feature of the Loughborough Show, for all that it is abstracted from the main hall and reached down a long corridor, this year's Artistic Section was very well supported. The overall aggregate for the Open Section was won by Caroline Jackson-Houlston who had, along with other exhibitors, taken advantage of a sensible change in the rules, allowing art works not previously been exhibited at a given show to be admissible, regardless of when they were created. As such, pictures formerly only seen (for example) at the London Show can now be exhibited countrywide. [Photo: Townsendia spathulata Pryor Mountains Form, Certificate of Merit, exhibited by Graham Nicholls]
Author: Brendan Wade
Photographer: Jon Evans