Loughborough AGS Show, 2008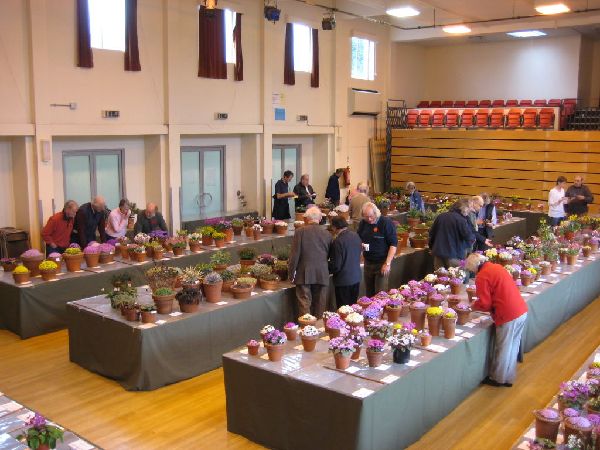 With the season playing catch-up after some stop-start weather, the Loughborough show, normally one of the best of the year, was in danger of being a bit of a damp squib- none of it. As you walked into the hall, a riot of colour hit you, on a number of good plants to boot!
Pictures of plants not illustrated below appear in the Show Results Section of the website.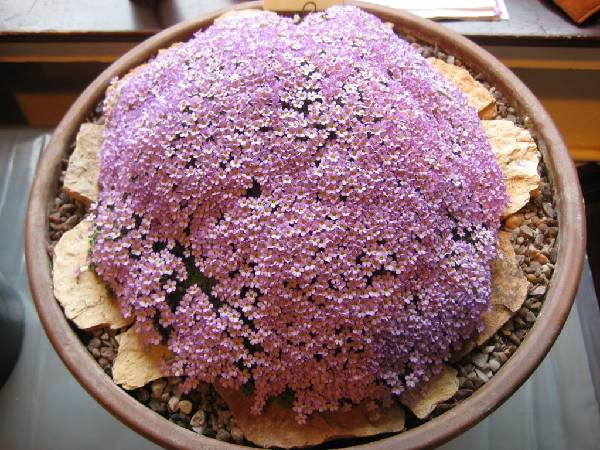 As expected for this time of year, the show was stolen by the Primulaceae, Dionysia and Primula to the fore. Dionysia curviflora took the Farrer (Alan Newton) .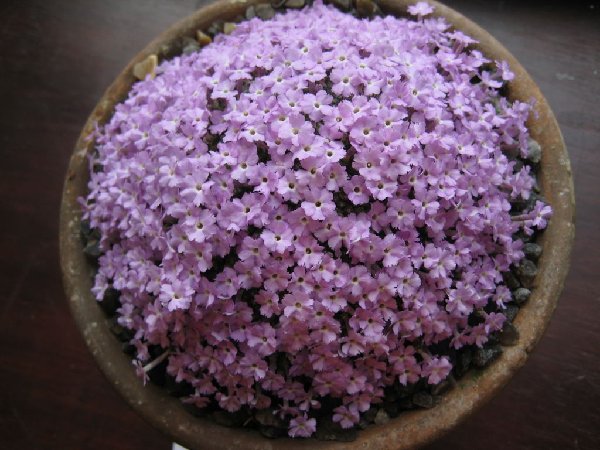 Dionysia microphylla GW M1302 (right) took the Richard Regan Trophy, for the best plant in a 19cm pot (Nigel Fuller) ; Douglasia idahoensis , the American Trophy for the best plant native to the Americas and a Certificate of Merit to a plant of Primula 'Chivalry' (both Ian Kidman). Then there was a Gold Award given to a non-competitive display by the Primula Society.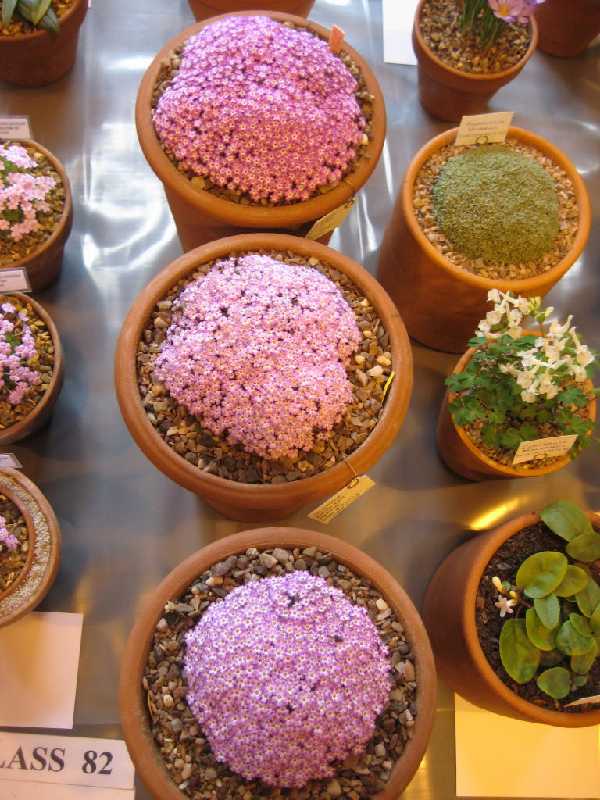 Other Primulaceae of note were a super entry in class 82 (3 pans grown from seed) showing three very good plants of Dionysia bryoides (Derek Pickard) and an enviably grown plant of Primula megaesifolia in section C ( Mr B Nottingham).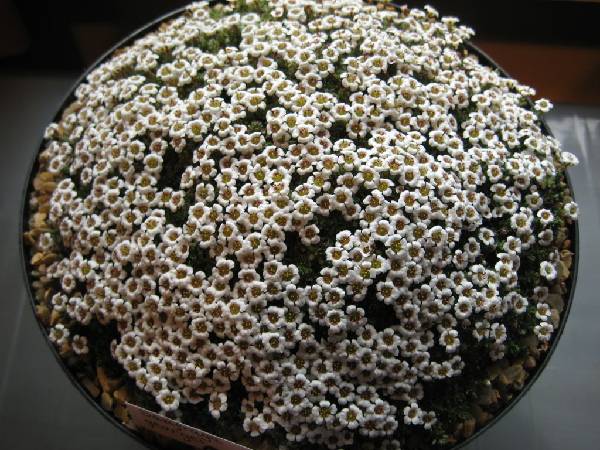 Saxifraga were also in strong evidence and the Saxifraga Group Salver went to a large plant of the apparently variable species S. georgei (right) shown by Mark Childerhouse. Runner-up to the best American, the best bulb in the show (and interestingly, the only bulb amongst the trophy winners), winning its owners the Royal Bank of Scotland Trophy, was a stunning pan of Erythronium multiscapoideum in its form 'Cliftonii'.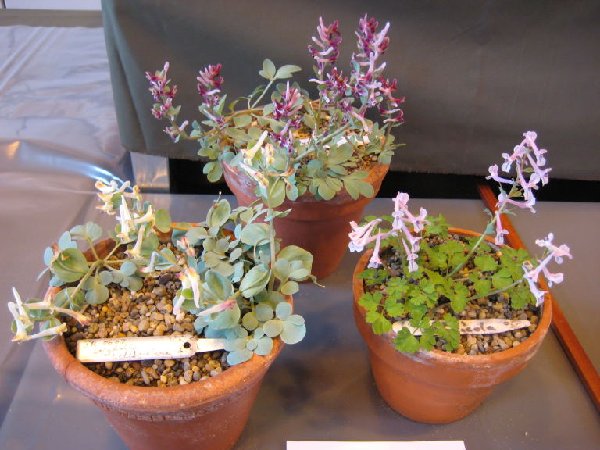 The Beacon Trophy for the most points in Section C went to Peter Taggart, whose entries included a good 3 pans of Corydalis.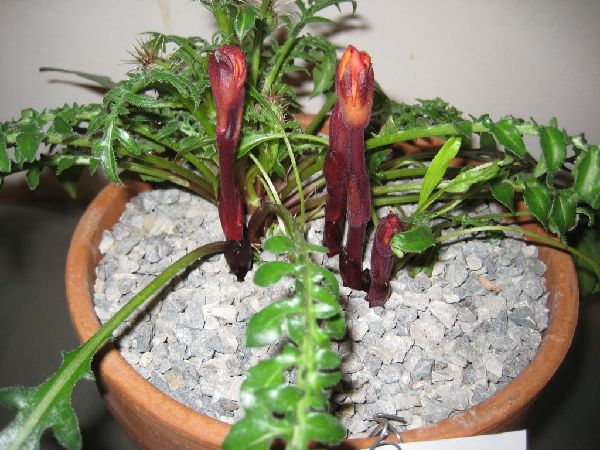 The winner of the Outwoods Trophy for the most points in Section B could also boast what must have been the cleverest entry in the show. Phelypaea coccinea is a parasitic member of the Orobanchaceae, only living on Centaurea sp. Seed was sown on and shown growing on Centaurea mixta by Neil Hubbard.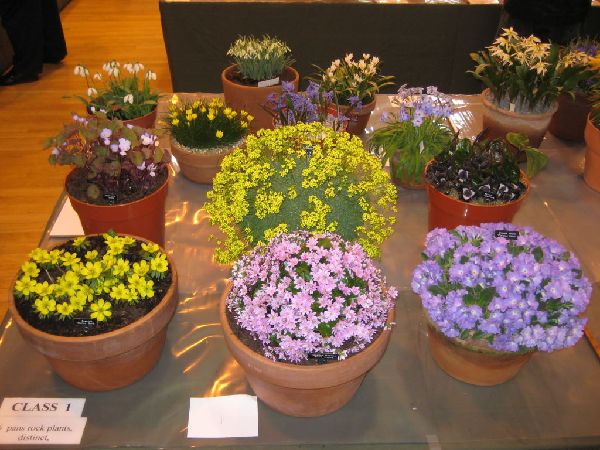 Two AGS Medals for 6 pan entries were awarded, to John Gennard for the large 6 (C1), shown left, and to Cecilia Coller for the small (C47). Another certificate of Merit was awarded to a floriferous, compact plant of Corydalis 'Beth Evans' shown by Ivor Betteridge.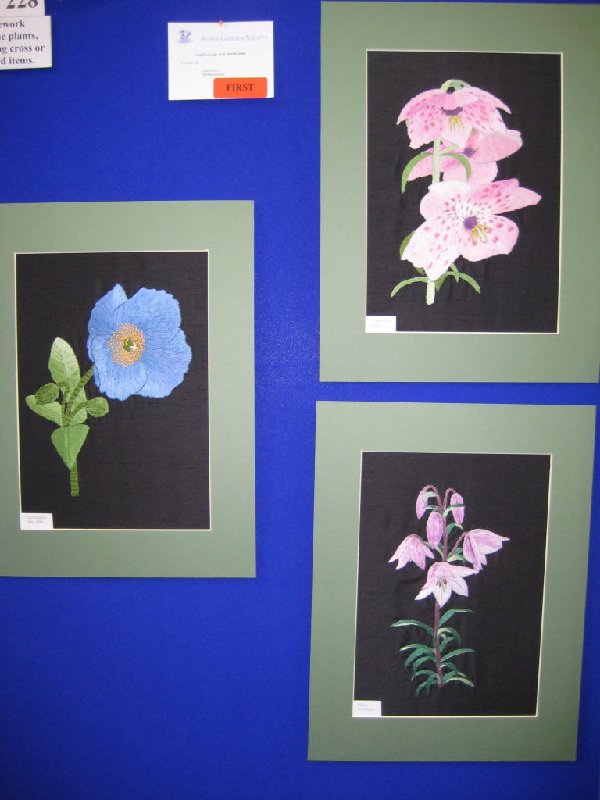 Loughborough boasts a good Artistic Section, so high was the quality of exhibits that the judges awarded a Certificate of Merit to three pieces of needlework shown by Jean Morris. The overall winner with the most 1st prize points was Kathleen Baker, who showed a wide variety of skills and genres with her displayed work.
The Loughborough show is so well positioned, with two shows annually that one should really make the effort to visit this friendly, high quality show at least once a year.
Ray Drew