Loughborough AGS Show, 2016
The snow, hail, wind and freezing temperatures experienced in the Midlands area were in fact very unseasonable for the time of year. However, this did not deter upward of 500 people from coming through the doors (including exhibitors and members) and the benching of 413 plants. Some genera were conspicuous by their relatively low numbers, namely Primula, Cyclamen and also Dionysia ('I'm afraid they have gone over' was the stock reply from exhibitors). Nevertheless despite all of this year's climate problems, the benches were full of colour and variety, with a selection of very interesting exhibits.
One disappointment was discovered upon arrival: due to new arrangements at the college, the kitchen is no longer available to use, so hot bacon and sausage rolls were not available. Aagh! But the warm toast and marmalade were very welcome, while volunteers still managed to produce some nice buffet snacks and hot coffee or tea. Judging was carried out apace and I'm pleased to say that the organizers were able to open the show hall to the public at 10.45am prompt.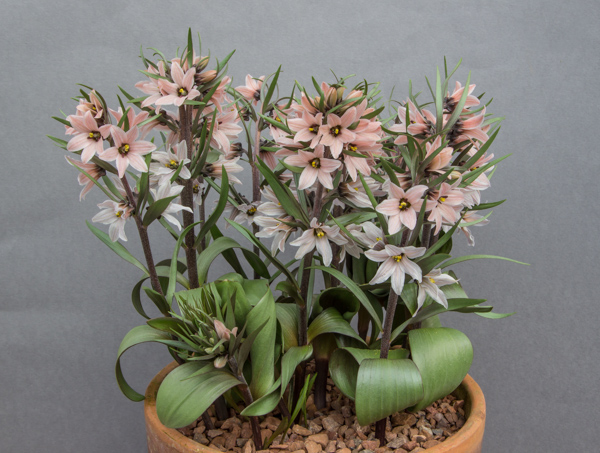 The Farrer Medal was awarded to a fine pot of Fritillaria stenanthera JJA 503.209, exhibited by George Elder (Cardiff) and representing seedlings patiently grown on from a January 2000 sowing. The pot is housed in a sand plunge but spends the summer stuck under the bench in dry conditions. Repotting is carried out every other year in October, followed by a watering. The pot is then returned to the plunge and (when the foliage appears) a generous watering regime is maintained until the flowers have gone over.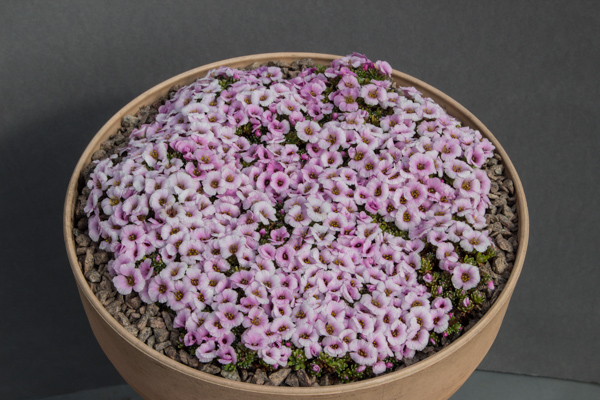 The Saxifraga Group Salver was awarded to a very nice plant of Saxifraga 'Marilyn Monroe' (Vanessa Group) exhibited by Peter Hood. This Czech cross has the parentage S. poluninana x lowndesii and dates from 1995. The plant shown was around 10 years old and is grown outside in the summer but taken into the alpine house for winter. Peter grows it in a plastic pot with 'swell gel' in the bottom and on top of this a standard mixture of John Innes no. 2 or 3 with 50% grit. The only snag, he says, is that the flowers fade quickly.
The American Trophy went to a really lovely Trillium nivale with lovely, snow-white, sessile flowers. This plant, grown by Barry Winter from Stockton-on-Tees, is seven years old grown from a small division of Alan Spenceley's renowned clump. It should be kept damp the year round and is grown in an alpine house, using a compost of John Innes no. 2 mixed with two parts grit and two parts sand.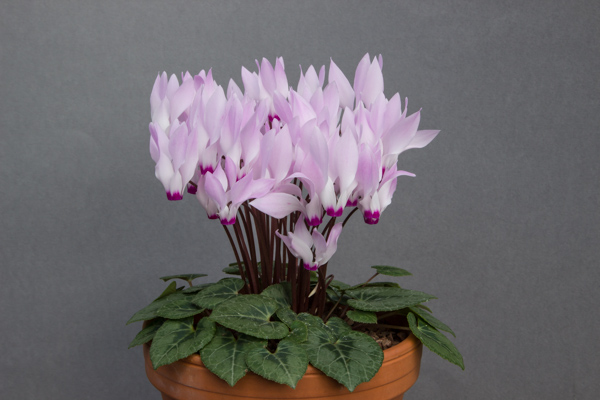 How encouraging to see an exhibitor in the Novice Section win a national trophy (the Cyclamen Society Salver). This was achieved by Denise Bridges with a lovely Cyclamen persicum. Her corm, bought three years ago, is kept in an alpine house and grown in a mixture of John Innes no. 3, grit, leaf-mould and perlite.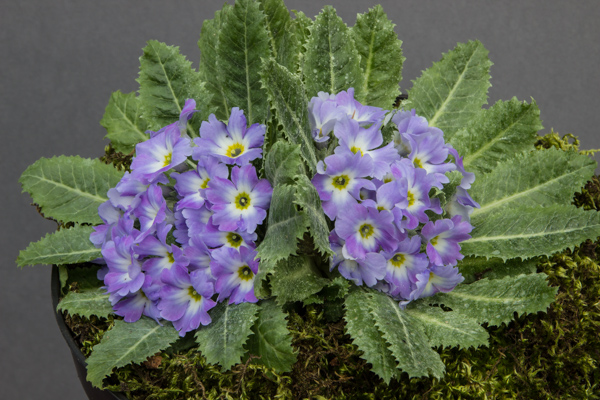 Primulas were in unusually short supply but John Richards nevertheless staged a lovely Petiolarid, Primula 'Soup-plate' (whiteii x sonchifolia) which he keeps in a shaded area of his Hexham garden, in a peat block bed infilled with leaf-mould and perlite. Given overhead protection from October until spring, it had been grown from a small offset handed back to John by Ian Bainbridge, who had preserved a plant of historical significance that it was feared had died out altogether.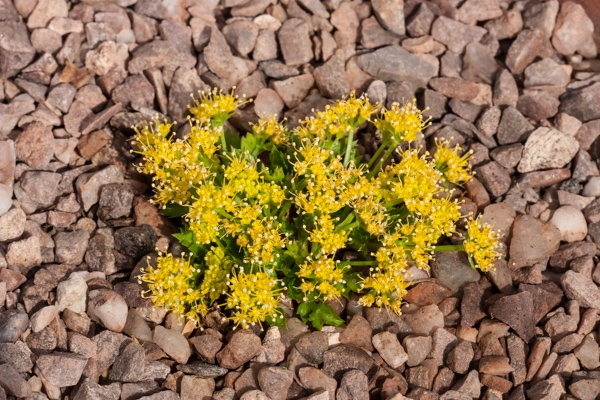 Two other plants caught my eye, one from the highest, driest areas of the Rockies, the other from the Winelands district of South Africa's Western Cape. Aletes humilis (Apiaceae), grown by Brian Burrow, is a miniature umbellifer from the high, dry regions of Colorado, with historical but presently uncertain records from southernmost Wyoming. A very slow-growing plant, the specimen exhibited was barely 8cm in diameter after five years, whereas wild plants can reach a diameter of around 20cm. This rarely-seen species conforms to most alpine rules, having very long roots that search deep in their scree habitats to find water, and very concise, almost flat top growth. Brian keeps the plant outside in summer, overwintering it under glass, and repotting infrequently in a well-drained growing medium.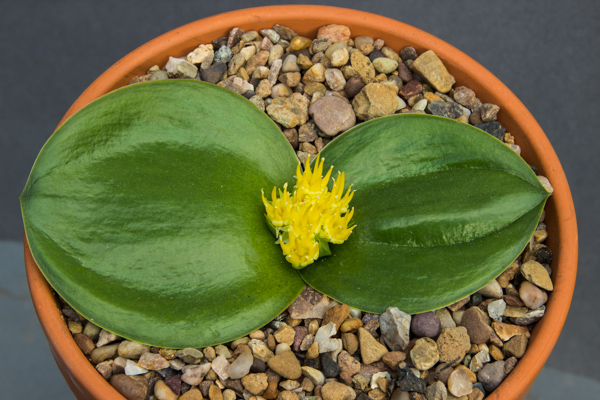 Massonia citrina (belonging to the M. depressa group but distinct in its yellow filaments and styles most obviously), shown by joint show secretary Neil Hubbard, was raised from seed distributed by Graz University (Austria) and had first flowered in January 2012 (the same year that the taxon was published!) It has a very restricted distribution on the Rooihoogte Pass (1,234m). Grown under alpine house conditions in an equal mix of John Innes no. 3 and sharp sand, it is watered from early September until the leaves yellow in spring.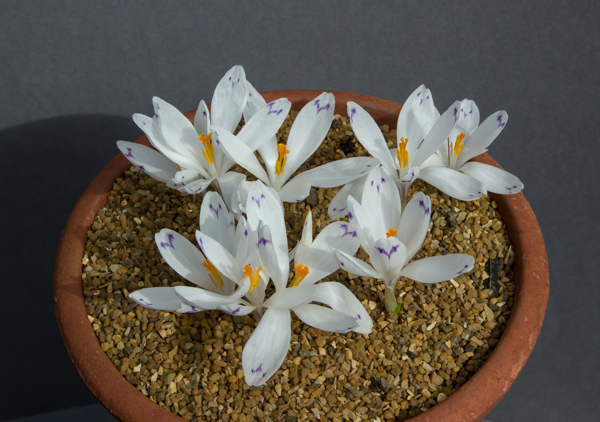 There were in fact numerous noteworthy plants on the benches – too many to write fully about. In the Intermediate Section, for example, there was a nice Callianthemum anemonoides exhibited by Pauline Carless. She tells me that it is no trouble if given a well-drained compost: the plant is kept outside all year round. Similarly, Alan Newton said that his eye-catching Crocus heuffelianus 'Carpathian Wonder' [left] 'grows in the garden'. For him, perhaps, but not for many others!
We drove home in a severe hailstorm (nothing new there then), fully invigorated and looking forward to another year of seeing a wonderful variety of alpines at our shows.
Author: Jo Walker
Photographer: Jon Evans