Loughborough AGS Show, 2015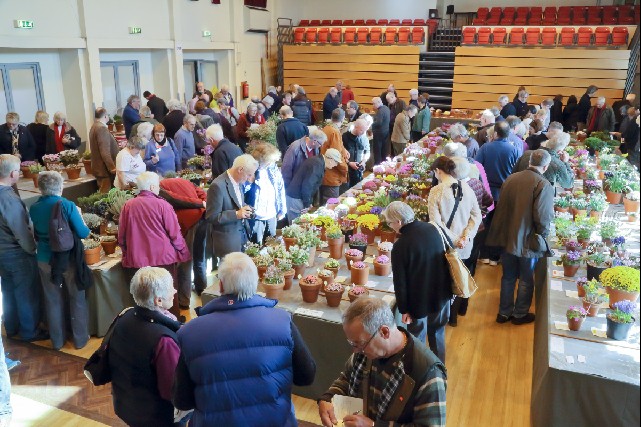 Just a year short of its quarter-century, and popular as ever (the enthusiastic crowd surge when the doors opened after judging was welcome on the one hand, but made life difficult for the show photographer and others recording the event), the Loughborough Spring Show was held on the first March day that authentically marked that season, and was very enjoyable, for all that it fell too early this year to benefit from a truly bumper entry. [Photo: Doug Joyce]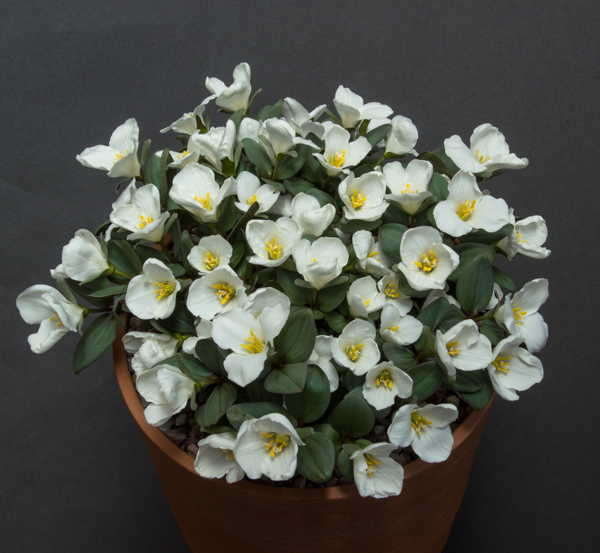 It was attended by visitors from far and wide, including an Irish contingent (who dashed off early to catch a return flight, leaving several gaps on the show benches: at first some feared that the entries had been spirited away nefariously) and others from further afield: I heard German, Dutch and Swedish spoken. The plants shown had an even greater geographical spread, catered for specifically by five classes for plants from Australasia, Europe, China, Asia (excluding the last-named country) and the Americas, with an American Trophy further offered for plants from Alaska through to Tierra del Fuego.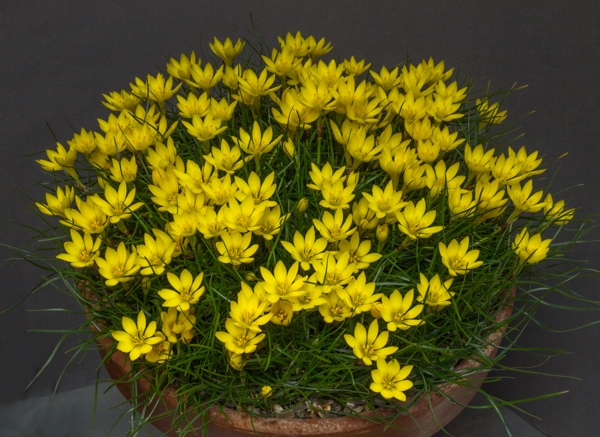 Eric Jarrett's veteran Trillium nivale [above] was sufficiently accomplished to help him take the small Open Section six-pan class but still a few days from its peak, leaving the way clear for the best of Cecilia Coller's several Tristagma sellowianum (conversely several weeks ahead of their usual schedule) to blaze luminously in the sunshine, and win though. Until quite recently deemed a member of Ipheion, it has also been placed in the genera Beauverdia and Nothoscordum (as N. felipponei), its latest transfer made in 2012, whereas onetime Ipheion dialystemon, of like colour and seemingly akin, is placed in Nothoscordum. Many bulbs like a good depth of compost, but Cecilia ‒ who grows T. sellowianum better than anyone else ‒ always grows this in fairly shallow clay pans.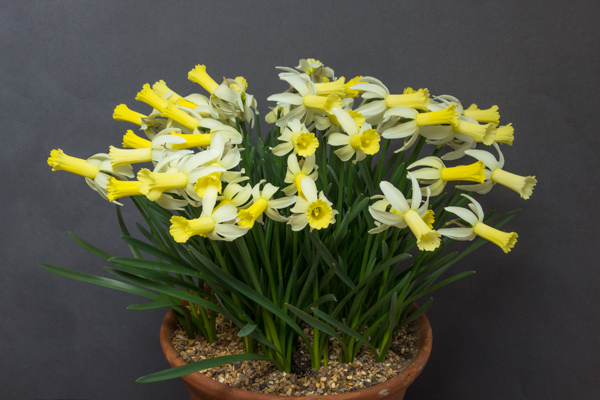 There were still a fair number of Iris reticulata/histrioides/winogradowii hybrids on display (these have often faded by the end of February) but just a handful of junos, and fewer Narcissus than this show often attracts, with at least one noted grower absent on account of their late-running. But in Herefordshire, Peter Furneaux had apparently enjoyed more clement conditions, for he travelled across country with a good haul of exhibits, one of which, Narcissus 'Mitzy', won a clutch of titles, including the Narcissus Salver, the Royal Bank of Scotland Award for the best pan of bulbous plants, and (the first time that a miniature daffodil hybrid has done so, I believe) the Farrer Medal. This was a mature clump of around 50 stems, the narrow-trumpeted flowers held horizontal, and reverse bicoloured creamy-white and mid-yellow as seen, although this contrast soon sublimes.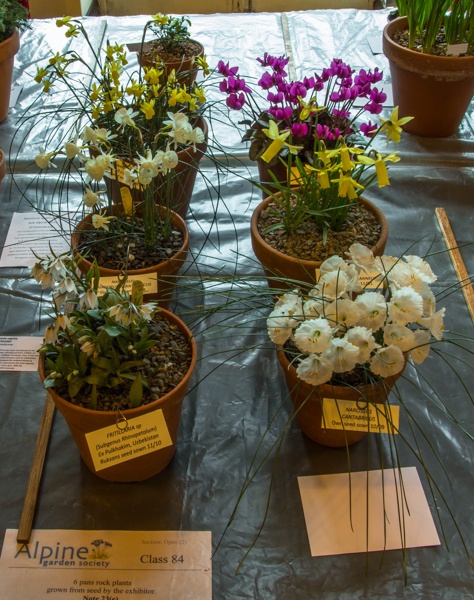 Bob & Rannveig Wallis showed a smaller pot under the same name (from an 'impeccable' source) that starts off cream overall, and some observers detected minor differences in the shape of the trumpet and the overall mien of the plant. The suggestion that it might be 'Snipe' was refuted, and certainly Kath Dryden (who distributed both plants) considered the latter 'smaller in all its parts' than Alec Gray's hybrid, in which (as her Manavlins lists instructed) 'the petals and corona go white quite quickly… in effect, [it is] a white N. cyclamineus'. The Wallises had enough victories in other classes to recapture the Charnwood Forest Trophy yet again, and had a fine entry in the class for six pans grown from seed by the exhibitor(s), two-thirds of this made up of N. cantabricus and the various hybrids they have made between this species and others such as N. triandrus (one yellow and close to this; another white and closer to the hoop petticoat parent) in the 31 years since they received their very first Farrer Medal for N. cantabricus (subsp. monophyllus) at the 1984 Early Spring Show, hold that year in Enfield.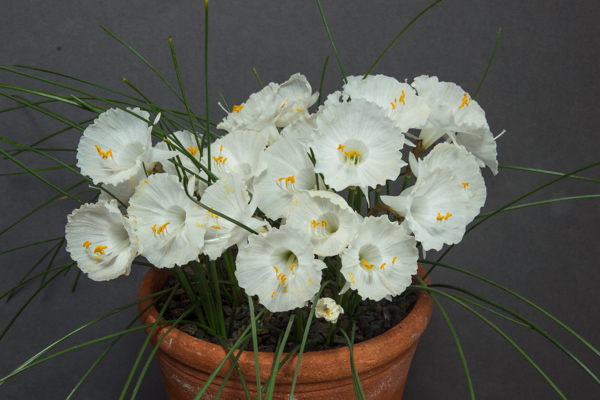 In those days the gardening press was in attendance, and I remember Rannveig refusing to have her picture taken in traditional-plant-and-exhibitor pose until she had removed a single flower that had wilted very slightly during the course of the day. Such scrutiny is par for the course when they stage their numerous exhibits: if a seed pod is left in place, you can be sure that this is deliberate ('I'm not sacrificing the seed', she has been heard telling her husband if he suggests its removal).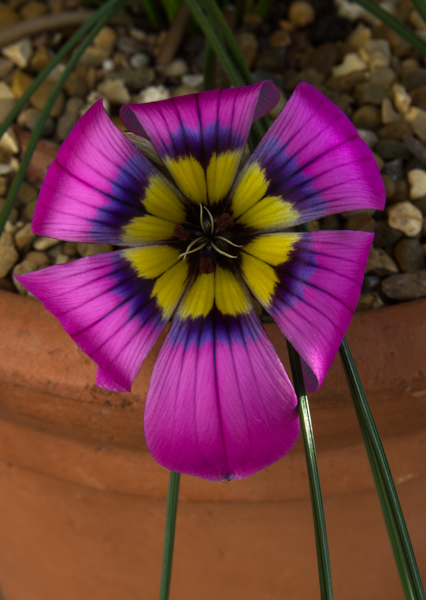 The flowers of the genus Moraea can be more fleeting still, in some species lasting only a day, and only opening in warm, bright conditions, though to compensate for this they are typically produced in succession. The 60+ species from the Northern and Western Cape are easily the most showy of all, and in the well-contested Iridaceae class Peter Furneaux had R. komsbergensis with four open flowers, yellow-throated with a rich blue band, gaudily set against the shiny, magenta petals. George Elder (who in another class brought along the show's other diva, a yellow form of Daubenya aurea) saw both in the Roggeveld in a vintage year (2006), when the Romulea flowered in spectacular, extensive swathes, by the hundreds of thousands, the loamy flats seasonally saturated in September and October but later subject to drought. You might hope to raise flowering-size plants in four years: double that figure when it comes to the Daubenya, seed of which is much harder to come by.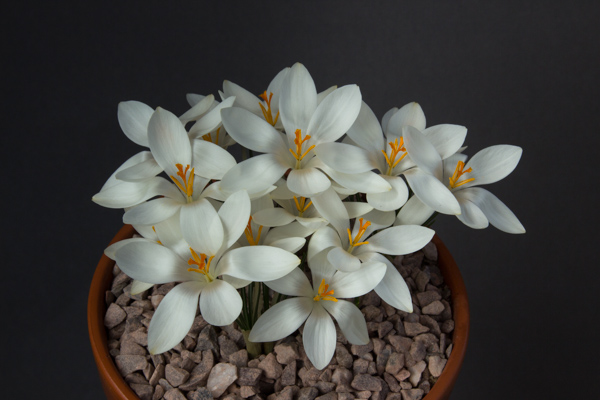 Also only available in small numbers at present, a lovely selection of Crocus chrysanthus distributed under the clonal name 'Macedonian Ivory' by Jānis Rukšāns [left] is from the western part of that species' considerable range (white variants are also known from western Turkey in particular). Rod & Shirley Johnson had a pert clump of this, next door to which was a large panful of C. tommasinianus mislabelled as the autumnal C. goulimyi ‒ for all that, as fellow judge John Richards pointed out, the two are quite closely-related, flowering periods aside.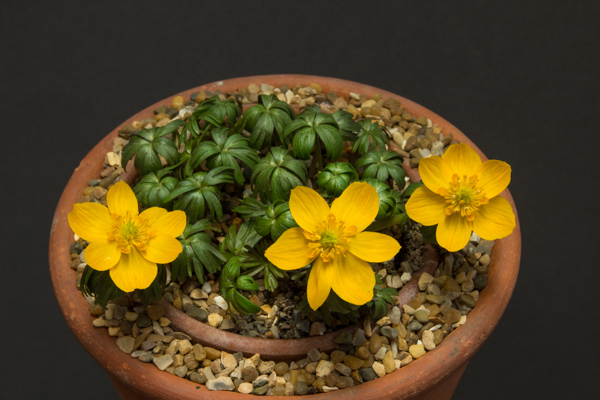 Confusion is rife when it comes to winter aconites, and until Kit Grey-Wilson publishes his planned paper, we will have to muddle along with the unsatisfactory nomenclature that has been imposed (Cilicica Group, Tubergenii Group). There were several large pans labelled 'Guinea Gold', fine entries one and all, but none had the dark olive coloured bracts and rounded flowers that are the hallmarks of the Hoog plant. Peter Furneaux had another worthwhile entry in one of the small pan classes with the seldom-exhibited, Central Asian E. longistipitatus [right], its leaves like miniature fists and newly-emerged, the flowers again yellow, but of a softer hue, and verging on flat-faced with ovate segments.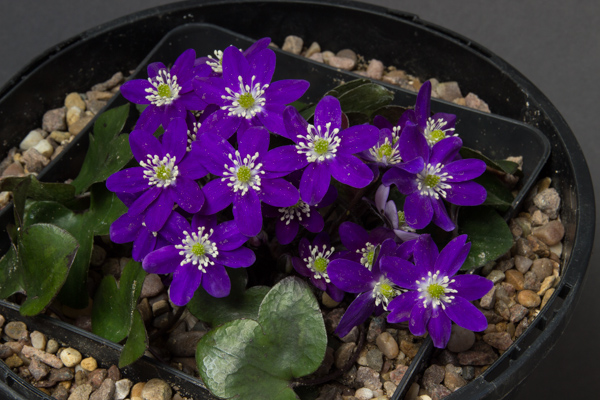 Rosina Abiss had one of the few large pans of Hepatica japonica (or H. asiatica, if you prefer): it was in the 19cm classes the widest choice could be found. One with broad-petalled, midnight blue flowers almost 3cm in diameter was shown by Chris Lilley, who teasingly turned over one of its leaves to reveal a clutch of self-sown seedlings, grinned, raised his eyebrows theatrically, then replaced the bark topdressing, and settled the leaf back into position, so that the offspring were again hidden away. Much more sensible to have deployed such a top-dressing, rather than the alien surround of dry, graded grit that marred several of the other 10 entries in the Ranunculaceae class, and was oddly also favoured by a few exhibitors elsewhere, though not by the judges, who collectively would have preferred that at least it had been watered in and settled. The advice given by Roy Elliott in the Society's late-1960s publication 'Alpines in Pots': use 'intelligence and imagination ‒ do not top-dress a lime-hater with limestone chips; do not top-dress a peat-lover with stone chips' might seem blindingly obvious, but clearly not to all. (One exhibit, considered for a Certificate of Merit, was turned down flat on this count: beautifully grown, its near-immersion under a shovelful of grit was anything but beauteous.)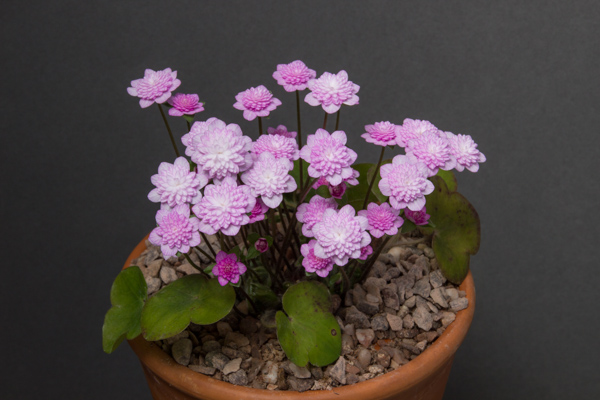 In the well-supported Intermediate Section, where the standard overall was encouragingly high, Outwoods Trophy recipient Bob Worsley had a very likeable trio of hepaticas that was placed first among five very respectable entries. All short of stem and in full bloom, different groups of onlookers could be heard expressing contrasting preferences, from a glistening white-flowered, marble leaved H. nobilis var. pyrenaica, to the two-tone, large-flowered H. japonica 'Saichou' or (the majority) another clone, 'Orihime', this having concentric petalloid layers forming a pom-pom centre, each component etched with a tracery of white hatching on a pale lilac-pink ground.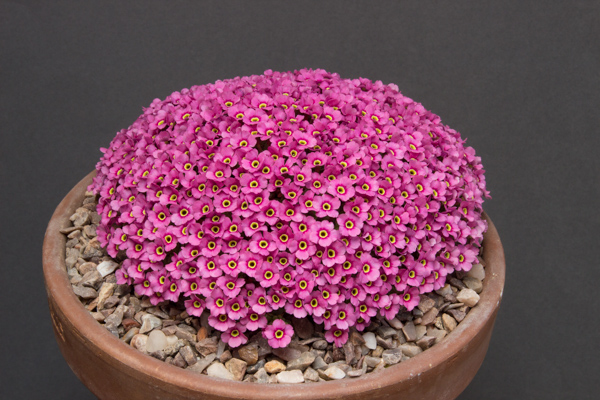 A number of enthusiasts in the British Isles now own houses devoted to hepaticas; others have chosen instead to focus on another genus that comes into flower at much the same time, Dionysia. All but two or three of the described Iranian species are presently grown, but with those from Afghanistan it's a different story, and those in cultivation derive from collections made in the early 1970s. The species seen at Loughborough in greatest numbers was D. freitagii (a 19cm pan received the Richard Regan Trophy), but almost all the plants belonged to just one exhibitor, Derek Pickard, who amuses himself by trotting out a monoculture of one or other species from show to show, and is still hoping to raise a pure red version of the mid-pink D. freitagii.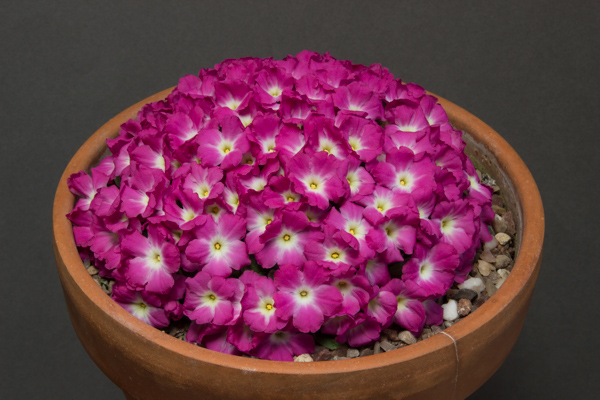 Not a colour break I would care for, whereas some of the more recent Primula allionii shades appeal greatly. If you grow one with the alphanumeric reference BB03/5/1, this should now be labelled 'Francis Burrow' (others from the same sowing, all good, mainly with a dash of raspberry pink, have yet to be christened). Geoff Rollinson's plant received a Certificate of Merit and in a year or two it will come as no surprise if another of his friend Brian's raisings ('Sandra Burrow', which has lilac-pink, overlapping petals and a whitish, star-shaped centre) comes in for similar recognition.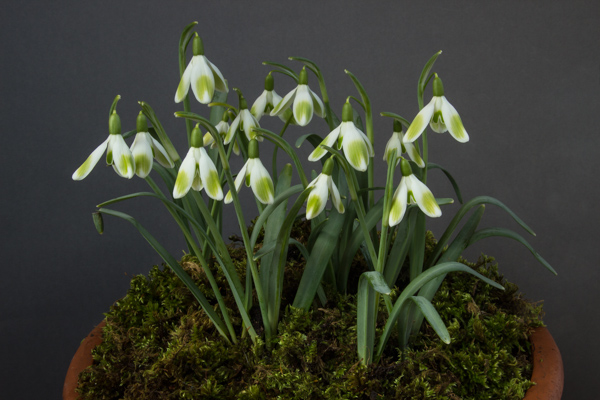 Brought in at the end of judging, placed on the stage, photographed, assessed by the Joint Rock Garden Plant Committee, returned to the hall for an hour, then whisked off back to Oxfordshire, Ronald Mackenzie's six pans of snowdrops were much admired during the brief appearance: one man took a photograph of them once they were back in the car boot, declaring them his personal highlight of the day. My personal favourite among those with green-stained outers, G. nivalis 'Hugh Mackenzie' [left], was in especially good condition, though apparently the smart money is on the Balkan G. 'Angelina' ‒ nothing to do with the French 'Angelique', for this has pronounced moss-green staining, not hatching, pervading the tips of its largish flowers: this was a rare opportunity to encounter this celebrated introduction.
Author: Robert Rolfe
Photographer: Jon Evans